Abstract
The coagulant protein from Moringa oleifera (MO) seed was purified using a single-step batch ion exchange (IEX) method. Adsorption and elution parameters were optimized. Impact of the purification on the reduction of organic and nutrient release to the water was studied. The matrix was equilibrated using ammonium acetate buffer, and the optimum ionic strength of NaCl for elution was 0.6 M. The time for adsorption equilibrium was between 90 and 120 min. Maximum adsorption capacity of the matrix, estimated with the Langmuir model, was 68 mg protein/g adsorbent. The purified protein does not release organic and nutrient loads to the water, which are the main concerns of the crude extract. This work suggests that a readily scalable single-step IEX purification method can be used to produce the coagulant protein and it can be carried out with locally available facilities. This will promote the use of MO in large water treatment plants and other industries.
Access options
Buy single article
Instant access to the full article PDF.
USD 39.95
Price excludes VAT (USA)
Tax calculation will be finalised during checkout.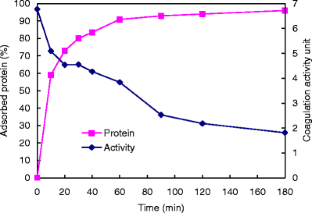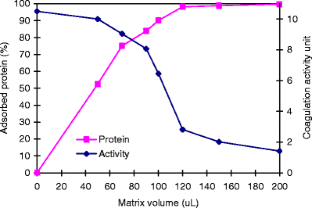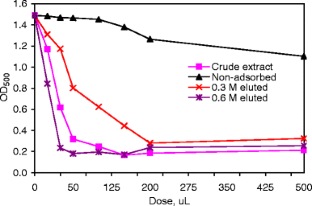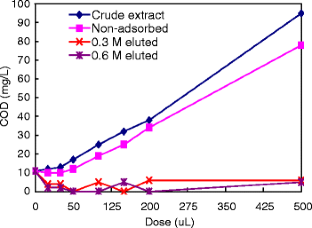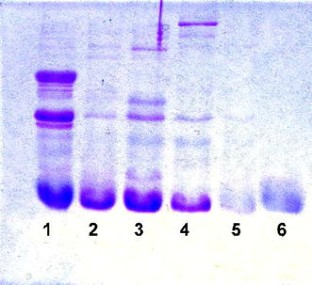 References
Bradford MM (1976) A rapid and sensitive method for the quantitation of microgram quantities of protein utilizing the principle of protein-dye binding. Anal Biochem 72:248–254

Broin M, Santaella C, Cuine S, Kokou K, Peltier G, Joet T (2002) Flocculent activity of a recombinant protein from Moringa oleifera Lam. Seeds. Appl Microbiol Biotechnol 60:114–119

Crapper DR, Krishnan SS, Dalton AJ (1973) Brain aluminum distribution in Alzheimer's disease and experimental neurofibrillary degeneration. Science 180(4085):511–513

Faust SD, Aly OM (1987) Adsorption processes for water treatment. Butterworths, Boston

Folkard GK, Sutherland JP, Mtawali MA, Grant WD (2001) http://www.treesforlife.org/project/moringa/uses/uses_water_lgscale_abstract.en.asp

Gassenschmidt U, Jany KK, Tauscher B, Niebergall H (1995) Isolation and characterization of a flocculation protein from Moringa oleifera Lam. BBA Biochim Biophys Acta 1243:477–481

Ghebremichael AK, Gunaratna KR, Henriksson H, Brumer H, Dalhammar G (2005) A simple purification and activity assay of the coagulant protein from Moringa oleifera seed. Water Res 39:2338–2344

Hach Company (1990) DR/2000 spectrophotometer procedures manual. Hach, Loveland, CO

Jahn SAA (1988) Using Moringa seeds as coagulants in developing countries. J AWWA 80(6):43–50

Karlsson E, Ryden L, Brewer J (1989) Ion exchange chromatography. In: Janson J-C, Ryden L (eds) Protein purification: principles, high resolution methods and applications: part II, chap. 4. VCH, New York

Kilduff JE, Karanfil T, Chin Y-P, Weber WJ Jr (1996) Adsorption of natural organic polyelectrolytes by activated carbon: a size-exclusion chromatography study. Environ Sci Technol 30:1336–1343

Laemmli UK (1970) Cleavage of structural proteins during the assembly of the head of bacteriophage T4. Nature 227:680–685

Miller RG, Kopfler FC, Kelty KC, Stober JA, Ulmer NS (1984) The occurrence of aluminum in drinking waters. J AWWA 76:84–91

Muyibi SA, Evison LM (1995) Optimizing physical parameters affecting coagulation of turbid water with Moringa oleifera. Water Res 29(12):2689–2695

Ndabigengesere A, Narasiah KS (1998) Quality of water treated by coagulation using Moringa oleifera seeds. Water Res 32(3):781–791

Ndabigengesere A, Narasiah KS, Talbot BG (1995) Active agents and mechanisms of coagulation of turbid water using Moringa oleifera. Water Res 29(2):703–710

Nkhata D (2001) Moringa as an alternative to aluminium sulphate. People and systems for water, sanitation and health, 27th WEDC Conference, Lusaka, Zambia

Noor MJMM, Abdullah AGL, Al-Fugara AMS, Muyibi SA, Mohamed TA, Ghazali AH, Yuduf BM, Jusoh A (2002) A pilot plant study using Moringa oleifera and alum in treating surface water. Proceedings of the 5th Specialized Conference on Small Water and Wastewater Treatment Systems, Istanbul, pp 951–958

Okuda T, Baes AU, Nishijima W, Okada M (2001) Isolation and characterization of coagulant extracted from Moringa oleifera seed by salt solution. Water Res 35(2):405–410

Olsen A (1987) Low technology water purification by bentonite clay and Moringa oleifera seed flocculation as performed in Sudanese village: effects on Schistosoma mansoni cercariae. Water Res 21(5):517–522

Pollard SJT, Thompson FE, McConnachie GL (1995) Microporous carbon from Moringa oleifera husks for water purification in less developed countries. Water Res 29(1):337–347

Scopes RK (1994) Protein purification: principles and practice, 3rd edn. Springer, Berlin, Heidelberg, New York

Warhurst AM, McConnachie GL, Pollard SJT (1997) Characterization and applications of activated carbon produced from Moringa oleifera seed husks by single-step steam pyrolysis. Water Res 31(4):759–766

WHO (1996) Guidelines for drinking-water quality, 2nd edn, vol 2. Health criteria and other supporting information. World Health Organization, Geneva
Acknowledgements
The authors thank Monica Löwén and Per Dalhammar for preparations of laboratory facilities and useful discussions.
About this article
Cite this article
Ghebremichael, K.A., Gunaratna, K.R. & Dalhammar, G. Single-step ion exchange purification of the coagulant protein from Moringa oleifera seed. Appl Microbiol Biotechnol 70, 526–532 (2006). https://doi.org/10.1007/s00253-005-0130-7
Received:

Revised:

Accepted:

Published:

Issue Date:

DOI: https://doi.org/10.1007/s00253-005-0130-7
Keywords
Chemical Oxygen Demand

Crude Extract

Coagulation Activity

Ammonium Acetate Buffer

Clay Suspension