Abstract
Lactulose production from lactose and fructose was investigated with several commercial β-galactosidases. The enzyme from Kluyveromyces lactis exhibited the highest lactulose productivity among the β-galactosidases tested. The reaction conditions for lactulose production were optimized using cells that had been permeabilized by treatment with 50% (v/v) ethanol: cell concentration, 10.4 g l−1; concentration of substrates, 40% (w/v) lactose and 20% (w/v) fructose; temperature, 60°C; pH 7.0. Under these conditions, the permeabilized cells produced approximately 20 g l−1 lactulose in 3 h with a lactulose productivity of 6.8 g l−1 h−1. These results represent 1.3- and 2.1-fold increases in lactulose concentration and productivity compared with untreated washed cells. This is the first reported trial of enzymatic synthesis of lactulose using permeabilized yeast cells.
Access options
Buy single article
Instant access to the full article PDF.
US$ 39.95
Tax calculation will be finalised during checkout.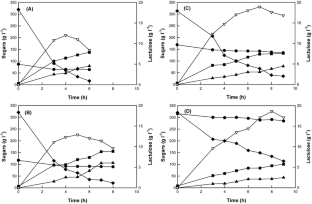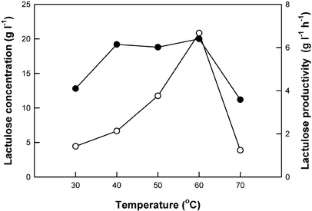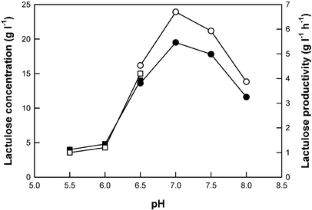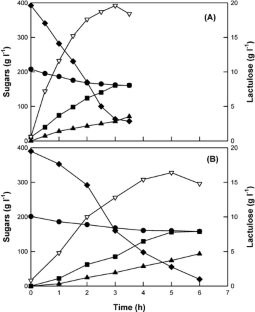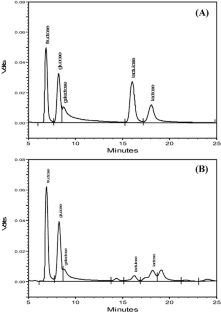 References
Burvall A, Asp NG, Dahlqvist A (1979) Oligosaccharide formation during hydrolysis of lactose with Saccharomyces lactis lactase (MaxilactR): part 1-quantitative aspects. Food Chem 4:243–250

Carobbi R, Innocenti F (1990) Process for preparing lactulose from lactose by epimerization with sodium aluminate. European patent 0320670

Carobbi R, Miletti S, Franci V (1985) Process for preparing lactulose from lactose, in the form of a syrup or a crystalline product. US Patent 4536221

Conn HO, Floch MH (1970) Effect of lactulose and Lactobacillus on the fecal flora. Am J Clin Nutr 23:1588–1615

Cruz R, Cruz VD, Bolete JG, Khenafes MO, Dorta C, Oliveira LHS, Ardiles E, Galli A (1999) Production of transgalactosylated oligosaccharides (TOS) by galactosyltransferase activity from Penicillium simplicissimum. Bioresour Technol 70:165–171

D'Auria S, Nucci R, Rossi M, Bertoli E, Fabio T, Gryczynski I, Malak H, Lakowicz JR (1999) β-Galactosidase from the hyperthermophilic archaeon Sulfolobus solfataricus: structure and activity in the presence of alcohols. J Biochem 126:545–552

De Harr WT, Pluim H (1991) Method of preparing lactulose. European patent 0339749

Deya E, Takahashi K (1991) Production process of high purity lactulose syrup. US Patent 5034064

Fontes EAF, Passos FML, Passos FJV (2001) A mechanistical mathematical model to predict lactose hydrolysis by β-galactosidase in a permeabilized cell mass of Kluyveromyces lactis: validity and sensitivity analysis. Process Biochem 37:267–274

Gekas V, Lopez-Leiva M (1985) Hydrolysis of lactose: a literature review. Process Biochem 20:2–12

Giacomini C, Irazoqui G, Gonzalez P, Batista-Viera F, Brena BN (2002) Enzymatic synthesis of galactosyl-xylose by Aspergillus oryzae β-galactosidase. J Mol Catal B 19–20:159–165

Gowda LR, Bachhwat N, Bhat SG (1991) Permeabilization of baker's yeast cells by cetytrimethylammonium bromide for intracellular enzyme catalysis. Enzyme Microb Technol 13:154–157

Greenberg NA, Mahoney RR (1983) Formation of oligosaccharides by β-galactosidase from Streptococcus thermophilus. Food Chem 10:195–204

Hanssen T, Andersson M, Wehtje E, Adlercreutz P (2001) Influence of water activity on the competition between β-galactosidase-catalysed transglycosylation and hydrolysis. Enzyme Microb Technol 29:527–534

Hung MN, Lee BH (2002) Purification and characterization of a recombinant β-galactosidase with transgalactosylation activity from Bifidobacterium infantis HL96. Appl Microbiol Biotechnol 58:439–445

Hung MN, Xia Z, Hu NT, Lee BH (2001) Molecular and biochemical analysis of two β-galactosidases from Bifidobacterium infantis HL96. Appl Environ Microbiol 67:4256–4263

Joshi MS, Gowda LR, Kawai LC, Bhat SG (1989) Permeabilization of yeast cells (Kluyeromyces fragilis) to lactose by digitonin. Enzyme Microb Technol 11:439–444

Kondo A, Liu Y, Furuta M, Fujita Y, Matsumoto T, Fukuda H (2000) Preparation of high activity whole cell biocatalyst by permeabilization of recombinant flocculent yeast with alcohol. Enzyme Microb Technol 27:806–811

Krumbbloz RE, Dorscheid MG (1991) Method of manufacturing lactulose. European patent 0375040

Loguercio C, Abbiati R, Rinaldi M, Romano A, Blanco CDV, Coltorti M (1995) Long-term effects of Enterococcus faecium SF68 versus lactulose in the treatment of patients with cirrhosis and grade 1–2 hepatic encephalopathy. J Hepatol 23:39–46

Méndez A, Olano A (1979) Lactulose: a review on some chemical properties and applications in infant nutrition and medicine. Dairy Sci Abstr 41:531–535

Onishi N, Tanaka T (1995) Purification and properties of a novel thermostable galactooligosaccharide from lactose by Sterigmatomyces elviae CBS6803. Appl Environ Microbiol 61:4026–4030

Onishi N, Yamashiro A, Yokozeki K (1995) Production of galactooligosaccharide from lactose by Sterigmatomyces elviae CBS6803. Appl Environ Microbiol 61:4022–4025

Petzelbauer I, Zeleny R, Reiter A, Kulbe KD, Nidetzky B (2000) Development of an ultra-high-temperature process for the enzymatic hydrolysis of lactose: II. Oligosaccharide formation by two thermostable beta-glycosidases. Biotechnol Bioeng 69:140–149

Reuter S, Nygaard AR, Zimmermann W (1999) β-Galactooligosaccharide synthesis with β-galactosidases from Sulfolobus solfataricus, Aspergillus oryzae, and Escherichia coli. Enzyme Microb Technol 25:509–516

Siso MIG, Cerdán E, Picos MAF (1992) Permeabilization of Kluyveromyces lactis cells for milk whey saccharification: a comparison of different treatments. Biotechnol Tech 6:289–292

Voragen AGJ (1998) Technological aspects of functional food-related carbohydrates. Trends Food Sci Technol 9:328–335

Zarate S, Lopez-Leiva MH (1990) Oligosaccharides formation during enzymatic hydrolysis: a review of literature. J Food Prot 53:262–268

Zhou QZK, Chen XD (2001) Effects of temperature and pH on the catalytic activity of the immobilized β-galactosidase from Kluyveromyces lactis. Biochem Eng J 9:33–40

Zokaee F, Kaghazchi T, Zare A, Soleimani M (2002) Isomerization of lactose to lactulose-study and comparison of three catalytic systems. Process Biochem 37:629–635
Acknowledgements
This study was supported by a grant of the 21C Frontier Project for Microbial Genomics, Ministry of Science and Technology, Republic of Korea.
About this article
Cite this article
Lee, YJ., Kim, C.S. & Oh, DK. Lactulose production by β-galactosidase in permeabilized cells of Kluyveromyces lactis . Appl Microbiol Biotechnol 64, 787–793 (2004). https://doi.org/10.1007/s00253-003-1506-1
Received:

Revised:

Accepted:

Published:

Issue Date:
Keywords
Fructose

Lactose

Lactis

Permeabilized Cell

Lactulose