Abstract
Powdery mildew is one of the most important limiting factors for cucurbits production in Spain, its management being strongly dependent on chemicals. The aim of this work was to evaluate the possibility of exploiting antagonistic bacteria in the biological control of the cucurbit powdery mildew fungus Podosphaera fusca (syn. Sphaerotheca fusca). Among a collection of bacterial strains isolated from distinct cucurbit powdery mildew diseased plants and rhizospheric soils, four isolates were selected, by means of a screening method based on antibiotic production, and identified as Bacillus spp. These isolates proved to be efficacious in the control of cucurbit powdery mildew in in vitro detached leaves and seedling biocontrol assays, where reductions of disease severity of up to 80% were obtained. Furthermore, bacterial populations on melon leaves remained at similar levels (105 cfu cm−2) over the 16-day period studied and, as observed by scanning electron microscopy analysis, they were able to establish microcolonies associated with an extracellular matrix, which reveals that these isolates efficiently colonize melon phylloplane. These results indicate that the bacterial isolates selected are promising candidates for biological control agents of cucurbit powdery mildew in southern Spain.
This is a preview of subscription content, log in to check access.
Access options
Buy single article
Instant access to the full article PDF.
US$ 39.95
Price includes VAT for USA
Subscribe to journal
Immediate online access to all issues from 2019. Subscription will auto renew annually.
US$ 199
This is the net price. Taxes to be calculated in checkout.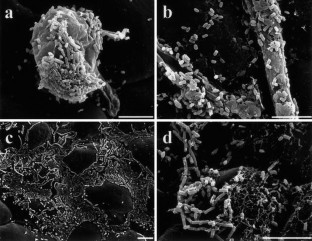 References
Andrews JH (1991) Strategies for selecting antagonistic microorganisms from the phylloplane. In: Windels CE, Lindow SE (eds) Biological control in the phylloplane. APS Press, St Paul, Minn., pp 31–44

Báker CJ, Stavely JR, Thomas CA, Sasser M, MacFall JS (1983) Inhibitory effect of Bacillus subtilis on Uromyces phaseoli and on development of rust pustules on bean leaves. Phytopathology 73:1148–1152

Bélanger RR, Dik AJ, Menzies JG (1998) Powdery mildews. Recent advances toward integrated control. In: Boland GJ, Kuykendall LD (eds) Plant-microbe interactions and biological control. Dekker, New York, pp 89–109

Braun U, Cook TA, Inman AJ, Shin H-D (2002) The taxonomy of the powdery mildew fungi. In: Bélanger RR, Bushnell WR, Dik AJ, Carver TLW (eds) The powdery mildews. A comprehensive treatise. APS Press, St Paul, Minn., pp 13–55

Braun-Kiewnick A, Jacobsen BJ, Sands DC (2000) Biological control of Pseudomonas syringae pv syringae, the causal agent of basal kernel blight of barley, by antagonistic Pantoea agglomerans. Phytopathology 90:368–375

Cartwright DK, Chilton WS, Benson DM (1995) Pyrrolnitrin and phenazine production by Pseudomonas-cepacia strain 5.5b, a biocontrol agent of rhizoctonia-solani. Appl Microbiol Biotechnol 43:211–216

Cazorla FM, Torés JA, Olalla L, Pérez-García A, Farré JM, de Vicente A (1998) Bacterial apical necrosis of mango in southern Spain: a disease caused by Pseudomonas syringae pv. syringae. Phytopathology 88:614–620

Costa E, Teixido N, Usall J, Atarés E, Viñas I (2001) Production of the biocontrol agent Pantoea aglomerans strain CPA-2 using commercial products and by-products. Appl Microbiol Biotechnol 56:367–371

Del Pino D, Olalla L, Pérez-García A, Rivera ME, García S, Moreno R, de Vicente A, Torés JA (2002) Occurrence of races and pathotypes of cucurbit powdery mildew in Southeastern Spain. Phytoparasitica 30:549–466

Dijksterhuis J, Sanders M, Gorris LGM, Smid EJ (1999) Antibiosis plays a role in the context of direct interaction during antagonism of Paenibacillus polymyxa towards Fusarium oxysporum. J Appl Microbiol 86:13–21

Földes T, Bánhegyi I, Herpai Z, Varga L, Szigeti J (2000) Isolation of Bacillus strains from the rhizosphere of cereals and in vitro screening for antagonism against phytopathogenic, food-borne pathogenic and spoilage micro-organisms. J Appl Microbiol 89:840–846

Guetsky R, Shtienberg D, Elad Y, Dinoor A (2001) Combining biocontrol agents to reduce the variability of biological control. Phytopathology 91:621–627

Hijwegen T (1989) Effect of culture filtrates of seventeen fungicolous fungi on sporulation of cucumber powdery mildew. Neth J Plant Pathol 95:95–98

Holt JG, Krieg NR, Sneath PHA, Staley JT, Williams ST (1994) Bergey's manual of determinative bacteriology. Williams & Wilkins, Baltimore, Md.

Hückelhoven R, Kogel KH (1998) Tissue-specific superoxide generation at interaction sites in resistant and susceptible near-isogenic barley lines attacked by the powdery mildew fungus (Erysiphe graminis f.sp. hordei). Mol Plant Microbe Interact 11:292–300

Katz E, Demain AL (1977) The peptide antibiotics of Bacillus: chemistry, biogenesis and possible functions. Bacteriol Rev 41:449–474

Khan NI, Schisler DA, Boehm MJ, Slininger PJ, Bothast RJ (2001) Selection and evaluation of microorganisms for biocontrol of Fusarium head blight of wheat incited by Gibberlla zeae. Plant Dis 85:1523–1528

Korsten L, De Villiers EE, Wehner FC, Kotzé JM (1997) Field sprays of Bacillus subtilis and fungicides for control of preharvest fruit diseases of avocado in South Africa. Plant Dis 81:455–459

Leifert C, Li H, Chidburee S, Hampson S, Workman S, Sigee D, Epton HAS, Harbour A (1995) Antibiotic production and biocontrol activity by Bacillus subtilis CL27 and Bacillus pumilus CL45. J Appl Bacteriol 78:97–108

Lyngkjaer MF, Carver TLW (1999) Induced accessibility and inaccessibility to Blumeria graminis f.sp. hordei in barley epidermal cells attacked by a compatible isolate. Physiol Mol Plant Pathol 55:151–162

McGrath MT (2001) Fungicide resistance in cucurbit powdery mildew: experiences and challenges. Plant Dis 85:236–245

Pérez-García A, Olalla L, Rivera E, del Pino D, Canovas I, de Vicented A, Torés JA (2001) Development of Sphaerotheca fusca on susceptible, resistant, and temperature-sensitive resistant cultivars. Mycol Res 105:1216–1222

Raaijmakers JM, Vlami M, de Souza JT (2002) Antibiotic production by bacterial biocontrol agents. Antonie van Leeuwenhoek 81:537–547

Raupach GS, Kloepper JW (1998) Mixtures of plant growth-promoting rhizobacteria enhance biological control of multiple cucumber pathogens. Phytopathology 88:1158–1164

Romantschuk M, Roine E, Björklöf K, Ojanen T, Nurmiaho-Lassila EL, Haahtela K (1996) Microbial attachment to plant aerial surfaces In: Morris CE, Nicot PC, Nguyen-The C (eds) Aerial plant surface microbiology. Plenum Press, New York, pp 43–50

Romero D, Rivera ME, Cazorla FM, de Vicente A, Pérez-García A (2003) Effect of mycoparasitic fungi on the development of Sphaerotheca fusca in melon leaves. Mycol Res 107:64–71

Shoda M (2000) Bacterial control of plant diseases. J Biosci Bioeng 89:515–521

Sitterly WR (1978) Powdery mildew of cucurbits. In: Spencer DM (ed) The powdery mildews. Academic Press, London, pp 359–379

Slininger PJ, Burkhead KD, Schihsler DA, Bothats RJ (2000) Isolation, identification and accumulation of 2-acetamidophenol in liquid cultures of the wheat take-all biocontrol agent Pseudomonas fluorescens 2–79. Appl Microbiol Biotechnol 54:376–381

Spurr HW, Knudsen GR (1985) Biological control of leaf diseases with bacteria. In: Windels CE, Lindow SE (eds) Biological control in the phylloplane. APS Press, St Paul, Minn., pp 45–62

Stackebrandt E, Goodfellow M (1991) Nucleic acid techniques in bacterial systematics. Wiley, Chichester

Stülke J, Hillen W (2000) Regulation of carbon catabolism in Bacillus species. Annu Rev Microbiol 54:849–880

Sztejnberg A, Galper S, Mazar S, Lisker N (1989) Ampelomyces quisqualis for biological and integrated control of powdery mildews in Israel. J Phytopathol 124:285–295

Torés JA, Cánovas I, Velasco V (1990) Nota sobre Sphaerotheca fuliginea (Schlecht. ex Fr.) Poll., agente causante del oídio de las Cucurbitáceas en la zona costera de Málaga y Almería. Invest Agraria 5:475–479

Verhaar MA, Ostergaard KK, Hijwegen T, Zadoks JC (1997) Preventive and curative applications of Verticillium lecanii for biological control of cucumber powdery mildew. Biocontrol Sci Technol 7:543–551

Vogt W, Buchenauer H (1997) Enhancement of biological control by combination of antagonistic fluorescent Pseudomonas strains and resistance inducers against damping off and powdery mildew in cucumber. J Plant Dis Plant Prot 104:272–280

Walker R, Powell AA, Seddon B (1998) Bacillus isolates from the spermosphere of peas and dwarf French beans with antifungal activity against Botrytis cinerea and Pythium species. J Appl Microbiol 84:791–801

Wulf EG, Mguni CM, Mansfeld-Giese K, Fels J, Lübeck M, Hockenhull J (2002) Biochemical and molecular characterization of Bacillus amyloliquefaciens, B. subtillis and B. pumilus isolates with distinct antagonistic potential against Xanthomonas campestris pv. campestris. Plant Pathol 51:574–584

Yoshida S, Hiradate S, Tsukamoto T, Hatakeda K, Shirata A (2001) Antimicrobial activity of culture filtrate of Bacillus amyloliquefaciens RC-2 isolated from mulberry leaves. Phytopathology 91:181–187

Yuen GY, Steadman JR, Lindgren DT, Schaff D, Jochum C (2001) Bean rust biological control using bacterial agents. Crop Prot 20:395–402

Zitter TA, Hopkins DL, Thomas CE (1996) Compendium of cucurbits diseases. APS Press, St Paul, Minn.
Acknowledgements
This study was supported by grants from Plan Nacional de Recursos y Tecnologías Agroalimentarias of Ministerio de Ciencia y Tecnología of the Spanish Government (AGF98-0931-CO2-01 and AGL2001-1837-CO2-01). D. Romero was supported by a grant from Ministerio de Ciencia y Tecnología. The authors thank J.A. Torés (Estación Experimental "La Mayora", C.S.I.C., Algarrobo, Málaga, Spain) for helpful discussions and valuable advice.
About this article
Cite this article
Romero, D., Pérez-García, A., Rivera, M.E. et al. Isolation and evaluation of antagonistic bacteria towards the cucurbit powdery mildew fungus Podosphaera fusca . Appl Microbiol Biotechnol 64, 263–269 (2004). https://doi.org/10.1007/s00253-003-1439-8
Received:

Revised:

Accepted:

Published:

Issue Date:
Keywords
Powdery Mildew

Melon

Biological Control Agent

Fusca

Bacillus Species