Abstract
Habitat fragmentation and infectious diseases threaten wildlife globally, but the interactions of these threats are poorly understood. For instance, while habitat fragmentation can impact genetic diversity at neutral loci, the impacts on disease-relevant loci are less well-studied. We examined the effects of habitat fragmentation in Brazil's Atlantic Forest on amphibian genetic diversity at an immune locus related to antigen presentation and detection (MHC IIB Exon 2). We used a custom high-throughput assay to sequence a fragment of MHC IIB and quantified Batrachochytrium dendrobatidis (Bd) infections in six frog species in two Atlantic Forest regions. Habitat fragmentation was associated with genetic erosion at MHC IIB Exon 2. This erosion was most severe in forest specialists. Significant Bd infections were detected only in one Atlantic Forest region, potentially due to relatively higher elevation. In this region, forest specialists showed an increase in both Bd prevalence and infection loads in fragmented habitats. Reduced population-level MHC IIB diversity was associated with increased Bd infection risk. On the individual level, MHC IIB heterozygotes exhibited a trend toward reduced Bd infection risk, although this was marginally non-significant. Our results suggest that habitat fragmentation increases Bd infection susceptibility in amphibians, mediated at least in part through erosion of immunogenetic diversity. Our findings have implications for management of fragmented populations in the face of emerging infectious diseases.
Access options
Buy single article
Instant access to the full article PDF.
USD 39.95
Price excludes VAT (USA)
Tax calculation will be finalised during checkout.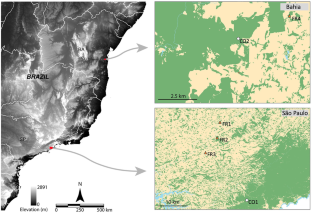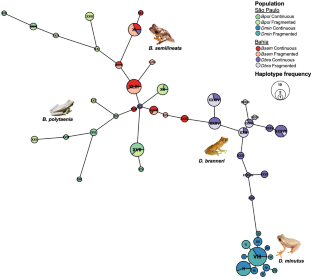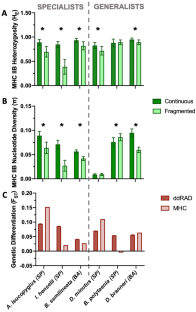 Data availability
The data that support the findings of this study are openly available in the supplementary material and GenBank (ddRAD data: SRA accessions SAMN25158801, SAMN25182090; MHC sequences: GenBank accessions OM362104 - OM362229).
References
Addis BR, Lowe WH, Hossack BR, Allendorf FW (2015) Population genetic structure and disease in montane boreal toads: more heterozygous individuals are more likely to be infected with amphibian Chytrid. Conserv Genet 16(4):833–844. https://doi.org/10.1007/s10592-015-0704-6

Aguilar A, Roemer G, Debenham S, Binns M, Garcelon D, Wayne RK (2004) High MHC diversity maintained by balancing selection in an otherwise genetically monomorphic mammal. Proc Natl Acad Sci U S A 101(10):3490–3494. https://doi.org/10.1073/pnas.0306582101

Allentoft ME, O'Brien J (2010) Global amphibian declines, Loss of Genetic Diversity and Fitness: A Review. Diversity 2(1):47–71. https://doi.org/10.3390/d2010047

Andersen LW, Fog K, Damgaard C (2004) Habitat fragmentation causes bottlenecks and inbreeding in the European tree frog (Hyla Arborea). Proc R Soc B Biol Sci 271(1545):1293–1302. https://doi.org/10.1098/rspb.2004.2720

Bataille A, Cashins SD, Grogan L, Skerratt LF, Hunter D, McFadden M, Scheele B et al (2015) Susceptibility of amphibians to Chytridiomycosis is associated with MHC class II conformation. Proc R Soc B Biol Sci 282(1805):20143127–20143127. https://doi.org/10.1098/rspb.2014.3127

Becker CG, Fonseca CR, Haddad CFB, Prado PI (2010) Habitat split as a cause of local population declines of amphibians with aquatic larvae. Conserv Biol 24(1):287–294. https://doi.org/10.1111/j.1523-1739.2009.01324.x

Becker CG, Zamudio KR (2011) Tropical amphibian populations experience higher disease risk in natural habitats. Proc Natl Acad Sci U S A 2011(24):1–6. https://doi.org/10.1073/pnas.1014497108

Belasen AM, Bletz MC, Leite DDS, Toledo LF, James TY (2019) Long-term habitat fragmentation is associated with reduced MHC IIB diversity and increased infections in amphibian hosts. Front Ecol Evol 6:1–12. https://doi.org/10.3389/fevo.2018.00236

Bevan MJ (1987) Class discrimination in the world of immunology. Nature 325(6101):192–193. https://doi.org/10.1038/325192b0

Borremans B, Faust C, Manlove KR, Sokolow SH, Lloyd-Smith JO (2019) Cross-species pathogen spillover across ecosystem boundaries: mechanisms and theory. Philos Transa R Soc B Biol Sci 374(1782). https://doi.org/10.1098/rstb.2018.0344

Boyle DG, Boyle DB, Olsen V, Morgan JAT, Hyatt DA (2004) Rapid quantitative detection of Chytridiomycosis (Batrachochytrium Dendrobatidis) in amphibian samples using real-time Taqman PCR assay. Dis Aquat Organ 60(2):141–148. https://doi.org/10.3354/dao060141

Brown JH, Jardetzky TS, Gorga JC, Stern LJ, Urban RG, Strominger JL, Wiley DC (1993) Three-dimensional structure of the human class II histocompatibility antigen HLA-DR1. Nature 364

Carey C, Cohen N, Rollins-Smith L (1999) Amphibian declines: an immunological perspective. Dev Comp Immunol 23(6):459–472. https://doi.org/10.1016/S0145-305X(99)00028-2

Carvalho T, Becker CG, Toledo LF (2017) Historical amphibian declines and extinctions in Brazil linked to Chytridiomycosis. Proc R Soc B Biol Sci 284(1848). https://doi.org/10.1098/rspb.2016.2254

Frankham R, Ballou JD, Briscoe DA (2002) Introduction to conservation genetics. Cambrige University Press, Cambridge

Fu M, Waldman B (2019) Ancestral Chytrid pathogen remains hypervirulent following its long coevolution with amphibian hosts. Proc R Soc B Biol Sci 286(1904):1–9. https://doi.org/10.1098/rspb.2019.0833

Gascuel O (1997) BIONJ: an improved version of the NJ algorithm based on a simple model of sequence data. Mol Biol Evol 14:685–695

Gonzalez-Quevedo C, Davies RG, Phillips KP, Spurgin LG, Richardson DS (2016) Landscape-scale variation in an anthropogenic factor shapes immune gene variation within a wild population. Mol Ecol 25(17):4234–4246. https://doi.org/10.1111/mec.13759

Gouy M, Guindon S, Gascuel O (2010) Sea View Version 4: a multiplatform graphical user interface for sequence alignment and phylogenetic tree building. Mol Biol Evol 27(2):221–224. https://doi.org/10.1093/molbev/msp259

Gründler MC, Toledo LFelipe, Parra-Olea G, Haddad CFB, Giasson LOM, Sawaya RJ, Prado CPA et al (2012) Interaction between breeding habitat and elevation affects prevalence but not infection intensity of Batrachochytrium dendrobatidis in Brazilian anuran assemblages. Dis Aquat Organ 97(3):173–184. https://doi.org/10.3354/dao02413

Haddad C, Toledo L, Prado C, Loebmann D, Gasparini J, Sazima I (2013) Guia Dos Anfíbios Da Mata Atlântica. São Paulo: Editora Neotropica

Harrison S, Bruna E (2012) Habitat fragmentation and large-scale conservation: what do we know for sure?. Ecography 22(3):225–232. http://brunalab.org/wp-content/uploads/2012/12/Harrison-and-Bruna-1999-Ecography.pdf

Hernandez-Gomez O, Hua J, Jones DK, Mattes B (2019) Local adaptation of the MHC class IIβ gene in populations of wood frogs (Lithobates sylvaticus) correlates with proximity to agriculture. https://doi.org/10.1016/j.meegid.2019.04.032

Hernández-Gómez O, Kimble SJA, Hua J, Wuerthner VP, Jones DK, Mattes BM, Cothran RD, Relyea RA, Meindl GA, Hoverman JT (2019) Local adaptation of the MHC class IIβ gene in populations of wood frogs (Lithobates sylvaticus) correlates with proximity to agriculture. Infect Genet Evol 73(September):197–204. https://doi.org/10.1016/j.meegid.2019.04.032

Hyatt AD, Boyle DG, Olsen V, Boyle DB, Berger L, Obendorf D, Dalton A et al (2007) Diagnostic assays and sampling protocols for the detection of Batrachochytrium dendrobatidis. Dis Aquat Organ 73(3):175–192. https://doi.org/10.3354/dao073175

James TY, Toledo LF, Rödder D, da Silva D, Leite AM, Belasen CM, Betancourt-Román TS, Ruggeri J et al (2015) Disentangling host, pathogen, and environmental determinants of a recently emerged wildlife disease: lessons from the first 15 years of amphibian Chytridiomycosis research. Ecol Evol 5(18):4079–4097. https://doi.org/10.1002/ece3.1672

Johansson M, Primmer CR, Merilä J (2007) Does habitat fragmentation reduce fitness and adaptability? A case study of the common frog (Rana temporaria). Mol Ecol 16(13):2693–2700. https://doi.org/10.1111/j.1365-294X.2007.03357.x

Jombart T, Devillard S, François Balloux D, Falush MS, Pritchard J, Pritchard JK et al (2010) Discriminant analysis of principal components: a new method for the analysis of genetically structured populations. BMC Genetics 11(1):94. https://doi.org/10.1186/1471-2156-11-94

Kinney VC, Heemeyer JL, Pessier AP, Lannoo MJ (2011) Seasonal pattern of Batrachochytrium dendrobatidis infection and mortality in Lithobates areolatus: affirmation of Vredenburg's '10,000 zoospore rule.' PloS One 6(3)

Klein J (1987) Origin of major histocompatibility complex polymorphism: the trans-species hypothesis*. Hum Immunol 19:155–162. http://ac.els-cdn.com/0198885987900668/1-s2.0-0198885987900668-main.pdf?_tid=47eb1b68-2905-11e7-bad7-00000aab0f02&acdnat=1493049011_91a731571ef049e977be89fbdd1a40e1

Kosch TA, Bataille A, Didinger C, Eimes JA, Rodríguez-Brenes S, Ryan MJ, Waldman B (2016) Major histocompatibility complex selection dynamics in pathogen-infected Túngara frog (Physalaemus pustulosus) populations. Biol Lett 12(8). https://doi.org/10.1098/rsbl.2016.0345

Kozich JJ, Westcott SL, Baxter NT, Highlander SK, Schloss PD (2013) Development of a dual-index sequencing strategy and curation pipeline for analyzing amplicon sequence data on the Miseq Illumina sequencing platform. Appl Environ Microbiol 79(17):5112–5120. https://doi.org/10.1128/AEM.01043-13

Kriger KM, Pereoglou F, Hero JM (2007) Latitudinal variation in the prevalence and intensity of Chytrid (Batrachochytrium dendrobatidis) infection in Eastern Australia. Conserv Biol 21(5):1280–1290. https://doi.org/10.1111/j.1523-1739.2007.00777.x

Lambertini C, Becker CG, Belasen AM, Valencia-Aguilar A, Nunes-de-Almeida CH, Rodriguez D, Betancourt-Román CM et al (2021) Biotic and abiotic determinants of Batrachochytrium dendrobatidis infections in amphibians of the Brazilian Atlantic Forest. Fungal Ecol 49. https://doi.org/10.1016/j.funeco.2020.100995

Lesbarrères D, Primmer CR, Lodé T, Merilä J (2002) The effects of 20 years of highway presence on the genetic structure of Rana dalmatina populations. Ecoscience 13(4):531–538. https://doi.org/10.2980/1195-6860(2006)13[531:teoyoh]2.0.co;2

Librado P, Rozas J (2009) DnaSP v5: a software for comprehensive analysis of DNA polymorphism data. Bioinformatics Applications Note 25(11):1451–145210. https://doi.org/10.1093/bioinformatics/btp187

May S, Beebee TJC (2009) Characterisation of major histocompatibility complex class II alleles in the natterjack Toad, Bufo calamita. Conserv Genet Resour 1(1):415–417. https://doi.org/10.1007/s12686-009-9096-6

Mulder KP, Maria Cortazar-Chinarro D, Harris J, Crottini A, Campbell EH, Grant RCF, Savage AE (2017) Evolutionary dynamics of an expressed MHC class IIβ locus in the Ranidae (Anura) uncovered by genome walking and high-throughput amplicon sequencing. Dev Comp Immunol 76:177–188. https://doi.org/10.1016/j.dci.2017.05.022

Paradis E (2010) Pegas: an R package for population genetics with an integrated–modular approach. Bioinformatics Applications Note 26(3):419–42010. https://doi.org/10.1093/bioinformatics/btp696

Pearman PB, Garner TWJ (2005) Susceptibility of Italian agile frog populations to an emerging strain of ranavirus parallels population genetic diversity. Ecol Lett 8(4):401–408. https://doi.org/10.1111/j.1461-0248.2005.00735.x

Piertney SB, Oliver MK (2006) The evolutionary ecology of the major histocompatibility complex. Heredity 96:7–21. https://doi.org/10.1038/sj.hdy.6800724

Pond SLK, Frost SDW (2005) Not so different after all: a comparison of methods for detecting amino acid sites under selection. Mol Biol Evol 22(5):1208–1222. https://doi.org/10.1093/molbev/msi105

Puschendorf R, Carnaval AC, Vanderwal J, Zumbado-Ulate H, Chaves G, Bolaños F, Alford RA (2009) Distribution models for the amphibian Chytrid Batrachochytrium dendrobatidis in Costa Rica: proposing climatic refuges as a conservation tool. Divers Distrib 15(3):401–408. https://doi.org/10.1111/j.1472-4642.2008.00548.x

R Core Team (2018) R: a language and environment for statistical computing. R Foundation for Statistical Computing, Vienna, Austria

Radwan J, Biedrzycka A, Babik W (2009) Does reduced MHC diversity decrease viability of vertebrate populations?. Biol Conserv. https://doi.org/10.1016/j.biocon.2009.07.026

Ribeiro MC, Metzger JP, Martensen AC, Ponzoni FJ, Hirota MM (2009) The Brazilian Atlantic Forest: how much is left, and how is the remaining forest distributed? Implications for conservation. Biol Conserv 142(6):1141–1153. https://doi.org/10.1016/j.biocon.2009.02.021

Richmond JQ, Savage AE, Zamudio KR, Rosenblum EB (2009) Toward immunogenetic studies of amphibian Chytridiomycosis: linking innate and acquired immunity. BioScience 59(4):311–320. https://doi.org/10.1525/bio.2009.59.4.9

Rodriguez D, Becker CG, Pupin NC, Haddad CFB, Zamudio KR (2014) Long-term endemism of two highly divergent lineages of the amphibian-killing fungus in the Atlantic Forest of Brazil. Mol Ecol 23(4):774–787. https://doi.org/10.1111/mec.12615

Sandberg M, Eriksson L, Jonsson J, Sjöström M, Wold S (1998) New chemical descriptors relevant for the design of biologically active peptides. A multivariate characterization of 87 amino acids. J Med Chem 41(14):2481–2491. https://doi.org/10.1021/jm9700575

Savage AE, Muletz-Wolz CR, Campbell EH, Grant RCF, Mulder KP (2019) Functional variation at an expressed MHC class IIβ locus associates with ranavirus infection intensity in larval anuran populations. Immunogenetics 71(4):335–346. https://doi.org/10.1007/s00251-019-01104-1

Savage AE, Zamudio KR (2011) MHC genotypes associate with resistance to a frog-killing fungus. Proceedings of the National Academy of Sciences of the United States of America 108(40):16705–16710. https://doi.org/10.1073/pnas.1106893108

Savage AE, Zamudio KR (2016) Adaptive tolerance to a pathogenic fungus drives major histocompatibility complex evolution in natural amphibian populations. Proceedings. Biological Sciences / The Royal Society 283(1827):20153115. https://doi.org/10.1098/rspb.2015.3115

Scheele BC, Pasmans F, Skerratt LF, Berger L, Martel A, Beukema W, Acevedo AA et al (2019) Amphibian fungal Panzootic causes catastrophic and ongoing loss of biodiversity. Science 363(6434):1459–1463. https://doi.org/10.1126/science.aav0379

Stuart SN, Chanson JS, Cox NA, Young BE, Rodrigues ASL, Debra L, Waller RW (2007) Iucn-ssc Ci-cabs biodiversity assessment unit, and M Street. "Stuart_et_al_2004_Science" 1980 (October): 1–4. papers://aa15ed4a-8b41-4036-84a6-41087bba0cd6/Paper/p2362

Tajima F (1989) Statistical method for testing the neutral mutation hypothesis by DNA polymorphism. Genetics 123(3):585–595. PMC1203831

Talley BL, Muletz CR, Vredenburg VT, Fleischer RC, Lips KR (2015) A century of Batrachochytrium dendrobatidis in Illinois amphibians (1888–1989). Biol Conserv 182:254–261. https://doi.org/10.1016/j.biocon.2014.12.007

Tong JC, Bramson J, Kanduc D, Chow S, Sinha AA, Ranganathan S (2006) Modeling the bound conformation of pemphigus vulgaris-associated peptides to MHC class II DR and DQ alleles. https://doi.org/10.1186/1745-7580-2-1

Weaver S, Shank SD, Spielman SJ, Li M, Muse SV, Kosakovsky SL, Pond SL (2018) Datamonkey 2.0: a modern web application for characterizing selective and other evolutionary processes. Mol Biol Evol 35(3):773–777. https://doi.org/10.1093/molbev/msx335
Acknowledgments
The authors acknowledge a number of Indigenous Lands on which this work was performed. Fieldwork was performed on pre-colonization territories of Indigenous Peoples including the Tupi-Guarani and Pataxó Peoples; analyses and writing by AMB and TYJ were performed on traditional territories of Indigenous Peoples including the Ojibwe, Odawa, and Bodéwadmi Peoples, and additional work by AMB was performed on Haudenosaunee Land. We thank Katherine Crocker for generous education that inspired and informed this Indigenous Land Acknowledgment. The authors would like to acknowledge Meghan Duffy, the Zamudio Lab, and the Cornell EEID Journal Club for feedback on an earlier version of the manuscript; Renato Martins, Vinicius Hansser, Rafael Benetti, Joice Ruggeri, João Roberto, Leildo Carilo, Cesar Alexandre, Diego Alejandro, Felipe Andrade, Isa Haga, Lucas Forti, Anna Barbara Bella Sanches Forti, Adolfo Delgado, Carlos Henrique Luz Nunes de Almeida, and Sandra Goutte for assistance in the field; Mirco Solé, Victor Dill, Tadeu Medeiros, Euvaldo Junior, and Caio Vinícius for assistance with field logistics; Kevin Flesher and the Michelin Reserve staff; and the generous Brazilian farmers who accommodated our teams and permitted access to land.
Funding
This work was supported by the National Science Foundation (NSF OISE-1159513 to TYJ), the Brazilian National Council for Scientific and Technological Development (CNPq 300980/2014-0 to LFT), the University of Michigan Department of Ecology and Evolutionary Biology Block Grant (to AMB), and the University of Michigan Rackham International Research Award (to AMB).
Additional information
Publisher's Note
Springer Nature remains neutral with regard to jurisdictional claims in published maps and institutional affiliations.
Supplementary information
Below is the link to the electronic supplementary material.
About this article
Cite this article
Belasen, A.M., Amses, K.R., Clemons, R.A. et al. Habitat fragmentation in the Brazilian Atlantic Forest is associated with erosion of frog immunogenetic diversity and increased fungal infections. Immunogenetics 74, 431–441 (2022). https://doi.org/10.1007/s00251-022-01252-x
Received:

Accepted:

Published:

Issue Date:

DOI: https://doi.org/10.1007/s00251-022-01252-x
Keywords