Abstract
The lifespan of T cells is determined by continuous interactions of their T cell receptors (TCR) with self-peptide-MHC (self-pMHC) complexes presented by different subsets of antigen-presenting cells (APC). In the thymus, developing thymocytes are positively selected through recognition of self-pMHC presented by cortical thymic epithelial cells (cTEC). They are subsequently negatively selected by medullary thymic epithelial cells (mTEC) or thymic dendritic cells (DC) presenting self-pMHC complexes. In the periphery, the homeostasis of mature T cells is likewise controlled by the interaction of their TCR with self-pMHC complexes presented by lymph node stromal cells while they may be tolerized by DC presenting tissue-derived self-antigens. To perform these tasks, the different subsets of APC are equipped with distinct combination of antigen processing enzymes and consequently present specific repertoire of self-peptides. Here, we discuss one such antigen processing enzyme, the thymus-specific serine protease (TSSP), which is predominantly expressed by thymic stromal cells. In thymic DC and TEC, TSSP edits the repertoire of peptide presented by class II molecules and thus shapes the CD4 T cell repertoire.
Access options
Buy single article
Instant access to the full article PDF.
USD 39.95
Price excludes VAT (USA)
Tax calculation will be finalised during checkout.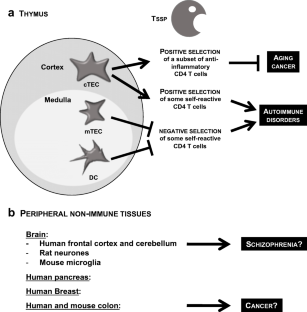 References
Achenbach P, Kelemen K, Wegmann DR, Hutton JC (2002) Spontaneous peripheral T-cell responses to the IA-2beta (phogrin) autoantigen in young nonobese diabetic mice. J Autoimmun 19:111–116

Anderson MS, Venanzi ES, Klein L, Chen Z, Berzins SP, Turley SJ, von Boehmer H, Bronson R, Dierich A, Benoist C, Mathis D (2002) Projection of an immunological self shadow within the thymus by the aire protein. Science 298:1395–1401

Baker RL, Bradley B, Wiles TA, Lindsay RS, Barbour G, Delong T, Friedman RS, Haskins K (2016) Cutting edge: nonobese diabetic mice deficient in chromogranin a are protected from autoimmune diabetes. J Immunol 196:39–43

Ben-Avraham D, Karasik D, Verghese J, Lunetta KL, Smith JA, Eicher JD, Vered R, Deelen J, Arnold AM, Buchman AS, Tanaka T, Faul JD, Nethander M, Fornage M, Adams HH, Matteini AM, Callisaya ML, Smith AV, Yu L, De Jager PL, Evans DA, Gudnason V, Hofman A, Pattie A, Corley J, Launer LJ, Knopman DS, Parimi N, Turner ST, Bandinelli S, Beekman M, Gutman D, Sharvit L, Mooijaart SP, Liewald DC, Houwing-Duistermaat JJ, Ohlsson C, Moed M, Verlinden VJ, Mellstrom D, van der Geest JN, Karlsson M, Hernandez D, McWhirter R, Liu Y, Thomson R, Tranah GJ, Uitterlinden AG, Weir DR, Zhao W, Starr JM, Johnson AD, Ikram MA, Bennett DA, Cummings SR, Deary IJ, Harris TB, Kardia SL, Mosley TH, Srikanth VK, Windham BG, Newman AB, Walston JD, Davies G, Evans DS, Slagboom EP, Ferrucci L, Kiel DP, Murabito JM, Atzmon G (2017) The complex genetics of gait speed: genome-wide meta-analysis approach. Aging (Albany NY) 9:209–246

Bezerra GA, Dobrovetsky E, Dong A, Seitova A, Crombett L, Shewchuk LM, Hassell AM, Sweitzer SM, Sweitzer TD, McDevitt PJ, Johanson KO, Kennedy-Wilson KM, Cossar D, Bochkarev A, Gruber K, Dhe-Paganon S (2012) Structures of human DPP7 reveal the molecular basis of specific inhibition and the architectural diversity of proline-specific peptidases. PLoS One 7:e43019

Boehm T (2009) The adaptive phenotype of cortical thymic epithelial cells. Eur J Immunol 39:944–947

Bowlus CL, Ahn J, Chu T, Gruen JR (1999) Cloning of a novel MHC-encoded serine peptidase highly expressed by cortical epithelial cells of the thymus. Cell Immunol 196:80–86

Brisson L, Pouyet L, N'Guessan P, Garcia S, Lopes N, Warcollier G, Iovanna JL, Carrier A (2015) The thymus-specific serine protease TSSP/PRSS16 is crucial for the antitumoral role of CD4(+) T cells. Cell Rep 10:39–46

Burton AR, Vincent E, Arnold PY, Lennon GP, Smeltzer M, Li CS, Haskins K, Hutton J, Tisch RM, Sercarz EE, Santamaria P, Workman CJ, Vignali DA (2008) On the pathogenicity of autoantigen-specific T-cell receptors. Diabetes 57:1321–1330

Busek P, Malik R, Sedo A (2004) Dipeptidyl peptidase IV activity and/or structure homologues (DASH) and their substrates in cancer. Int J Biochem Cell Biol 36:408–21

Carrier A, Nguyen C, Victorero G, Granjeaud S, Rocha D, Bernard K, Miazek A, Ferrier P, Malissen M, Naquet P, Malissen B, Jordan BR (1999) Differential gene expression in CD3epsilon- and RAG1-deficient thymuses: definition of a set of genes potentially involved in thymocyte maturation. Immunogenetics 50:255–270

Carson RT, Vignali KM, Woodland DL, Vignali DA (1997) T cell receptor recognition of MHC class II-bound peptide flanking residues enhances immunogenicity and results in altered TCR V region usage. Immunity 7:387–399

Cheunsuk S, Hsu T, Gershwin ME, Bowlus CL (2002a) Analysis of the IDDM candidate gene Prss16 in NOD and NON mice. Dev Immunol 9:183–186

Cheunsuk S, Sparks R, Noveroske JK, Hsu T, Justice MJ, Gershwin ME, Gruen JR, Bowlus CL (2002b) Expression, genomic structure and mapping of the thymus specific protease prss16: a candidate gene for insulin dependent diabetes mellitus susceptibility. J Autoimmun 18:311–316

Cheunsuk S, Lian ZX, Yang GX, Gershwin ME, Gruen JR, Bowlus CL (2005) Prss16 is not required for T-cell development. Mol Cell Biol 25:789–796

De Moor MH, Liu YJ, Boomsma DI, Li J, Hamilton JJ, Hottenga JJ, Levy S, Liu XG, Pei YF, Posthuma D, Recker RR, Sullivan PF, Wang L, Willemsen G, Yan H, De Geus EJ, Deng HW (2009) Genome-wide association study of exercise behavior in Dutch and American adults. Med Sci Sports Exerc 41:1887–1895

Delong T, Baker RL, He J, Barbour G, Bradley B, Haskins K (2012) Diabetogenic T-cell clones recognize an altered peptide of chromogranin a. Diabetes 61:3239–3246

Delong T, Wiles TA, Baker RL, Bradley B, Barbour G, Reisdorph R, Armstrong M, Powell RL, Reisdorph N, Kumar N, Elso CM, DeNicola M, Bottino R, Powers AC, Harlan DM, Kent SC, Mannering SI, Haskins K (2016) Pathogenic CD4 T cells in type 1 diabetes recognize epitopes formed by peptide fusion. Science 351:711–714

Derbinski J, Schulte A, Kyewski B, Klein L (2001) Promiscuous gene expression in medullary thymic epithelial cells mirrors the peripheral self. Nat Immunol 2:1032–1039

Ebert PJ, Jiang S, Xie J, Li QJ, Davis MM (2009) An endogenous positively selecting peptide enhances mature T cell responses and becomes an autoantigen in the absence of microRNA miR-181a. Nat Immunol 10:1162–1169

Fernandez-Retana J, Zamudio-Meza H, Rodriguez-Morales M, Pedroza-Torres A, Isla-Ortiz D, Herrera L, Jacobo-Herrera N, Peralta-Zaragoza O, Lopez-Camarillo C, Morales-Gonzalez F, Cantu de Leon D, Perez-Plasencia C (2017) Gene signature based on degradome-related genes can predict distal metastasis in cervical cancer patients. Tumour Biol 39:1010428317711895

Girgenti MJ, LoTurco JJ, Maher BJ (2012) ZNF804a regulates expression of the schizophrenia-associated genes PRSS16, COMT, PDE4B, and DRD2. PLoS One 7:e32404

Gommeaux J, Gregoire C, Nguessan P, Richelme M, Malissen M, Guerder S, Malissen B, Carrier A (2009) Thymus-specific serine protease regulates positive selection of a subset of CD4+ thymocytes. Eur J Immunol 39:956–964

Hsing LC, Rudensky AY (2005) The lysosomal cysteine proteases in MHC class II antigen presentation. Immunol Rev 207:229–241

Klein L, Kyewski B, Allen PM, Hogquist KA (2014) Positive and negative selection of the T cell repertoire: what thymocytes see (and don't see). Nat Rev Immunol 14:377–391

Kroger CJ, Wang B, Tisch R (2016) Temporal increase in thymocyte negative selection parallels enhanced thymic SIRPalpha(+) DC function. Eur J Immunol 46:2352–2362

Latek RR, Suri A, Petzold SJ, Nelson CA, Kanagawa O, Unanue ER, Fremont DH (2000) Structural basis of peptide binding and presentation by the type I diabetes-associated MHC class II molecule of NOD mice. Immunity 12:699–710

Leiting B, Pryor KD, Wu JK, Marsilio F, Patel RA, Craik CS, Ellman JA, Cummings RT, Thornberry NA (2003) Catalytic properties and inhibition of proline-specific dipeptidyl peptidases II, IV and VII. Biochem J 371:525–532

Lie BA, Todd JA, Pociot F, Nerup J, Akselsen HE, Joner G, Dahl-Jorgensen K, Ronningen KS, Thorsby E, Undlien DE (1999) The predisposition to type 1 diabetes linked to the human leukocyte antigen complex includes at least one non-class II gene. Am J Hum Genet 64:793–800

Lie BA, Akselsen HE, Bowlus CL, Gruen JR, Thorsby E, Undlien DE (2002) Polymorphisms in the gene encoding thymus-specific serine protease in the extended HLA complex: a potential candidate gene for autoimmune and HLA-associated diseases. Genes Immun 3:306–312

Lieberman SM, DiLorenzo TP (2003) A comprehensive guide to antibody and T-cell responses in type 1 diabetes. Tissue Antigens 62:359–377

Lin YW, Aplan PD (2007) Gene expression profiling of precursor T-cell lymphoblastic leukemia/lymphoma identifies oncogenic pathways that are potential therapeutic targets. Leukemia 21:1276–1284

Marrack P, Kappler J (1997) Positive selection of thymocytes bearing alpha beta T cell receptors. Curr Opin Immunol 9:250–255

Mayo S, Quinn A (2007) Altered susceptibility to EAE in congenic NOD mice: altered processing of the encephalitogenic MOG35-55 peptide by NOR/LtJ mice. Clin Immunol 122:91–100

Mendel Kerlero de Rosbo N, Ben-Nun A (1996) Delineation of the minimal encephalitogenic epitope within the immunodominant region of myelin oligodendrocyte glycoprotein: diverse V beta gene usage by T cells recognizing the core epitope encephalitogenic for T cell receptor V beta B and T cell receptor V beta A H-2b mice. Eur J Immunol 26:2470–2479

Meredith M, Zemmour D, Mathis D, Benoist C (2015) Aire controls gene expression in the thymic epithelium with ordered stochasticity. Nat Immunol 16:942–949

Musson JA, Walker N, Flick-Smith H, Williamson ED, Robinson JH (2003) Differential processing of CD4 T-cell epitopes from the protective antigen of bacillus anthracis. J Biol Chem 278:52425–55231

Musson JA, Morton M, Walker N, Harper HM, McNeill HV, Williamson ED, Robinson JH (2006) Sequential proteolytic processing of the capsular Caf1 antigen of Yersinia pestis for major histocompatibility complex class II-restricted presentation to T lymphocytes. J Biol Chem 281:26129–26135

Nakayama M, Abiru N, Moriyama H, Babaya N, Liu E, Miao D, Yu L, Wegmann DR, Hutton JC, Elliott JF, Eisenbarth GS (2005) Prime role for an insulin epitope in the development of type 1 diabetes in NOD mice. Nature 435:220–223

Perrigoue JG, Saenz SA, Siracusa MC, Allenspach EJ, Taylor BC, Giacomin PR, Nair MG, Du Y, Zaph C, van Rooijen N, Comeau MR, Pearce EJ, Laufer TM, Artis D (2009) MHC class II-dependent basophil-CD4+ T cell interactions promote T(H)2 cytokine-dependent immunity. Nat Immunol 10:697–705

Sansom SN, Shikama-Dorn N, Zhanybekova S, Nusspaumer G, Macaulay IC, Deadman ME, Heger A, Ponting CP, Hollander GA (2014) Population and single-cell genomics reveal the Aire dependency, relief from Polycomb silencing, and distribution of self-antigen expression in thymic epithelia. Genome Res 24:1918–1931

Seita J, Sahoo D, Rossi DJ, Bhattacharya D, Serwold T, Inlay MA, Ehrlich LI, Fathman JW, Dill DL, Weissman IL (2012) Gene expression commons: an open platform for absolute gene expression profiling. PLoS One 7:e40321

Serre L, Fazilleau N, Guerder S (2015) Central tolerance spares the private high-avidity CD4(+) T-cell repertoire specific for an islet antigen in NOD mice. Eur J Immunol 45:1946–1956

Serre L, Girard M, Ramadan A, Menut P, Rouquie N, Lucca LE, Mahiddine K, Leobon B, Mars LT, Guerder S (2017) Thymic-specific serine protease limits central tolerance and exacerbates experimental autoimmune encephalomyelitis. J Immunol 199:3748–3756

Shay T, Kang J (2013) Immunological genome project and systems immunology. Trends Immunol 34:602–609

Shi J, Levinson DF, Duan J, Sanders AR, Zheng Y, Pe'er I, Dudbridge F, Holmans PA, Whittemore AS, Mowry BJ, Olincy A, Amin F, Cloninger CR, Silverman JM, Buccola NG, Byerley WF, Black DW, Crowe RR, Oksenberg JR, Mirel DB, Kendler KS, Freedman R, Gejman PV (2009) Common variants on chromosome 6p22.1 are associated with schizophrenia. Nature 460:753–757

Smith KJ, Pyrdol J, Gauthier L, Wiley DC, Wucherpfennig KW (1998) Crystal structure of HLA-DR2 (DRA*0101, DRB1*1501) complexed with a peptide from human myelin basic protein. J Exp Med 188:1511–1520

Stadinski BD, Delong T, Reisdorph N, Reisdorph R, Powell RL, Armstrong M, Piganelli JD, Barbour G, Bradley B, Crawford F, Marrack P, Mahata SK, Kappler JW, Haskins K (2010) Chromogranin a is an autoantigen in type 1 diabetes. Nat Immunol 11:225–231

Stefansson H, Ophoff RA, Steinberg S, Andreassen OA, Cichon S, Rujescu D, Werge T, Pietilainen OP, Mors O, Mortensen PB, Sigurdsson E, Gustafsson O, Nyegaard M, Tuulio-Henriksson A, Ingason A, Hansen T, Suvisaari J, Lonnqvist J, Paunio T, Borglum AD, Hartmann A, Fink-Jensen A, Nordentoft M, Hougaard D, Norgaard-Pedersen B, Bottcher Y, Olesen J, Breuer R, Moller HJ, Giegling I, Rasmussen HB, Timm S, Mattheisen M, Bitter I, Rethelyi JM, Magnusdottir BB, Sigmundsson T, Olason P, Masson G, Gulcher JR, Haraldsson M, Fossdal R, Thorgeirsson TE, Thorsteinsdottir U, Ruggeri M, Tosato S, Franke B, Strengman E, Kiemeney LA, Genetic R, Outcome in P, Melle I, Djurovic S, Abramova L, Kaleda V, Sanjuan J, de Frutos R, Bramon E, Vassos E, Fraser G, Ettinger U, Picchioni M, Walker N, Toulopoulou T, Need AC, Ge D, Yoon JL, Shianna KV, Freimer NB, Cantor RM, Murray R, Kong A, Golimbet V, Carracedo A, Arango C, Costas J, Jonsson EG, Terenius L, Agartz I, Petursson H, Nothen MM, Rietschel M, Matthews PM, Muglia P, Peltonen L, St Clair D, Goldstein DB, Stefansson K, Collier DA (2009) Common variants conferring risk of schizophrenia. Nature 460:744–747

Strobel P, Hartmann E, Rosenwald A, Kalla J, Ott G, Friedel G, Schalke B, Kasahara M, Tomaru U, Marx A (2014) Corticomedullary differentiation and maturational arrest in thymomas. Histopathology 64:557–566

Takaba H, Morishita Y, Tomofuji Y, Danks L, Nitta T, Komatsu N, Kodama T, Takayanagi H (2015) Fezf2 orchestrates a thymic program of self-antigen expression for immune tolerance. Cell 163:975–987

Vidovic D, Matzinger P (1988) Unresponsiveness to a foreign antigen can be caused by self-tolerance. Nature 336:222–225

Viken MK, Blomhoff A, Olsson M, Akselsen HE, Pociot F, Nerup J, Kockum I, Cambon-Thomsen A, Thorsby E, Undlien DE, Lie BA (2009) Reproducible association with type 1 diabetes in the extended class I region of the major histocompatibility complex. Genes Immun 10:323–333

Viret C, Lamare C, Guiraud M, Fazilleau N, Bour A, Malissen B, Carrier A, Guerder S (2011a) Thymus-specific serine protease contributes to the diversification of the functional endogenous CD4 T cell receptor repertoire. J Exp Med 208:3–11

Viret C, Leung-Theung-Long S, Serre L, Lamare C, Vignali DA, Malissen B, Carrier A, Guerder S (2011b) Thymus-specific serine protease controls autoreactive CD4 T cell development and autoimmune diabetes in mice. J Clin Invest 121:1810–1821

Viret C, Mahiddine K, Baker RL, Haskins K, Guerder S (2015) The T cell repertoire-diversifying enzyme TSSP contributes to Thymic selection of Diabetogenic CD4 T cell specificities reactive to ChgA and IAPP autoantigens. J Immunol 195:1964–1973

Wong FS, Karttunen J, Dumont C, Wen L, Visintin I, Pilip IM, Shastri N, Pamer EG, Janeway CA Jr (1999) Identification of an MHC class I-restricted autoantigen in type 1 diabetes by screening an organ-specific cDNA library. Nat Med 5:1026–1031
Funding
This work was supported in part by the "Institut National de la Santé et de la Recherche Médicale" and the "Centre National de la Recherche Scientifique" and by grants from The Agence Nationale de la Recherche (ANR-10-BLAN-1332, ANR-13-BSV1–0017), the French MS society (ARSEP), the Medical Research Foundation (FRM), The European Foundation for the Study of Diabetes/Sanofi, The European Foundation for the Study of Diabetes/Lilly, The Juvenile Diabetes Research Foundation International, and the IdEx Toulouse University and the Midi-Pyrénées Région to SG.
Ethics declarations
Conflict of interest
The authors declare that they have no competing interests.
Additional information
This article is part of the Topical Collection on Biology and Evolution of Antigen Presentation
About this article
Cite this article
Guerder, S., Hassel, C. & Carrier, A. Thymus-specific serine protease, a protease that shapes the CD4 T cell repertoire. Immunogenetics 71, 223–232 (2019). https://doi.org/10.1007/s00251-018-1078-y
Received:

Accepted:

Published:

Issue Date:

DOI: https://doi.org/10.1007/s00251-018-1078-y
Keywords