Abstract
The major histocompatibility complex genes coding for antigen binding and presenting molecules are the most polymorphic genes in the vertebrate genome. We studied the DRA and DQA gene polymorphism of the family Equidae. In addition to 11 previously reported DRA and 24 DQA alleles, six new DRA sequences and 13 new DQA alleles were identified in the genus Equus. Phylogenetic analysis of both DRA and DQA sequences provided evidence for trans-species polymorphism in the family Equidae. The phylogenetic trees differed from species relationships defined by standard taxonomy of Equidae and from trees based on mitochondrial or neutral gene sequence data. Analysis of selection showed differences between the less variable DRA and more variable DQA genes. DRA alleles were more often shared by more species. The DQA sequences analysed showed strong amongst-species positive selection; the selected amino acid positions mostly corresponded to selected positions in rodent and human DQA genes.
Access options
Buy single article
Instant access to the full article PDF.
US$ 39.95
Tax calculation will be finalised during checkout.
Subscribe to journal
Immediate online access to all issues from 2019. Subscription will auto renew annually.
US$ 119
Tax calculation will be finalised during checkout.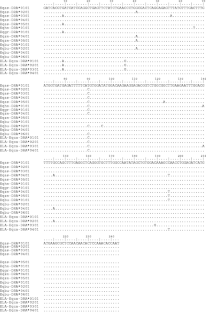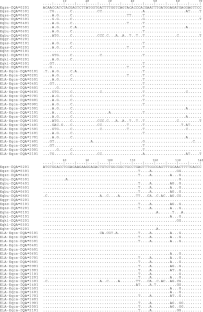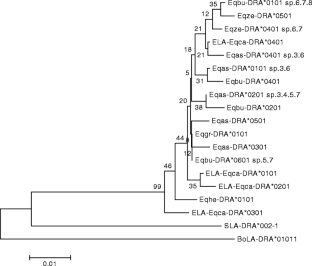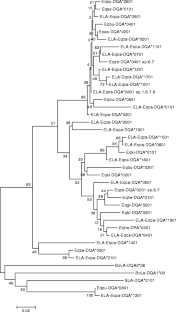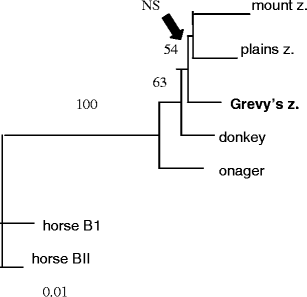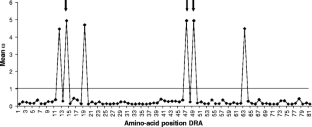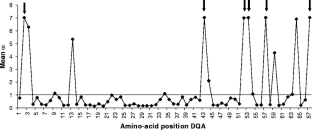 References
Albright D, Bailey E, Woodward JG (1991) Nucleotide sequence of a cDNA clone of the horse (Equus caballus) DRA gene. Immunogenetics 34:136–138

Albright-Fraser DG, Reid R, Gerber V, Bailey E (1996) Polymorphism of DRA among equids. Immunogenetics 43:315–317 (erratum Immunogenetics 1996; 44:487)

Anisimova M, Bielawski JP, Yang ZH (2001) Accuracy and power of the likelihood ratio test in detecting adaptive molecular evolution. Mol Biol Ecol 18(8):1585–1592

Bailey E, Marti E, Fraser DG, Antzac DF, Lazary S (2000) Immunogenetics of the horse. In: Bowling AT, Rusinsky A (eds) The genetics of the horse. CABI, Wallingford (UK), pp 123–155

Ballingall KT, Luyai A, McKeever DJ (1997) Analysis of genetic diversity at the DQA loci in African cattle: evidence for a BoLA-DQA3 locus. Immunogenetics 46(3):237–244

Bernatchez L, Landry C (2003) MHC studies in nonmodel vertebrates: what have we learned about natural selection in 15 years? J Evol Biol 16:363–377

Bondinas GP, Moustakas AK, Papadopoulos GK (2007) The spectrum of HLA-DQ and HLA-DR alleles, 2006: a listing correlating sequence and structure with function. Immunogenetics 59(7):539–553

Bowling AT, Rusinsky A (2000) Genetic aspects of domestication, breeds and their origins. In: Bowling AT, Rusinsky A (eds) The genetics of the horse. CABI, Wallingford (UK), pp 25–52

Brown JJ, Thomson W, Clegg P, Eyre S, Kennedy LJ, Matthews J, Carter S, Ollier WER (2004) Polymorphism of the equine major histocompatibility complex class II DRA locus. Tissue Antigens 64:173–179

Bryja J, Galan M, Charbonnel N, Cosson JF (2006) Duplication, balancing selection, and trans-species evolution explain the high levels of polymorphism of the DQA MHC class II gene in voles (Arvicolinae). Immunogenetics 58:191–202

Bryja J, Charbonell N, Berthier K, Galan M, Cosson F (2007) Density-related changes in selection pattern for major histocompatibility genes in fluctuating populations of voles. Mol Ecol 16(23):5084–5097

Chardon P, Renard C, Vaiman M (1999) The major histocompatibility complex in swine. Immunol Rev 167:179–192

Chen FX, Xie J, Li NL, Zhou Y, Xin L, Chou KY (2005) Novel SLA-DQ alleles and their recombinant molecules in xenogeneic stimulation of human T cells. Transpl Immunol 14(2):83–89

Cutrera AP, Lacey EA (2007) Trans-species polymorphism and evidence of selection on class II MHC loci in tuco-tucos (Rodentia: Ctenomyidae). Immunogenetics 59:937–948

Diaz S, Echeverria MG, It V, Posik DM, Rogberg-Munoz A, Pena NL, Peral-Garcia P, Vega-Pla JL, Giovambattista G (2008) Development of an ELA_DRA gene typing method based on pyrosequencing technology. Tissue Antigens 72(5):464–468

Ellis SA, Bontrop RE, Antczak DF, Ballingall K, Davies CJ, Kaufman J, Kennedy LJ, Robinson J, Smith DM, Stear MJ, Stet RJM, Waller MJ, Walter L, Marsh SGE (2006) ISAG/IUIS-VIC Comparative MHC Nomenclature Committee report, 2005. Immunogenetics 57(12):953–958

Frankham R (2003) Genetics and conservation biology. Cr Biol 326(Suppl 1):S22–S29

Fraser DG, Bailey E (1996) Demonstration of three DRB loci in a domestic horse family. Immunogenetics 44(6):441–445

Fraser DF, Bailey E (1998) Polymorphism and multiple loci for the horse DQA gene. Immunogenetics 47:487–490

George M, Ryder OA (1986) Mitochondrial DNA evolution in the genus Equus. Mol Biol Evol 3(6):535–546

Gustafson AL, Tallmadge RL, Pamlachan N, Miller D, Bird H, Antczak DF, Raudsepp T, Chowdhary BP, Skow LC (2003) An order BAC contig map of the equine major histocompatibility complex. Cytogenet Genome Res 102:189–195

Hall TA (1999) BioEdit. A user friendly biological sequence alignment editor and analysis program for Windows 95/98/NT. Nucleic Acids Symp Ser 41:95–98

Hedrick PW (1999) Perspective: highly variable loci and their interpretation in evolution and conservation. Evolution 53:313–318

Hedrick PW, Kim TJ (2000) Genetics of complex polymorphism: parasites and maintenance of the major histocompatibility complex variation. In: Singh RS, Krimbas CB (eds) Evolutionary genetics: from molecules to morphology. Cambridge University Press, Cambridge, pp 204–234

Hedrick PW, Lee RN, Parker KM (2000) Major histocompatibility complex (MHC) variation in the endangered Mexican wolf and related canids. Heredity 85:617–624

Holmes EC, Ellis SA (1999) Evolutionary history of MHC class I genes in the mammalian order Perissodactyla. J Mol Evol 49(3):316–324

Horin P, Matiasovic J (2002) A second locus and new alleles in the major histocompatibility complex class II (ELA-DQB) region in the horse. Anim Genet 33(3):196–200

Hughes AL, Yager M (1998) Natural selection and the evolutionary history of major histocompatibility complex loci. Front Biosci 3:509–516

Jeffery KJ, Bangham CR (2000) Do infectious diseases drive MHC diversity? Microbes Infect 2:1335–1341

Jukes TH, Cantor CR (1969) Evolution of protein molecules. In: Munro HN (ed) Mammalian protein metabolism. Academic, New York, pp 21–132

Kelley J, Walter L, Trowsdale J (2005) Comparative genomics of major histocompatibility complexes. Immunogenetics 56:683–695

Kennedy LJ, Angles JM, Barnes A, Carmichael LE, Radford AD, Kolier WER, Happ GM (2007) DLA-DRBI, DQAI, and DQBI alleles and haplotypes in North American gray wolves. J Hered 98(5):491–499 (Special issue)

Klein J (1986) Natural history of the major histocompatibility complex. Wiley, New York

Klein J (1987) Origin of major histocompatibility complex polymorphism: the trans-species hypothesis. Hum Immunol 19:155–162

Klein J, O'Huigin C (1994) MHC polymorphism and parasites. Philos Trans R Soc Lond B 346:351–358

Klein J, Bontrop RE, Dawkins RL, Erlich HA, Gyllenstein UB, Heise ER, Jones PP, Parham P, Wakeland EK, Watkins DI (1990) Nomenclature for the major histocompatibility complexes of different species—a proposal. Immunogenetics 31(4):217–219

Krüger K, Gaillard C, Stranzinger G, Rieder S (2005) Phylogenetic analysis and species allocation of individual equids usány microsatellite data. J Anim Breed Genet 122(Suppl.1):78–86

Kumar S, Tamura K, Nei M (2004) MEGA3: integrated software for molecular evolutionary genetics analysis and sequence alignment. Brief Bioinform 5:150–153

Latek RR, Suri A, Petzold SJ, Nelson CA, Kanagawa O, Unanue ER, Fremont DH (2000) Structural basis of peptide binding and presentation by the type I diabetes-associated MHC class II molecule in NOD mice. Immunity 12:699–710

Lindgren G, Backström N, Swinburne J, Hellborg L, Einarsson A, Sandberg K, Cothran G, Vilà C, Binns M, Ellegren H (2004) Limited number of patrilines in horse domestication. Nat Genet 36:335–336

Luís C, Cothran EG, Oom MM, Bailey E (2005) Major histocompatibility complex locus DRA polymorphism in the endangered Sorraia horse and related breeds. J Anim Breed Genet 122:69–72

Mashima S (2003) Comparative sequence analysis of equine and human MHC class II DOB genes. Cytogenet Genome Res 102(1–4):196–200

Militiadou D, Law AS, Russell GC (2003) Establishment of a sequence-based typing system for BoLA-DRB3 exon 2. Tissue Antigens 62(1):55–65

Miller D, Antczak DF (2008) Polymorphism and genomic organization of the Equine MHC class II region. XXXI Conference of the International Society for Animal Genetics, 20–24 July 2008, RAI Conference Center, Amsterdam, The Netherlands, Book of Abstracts, poster 2125

Nei M, Gojobori T (1986) Simple method for estimating the numbers of synonymous and nonsynonymous nucleotide substitutions. Mol Biol Evol 3:418–426

Nowak RM (1999) Walker's mammals of the world, vol II. The Johns Hopkins University Press, Baltimore

Oakenfull EA, Clegg JB (1998) Phylogenetic relationship within the genus Equus and the evolution of alpha and theta globin genes. J Mol Evol 47(6):772–783

Otting N, de Groot NG, Doxiadis GGM, Bontrop RE (2002) Extensive Mhc-DQB variation in humans and non-human primate species. Immunogenetics 54:230–239

Ottova E, Simkova A, Martin JF, Gouy de Bellocq J, Gelnar M, Allienne JF, Morand S (2005) Evolution and trans-species polymorphism of MHC class IIβ genes in cyprinid fish. Fish Shellfish Immunol 18:199–222

O'Brien SJ, Yuhki N (1999) Comparative genome organization of the major histocompatibility complex: lessons from the Felidae. Immunol Rev 167:133–144

Paliakasis K, Routsias J, Petratos K, Kokkinidis M, Papadopoulos GK (1996) Novel structural features of the human histocompatibility molecules HLA-DQ as revealed by modeling based on the published structure of the related molecule HLA-DR. J Struct Biol 117:145–163

Pimtanothai N, Hurley CK, Leke R, Klitz W, Johnson AH (2001) HLA-DR and-DQ polymorphism in Cameroon. Tissue Antigens 58:1–8

Russell GC, Gallagher A, Craigmile S, Glass E (1997) Characterization of cattle cDNA sequences from two DQA loci. Immunogenetics 45(6):455–458

Seddon JM, Baverstock PR (2000) Evolutionary lineages of RT1.Ba in the Australian rat. Mol Ecol 17:768–772

Seddon JM, Ellegren H (2002) MHC class II genes in European wolves: a comparison with dogs. Immunogenetics 54:490–500

Seddon JM, Ellegren H (2004) A temporal analysis shows major histocompatibility complex loci in the Scandinavian wolf population are consistent with neutral evolution. Proc R Soc Lond B 271:2283–2291

Sommer S (2005) The importance of immune gene variability (MHC) in evolutionary ecology and conservation. Front Zool 2:16

Szalai G, Antczak DF, Gerber H, Lazary S (1994) Molecular-cloning and characterization of horse DQB CDNA. Immunogenetics 40(6):457

Takada T, Kikkawa Y, Yonekawa H, Amano T (1998) Analysis of goat MHC class II DRA and DRB genes: identification of the expressed gene and new DRB alleles. Immunogenetics 48(6):408–412

Trowsdale J, Parham P (2004) Defense strategies and immunity-related genes. Eur J Immunol 34(1):7–17

Yang Z, Swanson WJ (2002) Codon-substitution models to detect adaptive evolution that account for heterogeneous selective pressures among site classes. Mol Biol Evol 19:49–57

Yang Z, Swanson WJ, Vacquier VD (2000) Maximum-likelihood analysis of molecular adaptation in abalone sperm lysine reveals variable selective pressures among lineages and sites. Mol Biol Evol 17(10):1446–1455

Yang Z, Wong WSW, Nielsen R (2005) Bayes empirical Bayes inference of amino acid sites under positive selection. Mol Biol Evol 22:1107–1118

Yuhki N, Beck T, Stephens RM, Nishigaki Y, Newmann K, O'Brien SJ (2003) Comparative genome organization of human, murine, and feline MHC class II region. Genome Res 13(6):1169–1179
Acknowledgment
This study was supported by the project of the Czech National Grant Agency, GA CR 523/06/1402. We wish to thank Dr. Josef Bryja for his valuable help with the selection analysis.
About this article
Cite this article
Janova, E., Matiasovic, J., Vahala, J. et al. Polymorphism and selection in the major histocompatibility complex DRA and DQA genes in the family Equidae. Immunogenetics 61, 513–527 (2009). https://doi.org/10.1007/s00251-009-0380-0
Received:

Accepted:

Published:

Issue Date:
Keywords
Equus

MHC polymorphism

DRA and DQA genes

Positive selection