Abstract
Antiviral immunity in fish is not well understood. In mammals, Toll-like receptor (TLR) 3 is involved in double-stranded RNA recognition and host immune response activation. Here, we report the first identification of a rainbow trout TLR3 ortholog (rtTLR3), its genomic structure, and mRNA regulation. Six exons and five introns were identified from bacterial artificial chromosome (BAC) and expressed sequence tag (EST) sequencing, and this genomic organization is similar to mammalian and fish TLR3 genes. The putative 913 amino acid protein has a Toll/interleukin (IL)-1R (TIR) domain, a transmembrane domain, and leucine-rich repeats. In healthy trout, rtTLR3 is highly expressed in the liver, pyloric ceca, intestine, spleen, and anterior and trunk kidney tissues. To investigate whether rtTLR3 is involved in antiviral immunity, transcriptional regulation in vivo was examined by quantitative real-time polymerase chain reaction (PCR) after poly inosinic:cytidylic (I:C) and infectious hematopoietic necrosis virus (IHNV) treatments. TLR3 mRNA expression peaked 1 day after poly (I:C) injection of live animals, while the peak of gene expression after live IHNV challenge was observed on day 3. In vitro stimulation of rainbow trout anterior kidney leukocytes with poly (I:C) also enhanced rtTLR3 expression. Up-regulation was specific to viral challenge as there was no significant up-regulation of rtTLR3 mRNA levels in the spleen and a modest down-regulation in the anterior kidney after bath challenge with a gram-negative bacterial trout pathogen, Yersinia ruckeri. The sequence conservation of trout TLR3 and mRNA regulation after poly (I:C) or RNA virus exposures strongly suggest a role for trout TLR3 in antiviral immunity.
This is a preview of subscription content,
to check access.
Access this article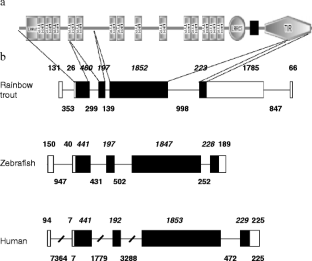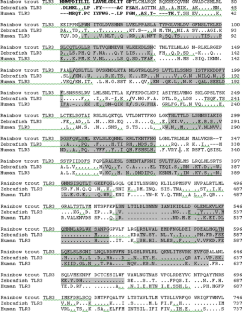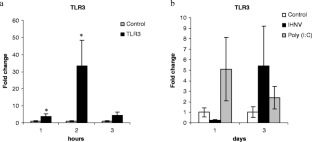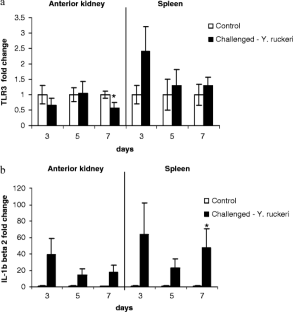 Abbreviations
rtTLR3:

Rainbow Trout Toll-like receptor 3

BAC:

Bacterial Artificial Chromosome

EST:

Expressed Sequence Tag

TIR:

Toll/IL-1 Receptor

LRR:

Leucine-Rich Repeat
References
Alexopoulou L, Holt AC, Medzhitov R, Flavell RA (2001) Recognition of double-stranded RNA and activation of NF-kB by Toll-like receptor 3. Nature 413(18):732–738

Altschul SF, Gish W, Miller W, Myers EW, Lipman DJ (1990) Basic local alignment search tool. J Mol Biol 215(3):403–410

Alves-Rosa F, Vulcano M, Beigier-Bompadre M, Fernandez G, Palermo M, Isturiz MA (2002) Interleukin-1β induces in vivo tolerance to lipopolysaccharide in mice. Clin Exp Immunol 128(2):221–228

Bell JK, Mullen GE, Leifer CA, Mazzoni A, Davies DR, Segal DM (2003) Leucine-rich repeats and pathogen recognition in Toll-like receptors. Trends Immunol 24(10):528–533

Bilodeau AL, Waldbieser GC (2005) Activation of TLR3 and TLR5 in channel catfish exposed to virulent Edwardsiella ictaluri. Dev Comp Immunol 29(8):713–721

Braun-Nesje R, Kaplan G, Seljelid R (1982) Rainbow trout macrophages in vitro: morphology and phagocytic activity. Dev Comp Immunol 6:281–291

Chomczynski P, Sacchi N (1987) Single-step method of RNA isolation by acid guanidinium thiocyanate–phenol–chloroform extraction. Anal Biochem 162:156–159

Eaton WD (1990) Anti-viral activity in four species of salmonids following exposure to poly inosinic:cytidylic acid. Dis Aquat Org 9:193–198

Edelmann KH, Richardson-Burns S, Alexopoulou L, Tyler KL, Flavell RA, Oldstone MB (2004) Does Toll-like receptor 3 play a biological role in virus infections? Virology 322(2):231–238

Fijan N, Sulimanovic D, Bearzotti M, Muzinic D, Zwillenberg L, Chilmonczyk S, Vautherot JF, De Kinkelin P (1983) Some properties of the epithelioma papulosum cyprini (EPC) cell line from carp Cyprinus carpio. Ann Inst Pasteur, Virol 134E:207–220

Funami K, Matsumoto M, Oshiumi H, Akazawa T, Yamamoto A, Seya T (2004) The cytoplasmic 'linker region' in Toll-like receptor 3 controls receptor localization and signaling. Int Immunol 16(8):143–154

Gahr SA, Palti Y, Rexroad CE III (2004) Genomic characterization of a novel pair of ID genes in the rainbow trout (Oncorhynchus mykiss). Anim Genet 35:317–320

Heinemeyer T, Wingender E, Reuter I, Hermjakob H, Kel AE, Kel OV, Ignatieva EV, Ananko EA, Podkolodnaya OA, Kolpakov FA, Podkolodny NL, Kolchanov NA (1998) Databases on transcriptional regulation: TRANSFAC, TRRD, and COMPEL. Nucleic Acids Res 26:364–370

Heinz S, Haehnel V, Karaghiosoff M, Schwarzfischer L, Muller M, Krause SW, Rehli M (2003) Species-specific regulation of Toll-like receptor 3 genes in men and mice. J Biol Chem 278:21502–21509

Hesketh J (2004) 3′-Untranslated regions are important in mRNA localization and translation: lessons from selenium and metallothionein. Biochem Soc Trans 32:990–993

Higgins D, Thompson J, Gibson T, Thompson JD, Higgins DG, Gibson TJ (1994) CLUSTAL W: improving the sensitivity of progressive multiple sequence alignment through sequence weighting, position-specific gap penalties and weight matrix choice. Nucleic Acids Res 22:4673–4680

Hoebe K, Du X, Georgel P, Janssen E, Tabeta K, Kim SO, Goode J, Lin P, Mann N, Mudd S, Crozat K, Sovath S, Han J, Beutler B (2003) Identification of Lps2 as a key transducer of MyD88-independent TIR signaling. Nature 424:743–748

Iwasaki A, Medzhitov R (2004) TLR receptor control of the adaptive immune responses. Nat Immun 5(10):987–995

Jacobs BL, Langland JO (1996) When two strands are better than one: the mediators and modulators of the cellular responses to double-stranded RNA. Virology 219(2):339–349

Jacobson A (2004) Regulation of mRNA decay: decapping goes solo. Mol Cell 15(1):1–2

Jault C, Pichon L, Chluba J (2004) Toll-like receptor gene family and TIR-domain adapters in Danio rerio. Mol Immunol 40:759–771

Jensen LE, Whitehead AS (2004) The 3′ untranslated region of the membrane-bound IL-1R accessory protein mRNA confers tissue-specific destabilization. J Immunol 173(10):6248–6258

Kadowaki N, Ho S, Antonenko S, Malefyt RW, Kastelein RA, Bazan F, Liu YJ (2001) Subsets of human dendritic cell precursors express different Toll-like receptors and respond to different microbial antigens. J Exp Med 194(6):863–870

Kocamis H, McFarland DC, Killefer J (2001) Temporal expression of growth factor genes during myogenesis of satellite cells derived from the biceps femoris and pectoralis major muscles of the chicken. J Cell Physiol 186:146–152

Kracht M, Saklatvala J (2002) Transcriptional and post-transcriptional control of gene expression in inflammation. Cytokine 20(3):91–106

Kumar S, Tamura K, Jakobsen IB, Nei M (2001) MEGA 2: molecular evolution genetics analysis software. Arizona State University, Tempe, AZ, USA

Letunic I, Copley RR, Schmidt S, Ciccarelli FD, Doerks T, Schultz J, Ponting CP, Bork P (2004) SMART 4.0: towards genomic data integration. Nucleic Acids Res 32:D142–D144

Mazumder B, Seshadri V, Fox PL (2003) Translational control by the 3′-UTR: the ends specify the means. Trends Biochem Sci 28(2):91–98

Meijer AH, Krens SFG, Rodriguez IAM, He S, Bitter W, Snaar-Jagalska BE, Spaink HP (2004) Expression analysis of the Toll-like receptor and TIR domain adaptor families of zebrafish. Mol Immunol 40:773–783

Muzio M, Bosisio D, Polentarutti N, D'amico G, Stoppacciaro A, Mancinelli R, van't Veer C, Penton-Rol G, Ruco LP, Allavena P, Mantovani A (2000) Differential expression and regulation of Toll-like receptors (TLR) in human leukocytes: selective expression of TLR3 in dendritic cells. J Immunol 164:5998–6004

O'Farrell C, Vaghefi N, Cantonnet M, Buteau B, Boudinot P, Benmansour A (2002) Survey of transcript expression in rainbow trout leukocytes reveals a major contribution of interferon-responsive genes in the early response to a rhabdovirus infection. J Virol 76:8040–8049

Oshiumi H, Tsujita T, Shida K, Matsumoto M, Ikeo K, Seya T (2003) Prediction of the prototype of the human Toll-like receptor gene family from the pufferfish, Fugu rubripes, genome. Immunogenetics 54:791–800

Palti Y, Gahr SA, Hansen JD, Rexroad CE III (2004) Characterization of a new BAC library for rainbow trout: evidence for multi-locus duplication. Anim Genet 35(2):130–133

Phelan PE, Mellon MT, Kim CH (2005) Functional characterization of full-length TLR3, IRAK-4, and TRAF6 in zebrafish (Danio rerio). Mol Immunol 42(9):1057–1071

Purcell MK, Kurath G, Garver KA, Herwig RP, Winton JR (2004) Quantitative expression profiling of immune response genes in rainbow trout following infectious haematopoietic necrosis virus (IHNV) infection or DNA vaccination. Fish Shellfish Immunol 17(5):447–462

Renshaw M, Rockwell J, Engleman C, Gewirtz A, Katz J, Sambhara S (2002) Cutting edge: impaired Toll-like receptor expression and function in aging. J Immunol 169(9):4697–4701

Rexroad CE III, Keele JW, Gahr SA, Palti Y, Lee Y, Karamycheva S, Quackenbush J (2004) Sequence analysis of a rainbow trout cDNA library and creation of a gene index. Cytogenet Genome Res 102:347–54

Sarkar SN, Smith HL, Rowe TM, Sen GC (2003) Double-stranded RNA signaling by Toll-like receptor 3 requires specific tyrosine residues in its cytoplasmic domain. J Biol Chem 278(7):4393–4396

Schultz J, Milpetz F, Bork P, Ponting CP (1998) SMART, a simple modular architecture research tool: identification of signaling domains. Proc Natl Acad Sci U S A 95:5857–5864

Sen GC, Sarkar SN (2005) Transcriptional signaling by double-stranded RNA: role of TLR3. Cytokine Growth Factor Rev 16:1–14

Soderlund C, Longden I, Mott R (1997) FPC: a system for building contigs from restriction fingerprinted clones. Comput Appl Biosci 13:523–535

Tabeta K, Georgel P, Janssen E, Du X, Hoebe K, Crozat K, Mudd S, Shamel L, Sovath S, Goode J, Alexopoulou L, Flavell RA, Beutler B (2004) Toll-like receptors 9 and 3 as essential components of innate immune defense against mouse cytomegalovirus infection. Proc Natl Acad Sci U S A 101(10):3516–3521

Takeda K, Kaisho T, Akira S (2003) Toll-like receptors. Annu Rev Immunol 21:335–376

Thorgaard GH, Bailey GS, Williams D, Buhler DR, Kaattari SL, Ristow SS, Hansen JD, Winton JR, Bartholomew JL, Nagler JJ, Walsh PJ, Vijayan MM, Devlin RH, Hardy RW, Overturf KE, Young WP, Robison BD, Rexroad C, Palti Y (2002) Status and opportunities for genomics research with rainbow trout. Comp Biochem Physiol, Part B Biochem Mol Biol 133(4):609–646

Trobridge GD, Chiou PP, Kim CH, Leong JC (1997) Induction of the Mx protein of rainbow trout with poly I:C dsRNA and infectious hematopoietic necrosis virus. Dis Aquat Org 30:91–98

Tsujita T, Tsukada H, Nakao M, Oshiumi H, Matsumoto M, Seya T (2004) Sensing bacterial flagellin by membrane and soluble orthologs of Toll-like receptor 5 in rainbow trout (Oncorhynchus mykiss). J Biol Chem 2004279(47):48588–48597

Wang T, Town T, Alexopoulou L, Anderson JF, Fikrig E, Flavell RA (2004) Toll-like receptor 3 mediates West Nile virus entry into the brain causing lethal encephalitis. Nat Med 10(12):1366–1373

Yamamoto T, Batts WN, Arakawa K, Winton JR (1990) Multiplication of infectious hematopoietic necrosis virus in rainbow trout following immersion: whole-body assay and immunohistochemistry. J Aquat Anim Health 2:271–280

Yamamura M, Uyemura K, Deans RJ, Weinberg K, Rea TH, Bloom BR, Modlin RL (1991) Defining protective responses to pathogens: cytokine profiles in leprosy lesions. Science 254:277–279
Acknowledgements
The authors would like to thank Dr. Scott Gahr for his valuable contributions, Dr. Scott Lankford for providing EF-1α primers, Dr. Erica Leder for real-time analysis assistance, and Dr. Scott LaPatra for providing fish. We also kindly acknowledge Katherine Hovatter and Renee Fincham for their technical assistance in this project. The experiments performed in this study comply with current US laws.
About this article
Cite this article
Rodriguez, M.F., Wiens, G.D., Purcell, M.K. et al. Characterization of Toll-like receptor 3 gene in rainbow trout (Oncorhynchus mykiss). Immunogenetics 57, 510–519 (2005). https://doi.org/10.1007/s00251-005-0013-1
Received:

Accepted:

Published:

Issue Date:

DOI: https://doi.org/10.1007/s00251-005-0013-1
Keywords