Abstract
Patch clamp electrophysiology is the main technique to study mechanosensitive ion channels (MSCs), however, conventional patch clamping is laborious and success and output depends on the skills of the operator. Even though automated patch systems solve these problems for other ion channels, they could not be applied to MSCs. Here, we report on activation and single channel analysis of a bacterial mechanosensitive ion channel using an automated patch clamp system. With the automated system, we could patch not only giant unilamellar liposomes but also giant Escherichia coli (E. coli) spheroplasts. The tension sensitivity and channel kinetics data obtained in the automated system were in good agreement with that obtained from the conventional patch clamp. The findings will pave the way to high throughput fundamental and drug screening studies on mechanosensitive ion channels.
Access options
Buy single article
Instant access to the full article PDF.
US$ 39.95
Tax calculation will be finalised during checkout.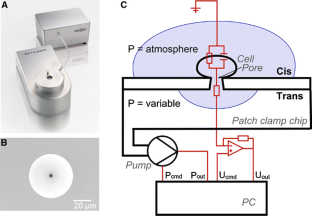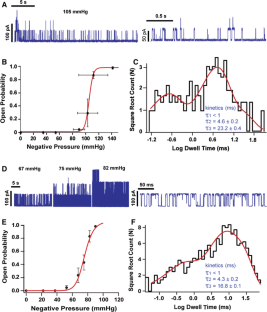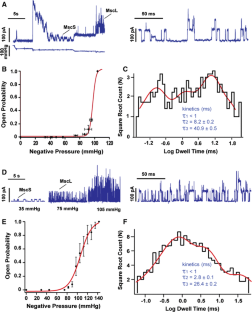 References
Birkner J, Poolman B, Kocer A (2012) Hydrophobic gating of mechanosensitive channel of large conductance evidenced by single-subunit resolution. Proc Natl Acad Sci USA 109:12944–12949

Blount P, Moe P (1999) Bacterial mechanosensitive channels: integrating physiology, structure and function. Trends Microbiol 7:420–424

Blount P, Sukharev S, Schroeder M, Nagle S, Kung C (1996a) Single residue substitutions that change the gating properties of a mechanosensitive channel in Escherichia coli. Proc Natl Acad Sci USA 93:11652–11657

Blount P, Sukharev SI, Moe PC, Schroeder MJ, Guy HR, Kung C (1996b) Membrane topology and multimeric structure of a mechanosensitive channel protein of Escherichia coli. EMBO J 15:4798–4805

Cruickshank CC, Minchin RF, Le Dain AC, Martinac B (1997) Estimation of the pore size of the large-conductance mechanosensitive ion channel of Escherichia coli. Biophys J 73:1925–1931

Dunlop J, Bowlby M, Peri R, Vasilyev D, Arias R (2008) High-throughput electrophysiology: an emerging paradigm for ion-channel screening and physiology. Nat Rev Drug Discov 7:358–368

Fernandez J, Fox A, Krasne S (1984) Membrane patches and whole-cell membranes: a comparison of electrical properties in rat clonal pituitary (GH3) cells. J Physiol 356:565–585

Hamill OP, Martinac B (2001) Molecular basis of mechanotransduction in living cells. Physiol Rev 81:685–740

Hamill O, McBride JD (1997) Induced membrane hypo/hyper-mechanosensitivity: a limitation of patch-clamp recording. Annu Rev Physiol 59:621–631

Hamill O, Marty A, Neher E, Sakmann B, Sigworth F (1981) Improved patch-clamp techniques for High-resolution current recording from cells and cell-free membrane patches. Pflugers Arch 391:85–100

Häse C, Le Dain A, Martinac B (1995) Purification and functional reconstitution of the recombinant large mechanosensitive ion channel (MscL) of Escherichia coli. J Biol Chem 270:18329–18334

Kocer A, Walko M, Ferringa B (2007) Synthesis and utilization of reversible and irreversible light-activated nanovalves derived from the channel protein MscL. Nat Protoc 2:1426–1437

Kung C, Martinac B, Sukharev S (2010) Mechanosensitive channels in microbes. Annu Rev Microbiol 64:313–329

Martinac B (2007) Mechanosensitive ion channels. In: Hamill OP (ed) Part A, vol 58. Academic Press, pp 29–57

Martinac B, Buechner M, Delacour A, Adler J, Kung C (1987) Pressure-sensitive ion channel in Escherichia coli. Proc Natl Acad Sci USA 84:2297–2301

Martinac B et al (2013) Bacterial mechanosensitive channels: models for studying mechanosensory transduction. Antioxid Redox Signal. doi:10.1089/ars.2013.5471

Moe P, Blount P (2005) Assessment of potential stimuli for mechano-dependent gating of MscL: effects of pressure, tension, and lipid headgroups. Biochemistry 44:12239–12244

Sachs F (2010) Stretch-activated ion channels: what are they? Physiology 25:50–56

Suchyna T, Markin V, Sachs F (2009) Biophysics and structure of the patch and the gigaseal. Biophys J 97:738–747

Sukharev S, Martinac B, Arshavsky V, Kung C (1993) Two types of mechanosensitive channels in the Escherichia coli cell envelope: solubilization and functional reconstitution. Biophys J 65:177–183
Acknowledgments
This work was financially supported by a European Research Council-Ideas Program Starting Grant 208814 to A.K. and, in part, by the SME innovation program "ZIM" of the German Federal Ministry of Economics and Technology (BMWi).
Additional information
M. Barthmes and M. D. F. Jose contributed equally.
About this article
Cite this article
Barthmes, M., Jose, M.D.F., Birkner, J.P. et al. Studying mechanosensitive ion channels with an automated patch clamp. Eur Biophys J 43, 97–104 (2014). https://doi.org/10.1007/s00249-014-0944-2
Received:

Accepted:

Published:

Issue Date:
Keywords
Patch clamp electrophysiology

Automated patch clamp

Mechanosensitive channel of large conductance

Spheroplast

Giant unilamellar vesicles