Abstract
The uncoupling protein 1 (UCP1) is a mitochondrial protein that carries protons across the inner mitochondrial membrane. It has an important role in non-shivering thermogenesis, and recent evidence suggests its role in human adult metabolism. Using rapid solution exchange on solid supported membranes, we succeeded in measuring electrical currents generated by the transport activity of UCP1. The protein was purified from mouse brown adipose tissue, reconstituted in liposomes and absorbed on solid supported membranes. A fast pH jump activated the ion transport, and electrical signals could be recorded. The currents were characterized by a fast rise and a slow decay, were stable over time, inhibited by purine nucleotides and activated by fatty acids. This new assay permits direct observation of UCP1 activity in controlled cell-free conditions, and opens up new possibilities for UCP1 functional characterization and drug screening because of its robustness and its potential for automation.
Access options
Buy single article
Instant access to the full article PDF.
USD 39.95
Price includes VAT (USA)
Tax calculation will be finalised during checkout.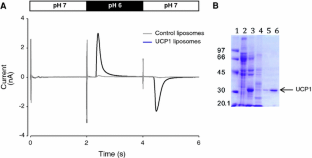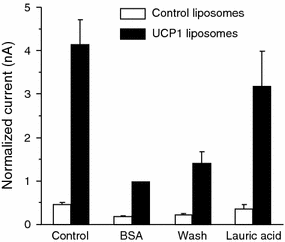 References
Arechaga I, Ledesma A, Rial E (2001) The mitochondrial uncoupling protein UCP1: a gated pore. IUBMB Life 52:165–173

Balannik V, Obrdlik P, Inayat S, Steensen C, Wang J, Rausch JM, DeGrado WF, Kelety B, Pinto LH (2010) Solid-supported membrane technology for the investigation of the influenza A virus M2 channel activity. Pflugers Arch 459:593–605

Feldmann HM, Golozoubova V, Cannon B, Nedergaard J (2009) UCP1 ablation induces obesity and abolishes diet-induced thermogenesis in mice exempt from thermal stress by living at thermoneutrality. Cell Metab 9:203–209

Ganea C, Pourcher T, Leblanc G, Fendler K (2001) Evidence for intraprotein charge transfer during the transport activity of the melibiose permease from Escherichia coli. Biochemistry 40:13744–13752

Garlid KD, Orosz DE, Modriansky M, Vassanelli S, Jezek P (1996) On the mechanism of fatty acid-induced proton transport by mitochondrial uncoupling protein. J Biol Chem 271:2615–2620

Huang SG, Klingenberg M (1996) Chloride channel properties of the uncoupling protein from brown adipose tissue mitochondria: a patch-clamp study. Biochemistry 35:16806–16814

Klingenberg M (1988) Nucleotide binding to uncoupling protein. Mechanism of control by protonation. Biochemistry 27:781–791

Klingenberg M, Winkler E (1985) The reconstituted isolated uncoupling protein is a membrane potential driven H+ translocator. EMBO J 4:3087–3092

Kopecky J, Hodny Z, Rossmeisl M, Syrovy I, Kozak LP (1996) Reduction of dietary obesity in aP2-Ucp transgenic mice: physiology and adipose tissue distribution. Am J Physiol 270:E768–E775

Krause R, Watzke N, Kelety B, Dorner W, Fendler K (2009) An automatic electrophysiological assay for the neuronal glutamate transporter mEAAC1. J Neurosci Methods 177:131–141

Lin CS, Klingenberg M (1982) Characteristics of the isolated purine nucleotide binding protein from brown fat mitochondria. Biochemistry 21:2950–2956

Mozo J, Ferry G, Masscheleyn S, Miroux B, Boutin JA, Bouillaud F (2006) Assessment of a high-throughput screening methodology for the measurement of purified UCP1 uncoupling activity. Anal Biochem 351:201–206

Nicholls DG, Locke RM (1984) Thermogenic mechanisms in brown fat. Physiol Rev 64:1–64

Pintschovius J, Fendler K (1999) Charge translocation by the Na+/K+-ATPase investigated on solid supported membranes: rapid solution exchange with a new technique. Biophys J 76:814–826

Porter RK (2008) Uncoupling protein 1: a short-circuit in the chemiosmotic process. J Bioenerg Biomembr 40:457–461

Rial E, Poustie A, Nicholls DG (1983) Brown-adipose-tissue mitochondria: the regulation of the 32000-Mr uncoupling protein by fatty acids and purine nucleotides. Eur J Biochem 137:197–203

Schulz P, Garcia-Celma JJ, Fendler K (2008) SSM-based electrophysiology. Methods 46:97–103

Schulz P, Werner J, Stauber T, Henriksen K, Fendler K (2010) The G215R mutation in the Cl−/H+-antiporter ClC-7 found in ADO II osteopetrosis does not abolish function but causes a severe trafficking defect. PLoS One 5:e12585

Tadini Buoninsegni F, Bartolommei G, Moncelli MR, Inesi G, Guidelli R (2004) Time-resolved charge translocation by sarcoplasmic reticulum Ca-ATPase measured on a solid supported membrane. Biophys J 86:3671–3686

Urbankova E, Voltchenko A, Pohl P, Jezek P, Pohl EE (2003) Transport kinetics of uncoupling proteins. Analysis of UCP1 reconstituted in planar lipid bilayers. J Biol Chem 278:32497–32500

van Marken Lichtenbelt WD, Vanhommerig JW, Smulders NM, Drossaerts JM, Kemerink GJ, Bouvy ND, Schrauwen P, Teule GJ (2009) Cold-activated brown adipose tissue in healthy men. N Engl J Med 360:1500–1508

Vijgen GH, Bouvy ND, Teule GJ, Brans B, Schrauwen P, van Marken Lichtenbelt WD (2011) Brown adipose tissue in morbidly obese subjects. PLoS One 6:e17247

Virtanen KA, Lidell ME, Orava J, Heglind M, Westergren R, Niemi T, Taittonen M, Laine J, Savisto NJ, Enerback S, Nuutila P (2009) Functional brown adipose tissue in healthy adults. N Engl J Med 360:1518–1525

Watzke N, Diekert K, Obrdlik P (2010) Electrophysiology of respiratory chain complexes and the ADP-ATP exchanger in native mitochondrial membranes. Biochemistry 49:10308–10318

Winkler E, Klingenberg M (1992) An improved procedure for reconstitution of the uncoupling protein and in-depth analysis of H+/OH− transport. Eur J Biochem 207:135–145

Zinser E, Sperka-Gottlieb CD, Fasch EV, Kohlwein SD, Paltauf F, Daum G (1991) Phospholipid synthesis and lipid composition of subcellular membranes in the unicellular eukaryote Saccharomyces cerevisiae. J Bacteriol 173:2026–2034

Zuber D, Krause R, Venturi M, Padan E, Bamberg E, Fendler K (2005) Kinetics of charge translocation in the passive downhill uptake mode of the Na+/H+ antiporter NhaA of Escherichia coli. Biochim Biophys Acta 1709:240–250
Acknowledgments
We thank Dr. Petr Obrdlik for help and advice concerning the current measurements. The work was supported by the Institut Universitaire de France, by the Agence Nationale de la Recherche (Trans-MIT and MIT-2 M projects) and by EU project EDICT no. 211800.
About this article
Cite this article
Blesneac, I., Ravaud, S., Machillot, P. et al. Assaying the proton transport and regulation of UCP1 using solid supported membranes. Eur Biophys J 41, 675–679 (2012). https://doi.org/10.1007/s00249-012-0844-2
Received:

Revised:

Accepted:

Published:

Issue Date:
Keywords
Mitochondrial carriers

Uncoupling protein

Proteoliposomes

Solid supported membranes

Electrophysiology