Abstract
Understanding the composition of microorganismal communities hosted by insect pests is an important prerequisite for revealing their functions and developing new pest control strategies. Although studies of the structure of the microbiome of Nilaparvata lugens have been published, little is known about the dynamic changes in this microbiome across different developmental stages, and an understanding of the core microbiota is still lacking. In this study, we investigated the dynamic changes in bacteria and fungi in different developmental stages of N. lugens using high-throughput sequencing technology. We observed that the microbial diversity in eggs and mated adults was higher than that in nymphs and unmated adults. We also observed a notable strong correlation between fungal and bacterial α-diversity, which suggests that fungi and bacteria are closely linked and may perform functions collaboratively during the whole developmental period. Arsenophonus and Hirsutella were the predominant bacterial and fungal taxa, respectively. Bacteria were more conserved than fungi during the transmission of the microbiota between developmental stages. Compared with that in the nymph and unmated adult stages of N. lugens, the correlation between bacterial and fungal communities in the mated adult and egg stages was stronger. Moreover, the core microbiota across all developmental stages in N. lugens was identified, and there were more bacterial genera than fungal genera; notably, the core microbiota of eggs, nymphs, and mated and unmated adults showed distinctive functional enrichment. These findings highlight the potential value of further exploring microbial functions during different developmental stages and developing new pest management strategies.
Access options
Buy single article
Instant access to the full article PDF.
US$ 39.95
Tax calculation will be finalised during checkout.
Subscribe to journal
Immediate online access to all issues from 2019. Subscription will auto renew annually.
US$ 119
Tax calculation will be finalised during checkout.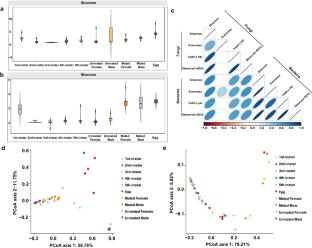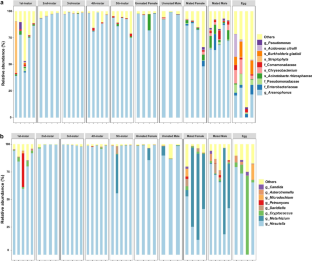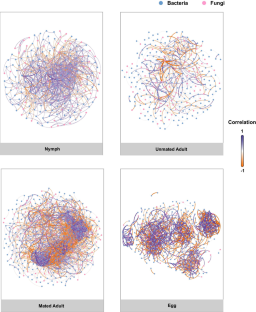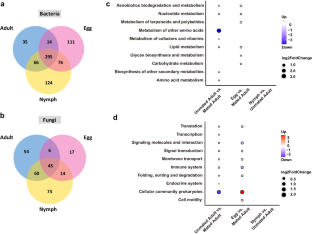 Data Availability
The datasets generated during and/or analyzed during the current study are available from the corresponding author on reasonable request.
Funding
The study was supported by grants from the National Natural Science Foundation of China (32072462).
Ethics declarations
Ethics Approval
Not applicable.
Consent to Participate
Not applicable.
Consent for Publication
Not applicable.
Competing Interests
The authors declare no competing interests.
Supplementary Information
Below is the link to the electronic supplementary material.
Fig. S1 Violin plot of bacterial and fungal α-diversity indexes at different developmental stages of Nilaparvata lugens. (a–c) Observed ASVs, evenness, and Faith's PD of bacteria; (d, e) observed ASVs, evenness, and Faith's PD of fungi (PDF 1.59 MB)
About this article
Cite this article
Ren, Z., Zhang, Y., Cai, T. et al. Dynamics of Microbial Communities across the Life Stages of Nilaparvata lugens (Stål). Microb Ecol (2021). https://doi.org/10.1007/s00248-021-01820-w
Received:

Accepted:

Published:
Keywords
Nilaparvata lugens

Microbiota structure

Development

Dynamic

Host-microbial interaction