Abstract
Rice sheath rot has been mainly associated with the bacterial pathogen Pseudomonas fuscovaginae and in some cases to the fungal pathogen Sarocladium oryzae; it is yet unclear if they are part of a complex disease. The bacterial and fungal community associated with rice sheath rot symptomatic and asymptomatic rice plants was determined/studied with the main aim to shed light on the pathogen(s) causing rice sheath rot. Plant samples were collected from different rice varieties in two locations (highland and lowland) in two rice-growing seasons (wet and dry season) in Burundi. Our results showed that the bacterial Pseudomonas genus was prevalent in highland in both rice-growing seasons and was not affected by rice plant varieties. Pseudomonas sequence reads displayed a significant high similarity to Pseudomonas fuscovaginae indicating that it is the causal agent of rice sheath rot as previously reported. The fungal Sarocladium genus was on the other hand prevalent in lowland only in the wet season; the sequence reads were most significantly similar to Sarocladium oryzae. These studies showed that plant microbiome analysis is very useful in determining the microorganisms involved in a plant disease. P. fuscovaginae and S. oryzae were prevalent in symptomatic samples in highland and lowland respectively being present independently and hence are not part of a complex disease. The significant presence of other bacterial and fungal taxa in symptomatic samples is also discussed possibly making this disease more complex. Finally, we also report the microbial communities that are associated with the plant sheath in symptomatic and asymptomatic plants from the same rice fields.
Access options
Buy single article
Instant access to the full article PDF.
US$ 39.95
Tax calculation will be finalised during checkout.
Subscribe to journal
Immediate online access to all issues from 2019. Subscription will auto renew annually.
US$ 119
Tax calculation will be finalised during checkout.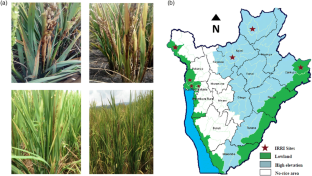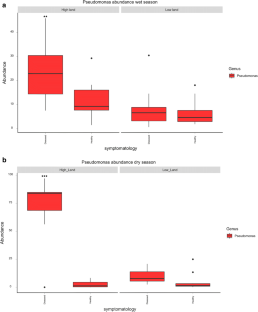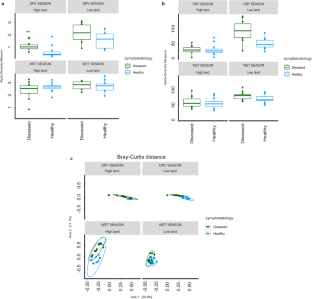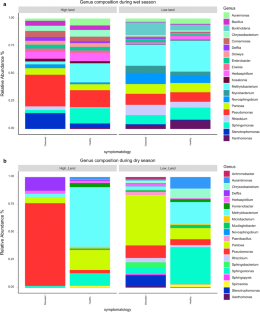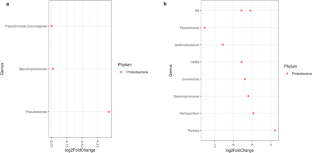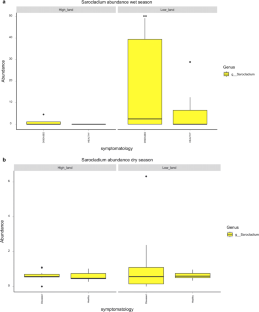 Abbreviations
OTU:

operational taxonomic unit

ITS:

internal transcribed spacer

PCR:

polymerase chain reaction
References
1.

Tanii A, Miyajima K, Akita T (1976) The sheath brown rot disease of Rice Plant and its causal bacterium, Pseudomonas fuscovaginae A. Tanii, K. Miyajima et T. Akita sp. nov. Japanese J Phytopathol 42:540–548. https://doi.org/10.3186/jjphytopath

2.

Duveiller E, Miyajima K, Snacken F, Autrique A, Maraite H (1988) Characterization of Pseudomonas fuscovaginae and differentiation from other fluorescent Pseudomonads occurring on rice in Burundi. J. Phytopathol. 122:97–107. https://doi.org/10.1111/j.1439-0434.1988.tb00995.x

3.

Rott P (1989) Identification and characterization of Pseudomonas fuscovaginae, the causal agent of bacterial sheath brown rot of rice, from Madagascar and other countries. Plant Dis. 73:133–137. https://doi.org/10.1094/PD-73-0133

4.

Zeigler RS (1987) Bacterial sheath brown rot of rice caused by Pseudomonas fuscovaginae in Latin America. Plant Dis. 71:592–597. https://doi.org/10.1094/PD-71-0592

5.

Cother EJ, Stodart B, Noble DH, Reinke R, van de Ven RJ (2009) Polyphasic identification of Pseudomonas fuscovaginae causing sheath and glume lesions on rice in Australia. Australas Plant Pathol. 38:247–261. https://doi.org/10.1071/AP08103

6.

Kim J, Choi O, Kim WI (2015) First report of sheath brown rot of rice caused by Pseudomonas fuscovaginae in Korea. Plant Dis. 99:1033. https://doi.org/10.1094/PDIS-11-14-1219-PDN

7.

Cottyn B, Cerez MT, Mew TW (1994) Chapter 7: bacteria. In: Mew TW, Mistra JK (eds) A manual of seed health testing. IRRI, Manila, pp 322–328

8.

Bigirimana V d P, GKH H, Nyamangyoku OI, Hòfte M (2015) Rice sheath rot: an emerging ubiquitous destructive disease complex. Front Plant Sci. 6:1066. https://doi.org/10.3389/fpls.2015.01066

9.

Ballio A, Bossa F, Camoni L, di Giorgio D, Flamand MC, Maraite H, Nitti G, Pucci P, Scaloni A (1996) Structure of fuscopeptins, phytotoxic metabolites of Pseudomonas fuscovaginae. FEBS Lett. 381:213–216. https://doi.org/10.1016/0014-5793(96)00043-9

10.

Patel HK, Matiuzzo M, Bertani I, Bigirimana VP, Ash GJ, Höfte M, Venturi V (2014) Identification of virulence associated loci in the emerging broad host range plant pathogen Pseudomonas fuscovaginae. BMC Microbiol. 14:1–13. https://doi.org/10.1186/s12866-014-0274-7

11.

Mattiuzzo M, Bertani I, Ferluga S, Cabrio L, Bigirimana J, Guarnaccia C, Pongor S, Maraite H, Venturi V (2011) The plant pathogen Pseudomonas fuscovaginae contains two conserved quorum sensing systems involved in virulence and negatively regulated by RsaL and the novel regulator RsaM. Environ Microbiol. 13:145–162. https://doi.org/10.1111/j.1462-2920.2010.02316.x

12.

Duveiller E (1989) First detection of Pseudomonas fuscovaginae on maize and sorghum in Burundi. Plant Dis. 73:514–517. https://doi.org/10.1094/pd-73-0514

13.

Purkayastha RP, Ghosal A (1985) Analysis of cross-reactive antigens of Acrocylindrium oryzae and rice in relation to sheath rot disease. Physiol. Plant Pathol. 27:245–252. https://doi.org/10.1016/0048-4059(85)90071-2

14.

Bills GF, Platas G, Gams W (2004) Conspecificity of the cerulenin and helvolic acid producing "Cephalosporium caerulens", and the hypocrealean fungus Sarocladium oryzae. Mycol. Res. 108:1291–1300. https://doi.org/10.1017/S0953756204001297

15.

Sreenivasaprasad S, Johnson R, Pearce DA, et al (2001) Species concept in Sarocladium, the causal agent of sheath rot in rice and bamboo blight. In: Major fungal diseases of rice. https://doi.org/10.1007/978-94-017-2157-8_20

16.

Desjardins AE, Plattner RD, Nelson PE (1997) Production of fumonisin B1and moniliformin by Gibberella fujikuroi from rice from various geographic areas. Appl Environ Microbiol 63(5):1838–1842

17.

Abbas HK, Cartwright RD, Shier WT, Abouzied MM, Bird CB, Rice LG, Ross PF, Sciumbato GL, Meredith FI (1998) Natural occurrence of fumonisins in rice with Fusarium sheath rot disease. Plant Dis. 82:22–25. https://doi.org/10.1094/PDIS.1998.82.1.22

18.

Kushiro M, Saitoh H, Sugiura Y, Aoki T, Kawamoto SI, Sato T (2012) Experimental infection of Fusarium proliferatum in Oryza sativa plants; fumonisin B1 production and survival rate in grains. Int J Food Microbiol. 156:204–208. https://doi.org/10.1016/j.ijfoodmicro.2012.03.021

19.

Aoki T, O'Donnell K, Geiser DM (2014) Systematics of key phytopathogenic Fusarium species: current status and future challenges. J Gen Plant Pathol 80:189–201. https://doi.org/10.1007/s10327-014-0509-3

20.

Rolli E, Marasco R, Vigani G, Ettoumi B, Mapelli F, Deangelis ML, Gandolfi C, Casati E, Previtali F, Gerbino R, Pierotti Cei F, Borin S, Sorlini C, Zocchi G, Daffonchio D (2015) Improved plant resistance to drought is promoted by the root-associated microbiome as a water stress-dependent trait. Environ. Microbiol. 17:316–331. https://doi.org/10.1111/1462-2920.12439

21.

Dudenhöffer JH, Scheu S, Jousset A (2016) Systemic enrichment of antifungal traits in the rhizosphere microbiome after pathogen attack. J. Ecol. 104:1566–1575. https://doi.org/10.1111/1365-2745.12626

22.

Schlaeppi K, Bulgarelli D (2015) The plant microbiome at work. Mol Plant-Microbe Interact 28:212–217. https://doi.org/10.1094/MPMI-10-14-0334-FI

23.

Vayssier-Taussat M, Albina E, Citti C, Cosson JF, Jacques MA, Lebrun MH, Le Loir Y, Ogliastro M, Petit MA, Roumagnac P, Candresse T (2014) Shifting the paradigm from pathogens to pathobiome new concepts in the light of meta-omics. Front. Cell. Infect. Microbiol. 4:29. https://doi.org/10.3389/fcimb.2014.00029

24.

Toju H, Tanabe AS, Yamamoto S, Sato H (2012) High-coverage ITS primers for the DNA-based identification of ascomycetes and basidiomycetes in environmental samples. PLoS One 7:e40863. https://doi.org/10.1371/journal.pone.0040863

25.

Callahan BJ, McMurdie PJ, Rosen MJ et al (2016) DADA2: high-resolution sample inference from Illumina amplicon data. Nat. Methods 13:581–583. https://doi.org/10.1038/nmeth.3869

26.

Cole JR, Wang Q, Fish JA, Chai B, McGarrell DM, Sun Y, Brown CT, Porras-Alfaro A, Kuske CR, Tiedje JM (2014) Ribosomal Database Project: data and tools for high throughput rRNA analysis. Nucleic Acids Res. 42:633–642. https://doi.org/10.1093/nar/gkt1244

27.

McDonald D, Price MN, Goodrich J, Nawrocki EP, DeSantis TZ, Probst A, Andersen GL, Knight R, Hugenholtz P (2012) An improved Greengenes taxonomy with explicit ranks for ecological and evolutionary analyses of bacteria and archaea. ISME J 6:610–618. https://doi.org/10.1038/ismej.2011.139

28.

Oksanen J, Blanchet FG, Friendly M, et al (2019) vegan: community ecology package. R package version 2.5-5. https://CRAN.R-project.org/package=vegan. Community Ecol Packag

29.

McMurdie PJ, Holmes S (2013) Phyloseq: an R package for reproducible interactive analysis and graphics of microbiome census data. PLoS One 8:e61217. https://doi.org/10.1371/journal.pone.0061217

30.

Team RC (2014) R core team (2014). R A Lang Environ Stat Comput R Found Stat Comput Vienna, Austria URL http//www R-project org

31.

Love MI, Huber W, Anders S (2014) Moderated estimation of fold change and dispersion for RNA-seq data with DESeq2. Genome Biol. 15:550. https://doi.org/10.1186/s13059-014-0550-8

32.

Delmotte N, Knief C, Chaffron S, Innerebner G, Roschitzki B, Schlapbach R, von Mering C, Vorholt JA (2009) Community proteogenomics reveals insights into the physiology of phyllosphere bacteria. Proc Natl Acad Sci U S A. 106:16428–16433. https://doi.org/10.1073/pnas.0905240106

33.

Grady KL, Sorensen JW, Stopnisek N, Guittar J, Shade A (2019) Assembly and seasonality of core phyllosphere microbiota on perennial biofuel crops. Nat Commun. 10:4135. https://doi.org/10.1038/s41467-019-11974-4

34.

Miyajima K, Tanii A, Akita T (1983) Pseudomonas fuscovaginae sp. nov., nom. rev. Int J Syst Bacteriol 33:656–657. https://doi.org/10.1099/00207713-33-3-656

35.

Sharma S, Sthapit B, Pradhanang P, Joshi K (1997) Bacterial sheath brown rot of rice caused by Pseudomonas fuscovaginae in Nepal. In: Poisson, C. y Rakotoarisoa, J. (Eds.) Rice cultivation in highland areas. Proceedings of the CIRAD conference held at Antananarivo, Madagascar, 29 March-5 April 1996. CIRAD-CA; 1997. p. 107-112

36.

Gomes T, Pereira JA, Lino-Neto T, Bennett AE, Baptista P (2019) Bacterial disease induced changes in fungal communities of olive tree twigs depend on host genotype. Sci. Rep. 9:1–10. https://doi.org/10.1038/s41598-019-42391-8

37.

Kerdraon L, Laval V, Suffert F (2019) Microbiomes and pathogen survival in crop residues, an ecotone between plant and soil. Phytobiomes J 3:246–255. https://doi.org/10.1094/PBIOMES-02-19-0010-RVW

38.

Rubio-Portillo E, Kersting DK, Linares C, Ramos-Esplá AA, Antón J (2018) Biogeographic differences in the microbiome and pathobiome of the coral Cladocora caespitosa in the Western Mediterranean Sea. Front Microbiol. 9:22. https://doi.org/10.3389/fmicb.2018.00022

39.

Lamichhane JR, Venturi V (2015) Synergisms between microbial pathogens in plant disease complexes: a growing trend. Front Plant Sci 6:385. https://doi.org/10.3389/fpls.2015.00385

40.

Buonaurio R, Moretti C, Da Silva DP et al (2015) The olive knot disease as a model to study the role of interspecies bacterial communities in plant disease. Front Plant Sci. 6:434. https://doi.org/10.3389/fpls.2015.00434

41.

Nadarasah G, Stavrinides J (2014) Quantitative evaluation of the host-colonizing capabilities of the enteric bacterium Pantoea using plant and insect hosts. Microbiol (United Kingdom) 160:602–615. https://doi.org/10.1099/mic.0.073452-0

42.

Walterson AM, Stavrinides J (2015) Pantoea: insights into a highly versatile and diverse genus within the Enterobacteriaceae. FEMS Microbiol. Rev. 39:968–984. https://doi.org/10.1093/femsre/fuv027

43.

Lanoiselet V, You MP, Li YP, Wang CP, Shivas RG, Barbetti MJ (2012) First report of Sarocladium oryzae causing sheath rot on rice (Oryza sativa) in western Australia. Plant Dis. 96:1382. https://doi.org/10.1094/PDIS-04-12-0415-PDN

44.

Hittalmani S, Mahesh HB, Mahadevaiah C, Prasannakumar MK (2016) De novo genome assembly and annotation of rice sheath rot fungus Sarocladium oryzae reveals genes involved in Helvolic acid and Cerulenin biosynthesis pathways. BMC Genomics 17:1–13. https://doi.org/10.1186/s12864-016-2599-0

45.

Peeters KJ, Haeck A, Harinck L, Afolabi OO, Demeestere K, Audenaert K, Höfte M (2020) Morphological, pathogenic and toxigenic variability in the rice sheath rot pathogen Sarocladium oryzae. Toxins (Basel) 12:109. https://doi.org/10.3390/toxins12020109

46.

Sakthivel N, Amudha R, Muthukrishnan S (2002) Production of phytotoxic metabolites by Sarocladium oryzae. Mycol Res. 106:609–614. https://doi.org/10.1017/S0953756202005774

47.

Manamgoda DS, Rossman AY, Castlebury LA, Crous PW, Madrid H, Chukeatirote E, Hyde KD (2014) The genus Bipolaris. Stud Mycol. 79:221–288. https://doi.org/10.1016/j.simyco.2014.10.002

48.

Roncero MIG, Hera C, Ruiz-Rubio M et al (2003) Fusarium as a model for studying virulence in soilborne plant pathogens. Physiol Mol Plant Pathol 62:87–98. https://doi.org/10.1016/S0885-5765(03)00043-2

49.

Summerell BA (2019) Resolving Fusarium : current status of the genus. Annu. Rev. Phytopathol. 57:323–333. https://doi.org/10.1146/annurev-phyto-082718-100204

50.

Bensch K, Braun U, Groenewald JZ, Crous PW (2012) The genus Cladosporium. Stud Mycol. 72:1–401. https://doi.org/10.3114/sim0003

51.

Stohr SN, Dighton J (2004) Effects of species diversity on establishment and coexistence: a phylloplane fungal community model system. Microb Ecol. 48:431–438. https://doi.org/10.1007/s00248-003-1064-1

52.

Poudel R, Jumpponen A, Schlatter DC et al (2016) Microbiome networks: a systems framework for identifying candidate microbial assemblages for disease management. Phytopathology 106:1083–1096. https://doi.org/10.1094/PHYTO-02-16-0058-FI
Acknowledgements
We acknowledge IRRI-Burundi for laboratory financial support and providing the plant samples used in this work.
Funding
SM was supported by an ICGEB Arturo Falaschi fellowship. This work financially supported by ICGEB and in part by the grant from the Italian MAE-CI (PGR00816/PGR00927/PGR00739).
Ethics declarations
Competing Interests
The authors declare that they have no competing interests.
Electronic Supplementary Material
About this article
Cite this article
Musonerimana, S., Bez, C., Licastro, D. et al. Pathobiomes Revealed that Pseudomonas fuscovaginae and Sarocladium oryzae Are Independently Associated with Rice Sheath Rot. Microb Ecol 80, 627–642 (2020). https://doi.org/10.1007/s00248-020-01529-2
Received:

Accepted:

Published:

Issue Date:
Keywords
Pathobiome

Rice sheath rot

Pseudomonas
Sarocladium

Phyllospheric microbiome of rice