Abstract
Over the past few decades, studies have demonstrated that the gut microbiota strongly influences the physiology, behavior, and fitness of its host. Such studies have been conducted primarily in humans and model organisms under controlled laboratory conditions. More recently, researchers have realized the importance of placing host-associated microbiota studies into a more ecological context; however, few non-destructive methods have been established to collect fecal samples from wild birds. Here, we present an inexpensive and easy-to-use kit for the non-invasive collection of feces from small birds. The portability of the collection kit makes this method amenable to field studies, especially those in remote areas. The main components of the collection kit include a flat-bottomed paper bag, a large modified weigh boat (tray), vinyl-coated hardware cloth fencing (grate), a clothespin, and a 10% bleach solution (to sterilize the tray and grate). In the paper bag, a sterile tray is placed under a small grate, which prevents the birds from contacting the feces and reduces the risk of contamination. After capture, the bird is placed in the bag for 3–5 min until it defecates. After the bird is removed from the bag, the tray is extracted and the fecal sample is moved to a collection tube and frozen or preserved. We believe that our method is an affordable and easy option for researchers studying the gut microbiota of wild birds.
This is a preview of subscription content, log in to check access.
Access options
Buy single article
Instant access to the full article PDF.
US$ 39.95
Price includes VAT for USA
Subscribe to journal
Immediate online access to all issues from 2019. Subscription will auto renew annually.
US$ 199
This is the net price. Taxes to be calculated in checkout.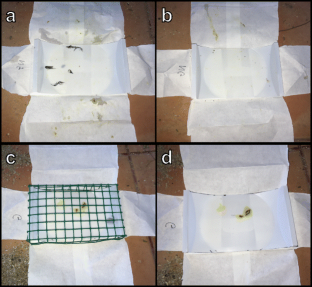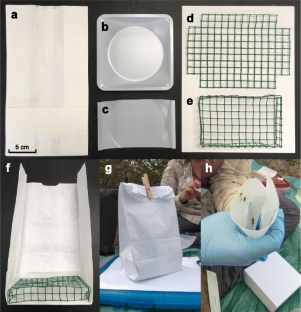 References
1.

Colston TJ, Jackson CR (2016) Microbiome evolution along divergent branches of the vertebrate tree of life: what is known and unknown. Mol. Ecol. 25:3776–3800. https://doi.org/10.1111/mec.13730

2.

Hird SM (2017) Evolutionary biology needs wild microbiomes. Front. Microbiol. 8:725. https://doi.org/10.3389/fmicb.2017.00725

3.

Waite DW, Taylor MW (2015) Exploring the avian gut microbiota: current trends and future directions. Front. Microbiol. 6:673. https://doi.org/10.3389/fmicb.2015.00673

4.

Kohl KD (2017) An introductory "How-to" Guide for incorporating microbiome research into integrative and comparative biology. Integr. Comp. Biol. 57:674–681. https://doi.org/10.1093/icb/icx013

5.

Craven SE, Stern NJ, Line E, Bailey JS, Cox NA, Fedorka-Cray P (2000) Determination of the incidence of Salmonella spp., Campylobacter jejuni and Clostridium perfringens in wild birds near broiler chicken houses by sampling intestinal droppings. Avian Dis. 44:715–720. https://doi.org/10.2307/1593118

6.

Hird SM, Carstens BC, Cardiff SW, Dittmann DL, Brumfield RT (2014) Sampling locality is more detectable than taxonomy or ecology in the gut microbiota of the brood-parasitic Brown-headed Cowbird (Molothrus ater). PeerJ 2:e321. https://doi.org/10.7717/peerj.321

7.

Roggenbuck M, Bærholm Schnell I, Blom N, Bælum J, Bertelsen MF, Pontén TS, Sørensen SJ, Gilbert MTP, Graves GR, Hansen LH (2014) The microbiome of New World vultures. Nat. Commun. 5:1–8. https://doi.org/10.1038/ncomms6498

8.

Hird SM, Sanchez C, Carstens BC, Brumfield RT (2015) Comparative gut microbiota of 59 neotropical bird species. Front. Microbiol. 6:1403. https://doi.org/10.3389/fmicb.2015.01403

9.

Kohl KD, Connelly JW, Dearing MD, Forbey JS (2016) Microbial detoxification in the gut of a specialist avian herbivore, the Greater Sage-Grouse. FEMS Microbiol. Lett. 363:1–6. https://doi.org/10.1093/femsle/fnw144

10.

Scupham AJ, Patton TG, Bent E, Bayles DO (2008) Comparison of the cecal microbiota of domestic and wild turkeys. Microb. Ecol. 56:322–331. https://doi.org/10.1007/s00248-007-9349-4

11.

Grond K, Lanctot RB, Jumpponen A, Sandercock BK (2017) Recruitment and establishment of the gut microbiome in arctic shorebirds. FEMS Microbiol. Ecol. 93:1–9. https://doi.org/10.1093/femsec/fix142

12.

Stanley D, Geier MS, Chen H, Hughes RJ, Moore RJ (2015) Comparison of fecal and cecal microbiotas reveals qualitative similarities but quantitative differences. BMC Microbiol. 15:51. https://doi.org/10.1186/s12866-015-0388-6

13.

Wilkinson N, Hughes RJ, Aspden WJ, Chapman J, Moore RJ, Stanley D (2016) The gastrointestinal tract microbiota of the Japanese quail, Coturnix japonica. Appl. Microbiol. Biotechnol. 100:4201–4209. https://doi.org/10.1007/s00253-015-7280-z

14.

Videvall E, Strandh M, Engelbrecht A, Cloete S, Cornwallis CK (2017) Measuring the gut microbiome in birds: comparison of faecal and cloacal sampling. Mol. Ecol. Resour. https://doi.org/10.1111/1755-0998.12744

15.

Zhao G, Zhou L, Dong Y, Cheng Y, Song Y (2017) The gut microbiome of hooded cranes (Grus monacha) wintering at Shengjin Lake, China. MicrobiologyOpen 6:1–9. https://doi.org/10.1002/mbo3.447

16.

Pannwitz G, Wolf C, Harder T (2009) Active surveillance for avian influenza virus infection in wild birds by analysis of avian fecal samples from the environment. J. Wildl. Dis. 45:512–518. https://doi.org/10.7589/0090-3558-45.2.512

17.

Wright ME, Solo-Gabriele HM, Elmir S, Fleming LE (2009) Microbial load from animal feces at a recreational beach. Mar. Pollut. Bull. 58:1649–1656. https://doi.org/10.1016/j.marpolbul.2009.07.003

18.

Graczyk TK, Fayer R, Trout JM, Lewis EJ, Farley CA, Sulaiman I, Lal AA (1998) Giardia sp. cysts and infectious Cryptosporidium parvum oocysts in the feces of migratory Canada geese (Branta canadensis). Appl. Environ. Microbiol. 64:2736–2738

19.

Bangert ARL, Ward ACS, Stauber EH et al (1988) A survey of the aerobic bacteria in the feces of captive raptors a survey of the aerobic bacteria in the feces of captive raptors. Avian Dis. 32:53–62. https://doi.org/10.1007/sl0963-009-9024-4

20.

Hancock DD, Besser TE, Rice DH, Ebel ED, Herriott DE, Carpenter LV (1998) Multiple sources of Escherichia coli O157 in feedlots and dairy farms in the Northwestern USA. Prev Vet Med 35:11–19. https://doi.org/10.1016/S0167-5877(98)00050-6

21.

Kohl KD, Luong K, Dearing MD (2015) Validating the use of trap-collected feces for studying the gut microbiota of a small mammal (Neotoma lepida). J. Mammal. 96:90–93. https://doi.org/10.1093/jmammal/gyu008

22.

van Dongen WFD, White J, Brandl HB, Moodley Y, Merkling T, Leclaire S, Blanchard P, Danchin É, Hatch SA, Wagner RH (2013) Age-related differences in the cloacal microbiota of a wild bird species. BMC Ecol. 13:11. https://doi.org/10.1186/1472-6785-13-11

23.

Dewar ML, Arnould JPY, Krause L, Trathan P, Dann P, Smith SC (2014) Influence of fasting during moult on the faecal microbiota of penguins. PLoS One 9:e99996. https://doi.org/10.1371/journal.pone.0099996

24.

Rutala WA, Weber DJ (2008) Guideline for disinfection and sterilization in healthcare facilities. Center for Disease Control and Prevention. https://www.cdc.gov/infectioncontrol/pdf/guidelines/disinfection-guidelines.pdf
Acknowledgements
We thank Johanna Harvey for field assistance and Brian Trevelline and three anonymous reviewers for comments on this manuscript.
Funding
The work was supported by funding through Instrumentl Crowdfunding to KMG and SAK; a Le Fonds Québécois de la Recherche sur la Nature et les Technologies Postdoctoral Fellowship, Natural Sciences and Engineering Council of Canada Banting Postdocotoral Fellowship, and British Ornithologists' Union Research Grant to KMG; and a British Ecological Society Large Research Grant (5599-6643) and the University of Connecticut to SAK.
Ethics declarations
Conflict of Interest
The authors declare that they have no conflict of interest.
Ethical Approval
All applicable international, national, and/or institutional guidelines for the care and use of animals were followed.
About this article
Cite this article
Knutie, S.A., Gotanda, K.M. A Non-invasive Method to Collect Fecal Samples from Wild Birds for Microbiome Studies. Microb Ecol 76, 851–855 (2018). https://doi.org/10.1007/s00248-018-1182-4
Received:

Accepted:

Published:

Issue Date:
Keywords
Avian

Feces

Fecal collection

Method

Microbiome