Abstract
Decline in forest productivity due to forest conversion is defining the Bornean landscape. Responses of bacterial communities due to land-use changes are vital and could define our understanding of ecosystem functions. This study reports the changes in bacterial community structure in organic soil (0–5 cm; O-Horizon) and organic-mineral soil (5–15 cm; A-Horizon) across Maliau Basin Conservation Area old growth forest (MBOG), Fragment E logged forest (FELF) located in Kalabakan Forest Reserve to Benta Wawasan oil palm plantation (BWOP) using two-step PCR amplicon analysis of bacteria DNA on Illumina Miseq next generation sequencing. A total of 30 soil samples yielded 893,752-OTU reads at ≥97% similarity from 5,446,512 good quality sequences. Soil from BWOP plantation showed highest unshared OTUs for organic (49.2%) and organic-mineral (50.9%) soil. MBOG soil showed a drop in unshared OTUs between organic (48.6%) and organic-mineral (33.9%). At phylum level, Proteobacteria dominated MBOG but shifted to Actinobacteria in logged and plantation soil. Present findings also indicated that only FELF exhibited change in bacterial communities along the soil depth, moving from the organic to the organic-mineral layer. Both layers of BWOP plantation soils deviated from other forests' soil in β-diversity analysis. To our knowledge, this is the first report on transitions of bacterial community structures with different soil horizons in the tropical rainforest including Borneo, Sabah. Borneo tropical soils form a large reservoir for soil bacteria and future exploration is needed for fully understanding the diversity structure and their bacterial functional properties.
Access options
Buy single article
Instant access to the full article PDF.
USD 39.95
Price excludes VAT (USA)
Tax calculation will be finalised during checkout.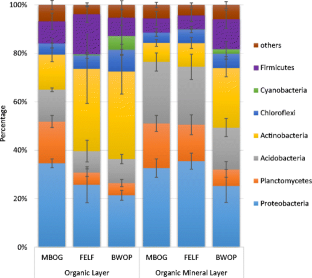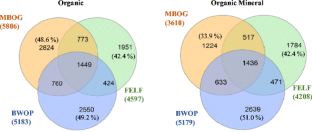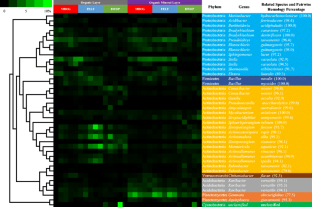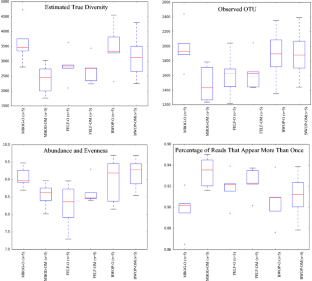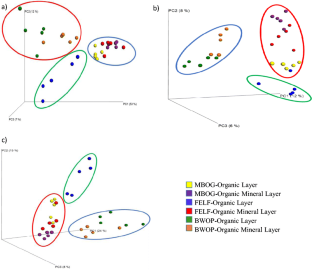 References
Berry NJ, Phillips OL, Lewis SL, Hill JK, Edwards DP, Tawatao NB, et al. (2010) The high value of logged tropical forests: lessons from northern Borneo. Biodivers Conserv 19:985–997

Mayaux P, Holmgren P, Achard F, Eva H, Stibig H, Branthomme A (2005) Tropical forest cover change in the 1990s and options for future monitoring. Proc R Soc B Biol Sci 360:373–384

Sodhi NS, Koh LP, Ciemens R, Wanger TC, Hill JK, Hamer KC, et al. (2010) Conserving Southeast Asia forest biodiversity in human-modification landscapes. Biol. Conserv. 143:2375–2384

FAO (Food and Agriculture Organisatio) (2010) Global Forest Resources Assessment 2010: main report. Food and Agriculture Organisation of the United Nations, Rome

Koh LP, Miettinen J, Liew SC, Ghazoul J (2011) Remotely sensed evidence of tropical peatland conversion to oil palm. Proc Natl Acad Sci U S A 108:5127–5132

Filgueiras BKC, Tabarelli M, Leal IR, Vaz-de-Mello FZ, Iannuzzi L (2015) Dung beetle persistence in human-modified landscapes: combining indicators species with anthropogenic land use and fragmentation-related effects. Ecol Indic 55:65–73

Lee-Cruz L, Edwards DP, Triphati BM, Adams JM (2013) Impact of logging and forest conversion to oil palm plantation on soil bacteria communities in Borneo. Appl Environ Microbiol 79:7290–7297

Nannipieri P, Ascher J, Ceccherini MT, Landi L, Pietranellara G, Renella G (2003) Microbial diversity and soils functions. Eur J Soil Sci 54:655–670

Xu Z, Yu G, Zhang X, Ge J, He N, Wang Q, Wang D (2015) The variations in soil microbial communities, enzyme activities and their relationships with soil organic matter decomposition along the northern slope of Changbai Mountain. Appl Soil Ecol 86:19–29

Tripathi BM, Kim M, Singh D, Lee-Cruz L, Lai-Hoe A, Ainuddin AN, et al. (2012) Tropical soil bacterial communities in Malaysia: pH dominates in the equatorial tropics too. Microb Ecol 64:474–484

Rodrigues JLM, Pellizari VH, Mueller R, Baek K, Ederson DCJ, Paula FS, et al. (2013) Conversion of the Amazon rainforest to agriculture results in biotic homogenization of soil bacterial communities. Proc Natl Acad Sci U S A 110:988–993

Ushio M, Kitayama K, Balser TC (2010) Tree species –mediated spatial patchiness of the composition of microbial community and physiochemical properties in the topsoil of a tropical montane forest. Soil Biol Biochem 42:1588–1595

Prevost-Boure NC, Maron P, Ranjard L, Nowak V, Dufrene E, Damesin C, Soudani K, Lata J (2011) Seasonal dynamics of the bacterial community in forest soils under different quantities of leaf litter. Appl Soil Ecol 47:14–23

Stursová M, Zifcakova L, Leigh MB, Burgess R, Baldrian P (2012) Cellulose utilization in forest litter and soil: identification of bacterial and fungal decomposers. FEMS Microbiol Ecol 80:735–746

Ito M, Sato I, Koitabashi M, Yoshida S, Imai M, Tsushima S (2012) A novel actinomycete derived from wheat heads degrades deoxynivalenol in the grain of wheat and barley affected by Fusarium head blight. Appl Microbiol Biotechnol 96:1059–1070

Tripathi BM, Edwards DP, Mendes LW, Kim M, Dong K, Kim D, et al. (2016) The impact of forest logging and oil palm agriculture on the soil microbiome. Mol Ecol 25: 2244-2257

Buckley DH, Huangyutitham V, Nelson TA, Rumberger A, Thies JE (2006) Diversity of Plactomycetes in soil in relation to soil history and environmental heterogeneity. Appl Environ Microbiol 72:4522–4531

van Straaten O, Corre MD, Wolf K, Tchienkoua M, Cuellar E, Matthews RB, et al. (2015) Conversion of lowland tropical forests to tree cash crop plantation loses up to one-half of stored soil organic carbon. Proc Natl Acad Sci U S A 112:9956–9960

Kanokratana P, Uengwetwanit T, Rattanachomsri U, Bunterngsook B, Nimchua T, Tangphatsornruang S, et al. (2011) Insights into the phylogeny and metabolic potential of a primary tropical peat swamp forest microbial community by metagenomics analysis. Microb Ecol 61:518–528

Hun NB, Denner EB, Da DT, Stan-Lotter H (1999) Marinobacter aquaeolei sp. nov., a halophilic bacterium isolated from a Vietnamese oil-producing well. Int J Syst Bacteriol 49:367–375

Bryant DA, Frigaard NU (2006) Prokaryotic photosynthesis and phototrophy illuminated. Trends Microbiol 14:488–496
Acknowledgements
This project is funded under SATREPS: Promotion of Green Economy with Palm Oil Inductry for Biodiversity Conservation, by Japan Science and Technology Agency, Japan International Cooperation Agency (JICA), and Ministry of Higher Education (Malaysia) (GL00070). CSV would like to acknowledge Sabah Biodiversity Council (Bil.1/2015) for granting academic research permits for research and material transfer during NGS research/training in Kyushu University, Japan. THS would like to acknowledge Universiti Malaysia Sabah (UMS) for Postdoctoral Fellowship during the course of this research.
Ethics declarations
Conflict of Interest
The authors declare that there is no conflict of interest.
Electronic supplementary material
About this article
Cite this article
Tin, H.S., Palaniveloo, K., Anilik, J. et al. Impact of Land-use Change on Vertical Soil Bacterial Communities in Sabah. Microb Ecol 75, 459–467 (2018). https://doi.org/10.1007/s00248-017-1043-6
Received:

Accepted:

Published:

Issue Date:

DOI: https://doi.org/10.1007/s00248-017-1043-6
Keywords
Soil microbiome

Oil palm plantation

Logged forest

Borneo

Tropical rain forest