Abstract
Fungi produce pigments and acids, generating particular local conditions which modify the physicochemical properties of materials. The aims of this work are (i) to investigate bioadhesion, foxing production and biofilm formation by Scopulariopsis sp. and Fusarium sp. isolated from document collections under laboratory conditions; (ii) to verify attack on cellulose fibres and (iii) to study the possibility of reducing fungal growth using natural products. Biofilm formation and extracellular polymeric substance (EPS) production by fungi were demonstrated in laboratory assays and by scanning electron microscopy (SEM) observations. The biocidal activity of two essential oils of Origanum vulgare L. and Thymus vulgaris L. was evaluated using the microatmosphere method. SEM observations showed that these strains were able to attach to paper and form biofilms, causing damage on them, which demonstrates the biodeterioration ability of these microorganisms. Scopulariopsis sp. and Fusarium sp. isolated from paper books showed the formation of fox-like reddish-brown colour spots, attack to the paper structure and pigment production on aged paper samples. The strains tested produced a decrease in the pH of one unit. This would substantiate the effect of the strains in paper biodeterioration. The microatmosphere method showed that volatile compounds of the essential oils have antifungal activity.
Access options
Buy single article
Instant access to the full article PDF.
USD 39.95
Price excludes VAT (USA)
Tax calculation will be finalised during checkout.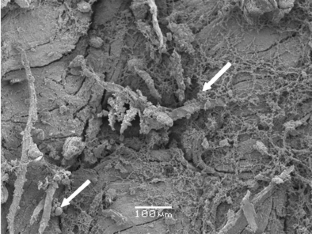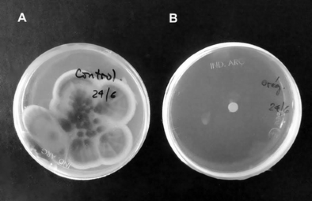 References
Allsopp D, Seal K, Gaylarde C (2004) Introduction to biodeterioration, 2nd edn. Cambridge University Press, USA

Guiamet P, Oliva F, Gallego M, Gómez de Saravia S (2008) Biodeterioration: an applied case for rock art in the Ventania Hill System (Buenos Aires, Argentina). O público e o privado 12:105–120

Saiz-Jimenez C (2012) Microbiological and environmental issues in show caves. World J Microbiol Biotechnol 28:2453–2464. doi:10.1007/s11274-012-1070-x

De Leo F, Iero A, Zammit G, Urzì CE (2012) Chemoorganotrophic bacteria isolated from biodeteriorated surfaces in cave and catacombs. Int J Speleol 41:125–136. doi:10.5038/1827-806X.41.2.1

Cuezva S, Fernandez-Cortes A, Porca E, Pašic L, Jurado V, Hernandez-Marine M, Serrano-Ortiz P, Hermosin B, Cañaveras JC, Sanchez-Moral S, Saiz-Jimenez C (2012) The biogeochemical role of Actinobacteria in Altamira Cave, Spain. FEMS Microbiol Ecol 281:81–90. doi:10.1111/j.1574-6941.2012.01391.x

Pietrzak K, Gutarowska B, Machnowski W, Mikołajczyk U (2015) Antimicrobial properties of silver nanoparticles misting on cotton fabrics. Text Res J 0(00): 1–11 doi:10.1177/0040517515596933

Arai H (2000) Foxing caused by fungi: twenty-five years of study. Int Biodet Biodegrad 46:181–188. doi:10.1016/S0964-8305(00)00063-9

De Paolis MR, Lippi D (2008) Use of metabolic and molecular methods for the identification of a Bacillus strain isolated from paper affected by foxing. Microbiol Res 163:121–131. doi:10.1016/j.micres.2007.06.002

Zotti M, Ferroni A, Calvini P (2011) Mycological and FTIR analysis of biotic foxing on paper substrates. Int Biodet Biodegrad 65:569–578. doi:10.1016/j.ibiod.2010.01.011

Ardelean E, Melniciuc-Puică N (2013) Conservation of paper documents damaged by foxing. Eur J Sci Theol 9(2):117–124

Borrego S, Guiamet P, Gómez de Saravia S, Battistoni P, García M, Lavin P, Perdomo I (2010) The quality of air at archives and the biodeterioration of photographs. Int Biodet Biodegrad 64:139–145. doi:10.1016/j.ibiod.2009.12.005

Strzelczyk AB (2004) Observations on aesthetic and structural changes induced in Polish historic objects by microorganisms. Int Biodet Biodegrad 53:151–156. doi:10.1016/S0964-8305(03)00088-X

Michaelsen A, Pinzari F, Ripka K, Lubitz W, Pinar G (2006) Application of molecular techniques for identification of fungal communities colonizing paper material. Int Biodet Biodegrad 58:133–141. doi:10.1016/j.ibiod.2006.06.019

Gutarowska B, Skora J, Zduniak K, Rembisz D (2012) Analysis of the sensitivity of microorganisms contaminating museums and archives to silver nanoparticles. Int Biodet Biodegrad 68:7–17. doi:10.1016/j.ibiod.2011.12.002

Piantanida G, Pinzari F, Montanari M, Bicchieri M, Coluzza C (2006) Atomic force microscopy applied to the study of Whatman paper surface deteriorated by a cellulolytic filamentous fungus. Macromol Symp 238:92–97. doi:10.1002/masy.200650613

Le Borgne S, Romero JM, Videla HA, González JM, Saiz-Jiménez C (2007) Practical cases of the use of molecular techniques to characterize microbial deterioration of metallic structures in industry. Paper 07523. Corrosion/2007. NACE International, Houston

Piñar G, Sterflinger K, Ettenauer J, Quandt A, Pinzari F (2015) A combined approach to assess the microbial contamination of the Archimedes Palimpsest. Microb Ecol 69:118–134. doi:10.1007/s00248-014-0481-7

González JM, Saiz-Jiménez C (2005) Application of molecular nucleic acid-base techniques for the study of microbial communities in monuments and artworks. Int Microbiol 8:189–194

Lavin P, Gómez de Saravia SG, Guiamet PS (2014) An environmental assessment of biodeterioration in document repositories. Biofouling 30:561–569. doi:10.1080/08927014.2014.897334

Caneva G, Nugari MP, Salvadori O (1991) Biology in the conservation of work of art. ICCROM, Rome

Poulsen PK, Lindelov (1978) Acceleration of chemical reactions due to freexing. In: Rocalland LB, Stewart GF (eds) Water activity influences on food quality. Academic, New York, pp 650–678

Florian M-LE (1993) Conidial fungi (mould) activity on artifact materials. A new look at prevention, control and eradication. Preprints, International Council of Museums 10th Triennial Meeting. ICOM Paris, Washington D.C., pp 868–874

Gómez de Saravia S, Gaylarde CC (1998) The antimicrobial activity of an aqueous extract of Brassica nigra. Int Biodet Biodegrad 41:145–148. doi:10.1016/S0964-8305(98)00006-7

Guiamet P, Gómez de Saravia S (2005) Laboratory studies of biocorrosion control using traditional and environmentally friendly biocides: an overview. Latin Am Appl Res 35:295–300

Guiamet P, Gómez de Saravia S, Arenas P, Pérez ML, de la Paz J, Borrego S (2006) Natural products isolated from plants used in biodeterioration control. Pharmacologyonline 3:534–544

Guiamet P, de la Paz NJ, Arenas P, Gómez de Saravia S (2008) Differential sensitivity of Bacillus sp. isolated from archive materials to plant extracts. Pharmacologyonline 3:649–658

Lahlou M (2004) Methods to study the phytochemistry and bioactivity of essential oils. Phytother Res 18:435–448. doi:10.1002/ptr.1465

Bell L, Faye B (1980) Tolerance range for the conservation of paper documents. Building design of archives in tropical countries, 1st edn. UNESCO, Paris

Pinzari F, Montanari M, Michaelsen A, Piñar G (2010) Analytical protocols for the assessment of biological damage in historical documents. Coalition 19:6–13, http://www.rtphc.csic.es/issue19.htm

Guiamet P, Borrego S, Lavin P, Perdomo I, Gómez de Saravia S (2011) Biofouling and biodeterioration in materials stored at the Historical Archive of the Museum of La Plata, Argentine and at the National Archive of the Republic of Cuba. Colloids Surf B 85:229–234. doi:10.1016/j.colsurfb.2011.02.031

Madigan MT, Martinko JM, Dunlap P, Clark D (2009) Brock biology of microorganisms, 12ª ed. Benjamin Cummings, San Francisco, pp 1168

Barnett HL, Hunter BB (1987) Illustrated genera of imperfect fungi, 3rd edn. Burgess Publishing, Minneapolis

Klich MA, Pitt JI (1994) A laboratory guide to common Aspergillus species and their teleomorphs. CSIRO, Division of Food Processing, North Ryde

Borrego S, Valdés O, Vivar I, Lavin P, Guiamet P, Battistoni P, Gómez de Saravia S, Borges P (2012) Essential oils of plants as biocides against microorganisms isolated from Cuban and Argentine documentary heritage. ISRN Microbiol Vol 2012, Art ID 826786:7. doi:10.5402/2012/826786

Gómez de Saravia S, Borrego S, Lavin P, Valdés O, Vivar I, Battistoni P, Guiamet P (2013) Environmentally friendly products from plants in the control of biodeteriogen agents. Nat Prod - An Indian J 9:167–164

Florian MLE (2004) Fungal facts. Solving fungal problems in heritage collections. Archetype Publications Ltd., London

Abrusci C, Marquina D, Del Amo A, Catalina F (2007) Biodegradation of cinematographic gelatin emulsion by bacteria and filamentous fungi using indirect impedance technique. Int Biodet Biodegrad 60(3):137–143. doi:10.1016/j.ibiod.2007.01.005

Borrego S, Lavin P, Perdomo I, Gomez de Saravia S, Guiamet P (2012) Determination of indoor air quality in archives and biodeterioration of the documentary heritage. ISRN Microbiol, Vol 2012, Art ID 680598:10. doi:10.5402/2012/680598

Gost J, Bermejo B, Rivero M, Espatolero M, Polo I, Saínz de Murieta J (2000) Vigilancia y control de las infecciones originadas por gérmenes oportunistas: aspergilosis. An Sist Sanit Navarra 23:185–192

Valentín N (2004) Diseño y propuestas para el control y la erradicación del biodeterioro. Microorganismos e insectos [Design and proposals for monitoring and eradication of biodeterioration. Microorganisms and insects]. In: Spanish Historical Heritage Institute, editors. Jornadas Monográficas para la Prevención del Biodeterioro en Archivos y Bibliotecas [Monographic Sessions for the Prevention of Biodeterioration in Archives and Libraries], 2004 Jun 14–15, Madrid: 84–89

Sterflinger K, Piñar G (2013) Microbial deterioration of cultural heritage and works of art-tilting at windmills? Appl Microbiol Biotechnol 97:9637–9646. doi:10.1007/s00253-013-5283-1

Rakotonirainy MS, Benaud O, Vilmont LB (2015) Contribution to the characterization of foxing stains on printed books using infrared spectroscopy and scanning electron microscopy energy dispersive spectrometry. Int Biodeter Biodegrad 101:1–7. doi:10.1016/j.ibiod.2015.02.031

Herrera LK, Le Borgne S, Videla HA (2008) Modern methods for materials characterization and surface analysis to study the effects of biodeterioration and weathering on buildings of cultural heritage. Int J Archit Herit 3:74–91. doi:10.1080/15583050802149995

Herrera LK, Videla HA (2009) Surface analysis and material characterization for the study of biodeterioration and weathering effects on cultural property. Int Biodeter Biodegrad 63:813–822. doi:10.1016/j.ibiod.2011.12.002

Valentín N (2010) Microorganisms in museum collections. Coalition 19:2–6, ISSN 1579–8410

Rakotonirainy MS, Lavedrine B (2005) Screening for antifungal activity of essential oils and related compounds to control the biocontamination in libraries and archives storage areas. Int Biodeter Biodegrad 55:141–147. doi:10.1016/j.ibiod.2004.10.002
Acknowledgments
The authors would like to thank the National University of La Plata (UNLP 11N713 and 11X 632), CONICET PIP 0200 and CICBA 833/14 for the grants received to finance this work. The authors are grateful to Arch. María de la Paz Diulio and Lic. Patricia Battistoni for their technical support and to Lic. Juan Carlos Alvarez Gelves and Dr. Silvia Ametrano for allowing microbial sampling on AHCR and HAMLP, respectively.
About this article
Cite this article
Lavin, P., de Saravia, S.G. & Guiamet, P. Scopulariopsis sp. and Fusarium sp. in the Documentary Heritage: Evaluation of Their Biodeterioration Ability and Antifungal Effect of Two Essential Oils. Microb Ecol 71, 628–633 (2016). https://doi.org/10.1007/s00248-015-0688-2
Received:

Accepted:

Published:

Issue Date:

DOI: https://doi.org/10.1007/s00248-015-0688-2
Keywords
Biodeterioration

Fungi

Microatmosphere method

Paper