Abstract
Despite an increased awareness of biofilm formation by pathogens and the role of biofilms in human infections, the potential role of environmental biofilms as an intermediate stage in the host-to-host cycle is poorly described. To initiate infection, pathogens in biofilms on inanimate environmental surfaces must detach from the biofilm and be transmitted to a susceptible individual in numbers large enough to constitute an infectious dose. Additionally, while detachment has been recognized as a discrete event in the biofilm lifestyle, it has not been studied to the same extent as biofilm development or biofilm physiology. Successful integration of Pseudomonas aeruginosa strain PA01 expressing green fluorescent protein (PA01GFP), employed here as a surrogate pathogen, into multispecies biofilm communities isolated and enriched from sink drains in public washrooms and a hospital intensive care unit is described. Confocal laser scanning microscopy indicated that PA01GFP cells were most frequently located in the deeper layers of the biofilm, near the attachment surface, when introduced into continuous flow cells before or at the same time as the multispecies drain communities. A more random integration pattern was observed when PA01GFP was introduced into established multispecies biofilms. Significant numbers of single PA01GFP cells were continuously released from the biofilms to the bulk liquid environment, regardless of the order of introduction into the flow cell. Challenging the multispecies biofilms containing PA01GFP with sub-lethal concentrations of an antibiotic, chelating agent and shear forces that typically prevail at distances away from the point of treatment showed that environmental biofilms provide a suitable habitat where pathogens are maintained and protected, and from where they are continuously released.
Access options
Buy single article
Instant access to the full article PDF.
USD 39.95
Price excludes VAT (USA)
Tax calculation will be finalised during checkout.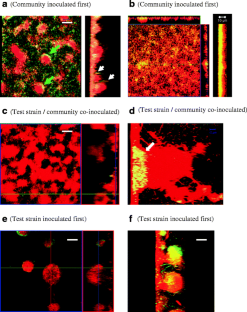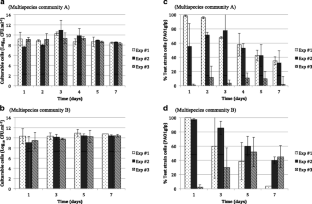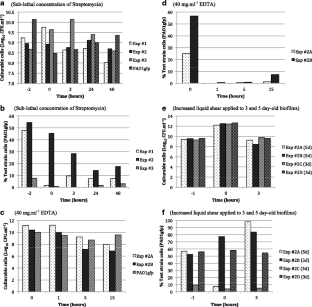 References
Bester E, Wolfaardt G, Joubert L, Garny K, Saftic S (2005) Planktonic-cell yield of a Pseudomonad biofilm. Appl Environ Microbiol 71:7792–7798

Bester E, Edwards EA, Wolfaardt GM (2009) Planktonic cell yield is linked to biofilm development. Can J Microbiol 55:1195–1206

Donlan RM (2002) Biofilms: microbial life on surfaces. Emerg Infect Dis 8:881–890

Wingender J, Flemming H (2011) Biofilms in drinking water and their role as reservoir for pathogens. Int J Hyg Environ Health 214:417–423

Breathnach AS, Cubbon MD, Karunaharan RN, Pope CF, Planche TD (2012) Multidrug-resistant Pseudomonas aeruginosa outbreaks in two hospitals: association with contaminated hospital waste-water systems. J Hosp Infect 82:19–24

Hota S, Hirji Z, Stockton K, Lemieux C, Dedier H, Wolfaardt G, Gardam MA (2009) Outbreak of multidrug-resistant Pseudomonas aeruginosa colonization and infection secondary to imperfect intensive care unit room design. Infect Control Hosp Epidemiol 30:25–33

Yapicioglu H, Gokmen TG, Yildizdas D, Koksal F, Ozlu F, Kale-Cekinmez E, Mert K, Mutlu B, Satar M, Narli N, Candevir A (2012) Pseudomonas aeruginosa infections due to electronic faucets in a neonatal intensive care unit. J Paediatr Child Health 48:430–434

Gilbert P, Maira-Litran T, McBain AJ, Rickard AH, Whyte FW (2002) The physiology and collective recalcitrance of microbial biofilm communities. Adv Microb Physiol 46:203–256

Costerton JW, Stewart PS, Greenberg EP (1999) Bacterial biofilms: a common cause of persistent infections. Science 284:1318–1322

Hall-Stoodley L, Stoodley P (2005) Biofilm formation and dispersal and the transmission of human pathogens. Trends Microbiol 13:7–10

Anaissie EJ, Penzak SR, Dignani MC (2002) The hospital water supply as a source of nosocomial infections. Arch Intern Med 162:1483–1492

Pajkos A, Vickery K, Cossart Y (2004) Is biofilm accumulation on endoscope tubing a contributor to the failure of cleaning and decontamination? J Hosp Infect 58:224–229

Walker JT, Bradshaw DJ, Finney M, Fulford MR, Frandsen E, Ostergaard E, Ten Cate JM, Moorer WR, Schel AJ, Mavridou A, Kamma JJ, Mandilara G, Stosser L, Kneist S, Araujo R, Contreras N, Goroncy-Bermes P, O'Mullane D, Burke F, Forde A, O'Sullivan M, Marsh PD (2004) Microbiological evaluation of dental unit water systems in general dental practice in Europe. Eur J Oral Sci 112:412–418

World Health Organization (2011) Report on the burden of endemic health care-associated infection worldwide. A systematic review of the literature. ISBN 978 92 4 150150 7

Lambertsen L, Sternberg C, Molin S (2004) Mini-Tn7 transposons for site-specific tagging of bacteria with fluorescent proteins. Environ Microbiol 6:726–732

Wolfaardt GM, Lawrence JR, Robarts RD, Caldwell SJ, Caldwell DE (1994) Multicellular organization in a degradative biofilm community. Appl Environ Microb 60:434–446

Bester E, Kroukamp O, Wolfaardt GM, Boonzaaier L, Liss SN (2010) Metabolic differentiation in biofilms as indicated by carbon dioxide production rates. Appl Environ Microbiol 76:1189–1197

Lewandowski Z, Beyenal H, Stookey D (2004) Reproducibility of biofilm processes and the meaning of steady state in biofilm reactors. Water Sci Technol 49:359–364

Lewis K (2008) Multidrug tolerance of biofilms and persister cells. Bacterial Biofilms 322:107–131

Chen X, Stewart PS (2000) Biofilm removal caused by chemical treatments. Water Res 34:4229–4233

Stewart PS (2002) Mechanisms of antibiotic resistance in bacterial biofilms. Int J Med Microbiol 292:107–113

Altman SJ, McGrath LK, Souza CA, Murton JK, Camper AK (2009) Integration and decontamination of Bacillus cereus in Pseudomonas fluorescens biofilms. J Appl Microbiol 107:287–299

Moritz MM, Flemming HC, Wingender J (2010) Integration of Pseudomonas aeruginosa and Legionella pneumophila in drinking water biofilms grown on domestic plumbing materials. Int J Hyg Environ Health 213:190–197

Stoodley P, Sauer K, Davies DG, Costerton JW (2002) Biofilms as complex differentiated communities. Annu Rev Microbiol 56:187–209

Purevdorj-Gage B, Costerton WJ, Stoodley P (2005) Phenotypic differentiation and seeding dispersal in non-mucoid and mucoid Pseudomonas aeruginosa biofilms. Microbiology-Sgm 151:1569–1576

Kirov SM, Webb JS, O'May CY, Reid DW, Woo JKK, Rice SA, Kjelleberg S (2007) Biofilm differentiation and dispersal in mucoid Pseudomonas aeruginosa isolates from patients with cystic fibrosis. Microbiology-Sgm 153:3264–3274
Acknowledgments
The research was funded by grants from the Canada Research Chair Program and the Natural Sciences and Engineering Research Council of Canada.
About this article
Cite this article
Ghadakpour, M., Bester, E., Liss, S.N. et al. Integration and Proliferation of Pseudomonas aeruginosa PA01 in Multispecies Biofilms. Microb Ecol 68, 121–131 (2014). https://doi.org/10.1007/s00248-014-0398-1
Received:

Accepted:

Published:

Issue Date:

DOI: https://doi.org/10.1007/s00248-014-0398-1
Keywords
Colony Form Unit

Extracellular Polymeric Substance

Flow Cell

Test Strain

Planktonic Cell