Abstract
The use of wood in construction has had a long history and Chile has a rich cultural heritage of using native woods for building churches and other important structures. In 2000, UNESCO designated a number of the historic churches of Chiloé, built entirely of native woods, as World Heritage Sites. These unique churches were built in the late 1700 s and throughout the 1800 s, and because of their age and exposure to the environment, they have been found to have serious deterioration problems. Efforts are underway to better understand these decay processes and to carryout conservation efforts for the long-term preservation of these important structures. This study characterized the types of degradation taking place and identified the wood decay fungi obtained from eight historic churches in Chiloé, seven of them designated as UNESCO World Heritage sites. Micromorphological observations identified white, brown and soft rot in the structural woods and isolations provided pure cultures of fungi that were identified by sequencing of the internal transcribed region of rDNA. Twenty-nine Basidiomycota and 18 Ascomycota were found. These diverse groups of fungi represent several genera and species not previously reported from Chile and demonstrates a varied microflora is causing decay in these historic buildings.
Access options
Buy single article
Instant access to the full article PDF.
USD 39.95
Price excludes VAT (USA)
Tax calculation will be finalised during checkout.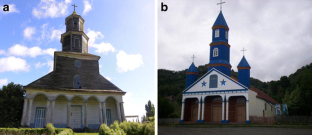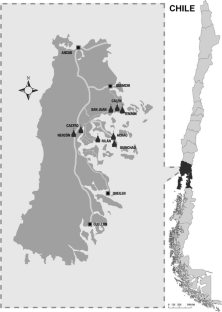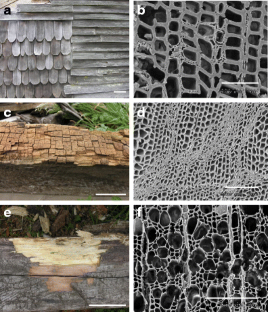 References
Montecinos H (2002) Las iglesias de madera de Chiloé Chile: La tarea constante de conservación. http://www.wmf.org/downloads/SouthAmerConf%202002%20abstract%20SPANISH.pdf. Accessed 21 June 2013

Berg L (2005) Restauración iglesias de Chiloé. Editorial Universitaria, Santiago

Berg L (2007) Restauración en Chiloé (Chile): la iglesia de Castro. Apuntes 20:126–141

Consejo de monumentos nacionales (2003) Postulación de las iglesias de Chiloé como sitio del patrimônio mundial. http://www.monumentos.cl/OpenDocs/asp/pagDefault.asp?boton=Doc53&argInstanciaId=53&argCarpetaId=70&argTreeNodosAbiertos=(0)(65)(70)&argTreeNodoSel=70&argTreeNodoActual=70&argRegistroId=649. Accessed 19 May 2013

Unesco (2011) World heritage convention. http://whc.unesco.org/en/statesparties/cl. Accessed 17 October 2011

Dill I, Kraepelin G (1986) Palo Podrido: model for extensive delignification of wood by Ganoderma applanatum. Appl Environ Microbiol 52:1305–1312

Agosin E, Blanchette RA, Silva H, Lapierre C, Cease K, Ibach R, Abad A, Muga P (1990) Characterization of Palo Podrido, a natural process of delignification in wood. Appl Environ Microbiol 56:65–74

Eriksson KE, Blanchette RA, Ander P (1990) Microbial and enzymatic degradation of wood and wood components. Springer-Verlag, Berlin

Zabel R, Morrel J (1992) Wood microbiology: decay and its prevention. Academic Press, California

Lazo W (1995) Hongos. In: Simonetti J, Arroyo M, Spotorno A, Lozada E (eds) Diversidad biológica en Chile. Comisión Nacional de Ciencia y Tecnología, Santiago, pp 21–25

Barnett J, Jeronimidis G (2003) Wood quality and its biological basis. Blackwell, Boca Raton

Lim W, Kim J, Chedgy R, Breuil C (2005) Fungal diversity from western red cedar fences and their resistance to B-thujaplicin. Antonie Van Leeuwenhoek 87:109–117. doi:10.1007/s10482-004-1729-x

Blanchette R (2000) A review of microbial deterioration found in archeological wood from different environments. Int Biodeterior Biodegrad 46:189–204. doi:10.1016/S0964-8305(00)00077-9

Highley T, Dashek W (1998) Biotechnology in the study of brown and white rot decay. In: Bruce A, Palferman J (eds) Forest products biotechnology. Taylor & Francis, Great Britain, pp 15–36

Singh J (2000) Fungi in buildings. Holistic Conservation and Health. Environmental Management of Fungal Problems in our Cultural Heritage. http://www.ebssurvey.co.uk/docs/Fungi%20in%20Buildings.pdf. Accessed 9 January 2009

American Wood Council (2011) Design of wood frame structure for permanence. http://www.awc.org/pdf/WCD6.pdf. Accessed 18 October 2011

Filley T, Blanchette RA, Simpson E, Fogel M (2001) Nitrogen cycling by wood decomposing soft-rot fungi in the 'King Midas tomb' Gordion, Turkey. Proc Natl Acad Sci U S A 98:13346–13350. doi:10.1073/pnas.221299598

Blanchette RA, Held B, Jurgens J, Haight J (2004) Wood deterioration in Chacoan great houses of the southwestern United States. Conserv Manag Archeol Sites 6:203–212. doi:10.1179/135050304793137775

Blanchette RA, Jurgens J, Held B, Arenz B, Smith J (2005) Decay of historic and archeological wooden structures: degradation processes and molecular characterization of wood destroying fungi. http://www.iaws-web.org/files/file/2005-Chile-Fullpaper-Blanchette-Jurgens-Held-Arenz-Smith.pdf. Accessed 12 September 2012

Arenz B, Held B, Jurgens J, Farrell R, Blanchette RA (2006) Fungal diversity in soils and historic wood from the Ross Sea Region of Antarctica. Soil Biol Biochem 38:3057–3064

Blanchette RA, Held BW, Arenz BE, Jurgens JA, Baltes NJ, Duncan SM, Farrell RL (2010) An antarctic hot spot for fungi at shackleton's historic hut on Cape Royds. Microb Ecol 60:29–38

Ortiz R, Moreno L, Ramirez R, Olivero P (2011) Determination of the models of biodeterioration in elements of wood produced by rot fungi in building of the zone of historic conservation of Valparaíso, Chile. Revista Constr 10:82–89

Zadrazil F, Grinbergs J, González A (1982) "Palo Podrido"—Decomposed wood used as feed. Appl Microbiol Biotechnol 15:167–171. doi:10.1007/BF00511242

Butin H, Peredo H (1986) Hongos parásitos en coníferas de América del Sur con especial referencia a Chile. Berlin, Stuttgart

Silva H, Landa A, Agosin E (1990) Aislamiento, Selección y caracterización de hongos lignolíticos Chilenos. Arch Biol Med Exp 23:41–49

Lazo W (1996) Algunos Ascomycetes y Basidiomycetes interesantes de Chile. Bol Micológico 11:99–102

Valenzuela E, Ramirez C, Moreno G, Polette M, Garniga S, Peredo H, Grinbergs J (1996) Agaricales más comunes recolectados en el Campus Isla Teja de la Universidad Austral de Chile. Bosque 17:51–63

Garnica S, Ramírez C, Valenzuela E (1997) Estudio Macro-Microscopico y Enzimatico Cualitativo de Cepas Miceliales de Basidicarpos de Agaricales I. Bol Micológico 12:63–67

Garnica S, Valenzuela E (1998) Estudio Macro-Microscopico y Enzimatico Cualitativo de Cepas Miceliales de Basidicarpos de Agaricales II. Bol Micológico 13:63–69

Arias MH, Parada IM, Vidal SG (1999) Enzimas lignoliticas producidas por hongos del bosque nativo del Sur de Chile: no sólo de madera vive el hombre. Chile Forestal 276:6–7

Parada M, Arias H, Vidal G (2000) Aislamiento y selección de basidiomicetes nativos con capacidad lignolítica. Bol Micológico 15:23–29

Valenzuela E, Barrera S (2001) Determinación taxonómica y enzimática cualitativa de hongos en aserrín de Pinus radiata en diversas condiciones naturales. Bol Micológico 16:71–78

Lanfranco D, Ide S, Ruiz C, Vives I, Peredo H (2003) Caracterización fitosanitaria de astillas de Eucaliptus spp. y de especies nativas. Bosque 24:47–54. doi:10.4067/S0717-92002003000100004

Palma M, Valenzuela E, Parra P, Gutierrez M, Torelli L (2005) Cerrena unicolor (Bull.) Murr (Basidiomycota) Aislado de micangio de Tremex fuscicornis Fabr. (Hymenoptera Siricidae) Asociado a Decaimiento y Pudrición del Alamo (Populus sp.) en Chile. Bol Micológico 20:57–61

Donoso C, Becerra J, Martinez M, Garrido N, Silva M (2008) Degradative ability 2,4,6-tribromofenol by saprophytic fungi Trametes versicolor and Agaricus augustus isolated from Chilean forestry. World J Microbiol Biotechnol 24:961–968. doi:10.1007/s11274-007-9559-4

Tortella G, Rubilar O, Gianfreda L, Valenzuela E, Diez M (2008) Enzymatic characterization of Chilean native wood-rotting fungi for potenial use in the bioremediation of polluted environments with chlorophenols. World J Microbiol Biotechnol 24:2805–2818. doi:10.1007/s11274-008-9810-7

Guillen Y (2008) Capacidad lignocelulolítica y tolerancia a metales pesados de hongos pudridores de madera, que se desarrollan en la VIII región, y su posible uso biotecnológico. Tesis, Universidad de Concepción, Concepción

Guillen Y, Navias D, Machuca A (2008) Tolerance to wood preservatives by copper-tolerant wood-rot fungi native to south-central Chile. Biodegradation 20:135–142. doi:10.1007/s10532-008-9207-1

Mujica F, Vergara C, Oehrens E (1980) Flora fungosa chilena. Universidad de Chile, Santiago

Lazo W (2001) Hongos de Chile: Atlas micológico. Facultad de Ciencias de la Universidad de Chile, Chile

Unesco (2011) Churches of Chiloé. http://whc.unesco.org/en/list/971. Accessed 17 October 2011

Montiel A (2005) Identificación de la enzima responsable de la degradación de pentaclorofenol (PCF) en Amylomyces rouxii y optimización del mecanismo de degradación mediante la expresión heteróloga de peroxidasas. Tesis, Universidad Autónoma Metropolitana, Mexico

Cubero O, Crespo A, Fatehi J, Bridge P (1999) DNA extraction and PCR amplification method suitable for fresh, herbarium stored, lichenized, and other fungi. Plant Syst Evol 216:243–249. doi:10.1007/BF01084401

Blanchette RA, Simpson E (1992) Soft rot decay and wood pseudomorphs in an ancient coffin (700 BC) from tumulus MM at Gordion, Turkey. Int Assoc Wood Anatomists Bull 13:201–213

Díaz-Vaz J (1979) Claves para la identificación de maderas de árboles nativos y cultivados en Chile. Bosque 3:15–25

Moreth U, Schmidt O (2000) Identification of indoor rot fungi by taxón-specific priming polymerase chain reaction. Holzforschung 54:1–8. doi:10.1515/HF.2000.001

Kim G, Lim Y, Song Y, Kim J (2005) Decay fungi from playground wood products in service using 28S rDNA sequence analysis. Holzforschung 59:459–466. doi:10.1515/HF.2005.076

Schmidt O, Moreth U (2003) Data bank of rDNA-ITS sequences from building-rot fungi for their identification. Wood Sci Technol 37:161–163. doi:10.1007/s00226-003-0162-z

Vasiliauskas R, Stenlid J (1998) Fungi inhabiting stems of Picea abies in a managed stand in Lithuania. Forest Ecol Manag 109:119–126. doi:10.1016/S0378-1127(98)00226-6

Vasiliauskas R, Larsson E, Larsson K, Stenlid J (2005) Persistence and long-term impact of Rotstop biological control agent on mycodiversity of Picea abies stumps. Biol Control 32:295–304. doi:10.1016/j.biocontrol.2004.10.008

O'Brien H, Lynn J, Jackson J, Moncalvo J, Vilgalys R (2005) Fungal community analysis by large-scale sequencing of environmental samples. Appl Environ Microbiol 71:5544–5550. doi:10.1128/AEM.71.9.5544-5550.2005

Gelsomino G, Faedda R, Rizza C, Petrone G, Cacciola G (2011) New platforms for the diagnosis and identification of fungal and bacterial pathogens. In: Méndez-Vilas A (ed) Microbiology book series. Science against microbial pathogens: communicating current research and technological advances, Formatex Research Center, España, pp 622–630
Acknowledgments
We thank the Dirección de Investigación of the Universidad de Valparaíso (DIUV) for financial support through Project 40/2008, "Identificación de hongos de pudrición y determinación de los procesos de degradación de maderas obtenidas de tres sitios considerados como Patrimonio de la Humanidad en Chile". We also thank the Laboratorio de Biodeterioro of the Departamento de Ingeniería en Maderas of the Universidad del Bío-Bío, the Laboratorio de Biodeterioro y Biodegradación de Materiales of the Escuela de Construcción Civil of the Universidad de Valparaíso, the Laboratorio de Biología Molecular of the Departamento de Ciencias Biomédicas of the Universidad de Valparaíso and the Laboratorio de Bioquímica y Biología Oral of the Universidad de Chile for their valuable cooperation. A special thanks to the Fundación de Amigos de las Iglesias de Chiloé and the Comunidades de las Iglesias for providing access to the sites and permission to take wood samples from the historic woods.
About this article
Cite this article
Ortiz, R., Párraga, M., Navarrete, J. et al. Investigations of Biodeterioration by Fungi in Historic Wooden Churches of Chiloé, Chile. Microb Ecol 67, 568–575 (2014). https://doi.org/10.1007/s00248-013-0358-1
Received:

Accepted:

Published:

Issue Date:

DOI: https://doi.org/10.1007/s00248-013-0358-1
Keywords