Abstract
Mycorrhizas are mutualistic associations between soil fungi and plant roots which usually improve water and nutrient uptake, influencing plant fitness. Nothofagus nervosa (Raulí) is an ecologically and economically important species of South American temperate forests. Since this native tree species yields valuable timber, it was overexploited and its natural distribution area was critically reduced, so it is currently included in domestication and conservation programs. Among the factors that should be considered in these programs are the ectomycorrhizas (EcM), which would be important for the successful establishment and survival of outplanted seedlings. The aim of this work was to analyze the abundance and diversity of EcM in N. nervosa nursery-cultivated seedlings assessed by morphotyping, fungal isolation, and DNA sequencing. Arbuscular mycorrhiza (AM) occurrence was also studied. A 2-year trial was conducted following the cultivation conditions used for domestication programs. Seedlings were cultivated under two different cultivation practices (greenhouse and nursery soil) without artificial inoculation of mycorrhizal fungi. Seedlings' roots were examined at different times. It was observed that they developed EcM between 6 and 12 months after germination and AMs were not detected in any plant. The most abundant ectomycorrhizal fungi present in seedlings' roots were Tomentella ellisii (Basidiomycota) and an unidentified fungus named Ascomicetous EcM sp. 1. Abundance and diversity of EcM varied between the two cultivation techniques analyzed in this study, since seedlings that continued growing in the greenhouse had higher colonization values, but those transplanted to the nursery soil were colonized by a higher diversity of fungal taxa.
Access options
Buy single article
Instant access to the full article PDF.
US$ 39.95
Tax calculation will be finalised during checkout.
Subscribe to journal
Immediate online access to all issues from 2019. Subscription will auto renew annually.
US$ 119
Tax calculation will be finalised during checkout.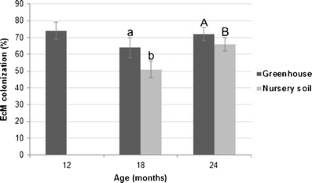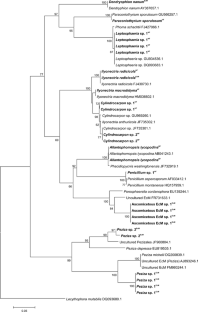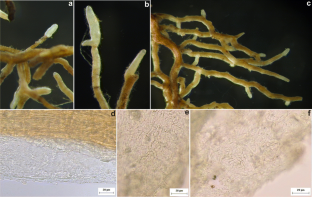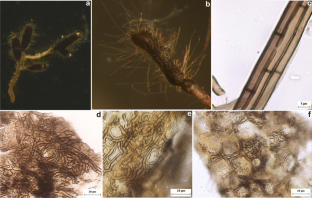 Notes
1.

Nothofagus species have indehiscent dry fruits containing only one seed (nuts). Since the pericarp does not split open, seedlings are cultivated directly from these fruits.

2.

It was not possible to measure these variables in plants at 18 and 24 months because the complexity of the root system impeded to extend it properly and to separate the substrate from the roots.
References
1.

Smith SE, Read DJ (2008) Mycorrhizal symbiosis. Academic, London

2.

Mazzarino MJ & ME Gobbi (2005) Indicadores de Circulación de Nutrientes en Bosques Andino-Patagónicos. IDIA XXI 5: 15–18 (Ediciones INTA, Número especial sobre Forestales)

3.

Godoy R, Palfner G (1997) Ectomicorrizas en Nothofagus alpina (P. et E.) Oerst y N. dombeyi (Mirb.) Oerst del sur de Chile. Bol Micol 12:55–61

4.

Godoy R, Romero R, Carrillo R (1994) Estatus micotrófico de la flora vascular en bosques de coníferas nativas del sur de Chile. Rev Chil Hist Nat 67:209–220

5.

Tedersoo L, Gates G, Dunk CW, Lebel T, May TW, Kõljalg U, Jairus T (2009) Establishment of ectomycorrhizal fungal community on isolated Nothofagus cunninghamii seedlings regenerating on dead wood in Australian wet temperate forests: does fruit-body type matter? Mycorrhiza 19:403–16. doi:10.1007/s00572-009-0244-3

6.

Diehl P (2006) Indicadores de conservación de nitrógeno y fósforo en especies arbóreas de la región Andino-Patagónica. Doctoral dissertation, Universidad Nacional del Comahue, Centro Regional Universitario Bariloche, Provincia de Río Negro, Argentina

7.

Diehl P, Mazzarino MJ, Fontenla S (2008) Plant limiting nutrients in Andean–Patagonian woody species: effects of interannual rainfall variation, soil fertility and mycorrhizal infection. Forest Ecol Manag 255:2973–2980

8.

Longo MS, Urcelay C, Nouhra E (2011) Long term effects of fire on ectomycorrhizas and soil properties in Nothofagus pumilio forests in Argentina. Forest Ecol Manag 262:348–354

9.

Fernández (2012) Micorrizas y levaduras asociadas a Nothofagus nervosa en poblaciones naturales y plantas cultivadas en vivero. Doctoral dissertation, Universidad Nacional del Comahue, Centro Regional Universitario Bariloche, Provincia de Río Negro, Argentina

10.

Diehl P, Mazzarino MJ, Funes F, Fontenla S, Gobbi M, Ferrari J (2003) Nutrient conservation strategies in native Andean-Patagonian forests. J Veg Sci 14:63–70

11.

Bidartondo MI, Redecker D, Hijrl I, Wiemken A, Bruns TD, Dominguez L, Sersic A, Leake JR, Read DJ (2002) Epiparasitic plants specialized on arbuscular mycorrhizal fungi. Nature 419:389–392

12.

Wang B, Qiu YL (2006) Phylogenetic distribution and evolution of mycorrhizas in land plants. Mycorrhiza 16:299–363

13.

Marchelli P, Gallo LA (1999) Annual and geographic variation in seed traits of Argentinean populations of southern beech Nothofagus nervosa (Phil.) Dim. et Mil. Forest Ecol Manag 121:239–250

14.

Gallo LA, Donoso C, Marchelli P, Donoso P (2004) Variación en Nothofagus nervosa (Phil.) Dim. et Mil (N. alpina, N. procera). In: Donoso C, Premoli A, Gallo L, Ipinza R (eds) Variación intraespecífica en especies arbóreas de los bosques templados de Chile y Argentina. Editorial Universitaria, Santiago, pp 115–144

15.

Chakravarty P, Chatarpaul L (1990) Effect of fertilization on seedling growth, ectomycorrhizal symbiosis, and nutrient uptake in Larix laricina. Can J For Res 20:245–248

16.

Quoreshi AM (2003) Nutritional preconditioning and ectomycorrhizal formation of Picea mariana (Mill.) B.S.P. seedlings. Eurasian J For Res 6:1–63

17.

Rincón A, Parladé J, Pera J (2005) Effects of ectomycorrhizal inoculation and the type of substrate on mycorrhization, growth and nutrition of containerised Pinus pinea L. seedlings produced in a commercial nursery. Ann For Sci 62:1–6

18.

Rincón A, de Felipe MR, Fernández-Pascual M (2007) Inoculation of Pinus halepensis Mill. with selected ectomycorrhizal fungi improves seedling establishment 2 years after planting in a degraded gypsum soil. Mycorrhiza 18:23–32

19.

Pera J, Álvarez IF, Rincón A, Parladé J (1999) Field performance in northern Spain of Douglas-fir seedlings inoculated with ectomycorrhizal fungi. Mycorrhiza 9:77–84

20.

Oliveira RS, Franco AR, Vosátka M, Castro PML (2010) Management of nursery practices for efficient ectomycorrhizal fungi application in the production of Quercus ilex. Symbiosis 52:125–131

21.

Kernaghan G, Sigler L, Khasa D (2003) Mycorrhizal and root endophytic fungi of containerized Picea glauca seedlings assessed by rDNA sequence analysis. Microb Ecol 45:128–136

22.

Pera J, Parladé J (2005) Inoculación controlada con hongos ectomicorrícicos en la producción de plantas destinadas a repoblaciones forestales: estado actual en España. Inv Agr Sist Rec For 14:419–433

23.

El Karkouri K, Martin F, Douzery JPE, Mousain D (2005) Diversity of ectomycorrhizal fungi naturally established on containerised Pinus seedlings in nursery conditions. Microbiol Res 160:47–52

24.

Menkis A, Vasiliauskas R, Taylor AFS, Stenlid J, Finlay R (2005) Fungal communities in mycorrhizal roots of conifer seedlings in forest nurseries under different cultivation systems, assessed by morphotyping, direct sequencing and mycelial isolation. Mycorrhiza 16:33–41

25.

Trocha LK, Rudawska M, Leski T, Dabert M (2006) Genetic diversity of naturally established ectomycorrhizal fungi on Norway spruce seedlings under nursery conditions. Microb Ecol 52:418–425

26.

Menkis A, Vasaitis R (2011) Fungi in roots of nursery grown Pinus sylvestris: ectomycorrhizal colonisation, genetic diversity and spatial distribution. Microb Ecol 61:52–63

27.

O'Neill JJM, Mitchell DT (2000) Effects of benomyl and captan on growth and mycorrhizal colonization of Sitka-spruce (Picea sitchensis) and ash (Fraxinus excelsior) in Irish nursery soil. For Pathol 30:165–174

28.

Sousa NR, Franco AR, Oliveira RS, Castro PML (2012) Ectomycorrhizal fungi as an alternative to the use of chemical fertilisers in nursery production of Pinus pinaster. J Environ Manag 95:269–274

29.

Barroetaveña C, Schinelli C, Bassani VN, Tejera L, Gallo L (2009) Inoculación ectomicorrícica de Nothofagus spp. Informe técnico Proyecto Domesticación de especies Forestales Nativas, INTA

30.

Sabatier Y, Azpilicueta MM, Marchelli P, González-Peñalba M, Lozano L, García L, Martinez A, Gallo LA, Umaña F, Bran D, Pastorino MJ (2011) Distribución natural de Nothofagus alpina y Nothofagus obliqua (Nothofagaceae) en Argentina, dos especies de primera importancia forestal de los bosques templados norpatagónicos. Bol Soc Arg Bot 46:131–138

31.

Martinez A, Schinelli T (2009) Viverización de especies forestales nativas de nuestra región: Los Nothofagus caducifolios Parte 1: Cosecha y procesamiento de semillas. Presencia 53:36–41

32.

Azpilicueta MM, Varela S, Martínez A, Gallo L (2010) Manual de viverización, cultivo y plantación de Roble pellín en el norte de la región Patagónica. Ediciones INTA EEA Bariloche.

33.

Schinelli T, Martinez A (2010) Viverización de especies forestales nativas de nuestra región: Los Nothofagus caducifolios Parte 2: Viverización en condiciones controladas. Presencia 55:26–30

34.

Agerer R (1987) Colour atlas of ectomycorrhizae. Einhorn-Verlag, Munich

35.

Grand LF, Harvey AE (1982) Quantitative measurement of ectomycorrhizae on plant roots. In: Shenck NC (ed) Methods and principles of mycorrhizal research. American Phytopathological Society, Saint Paul, pp 157–164

36.

Brundrett M, Bougher N, Dell B, Grove T, Malajczuk N (1996) Working with mycorrhizas in forestry and agriculture. ACIAR Monograph 32. Australian Centre for International Agricultural Research, Canberra

37.

Bent E, Taylor L (2010) Direct amplification of DNA from fresh and preserved ectomycorrhizal root tips. J Microbiol Meth 80:206–208

38.

Phillips JM, Hayman DS (1970) Improved procedures for clearing roots and staining parasitic and vesicular arbuscular mycorrhizal fungi for rapid assessment of infection. Trans Br Mycol Soc 55:158–160

39.

Fernández N, Fontenla S, Messuti MI (2008) Arbuscular mycorrhizas and dark septate fungi in Lycopodium paniculatum (Lycopodiaceae) and Equisetum bogotense (Equisetaceae) in a Valdivian temperate forest of Patagonia, Argentina. Am Fern J 98:117–127

40.

McGonigle TP, Miller MH, Evans DG, Fairchild GL, Swan JA (1990) A new method which gives and objective measure of colonization of roots by vesicular-arbuscular mycorrhizal fungi. New Phytol 115:495–501

41.

Martínez DB, Barroetaveña C, Rajchenberg M (2007) Influencia del régimen de fertilización y del momento de inoculación en la micorrización de Pinus ponderosa en la etapa de vivero. Bosque 28:226–233

42.

Khasa P, Sigler L, Chakravarty P, Dancik BP, Erickson L, Mc Curdy D (2001) Effect of fertilization on growth and ectomycorrhizal development of container-grown and bare-root nursery conifer seedlings. New For 22:179–197

43.

Dahlberg A, Stenstrom E (1991) Dynamic changes in nursery and indigenous mycorrhiza of Pinus sylvestris seedlings planted out in forest and clearcuts. Plant Soil 136:73–86

44.

Buscot F, Munch JC, Charcosset JY, Gardes M, Nehls U, Hampp R (2000) Recent advances in exploring physiology and biodiversity of ectomycorrhizas highlight the functioning of these symbioses in ecosystems. FEMS Microbiol Rev 24:601–14

45.

Minchin RF, Ridgway HJ, Condron L, Jones EE (2012) Influence of inoculation with a Trichoderma bio-inoculant on ectomycorrhizal colonisation of Pinus radiate seedlings. Ann Appl Biol 161:57–67

46.

Bruns TD (1995) Thoughts on the processes that maintain local species diversity of ectomycorrhizal fungi. Plant Soil 170:63–73

47.

Colpaert JV (1999) Thelephora. In: Cairney JWG, Chambers SM (eds) Ectomycorrhizal fungi: key genera in profile. Springer, Berlin, pp 325–346

48.

Brandão LR, Libkind D, Vaz AB, Espírito Santo LC, Moliné M, de García V, van Broock M, Rosa CA (2011) Yeasts from an oligotrophic lake in Patagonia (Argentina): diversity, distribution and synthesis of photoprotective compounds and extracellular enzymes. FEMS Microbiol Ecol 76:1–13

49.

Halleen F, Schroers HF, Groenewald JZ, Crous PW (2004) Novel species of Cylindrocarpon (Neonectria) and Campylocarpon gen. nov. associated with black foot disease of grapevines (Vitis spp.). Stud Mycol 50:431–455

50.

Lenc L, Kwaśna H, Sadowski C (2011) Dynamics of the root/soil pathogens and antagonists in organic and integrated production of potato. Eur J Plant Pathol 131:603–620
Acknowledgments
N. nervosa fruit collection within Lanín National Park was carried out by the Ecological Genetics and Forest Tree Breeding Group with the permission and collaboration of National Park Administration. This work was partially financed by the project PNFOR044321 INTA (Domesticación de especies forestales nativas patagónicas) and by grants B143 (Universidad Nacional del Comahue) and PICT 22200 (ANPCyT).
About this article
Cite this article
Fernández, N.V., Marchelli, P. & Fontenla, S.B. Ectomycorrhizas Naturally Established in Nothofagus nervosa Seedlings Under Different Cultivation Practices in a Forest Nursery. Microb Ecol 66, 581–592 (2013). https://doi.org/10.1007/s00248-013-0229-9
Received:

Accepted:

Published:

Issue Date:
Keywords
Arbuscular Mycorrhiza

Mycorrhizal Colonization

Ectomycorrhizal Fungus

Collar Diameter

Root Collar Diameter