Abstract
Aphanizomenon ovalisporum is a planktonic nostocalean cyanobacterium with increasing research interest due to its ability to produce the potent cytotoxin cylindrospermopsin and its potential invasiveness under the global warming scenario. The present study provides novel data on the potential dispersal strategies of A. ovalisporum by analyzing the influence of temperature (10–40 °C) on akinete differentiation and cell morphometry in cultures of A. ovalisporum UAM 290 isolated from a Spanish pond. Our results confirmed a temperature-dependent akinete differentiation, with the maximum akinete production reached at 20 °C (15 % of the cells), a low basal production at 25–30 °C (<0.4 % of the cells) and no detectable production at 35 °C. Furthermore, we reported the fragmentation of A. ovalisporum filaments at temperatures of 25 °C and above. Additionally, we observed that the morphology of vegetative cells varied under different temperature scenarios. Indeed, a strong negative correlation was found between temperature and the width, length and biovolume of vegetative cells, whereas akinete dimensions remained stable along the temperature gradient. Therefore, linear regressions between temperature and the cell size parameters are herein presented aiming to facilitate the identification of A. ovalisporum in the field throughout the course of the year. This is the first study evidencing that akinete production is triggered by temperatures between 20 and 25 °C in A. ovalisporum and reporting the existence of filament fragmentation as a potential dispersal strategy of this species. The importance of these findings for understanding the annual life cycle and invasive potential of A. ovalisporum is further discussed herein.
This is a preview of subscription content,
to check access.
Access this article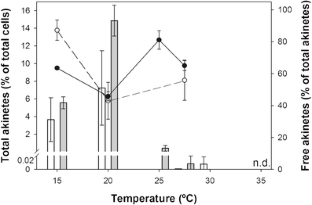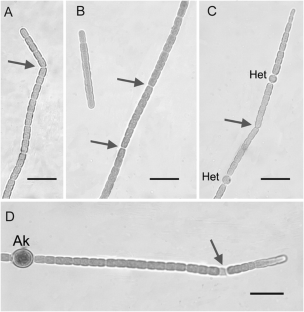 References
Adams DG, Duggan PS (1999) Heterocyst and akinete differentiation in cyanobacteria. New Phytol 144:3–33

Alster A, Kaplan-Levy RN, Sukenik A, Zohary T (2010) Morphology and phylogeny of a non-toxic invasive Cylindrospermopsis raciborskii from a Mediterranean lake. Hydrobiologia 639:115–128

Argueta C, Yuksek K, Patel R, Summers ML (2006) Identification of Nostoc punctiforme kinete-expressed genes using differential display. Mol Microbiol 61:748–757

Briand JF, Leboulanger C, Humbert JF, Bernard C, Dufour P (2004) Cylindrospermopsis raciborskii (Cyanobacteria) invasion at mid-latitudes: selection, wide physiological tolerance, or global warming? J Phycol 40:231–238

Cirés S, Wörmer L, Timón J, Wiedner C, Quesada A (2011) Cylindrospermopsin production and release by the potentially invasive cyanobacterium Aphanizomenon ovalisporum under temperature and light gradients. Harmful Algae 10:668–675

Corliss JO (2000) Protozoan cysts and spores. In: Encyclopedia of life sciences. Nature Publishing Group, London, pp 1-8

Everson S, Fabbro L, Kinnear S, Wright P (2011) Extreme differences in akinete, heterocyte and cylindrospermopsin concentrations with depth in a successive bloom involving Aphanizomenon ovalisporum (Forti) and Cylindrospermopsis raciborskii (Woloszynska) Seenaya and Subba Raju. Harmful Algae 10:265–276

Fay P, Lynn JA, Majer SC (1984) Akinete development in the planktonic blue-green alga Anabaena circinalis. Br Phycol J 19:163–173

Ferjani A, Mustardy L, Sulpice R, Marin K, Suzuki I, Hagemann M, Murata N (2003) Glucosylglycerol, a compatible solute, sustains cell division under salt stress. Plant Physiol 131:1628–1637

Fisher RW, Wolk CP (1976) Substance stimulating differentiation of spores of blue-green alga Cylindrospermum licheniforme. Nature 259:394–395

Gkelis S, Moustaka-Gouni M, Sivonen K, Lanaras T (2005) First report of the cyanobacterium Aphanizomenon ovalisporum Forti in two Greek lakes and cyanotoxin occurrence. J Plankton Res 27:1295–1300

Hadas O, Pinkas R, Delphine E, Vardi A, Kaplan A, Sukenik A (1999) Limnological and ecophysiological aspects of Aphanizomenon ovalisporum bloom in Lake Kinneret, Israel. J Plankton Res 21:1439–1453

Hawkins PR, Holliday J, Kathuria A, Bowling L (2005) Change in cyanobacterial biovolume due to preservation by Lugol's iodine. Harmful Algae 4:1033–1043

Hellweger FL, Kravchuk ES, Novotny V, Gladyshev MI (2008) Agent-based modeling of the complex life cycle of a cyanobacterium (Anabaena) in a shallow reservoir. Limnol Oceanogr 53:1227–1241

Hense I, Beckmann A (2006) Towards a model of cyanobacteria life cycle—effects of growing and resting stages on bloom formation of N2-fixing species. Ecol Model 195:205–218

Jöhnk KD, Bruggemann R, Rücker J, Luther B, Simon U, Nixdorf B, Wiedner C (2011) Modelling life cycle and population dynamics of Nostocales (cyanobacteria). Environ Modell Softw 26:669–677

Kaplan-Levy RN, Hadas O, Summers ML, Rücker J, Sukenik A (2010) Akinetes: dormant cells of cyanobacteria. In: Lubzens E, Cerdá J, Clark MS (eds) Dormancy and resistance in harsh environments. Springer, Heidelberg, pp 5–28

Komárek J, Hauer T (2012) CyanoDB.cz - On line database of cyanobacterial genera. World-Wide Electronic Publication, University of South Bohemia and Institute of Botany AS CR. http://www.cyanodb.cz. Accessed 2 February 2012.

Kotai J (1972) Instructions for preparation of modified nutrient solution Z8 for algae, vol B-11/69. Norwegian Institute for Water Research, Oslo

Kravchuk ES, Ivanova EA, Gladyshev MI (2006) Seasonal dynamics of akinetes of Anabaena flos-aquae in bottom sediments and water column of small Siberian reservoir. Aquat Ecol 40:325–336

Li RH, Watanabe M, Watanabe MM (1997) Akinete formation in planktonic Anabaena spp. (cyanobacteria) by treatment with low temperature. J Phycol 33:576–584

Livingstone D, Jaworski GHM (1980) The viability of akinetes of blue-green algae recovered from the sediments of Rostherne Mere. Br Phycol J 15:357–364

Mehnert G, Leunert F, Cirés S, Jöhnk KD, Rücker J, Nixdorf B, Wiedner C (2010) Competitiveness of invasive and native cyanobacteria from temperate freshwaters under various light and temperature conditions. J Plankton Res 32:1009–1021

Messineo V, Melchiorre S, Di Corcia A, Gallo P, Bruno M (2010) Seasonal succession of Cylindrospermopsis raciborskii and Aphanizomenon ovalisporum blooms with cylindrospermopsin occurrence in the volcanic lake Albano, Central Italy. Environ Toxicol 25:18–27

Moore D, O'Donohue M, Garnett C, Critchley C, Shaw G (2005) Factors affecting akinete differentiation in Cylindrospermopsis raciborskii (Nostocales, Cyanobacteria). Freshw Biol 50:345–352

Nichols JM, Adams DG (1982) Akinetes. In: Carr NG, Whitton BA (eds) The biology of cyanobacteria. Blackwell Scientific, Oxford, pp 387–413

Olli K, Kangro K, Kabel M (2005) Akinete production of Anabaena lemmermannii and A. cylindrica (Cyanophyceae) in natural populations of N- and P-limited coastal mesocosms. J Phycol 41:1094–1098

Padisák J (1997) Cylindrospermopsis raciborskii (Woloszynska) Seenaya et Subba Raju, an expanding highly adaptive blue-green algal species: worldwide distribution and review of its ecology. Archiv Hydrobiol 107:563–593

Pandey RK (1989) Induction of akinete formation in Nodularia spumigena by temperature. J Basic Microbiol 29:477–480

Pollard PC, Young LM (2010) Lake viruses lyse cyanobacteria, Cylindrospermopsis raciborskii, enhances filamentous-host dispersal in Australia. Acta Oecologica—International Journal of Ecology 36:114–119

Pollingher U, Hadas O, Yacobi YZ, Zohary T, Berman T (1998) Aphanizomenon ovalisporum (Forti) in Lake Kinneret, Israel. J Plankton Res 20:1321–1339

Quesada A, Moreno E, Carrasco D, Paniagua T, Wormer L, De Hoyos C, Sukenik A (2006) Toxicity of Aphanizomenon ovalisporum (Cyanobacteria) in a Spanish water reservoir. Eur J Phycol 41:39–45

Rajaniemi P, Hrouzek P, Kastovská K, Willame R, Rantala A, Hoffmann L, Komárek J, Sivonen K (2005) Phylogenetic and morphological evaluation of the genera Anabaena, Aphanizomenon, Trichormus and Nostoc (Nostocales, Cyanobacteria). Int J Syst Evol Microbiol 55:11–26

Rippka R, Deruelles J, Waterbury JB, Herdman M, Stanier RY (1979) Generic assignments, strain histories and properties of pure cultures of cyanobacteria. J Gen Microbiol 111:1–61

Rother JA, Fay P (1979) Blue-green-algal growth and sporulation in response to stimulated surface bloom conditions. Br Phycol J 14:59–68

Rücker J, Tingwey EI, Wiedner C, Anu CM, Nixdorf B (2009) Impact of the inoculum size on the population of Nostocales cyanobacteria in a temperate lake. J Plankton Res 31:1151–1159

Sivonen K, Jones G (1999) Cyanobacterial toxins. In: Chorus I, Bartram J (eds) Toxic cyanobacteria in water: a guide to public health consequences, monitoring and management. E and FN Spon, London, pp 41–111

Stüken A, Campbell RJ, Quesada A, Sukenik A, Dadheech PK, Wiedner C (2009) Genetic and morphologic characterization of four putative cylindrospermopsin producing species of the cyanobacterial genera Anabaena and Aphanizomenon. J Plankton Res 31:465–480

Stüken A, Rücker J, Endrulat T, Preussel K, Hemm M, Nixdorf B, Karsten U, Wiedner C (2006) Distribution of three alien cyanobacterial species (Nostocales) in northeast Germany: Cylindrospermopsis raciborskii, Anabaena bergii and Aphanizomenon aphanizomenoides. Phycologia 45:696–703

Sukenik A, Beardall J, Hadas O (2007) Photosynthetic characterization of developing and mature akinetes of Aphanizomenon ovalisporum (Cyanoprokaryota). J Phycol 43:780–788

Sukenik A, Hadas O, Kaplan A, Quesada A (2012) Invasion of Nostocales (cyanobacteria) to subtropical and temperate freshwater lakes—physiological, regional and global driving forces. Front Microbio 3:86

Sukenik A, Hadas O, Stojkovic S, Malinsky-Rushansky N, Viner-Motzini Y, Beardall J (2009) Fluorescence microscopy reveals variations in cellular composition during formation of akinetes in the cyanobacterium Aphanizomenon ovalisporum. Eur J Phycol 44:309–317

Sutherland JM, Herdman M, Stewart WDP (1979) Akinetes of the cyanobacterium Nostoc-PCC-7524. Macromolecular composition, structure and control of differentiation. J Gen Microbiol 115:273–287

Thiel T, Wolk CP (1983) Metabolic activities of isolated akinetes of the cyanobacterium Nostoc spongiaeforme. J Bacteriol 156:369–374

Utermöhl H (1958) Zur Vervollkommung der quantitativen Phytoplankton—Methodik. Mitt Int Ver Limnol 9:1–38

vanDok W, Hart BT (1997) Akinete germination in Anabaena circinalis (cyanophyta). J Phycol 33:12–17

Visser PM, Ibelings BW, Mur LR (1995) Autumnal sedimentation of Microcystis spp. as result of an increase in carbohydrate ballast at reduced temperature. J Plankton Res 17:919–933

Walsby AE (2005) Stratification by cyanobacteria in lakes: a dynamic buoyancy model indicates size limitations met by Planktothrix rubescens filaments. New Phytol 168:365–376

Wiedner C, Rucker J, Bruggemann R, Nixdorf B (2007) Climate change affects timing and size of populations of an invasive cyanobacterium in temperate regions. Oecologia 152:473–484

Wolk CP (1965) Control of sporulation in blue-green algae. Dev Biol 12:15–35

Wood SA, Jentzsch K, Rueckert A, Hamilton DP, Cary SC (2009) Hindcasting cyanobacterial communities in Lake Okaro with germination experiments and genetic analyses. FEMS Microbiol Ecol 67:252–260

Wörmer L, Cirés S, Carrasco D, Quesada A (2008) Cylindrospermopsin is not degraded by co-occurring natural bacterial communities during a 40-day study. Harmful Algae 7:206–213

Zapomelová E, Hisem D, Reháková K, Hrouzek P, Jezberová J, Komárková J, Korelusová J, Znachor P (2008) Experimental comparison of phenotypical plasticity and growth demands of two strains from the Anabaena circinalis/A. crassa complex (cyanobacteria). J Plankton Res 30:1257–1269
Acknowledgments
Samuel Cirés and Lars Wörmer were supported by a FPU grant from Ministerio de Ciencia e Innovación (MICINN, Spain). This study was partially funded by grants from the German Ministry of Education, Science and Research (BMBF, 0330792, A) and the Kompetenzzentrum Wasser Berlin GmbH with financial support from Veolia Water and Berliner Wasserbetriebe. Our acknowledgment to all members of Molecular Ecology Group from Leibniz Institute of Freshwater Ecology and Inland Fisheries (IGB, Germany), especially to Grit Mehnert, Franziska Leunert and Marén Lentz for their valuable help with semi-continuous cultures. We would like to thank Grit Mehnert and two anonymous reviewers for their comments which substantially improved the original manuscript.
Electronic supplementary material
Below is the link to the electronic supplementary material.
About this article
Cite this article
Cirés, S., Wörmer, L., Wiedner, C. et al. Temperature-Dependent Dispersal Strategies of Aphanizomenon ovalisporum (Nostocales, Cyanobacteria): Implications for the Annual Life Cycle. Microb Ecol 65, 12–21 (2013). https://doi.org/10.1007/s00248-012-0109-8
Received:

Accepted:

Published:

Issue Date:

DOI: https://doi.org/10.1007/s00248-012-0109-8
Keywords