Abstract
The occurrence of heterotrophic CO2 fixation by soil microorganisms was tested in several mineral soils differing in pH and two artificial soils (a mixture of silica sand, alfalfa powder, and nutrient medium inoculated with a soil suspension). Soils were incubated at ambient (∼0.05 vol%) and elevated (∼5 vol%) CO2 concentrations under aerobic conditions for up to 21 days. CO2 fixation was detected using either a technique for determining the natural abundance of 13C or by measuring the distribution of labeled 14C-CO2 in soil and bacteria. The effects of elevated CO2 on microbial biomass (direct counts, chloroform fumigation extraction method), composition of microbial community (phospholipid fatty acids), microbial activity (respiration, dehydrogenase activity), and turnover rate were also measured. Heterotrophic CO2 fixation was proven in all soils under study, being higher in neutral soils. The main portion of the fixed CO2 (98–99%) was found in extracellular metabolites while only ∼1% CO2 was incorporated into microbial cells. High CO2 concentration always induced an increase in microbial activity, changes in the composition of the microbial community, and a decrease in microbial turnover. The results suggest that heterotrophic CO2 fixation could be a widespread process in soils.
Access options
Buy single article
Instant access to the full article PDF.
US$ 39.95
Tax calculation will be finalised during checkout.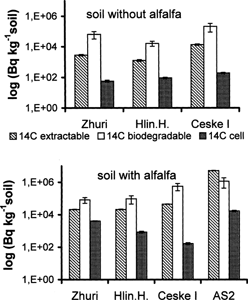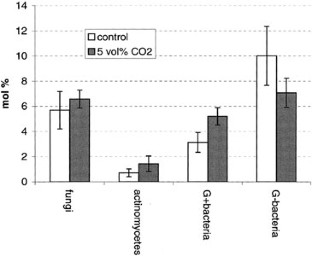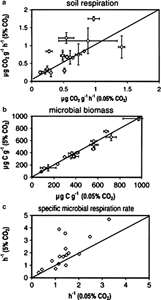 References
1.

M Alexander (1977) Introduction to Soil Microbiology John Wiley & Sons New York 467

2.

PV Attwood (1995) ArticleTitleThe structure and the mechanism of action of pyruvate-carboxylase Int J Biochem Cell B 27 231–249 Occurrence Handle10.1016/1357-2725(94)00087-R

3.

S Bartnicki-Garcia WJ Nickerson (1962) ArticleTitleIntroduction of yeast-like development in Mucor by carbon dioxide J Bacteriol 84 829 Occurrence Handle13969719

4.

LM Baryshnikova NV Loginova (1979) ArticleTitleCarboxylases of coryneform bacteria Microbiology 48 787–789

5.

J Bloem (1995) Fluorescent staining of microbes for total counts ADL Akkermans JD van Elsas FJ de Bruijn (Eds) Molecular Microbial Ecology Manual Kluwer Academic Press Dordrecht 1–12

6.

LE Casida SuffixJr DA Klein T Santoro (1964) ArticleTitleSoil dehydrogenase activity Soil Sci 98 371–376

7.

D Elhottová J Tříska SO Petersen H Šantrůcková (2000) ArticleTitleAnalysis of poly-β-hydroxybutyrate in environmental samples by GC-MS/MS Fresen J Anal Chem 367 157–164 Occurrence Handle10.1007/s002160051617

8.

SA Ensign FJ Small JR Allen MK Sluis (1998) ArticleTitleNew roles for CO2 in the metabolism of aliphatic epoxides and ketones Arch Microbiol 169 179–187 Occurrence Handle10.1007/s002030050558 Occurrence Handle9477250

9.

A Fægri VL Torsvik J Goksöyr (1977) ArticleTitleBacterial and fungal activities in soil: separation of bacteria and fungi by a rapid fractionated centrifugation technique Soil Biol Biochem 9 105–112 Occurrence Handle10.1016/0038-0717(77)90045-1

10.

GD Farquhar JR Ehleringer KT Hubick (1989) ArticleTitleCarbon isotope discrimination and photosynthesis Annu Rev Physiol Plant Mol Biol 40 503–537 Occurrence Handle10.1146/annurev.pp.40.060189.002443

11.

TW Federle (1986) Microbial distribution in soil—new techniques F Megusar M Gantar (Eds) Perspectives in Microbial Ecology Slovene Society for Microbiology Lublana, Slovenia 493–498

12.

AA Frostegård A Tunlid E Bååth (1993) ArticleTitlePhospholipid fatty acids composition, biomass, and activity of microbial communities from two soil types experimentally exposed to different heavy metals Appl Environ Microbiol 59 3605–3617

13.

DM Griffin (1972) Ecology of Fungi Chapman and Hall London

14.

L Han K Yang K Kulowski E Wendt-Plienkowski CR Hutchinson LC Vining (2000) ArticleTitleAn acyl-coenzyme A carboxylase encoding gene associated with jadomycin biosynthesis in Streptomyces venezuelae ISP5230 Microbiol UK 146 903–910

15.

JJ Heijnen JA Roels (1981) ArticleTitleA macroscopic model describing yield and maintenance relationship in aerobic fermentation processes Biotechnol Bioeng 23 739–763 Occurrence Handle10.1002/bit.260230407

16.

TL Kieft DB Ringelberg DC White (1994) ArticleTitleChanges in ester-linked phospholipid fatty acid profiles of subsurface bacteria during starvation and desiccation in a porous medium Appl Environ Microbiol 60 3292–3299

17.

VA Knivett J Cullen (1965) ArticleTitleSome factors affecting cyclopropane acid formation in Escherichia coli Biochem J 96 771–776 Occurrence Handle5324304

18.

RM Kroppenstedt (1985) Fatty acid and menaquinone analysis of actinomycetes and related organisms M Goodefellow DE Minnikin (Eds) Chemical Methods in Bacterial Systematics Academic Press London 173–199

19.

A MacFadyen (1973) ArticleTitleInhibitory effects of carbon dioxide on microbial activity in soil Pedobiologia 13 140–149

20.

T Nakadai H Koizumi Y Usami M Satoh T Oikawa (1993) ArticleTitleExamination of the method for measuring soil respiration in cultivated land—effect of carbon-dioxide concentration on soil respiration Ecol Res 8 65–71

21.

PS Nobel JA Palta (1989) ArticleTitleSoil O2 and CO2 effects on root respiration of cacti Plant Soil 120 263–271

22.

WM O'Leary SG Wilkinson ((1988) Gram-positive bacteria C Ratlege SG Wilkinson (Eds) Microbial Lipids, vol 1. Academic Press London 117–201

23.

SM Parkinson K Killham M Wainwright (1990) ArticleTitleAssimilation of 14CO2 by Fusarium oxysporum grown under oligotrophic conditions Mycol Res 94 959–964

24.

PG PetersWendisch BJ Eikmanns G Thierbach B Bachmann H Sahm (1993) ArticleTitlePhosphoenolpyruvate carboxylase in Corynebacterium glutamicum is dispensable for growth and lysine production FEMS Microbiol Lett 112 269–273 Occurrence Handle10.1016/0378-1097(93)90611-5

25.

L Pine (1956) ArticleTitleFixation of carbon dioxide by Actinomyces and Lactobacillus bifidus Proc Soc Exp Biol Med 93 468–472 Occurrence Handle13389493

26.

L Pine A Howell (1956) ArticleTitleComparison of physiological and biochemical characters of Actinomyces spp. with those of Lactobacillus bifidus J Gen Microbiol 15 428–445 Occurrence Handle13385426

27.

H Santruckova M Simek (1997) ArticleTitleEffect of soil CO2 concentration on microbial biomass Biol Fertil Soils 25 269–273 Occurrence Handle10.1007/s003740050313

28.

H Santruckova DF Bird J Lloyd (2000) ArticleTitleMicrobial processes and carbon-isotope fractionation in tropical and temperate soils Funct Ecol 14 108–114 Occurrence Handle10.1046/j.1365-2435.2000.00402.x

29.

F Schinner R Concin (1981) ArticleTitleCarbon-dioxide fixation by wood-rotting fungi Eur J Forest Pathol 11 120–123

30.

SM Shimmel (1987) ArticleTitleDark fixation of carbon dioxide in an agricultural soil Soil Sci 144 20–23

31.

DW Tempest OM Neijssel MJ Teixeira de Mattos (1985) Regulation of carbon substrate metabolism in bacteria growing in chemostat culture IS Kulaev EA Dawes DW Tempest (Eds) Environmental Regulation of Microbial Metabolism Academic Press London 53–69

32.

DW Tempest OM Neijssel (1992) ArticleTitlePhysiological and energetic aspects of bacterial metabolite overproduction FEMS Microbiol Lett 100 169–176 Occurrence Handle10.1016/0378-1097(92)90205-3

33.

ED Vance PC Brookes DS Jenkinson (1987) ArticleTitleMicrobial biomass measurements in forest soils—determination of kc values and tests of hypotheses to explain the failure of the chloroform fumigation incubation method in acid soils Soil Biol Biochem 19 689–696 Occurrence Handle10.1016/0038-0717(87)90050-2

34.

H Veldkamp (1970) Enrichment cultures of prokaryotic organisms JR Norris DW Ribbons (Eds) Methods in Microbiology, Vol 3A. Academic Press London 305–355

35.

M Wainwright ((1992) The impact of fungi on environmental biogeochemistry GC Carroll DT Wicklow (Eds) The Fungal Community Its Organization and Role in Ecosystem. Marcel Dekker New York 601–618

36.

SG Wilkinson (1988) Gram-negative bacteria C Ratlege SG Wilkinson (Eds) Microbial Lipids, vol 1. Academic Press London 299–488

37.

JWT Wimpenny (1969) Oxygen and carbon dioxide as regulators of microbial growth and metabolism PW Meadow SJ Pirt (Eds) Microbial Growth Cambridge University Press Cambridge, UK 161–197

38.

HG Wood CH Werkman (1935) ArticleTitleThe utilisation of CO2 by the propionic acid bacteria in the dissimilation of glycerol J Bacteriol 30 332

39.

HG Wood RL Stjernholm (1962) Assimilation of carbon dioxide by heterotrophic organisms IC Gunsalus RY Stanier (Eds) The Bacteria: A Treatise on Structure and Function, vol 3. Biosynthesis Academic Press New York 41–117

40.

JP Wynn AA Hamid YH Li C Ratledge (2001) ArticleTitleBiochemical events leading to the diversion of carbon into storage lipids in the oleaginous fungi Mucos circinelloides and Mortierella alpina Microbiology-SGM 147 2857–2864

41.

L Zelles QY Bai RX Ma R Rackwitz K Winter F Beese (1994) ArticleTitleMicrobial biomass, metabolic activity and nutritional status determined from fatty acid patterns and poly-hydroxybutyrate in agriculturally-managed soils Soil Biol Biochem 26 439–446 Occurrence Handle10.1016/0038-0717(94)90175-9
Acknowledgment
This project could not have been completed without the assistance of Joan Cowley, Jiri Setlik, and Jana Vrbova. It was supported by the national projects MSM 123100004, 206/02/1036, and A6066901. We thank Keith R. Edwards for correcting the language.
About this article
Cite this article
Šantrůčková, H., Bird, M.I., Elhottová, D. et al. Heterotrophic Fixation of CO2 in Soil. Microb Ecol 49, 218–225 (2005). https://doi.org/10.1007/s00248-004-0164-x
Received:

Accepted:

Published:

Issue Date:
Keywords
Microbial Biomass

Pyruvate Carboxylase

Artificial Soil

Total Microbial Biomass

Neutral Soil