Abstract
We examined the influence of small-scale turbulence and its associated shear on bacterioplankton abundance and cell size. We incubated natural microbial assemblages and bacteria-only fractions and subjected them to treatments with turbulence and additions of mineral nutrients and/or organic carbon. Bacterial abundance was not affected directly by turbulence in bacteria-only incubations. In natural microbial assemblage incubations, bacterial concentrations were higher under turbulence than in still-water controls when nutrients were added. In general, in the turbulence treatments bacteria increased significantly in size, mainly due to elongation of cells. The addition of inorganic nutrients had a negative effect on bacterial size, but a significantly positive effect on abundance independently of other factors such as turbulence and the presence of predators. Flagellate grazing did not trigger an increase in bacterial size as a grazing resistance response in unmixed containers. With the addition of organic carbon, bacteria elongated and partly settled to the bottom of the containers, in both the turbulent and still treatment, but bacterial abundance did not further increase. Furthermore, bacteria aggregated in the turbulence treatments after the second day of incubation even in the absence of other components of the microbial community. We found that turbulence and the associated shear increase bacterial size and change bacterial morphology, at least under certain nutrient conditions. This might be due to a physiological response (enhanced growth rate and/or unbalanced growth) or due to the selection of opportunistic strains when organic carbon is in excess compared to mineral nutrients. We suggest that shear associated with turbulent flow enhances the DOM flux to bacteria directly as well as indirectly through enhanced grazing activity and photosynthetic release. The formation of bacterial aggregates and filaments under turbulence might give selective advantage to bacteria in terms of nutrient uptake and grazing resistance.
Access options
Buy single article
Instant access to the full article PDF.
USD 39.95
Price excludes VAT (USA)
Tax calculation will be finalised during checkout.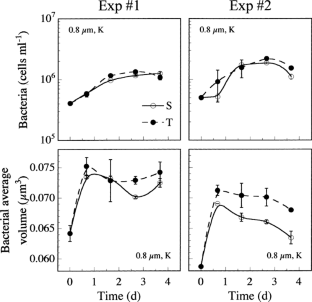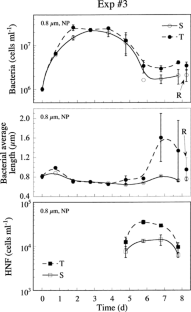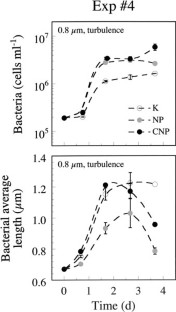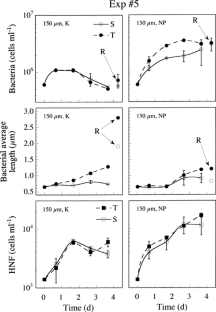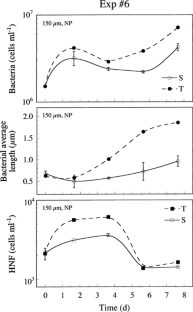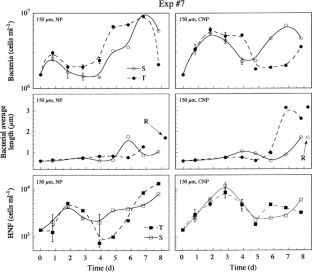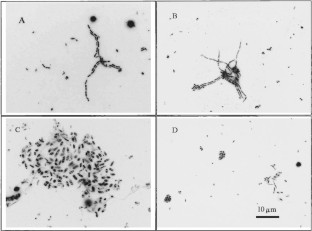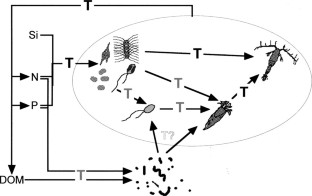 References
L Arin C Marrasé M Maar F Peters MM Sala M Alcaraz (2002) ArticleTitleCombined effects of nutrients and small-scale turbulence in a microcosm experiment. I. Dynamics and size-distribution of osmotrophic plankton. Aquat Microb Ecol 29 51–61

PK Bjørnsen (1988) ArticleTitlePhytoplankton exudation of organic matter: why do healthy cells do it? Limnol Oceanogr 33 151–154

G Chin-Leo DL Kirchman (1990) ArticleTitleUnbalanced growth in natural assemblages of marine bacterioplankton. Mar Ecol Prog Ser 63 1–8

DR Confer BE Logan (1991) ArticleTitleIncreased bacterial uptake of macromolecular substrates with fluid shear. Appl Environ Microbiol 57 3093–3100

MP Delaney (2003) ArticleTitleEffects of temperature and turbulence on the predator–prey interactions between a heterotrophic flagellate and a marine bacterium. Microb Ecol 45 218–225 Occurrence Handle10.1007/s00248-002-1058-4 Occurrence Handle1:STN:280:DC%2BD3s3lvVygsQ%3D%3D Occurrence Handle12658520

HW Ducklow DL Kirchman HL Quinby (1992) ArticleTitleBacterioplankton cell growth and macromolecular synthesis in seawater cultures during the north Atlantic spring phytoplankton bloom, May, 1989. Microb Ecol 24 125–144 Occurrence Handle10.1007/BF00174450 Occurrence Handle1:CAS:528:DyaK3sXns1Oqug%3D%3D

RL Ferguson EN Buckley AV Palumbo (1984) ArticleTitleResponse of marine bacterioplankton to differential filtration and confinement. Appl Environ Ecol 47 49–55

JM Gasol PA Del Giorgio (2000) ArticleTitleUsing flow cytometry for counting natural planktonic bacteria and understanding the structure of planktonic bacterial communities. Sci Mar 64 197–224

MW Hahn MG Höfle (1998) ArticleTitleGrazing pressure by a bacterivorous flagellate reverses the relative abundance of Comamonas acidovorans PX54 and Vibrio Strain CB5 in chemostat cocultures. Appl Environ Microbiol 64 1910–1918D

MW Hahn MG Höfle (2001) ArticleTitleGrazing of protozoa and its effect on populations of aquatic bacteria. Microb Ecol 35 113–121 Occurrence Handle10.1016/S0168-6496(00)00098-2 Occurrence Handle1:CAS:528:DC%2BD3MXisF2rsLk%3D

PA Jumars DL Penry JA Baross MJ Perry BW Frost (1989) ArticleTitleClosing the microbial loop: dissolved carbon pathway to heterotrophic bacteria from incomplete ingestion, digestion and absorption in animals. Deep-Sea Res 36 483–495 Occurrence Handle10.1016/0198-0149(89)90001-0 Occurrence Handle1:CAS:528:DyaK3cXht1Clsbk%3D

PA Jumars JW Deming PS Hill L Karp-Boss PL Yager WB Dade (1993) ArticleTitlePhysical constrains on the marine osmotrophy in an optimal foraging context. Mar Microb Food Webs 7 121–159

K Jürgens H Güde (1990) ArticleTitleIncorporation and release of phosphorus by planktonic bacteria and phagotrophic flagellates. Mar Ecol Prog Ser 59 271–284

K Jürgens JM Gasol D Vaqué (2000) ArticleTitleBacteria–flagellate coupling in microcosm experiments in the Central Atlantic Ocean. J Exp Mar Biol Ecol 245 127–147 Occurrence Handle10.1016/S0022-0981(99)00156-2

K Jürgens MM Sala (2000) ArticleTitlePredation-mediated shifts in size distribution of microbial biomass and activity during detritus decomposition. Oikos 91 29–40

L Karp-Boss E Boss PA Jumars (1996) ArticleTitleNutrient fluxes to planktonic osmotrophs in the presence of fluid motion. Oceanogr Mar Biol Annu Rev 34 71–107

DL Kirchman (1990) ArticleTitleLimitation of bacterial growth by dissolved organic matter in the subarctic Pacific. Mar Ecol Prog Ser 62 47–54 Occurrence Handle1:CAS:528:DyaK3MXkvFSguw%3D%3D

JRN Lazier KH Mann (1989) ArticleTitleTurbulence and the diffusive layers around small organisms. Deep-Sea Res 36 1721–1733 Occurrence Handle10.1016/0198-0149(89)90068-X Occurrence Handle1:CAS:528:DyaK3cXkvVCgt7Y%3D

BE Logan JR Hunt (1987) ArticleTitleAdvantages to microbes of growth in permeable aggregates in marine systems. Limnol Oceanogr 32 1034–1048 Occurrence Handle1:CAS:528:DyaL2sXmsVaitb8%3D

BE Logan DL Kirchman (1991) ArticleTitleUptake of dissolved organics by marine bacteria as a function of fluid motion. Mar Biol 111 175–181 Occurrence Handle1:CAS:528:DyaK3MXmslGms7Y%3D

R Margalef (1997) Our biosphere. O Kinne (Eds) Excellence in Ecology, Vol. 10 Ecology Institute Ohlendorf/Luhe, Germany

C Marrasé EL Lim DA Caron (1992) ArticleTitleSeasonal and daily changes in bacterivory in a coastal plankton community. Mar Ecol Prog Ser 82 281–289

R Massana JM Gasol PK Bjørnsen N Blackburn A Hagström S Hietanen BH Hygum J Kuparinen C Pedrós-Alió (1997) ArticleTitleMeasurement of bacterial size via image analysis of epifluorescence preparations: description of an inexpensive system and solutions to some of the most common problems. Sci Mar 61 397–407

R Massana C Pedrós-Alió EO Casamayor JM Gasol (2001) ArticleTitleChanges in marine bacterioplankton phylogenetic composition during incubations designed to measure biogeochemically significant parameters. Limnol Oceanogr 46 1181–1188

C Matz K Jürgens (2003) ArticleTitleInteraction of nutrient limitation and protozoan grazing determines the phenotypic structure of a bacterial community. Microb Ecol 45 384–398 Occurrence Handle10.1007/s00248-003-2000-0 Occurrence Handle1:STN:280:DC%2BD3s3msFyksQ%3D%3D Occurrence Handle12704556

JG Mitchell A Okubo JA Fuhrman (1985) ArticleTitleMicrozones surrounding phytoplankton form the basis for a stratified marine microbial ecosystem. Nature 316 58–59 Occurrence Handle1:CAS:528:DyaL2MXlt1ylsLo%3D

MM Moeseneder GJ Herndl (1995) ArticleTitleInfluence of turbulence on bacterial production in the sea. Limnol Oceanogr 40 1466–1473

T Nagata (2000) Production mechanisms of dissolved matter. DL Kirchman (Eds) Microbial Ecology of the Ocean John Wiley and Sons Chichester, UK 121–152

M Pahlow U Riebesell DA Wolf-Gladrow (1997) ArticleTitleImpact of cell shape and chain formation on nutrient acquisition by marine diatoms. Limnol Oceanogr 42 1660–1672

F Peters T Gross (1994) ArticleTitleIncreased grazing rates of microplankton in response to small-scale turbulence. Mar Ecol Prog Ser 115 299–307

F Peters C Marrasé JM Gasol MM Sala L Arin (1998) ArticleTitleEffects of turbulence on bacterial growth mediated through food web interactions. Mar Ecol Prog Ser 172 293–303

F Peters C Marrasé (2000) ArticleTitleEffects of turbulence on plankton: an overview of experimental evidence and theoretical considerations. Mar Ecol Prog Ser 205 291–306

F Peters C Marrasé H Havskum F Rassoulzadegan J Dolan M Alcaraz JM Gasol (2002) ArticleTitleTurbulence and the microbial food web: effects on bacterial losses to predation and on community structure. J Plankton Res 24 321–331 Occurrence Handle10.1093/plankt/24.4.321

KG Porter YS Feig (1980) ArticleTitleThe use of DAPI for identifying and counting aquatic microflora. Limnol Oceanogr 25 943–948

S Schuster GJ Herndl (1995) ArticleTitleFormation and significance of transparent exopolymeric particles in the northern Adriatic Sea. Mar Ecol Prog Ser 124 227–236

JR Seymour JG Mitchell L Pearson RL Waters (2000) ArticleTitleHeterogeneity in bacterioplankton abundance from 45 millimetre resolution sampling. Aquat Microb Ecol 22 143–153

J Shimeta PA Jumars EJ Lessard (1995) ArticleTitleInfluences of turbulence on the suspension feeding by planktonic protozoa; experiments in laminar shear fields. Limnol Oceanogr 40 845–859

K Simek J Vrba J Pernthaler T Posch P Hartman J Nedoma R Psenner (1997) ArticleTitleMorphological and compositional shifts in an experimental bacterial community influenced by protists with contrasting feeding modes. Appl Environ Microbiol 63 587–595

K Simek K Hornák M Masín J Nedoma MG Weinbauer JR Dolan (2003) ArticleTitleComparing the effects of resource enrichment and grazing on bacterioplankton community of a meso-eutrophic reservoir. Aquat Microb Ecol 31 123–135

KE Stoderegger GJ Herndl (1999) ArticleTitleProduction of exopolymer particles by marine bacterioplankton under contrasting turbulence conditions. Mar Ecol Progr Ser 189 9–16 Occurrence Handle1:CAS:528:DC%2BD3cXjtFKluw%3D%3D

TF Thingstad (2000) Control of bacterial growth in idealized food webs. DL Kirchman (Eds) Microbial Ecology of the Ocean John Wiley and Sons Chichester, UK 229–260

MG Weinbauer MG Höfle (1998) ArticleTitleSize-specific mortality of lake bacterioplankton by natural virus communituies. Aquat Microb Ecol 15 103–113

SA Welch WW Barker JF Banfield (1999) ArticleTitleMicrobial extracellular polysaccharides and plagioclase dissolution. Geochim Cosmochim Acta 63 1405–1419 Occurrence Handle10.1016/S0016-7037(99)00031-9 Occurrence Handle1:CAS:528:DyaK1MXlt1Cgsr4%3D

MJ Zirbel F Veron MI Latz (2000) ArticleTitleThe reversible effect of flow on the morphology of Ceratocorys horrida (Peridiniales, Dinophyta). J Phycol 36 46–58 Occurrence Handle10.1046/j.1529-8817.2000.98088.x
Acknowledgments
We are grateful to captain Elías Barenechea and the crew of the Masnou Harbour for providing the boat and help for sampling. This study was supported by the European Community (MAS3-CT95-0016 and EVK3-CT-2000-00022), the Spanish CICYT project (MAR98-0834) and the Italian–Spanish joint project (99IT0006). It is ELOISE contribution No. 443/40. A.M. was supported by a fellowship from the Austrian Academy of Science (APART program).
About this article
Cite this article
Malits, A., Peters, F., Bayer–Giraldi, M. et al. Effects of Small-Scale Turbulence on Bacteria: A Matter of Size. Microb Ecol 48, 287–299 (2004). https://doi.org/10.1007/s00248-004-0133-4
Received:

Accepted:

Published:

Issue Date:

DOI: https://doi.org/10.1007/s00248-004-0133-4
Keywords