Abstract
We studied the migration of cyanobacteria in desert crusts from Las Bárdenas Reales (Spain). The crusts were almost exclusively colonized by the filamentous cyanobacterium Oscillatoria, which formed a dense layer approximately 600 µm thick located between 1.5 and 2.1 mm deep. Laboratory and field experiments showed that saturation of the crust with liquid water induced a migration of the cyanobacteria leading to a significant greening of the surface within a few minutes. Under light and rapid evaporation, the green color rapidly disappeared and the crust surface was completely devoid of filaments within 60 min. In contrast, 260 min was required to recover the original white color of the crust when slow evaporation was experimentally imposed. The up and down migration following wetting and drying occurred also in the dark. This demonstrates that light was not a required stimulus. Addition of ATP synthesis inhibitors prevented the cyanobacterium from migrating down into the crust, with filaments remaining on the surface. Therefore, the disappearance of the green color observed during desiccation can only be attributed to an active cyanobacterial motility response to the decrease in the water content. The simplest explanation that can account for the evidence gathered is the presence of a mechanism that links, directly or indirectly, these motility responses to gradients in water content, namely a form of hydrotaxis.
This is a preview of subscription content,
to check access.
Access this article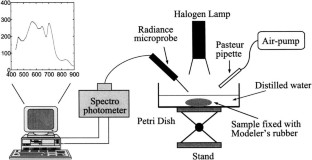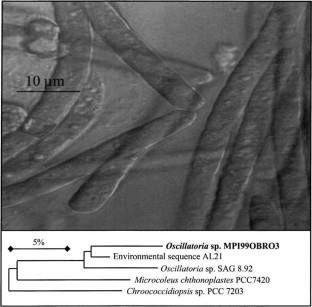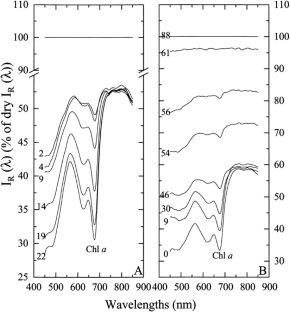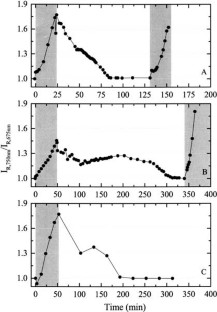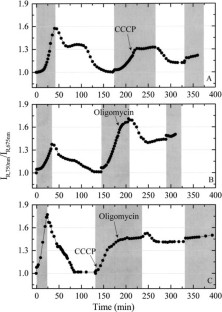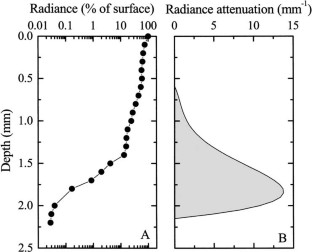 References
B Bebout F Garcia-Pichel (1995) ArticleTitleUV B-induced vertical migrations of cyanobacteria in a microbial mat. Appl Environ Microbiol 61 4215–4222 Occurrence Handle1:CAS:528:DyaK2MXpslGktLc%3D

J Belnap OL Langue (2001) Biological Soil Crusts: Structure, Function and Management. Springer-Verlag Heidelberg

TD Brock (1975) ArticleTitleEffect of water potential on a Microcoleus (Cyanophyceae) from a desert crust. J Phycol 11 316–320

DE Canfield DJ Des Marais (1993) ArticleTitleBiogeochemical cycles of carbon, sulfur, and free oxygen in microbial mat. Geochim Cosmochim Acta 57 3971–3984 Occurrence Handle10.1016/0016-7037(93)90347-Y Occurrence Handle1:CAS:528:DyaK3sXmsFersb4%3D Occurrence Handle11537735

F Garcia-Pichel (2002) Desert environments: biological soil crust. G Britton (Eds) Encyclopedia of Environmental Microbiology. Wiley San Diego 1019–1023

F Garcia-Pichel J Belnap (1996) ArticleTitleMicroenvironments and microscale productivity of cyanobacterial desert crusts. J Phycol 32 774–782

F Garcia-Pichel RW Castenholz (1991) ArticleTitleCharacterization and biological implications of scytonemin, a cyanobacterial sheath pigment. J Phycol 27 395–409 Occurrence Handle1:CAS:528:DyaK38XhtVahur0%3D

F Garcia-Pichel RW Castenholz (2001) Photomovements of microorganisms in benthic and soil microenvironments. D-P Häder M Lebert (Eds) Photomovements. Elsevier Amsterdam 200–215

F Garcia-Pichel A Lópes-Córtes U Nübel (2001) ArticleTitlePhylogenetic and morphological diversity of cyanobacteria in soil desert crusts from the Colorado Plateau. Appl Environ Microbiol 67 1902–1910 Occurrence Handle10.1128/AEM.67.4.1902-1910.2001 Occurrence Handle1:CAS:528:DC%2BD3MXis1egur4%3D Occurrence Handle11282648

F Garcia-Pichel M Mechling RW Castenholz (1994) ArticleTitleDiel migrations of microorganisms within a benthic, hypersaline mat community. Appl Environ Microbiol 60 1500–1511

F Garcia-Pichel O Pringault (2001) ArticleTitleCyanobacteria track water in desert soils. Nature 413 380–381 Occurrence Handle10.1038/35096640 Occurrence Handle1:CAS:528:DC%2BD3MXntl2htbg%3D Occurrence Handle11574875

F Garcia-Pichel CE Wingard RW Castenholz (1993) ArticleTitleEvidence regarding the UV-sunscreen role of a mycosporine-like compound in the cyanobacteria Gloeocapsa sp. Appl Environ Microbiol 59 170–176 Occurrence Handle1:CAS:528:DyaK3sXns1Onsg%3D%3D

JM Guarini GF Blanchard P Gros D Gouleau C Bacher (2000) ArticleTitleDynamic model of the short-term variability of microphytobenthic biomass on temperate intertidal mudflats. Mar Ecol Prog Ser 195 291–303

E Hoiczyk (2000) ArticleTitleGliding motility in cyanobacteria: observations and possible explanations. Arch Microbiol 174 11–17 Occurrence Handle10.1007/s002030000187 Occurrence Handle1:CAS:528:DC%2BD3cXlvVGjur4%3D Occurrence Handle10985737

DL Jeffries SO Link JM Klopatek (1993) ArticleTitleCO2 fluxes of cryptogamic crusts. 2. Response to dehydratation. New Phytol 125 391–396 Occurrence Handle1:CAS:528:DyaK2cXjtF2jsb4%3D

JR Johansen (1993) ArticleTitleCryptogamic crust of semiarid and arid lands of north America. J Phycol 29 140–147

C Kruschel RW Castenholz (1998) ArticleTitleThe effects of solar UV and visible irradiance on the vertical movements of cyanobacteria in microbial mats of hypersaline waters. FEMS Microbiol Ecol 27 53–72 Occurrence Handle10.1016/S0168-6496(98)00056-7 Occurrence Handle1:CAS:528:DyaK1cXls1Orsrw%3D

M Kühl BB Jørgensen (1994) ArticleTitleThe light field of microbenthic communities: radiance distribution and microscale optics of sandy coastal sediments. Limnol Oceanogr 39 1368–1398

M Kühl BB Jørgensen (1992) ArticleTitleSpectral light measurements in microbenthic phototrophic communities with a fiber-optic microprobe coupled to a sensitive diode array detector. Limnol Oceanogr 37 1813–1823

M Kühl C Lassen BB Jørgensen (1994) Optical properties of microbial mats: Light measurements with fiber-optic microprobes. L Stal P Caumette (Eds) Microbial Mats: Structure, Development and Environmental Significance. NATO ASI Series G, vol 35. Springer-Verlag Berlin 149–166

G Mazor G Kidron A Vonshak A Abeliovich (1996) ArticleTitleThe role of cyanobacterial exopolysaccharides in structuring desert microbial crusts. FEMS Microbiol Ecol 21 121–130 Occurrence Handle10.1016/0168-6496(96)00050-5 Occurrence Handle1:CAS:528:DyaK28XmtV2it7g%3D

M Mc Bride (2001) ArticleTitleBacterial gliding motility: multiple mechanisms for cell movement over surfaces. Ann Rev Microbiol 55 49–75 Occurrence Handle10.1146/annurev.micro.55.1.49 Occurrence Handle1:CAS:528:DC%2BD3MXnslKjtrc%3D

DC Nelson BB Jørgensen NP Revsbech (1986) ArticleTitleGrowth pattern and yield of a chemoautotrophic Beggiatoa sp. in oxygen-sulfide microgradients. Appl Environ Microbiol 52 225–233 Occurrence Handle1:CAS:528:DyaL28XltFWksbw%3D

O Pringault R De Wit M Kühl (1999) ArticleTitleA microsensor study of the interaction between purple sulfur and green sulfur bacteria in experimental benthic gradients. Microb Ecol 37 173–184 Occurrence Handle10.1007/s002489900141 Occurrence Handle1:CAS:528:DyaK1MXjs1yhsLs%3D Occurrence Handle10227875

O Pringault M Kühl R de Wit P Caumette (1998) ArticleTitleGrowth of green sulphur bacteria in experimental benthic oxygen, sulphide, pH and light gradients. Microbiology 144 1051–1061 Occurrence Handle1:CAS:528:DyaK1cXivFKru70%3D

J Serôdio J Da Silva F Ctarino (1997) ArticleTitleNon-destructive tracing of migratory rhythms of intertidal benthic microalgae using in vivo chlorophyll a fluorescence. J Phycol 33 542–553

JM Snyder LH Wullstein (1973) ArticleTitleThe role of desert cryptogams in nitrogen fixation. Am Mid Nat 90 257–265

R Thar M Kuhl (2001) ArticleTitleMotility of Marichromatium gracile in response to light, oxygen, and sulfide. Appl Environ Microbiol 67 5410–5419 Occurrence Handle10.1128/AEM.67.12.5410-5419.2001 Occurrence Handle1:CAS:528:DC%2BD3MXovFehsLw%3D Occurrence Handle11722886

H Zollner (1989) Handbook of Enzyme Inhibitors. VCH, Verlagsgesellschaft MBH Weinheim, Germany
Acknowledgements
We thank G. Holst and B. Grunwald for their help with the light acquisition and stimulating discussions. Jean-Pascal Torréton and Ben Moreton and two anonymous reviewers are thanked for their critical comments on the earlier version of the manuscript.
About this article
Cite this article
Pringault, O., Garcia-Pichel, F. Hydrotaxis of Cyanobacteria in Desert Crusts . Microb Ecol 47, 366–373 (2004). https://doi.org/10.1007/s00248-002-0107-3
Received:

Accepted:

Published:

Issue Date:

DOI: https://doi.org/10.1007/s00248-002-0107-3
Keywords