Abstract
Background
The combination of bridging vein rupture/thrombosis and subdural hematoma in infants has recently gained attention as highly suggestive of abusive head trauma. While subdural hematomas are frequently observed at birth, there are no previous studies of bridging vein rupture/thrombosis prevalence in that context.
Objective
To evaluate the prevalence of bridging vein rupture/thrombosis in newborns with and without subdural hematoma.
Materials and methods
This bicentric retrospective study (2012–2019) looked at all brain MRIs performed in neonates. We noted delivery method, demographic data and intracranial injuries and analyzed any clots at the vertex as potential markers of bridging vein rupture/thrombosis.
Results
We analyzed 412 MRIs in 412 neonates. Age was (mean ± standard deviation [SD]) 5.4±2.2 days and 312 (76%) infants were full term (38.3±2.9 weeks from last menstrual period). The delivery method was vaginal birth for 42% (n=174), cesarean section for 43% (n=179), and unknown for 14% (n=59). Subdural hematoma was present in 281 MRIs (68.0%, [95% confidence interval = 63.3–72.5]). Six MRIs showed at least one clot at the vertex, assumed to be possible bridging vein rupture/thrombosis (1.5%, [0.5–3.1%]). Only one MRI showed more than two clots at the vertex, in a context of maternal infection. There was no significant difference in terms of gestational age at birth, delivery method or the presence of subdural hematoma or parenchymal injuries between those 6 infants and the 406 others.
Conclusion
Bridging vein rupture/thrombosis at birth is very rare and unlikely to be related to subdural hematoma.
Access options
Buy single article
Instant access to the full article PDF.
USD 39.95
Price excludes VAT (USA)
Tax calculation will be finalised during checkout.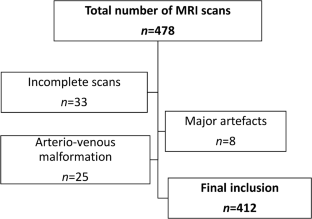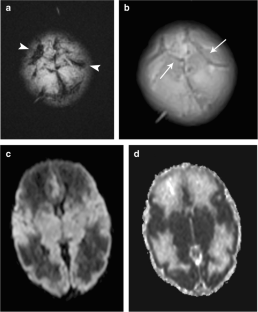 References
Hahnemann ML, Kinner S, Schweiger B et al (2015) Imaging of bridging vein thrombosis in infants with abusive head trauma: the "tadpole sign". Eur Radiol 25:299–305

Yamashima T, Friede RL (1984) Why do bridging veins rupture into the virtual subdural space? J Neurol Neurosurg Psychiatry 47:121–127

Mack J, Squier W, Eastman JT (2009) Anatomy and development of the meninges: implications for subdural collections and CSF circulation. Pediatr Radiol 39:200–210

Adamsbaum C, Rambaud C (2012) Abusive head trauma: don't overlook bridging vein thrombosis. Pediatr Radiol 42:1298–1300

Miller JD, Nader R (2014) Acute subdural hematoma from bridging vein rupture: a potential mechanism for growth. J Neurosurg 120:1378–1384

Roth S, Raul J-S, Ludes B, Willinger R (2007) Finite element analysis of impact and shaking inflicted to a child. Int J Legal Med 121:223–228

Rambaud C (2015) Bridging veins and autopsy findings in abusive head trauma. Pediatr Radiol 45:1126–1131

Choudhary AK, Bradford R, Dias MS et al (2015) Venous injury in abusive head trauma. Pediatr Radiol 45:1803–1813

Yilmaz U, Körner H, Meyer S, Reith W (2015) Multifocal signal loss at bridging veins on susceptibility-weighted imaging in abusive head trauma. Clin Neuroradiol 25:181–185

Ronning MM, Carolan PL, Cutler GJ, Patterson RJ (2018) Parasagittal vertex clots on head CT in infants with subdural hemorrhage as a predictor for abusive head trauma. Pediatr Radiol 48:1915–1923

Rooks VJ, Eaton JP, Ruess L et al (2008) Prevalence and evolution of intracranial hemorrhage in asymptomatic term infants. AJNR Am J Neuroradiol 29:1082–1089

Gupta SN, Kechli AM, Kanamalla US (2009) Intracranial hemorrhage in term newborns: management and outcomes. Pediatr Neurol 40:1–12

Pollina J, Dias MS, Li V et al (2001) Cranial birth injuries in term newborn infants. Pediatr Neurosurg 35:113–119

Towner D, Castro MA, Eby-Wilkens E, Gilbert WM (1999) Effect of mode of delivery in nulliparous women on neonatal intracranial injury. N Engl J Med 341:1709–1714

Whitby E, Griffiths P, Rutter S et al (2004) Frequency and natural history of subdural haemorrhages in babies and relation to obstetric factors. Lancet 363:846–851

Looney CB, Smith JK, Merck LH et al (2007) Intracranial hemorrhage in asymptomatic neonates: prevalence on MR images and relationship to obstetric and neonatal risk factors. Radiology 242:535–541

Inder TE, Perlman JM, Volpe JJ (2018) Chapter 22 — intracranial hemorrhage: subdural, subarachnoid, intraventricular (term infant), miscellaneous. In: Volpe's neurology of the newborn, 6th edn. Elsevier, Amsterdam, pp. 593–622. https://linkinghub.elsevier.com/retrieve/pii/B9780323428767000223. Accessed 28 Sep 2021

Craig WS (1938) Intracranial haemorrhage in the new-born. Arch Dis Child 13:89–124

Rey-Salmon C, de Boissieu P, Teglas JP, Adamsbaum C (2020) Abusive head trauma in day care centers. Pediatrics 146:e2020013771

Maxeiner H (2001) Demonstration and interpretation of bridging vein ruptures in cases of infantile subdural bleedings. J Forensic Sci 46:85–93

Cheshire EC, Malcomson RDG, Sun P et al (2018) A systematic autopsy survey of human infant bridging veins. Int J Legal Med 132:449–461

Han H, Tao W, Zhang M (2007) The dural entrance of cerebral bridging veins into the superior sagittal sinus: an anatomical comparison between cadavers and digital subtraction angiography. Neuroradiology 49:169–175

Monea AG, Baeck K, Verbeken E et al (2014) The biomechanical behaviour of the bridging vein — superior sagittal sinus complex with implications for the mechanopathology of acute subdural haematoma. J Mech Behav Biomed Mater 32:155–165

Migueis GFJ, Fernandes FAO, Ptak M et al (2019) Detection of bridging veins rupture and subdural haematoma onset using a finite element head model. Clin Biomech 63:104–111

Choudhary AK, Servaes S, Slovis TL et al (2018) Consensus statement on abusive head trauma in infants and young children. Pediatr Radiol 48:1048–1065

Cohen MC, Scheimberg I (2009) Evidence of occurrence of intradural and subdural hemorrhage in the perinatal and neonatal period in the context of hypoxic ischemic encephalopathy: an observational study from two referral institutions in the United Kingdom. Pediatr Dev Pathol 12:169–176

Byard RW, Blumbergs P, Rutty G et al (2007) Lack of evidence for a causal relationship between hypoxic-ischemic encephalopathy and subdural hemorrhage in fetal life, infancy, and early childhood. Pediatr Dev Pathol 10:348–350

Hong HS, Lee JY (2018) Intracranial hemorrhage in term neonates. Childs Nerv Syst 34:1135–1143

Dunbar M, Kirton A (2019) Perinatal stroke. Semin Pediatr Neurol 32:100767
Ethics declarations
Conflicts of interest
None
Additional information
Publisher's note
Springer Nature remains neutral with regard to jurisdictional claims in published maps and institutional affiliations.
The original online version of this article was revised: A citation, #19 (Rey-Salmon et al.), below, was omitted from the published article. The correct numbering of the citations is presented here.
About this article
Cite this article
Bartoli, M., Mannes, I., Aikem, N. et al. Is bridging vein rupture/thrombosis associated with subdural hematoma at birth?. Pediatr Radiol 52, 932–940 (2022). https://doi.org/10.1007/s00247-021-05255-w
Received:

Revised:

Accepted:

Published:

Issue Date:

DOI: https://doi.org/10.1007/s00247-021-05255-w
Keywords