Abstract
Hydrocephalus is the most common neurosurgical disorder in children, and cerebrospinal fluid (CSF) diversion with shunt placement is the most commonly performed pediatric neurosurgical procedure. CT is frequently used to evaluate children with suspected CSF shunt malfunction to assess change in ventricular size. Moreover, careful review of the CT images is important to confirm the integrity of the imaged portions of the shunt system. Subtle shunt disruptions can be missed on multiplanar two-dimensional (2-D) CT images, especially when the disruption lies in the plane of imaging. The use of volume-rendered CT images enables radiologists to view the extracranial shunt tubing within the field of view as a three-dimensional (3-D) object. This allows for a rapid and intuitive method of assessing the integrity of the extracranial shunt tubing. The purpose of this pictorial essay is to discuss how volume-rendered CT images can be generated to evaluate CSF shunts in the pediatric population and to provide several examples of their utility in diagnosing shunt disruption. We also address the potential pitfalls of this technique and ways to avoid them.
Access options
Buy single article
Instant access to the full article PDF.
US$ 39.95
Tax calculation will be finalised during checkout.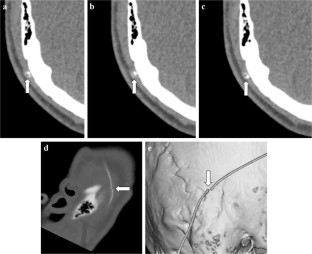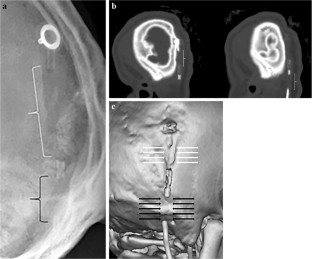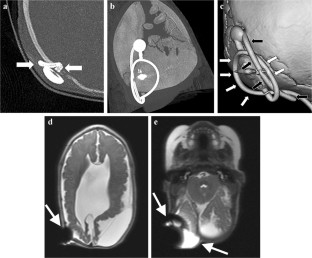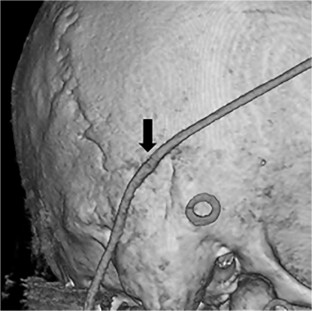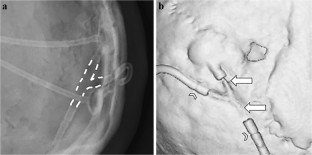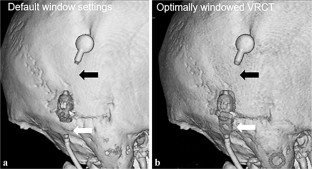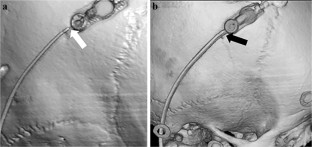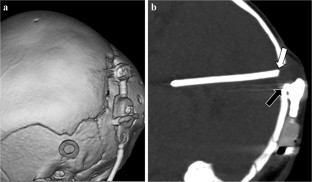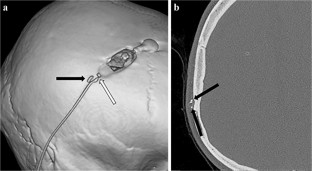 References
1.

Hanak BW, Bonow RH, Harris CA, Browd SR (2017) Cerebrospinal fluid shunting complications in children. Pediatr Neurosurg 52:381–400

2.

Tomei KL (2017) The evolution of cerebrospinal fluid shunts: advances in technology and technique. Pediatr Neurosurg 52:369–380

3.

Wallace AN, McConathy J, Menias CO et al (2014) Imaging evaluation of CSF shunts. AJR Am J Roentgenol 202:38–53

4.

Erol FS, Ozturk S, Akgun B, Kaplan M (2017) Ventriculoperitoneal shunt malfunction caused by fractures and disconnections over 10 years of follow-up. Childs Nerv Syst 33:475–481

5.

Boyle TP, Nigrovic LE (2015) Radiographic evaluation of pediatric cerebrospinal fluid shunt malfunction in the emergency setting. Pediatr Emerg Care 31:435–440

6.

Yue EL, Meckler GD, Fleischman RJ et al (2015) Test characteristics of quick brain MRI for shunt evaluation in children: an alternative modality to avoid radiation. J Neurosurg Pediatr 15:420–426

7.

Kim I, Torrey SB, Milla SS et al (2015) Benefits of brain magnetic resonance imaging over computed tomography in children requiring emergency evaluation of ventriculoperitoneal shunt malfunction: reducing lifetime attributable risk of cancer. Pediatr Emerg Care 31:239–242

8.

Jayanth A, Benabbas R, Chao J, Sinert R (2021) Diagnostic modalities to determine ventriculoperitoneal shunt malfunction: a systematic review and meta-analysis. Am J Emerg Med 39:180–189

9.

Broggi M, Zattra CM, Schiariti M et al (2020) Diagnosis of ventriculoperitoneal shunt malfunction: a practical algorithm. World Neurosurg 137:e479–e486

10.

Jha DK, Khera P, Bhaskar S, Garg M (2019) Three-dimensional volume rendering: an underutilized tool in neurosurgery. World Neurosurg 130:485–492

11.

Orman G, Wagner MW, Seeburg D et al (2015) Pediatric skull fracture diagnosis: should 3D CT reconstructions be added as routine imaging? J Neurosurg Pediatr 16:426–431

12.

Stannard MW, Rollins NK (1995) Subcutaneous catheter calcification in ventriculoperitoneal shunts. AJNR Am J Neuroradiol 16:1276–1278
Ethics declarations
Conflicts of interest
None
Additional information
Publisher's note
Springer Nature remains neutral with regard to jurisdictional claims in published maps and institutional affiliations.
About this article
Cite this article
Oztek, M.A., Parisi, M.T., Perez, F.A. et al. Improving the detection of ventricular shunt disruption using volume-rendered three-dimensional head computed tomography. Pediatr Radiol (2021). https://doi.org/10.1007/s00247-021-05190-w
Received:

Revised:

Accepted:

Published:
Keywords
Children

Computed tomography

Head

Hydrocephalus

Post-processing

Ventricular shunt

Ventriculoperitoneal shunt

Volume rendering