Abstract
Background
Lithium button battery ingestions have been increasing in frequency since the early 2000s and can develop severe and sometimes fatal complications from caustic injury even after rapid battery removal. To aid in clinical decision-making, we began obtaining magnetic resonance imaging (MRI)/MR angiography in these patients.
Objective
Our goal was to review MRI/MR angiography imaging in button battery ingestion cases and compare with other imaging, clinical data and outcomes in these patients.
Materials and methods
In this retrospective institutional-review-board-approved study, we reviewed all button battery ingestion cases with MRI from April 2012 to September 2018. Clinical data, endoscopic findings and all imaging studies were rereviewed. MRIs were evaluated for inflammation, blooming artifact and complications including vascular injury, tracheoesophageal fistula, esophageal perforation and spondylodiscitis, and compared to endoscopy, esophagram and bronchoscopy.
Results
Twenty-three patients with button battery ingestions had a total of 51 MRI/MR angiograms. Seventy percent of the cohort was male with a median age of 2 years (range: 0.94–17 years). Severe complications were found in 48% of patients (11/23), including esophageal perforation (n=11), tracheoesophageal fistula (n=3) and spondylodiscitis (n=1). No patients had vascular injury. Cervical location of the battery was significantly associated with severe complications (10/11 cases). The length of the blooming artifact was greater than 2 cm in those with severe complications and, in most cases, <2 cm in those without severe complications. All complications were seen on initial screening MR exam with serial exams showing decreased inflammation.
Conclusion
MRI/MR angiography can provide valuable information about complications, including esophageal perforation, tracheoesophageal fistula and spondylodiscitis. Decreasing inflammation surrounding the esophagus and vasculature is believed to be clinically reassuring and aids in managing button battery ingestion patients.
We're sorry, something doesn't seem to be working properly.
Please try refreshing the page. If that doesn't work, please contact support so we can address the problem.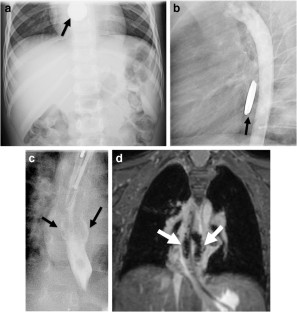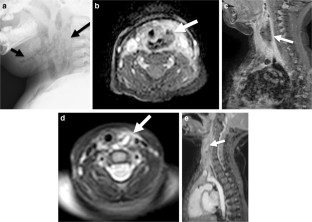 References
1.

Orsagh-Yentis D, McAdams RJ, Roberts KJ, McKenzie LB (2019) Foreign-body ingestions of young children treated in US emergency departments: 1995-2015. Pediatrics 143:e20181988

2.

Litovitz T, Whitaker N, Clark L et al (2010) Emerging battery-ingestion hazard: clinical implications. Pediatrics 125:1168–1177

3.

Bolton SM, Saker M, Bass LM (2018) Button battery and magnet ingestions in the pediatric patient. Curr Opin Pediatr 30:653–659

4.

Guelfguat M, Kaplinskiy V, Reddy SH, DiPoce J (2014) Clinical guidelines for imaging and reporting ingested foreign bodies. AJR Am J Roentgenol 203:37–53

5.

Krom H, Visser M, Hulst JM et al (2018) Serious complications after button battery ingestion in children. Eur J Pediatr 177:1063–1070

6.

Fuentes S, Cano I, Benavent MI, Gómez A (2014) Severe esophageal injuries caused by accidental button battery ingestion in children. J Emerg Trauma Shock 7:316–321

7.

Centers for Disease Control and Prevention (2012) Injuries from batteries among children aged <13 years — United States, 1995–2010. MMWR Morb Mortal Wkly Rep 61:661–666

8.

Leinwand K, Brumbaugh DE, Kramer RE (2016) Button battery ingestion in children: a paradigm for management of severe pediatric foreign body ingestions. Gastrointest Endosc Clin N Am 26:99–118

9.

Tanaka J, Yamashita M, Yamashita M, Kajigaya H (1998) Esophageal electrochemical burns due to button type lithium batteries in dogs. Vet Hum Toxicol 40:193–196

10.

Chessman R, Verkerk M, Hewitt R, Eze N (2017) Delayed presentation of button battery ingestion: a devastating complication. BMJ Case Rep 2017:bcr2017219331

11.

Semple T, Calder AD, Ramaswamy M, McHugh K (2018) Button battery ingestion in children — a potentially catastrophic event of which all radiologists must be aware. Br J Radiol 91:20160781

12.

Pugmire BS, Lin TK, Pentiuk S et al (2017) Imaging button battery ingestions and insertions in children: a 15-year single-center review. Pediatr Radiol 47:178–185

13.

Russell RT, Cohen M, Billmire DF (2013) Tracheoesophageal fistula following button battery ingestion: successful non-operative management. J Pediatr Surg 48:441–444

14.

Kramer RE, Lerner DG, Lin T et al (2015) Management of ingested foreign bodies in children: a clinical report of the NASPGHAN endoscopy committee. J Pediatr Gastroenterol Nutr 60:562–574

15.

Zargar SA, Kochhar R, Mehta S, Mehta SK (1991) The role of fiberoptic endoscopy in the management of corrosive ingestion and modified endoscopic classification of burns. Gastrointest Endosc 37:165–169

16.

Riedesel EL, Richer EJ, Sinclair EM et al (2020) Serial MRI findings after endoscopic removal of button battery from the esophagus. AJR Am J Roentgenol 215:1238–1246

17.

Imamoğlu M, Cay A, Koşucu P et al (2004) Acquired tracheo-esophageal fistulas caused by button battery lodged in the esophagus. Pediatr Surg Int 20:292–294

18.

Jatana KR, Litovitz T, Reilly JS et al (2013) Pediatric button battery injuries: 2013 task force update. Int J Pediatr Otorhinolaryngol 77:1392–1399

19.

Jatana KR, Rhoades K, Milkovich S, Jacobs IN (2017) Basic mechanism of button battery ingestion injuries and novel mitigation strategies after diagnosis and removal. Laryngoscope 127:1276–1282

20.

Kieu V, Palit S, Wilson G et al (2014) Cervical spondylodiscitis following button battery ingestion. J Pediatr 164:1500.e1501

21.

Young A, Tekes A, Huisman TA, Bosemani T (2015) Spondylodiscitis associated with button battery ingestion: prompt evaluation with MRI. Neuroradiol J 28:504–507
Ethics declarations
Conflicts of interest
None
Additional information
Publisher's note
Springer Nature remains neutral with regard to jurisdictional claims in published maps and institutional affiliations.
About this article
Cite this article
Grey, N.E.O., Malone, L.J., Miller, A.L. et al. Magnetic resonance imaging findings following button battery ingestion. Pediatr Radiol 51, 1856–1866 (2021). https://doi.org/10.1007/s00247-021-05085-w
Received:

Revised:

Accepted:

Published:

Issue Date:
Keywords
Button battery

Children

Esophagus

Foreign body

Magnetic resonance angiography

Magnetic resonance imaging

Perforation

Tracheoesophageal fistula