Abstract
Pathologies involving the ribs are diverse in nature, including entities specific to the pediatric population as well as shared pathologies with adults. These can be either localized within or adjacent to the rib, but may also cause rib alteration as a component of a systemic process. To better understand these disorders, we discuss several common rib pathologies in the context of their clinical presentation and pertinent imaging findings. In addition, we review the imaging modalities that may be used to evaluate the ribs. Encompassing both the clinical and imaging aspects of pediatric rib pathologies, this review aims to increase pediatric and musculoskeletal radiologists' awareness of the spectrum of disease and how to leverage a pattern-based approach.
Access options
Buy single article
Instant access to the full article PDF.
USD 39.95
Price includes VAT (USA)
Tax calculation will be finalised during checkout.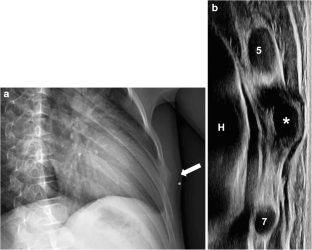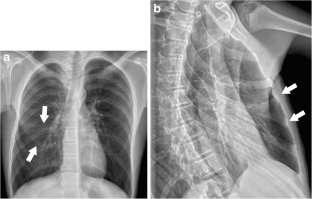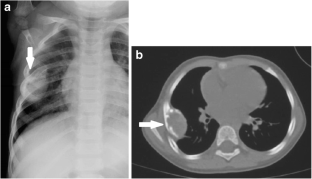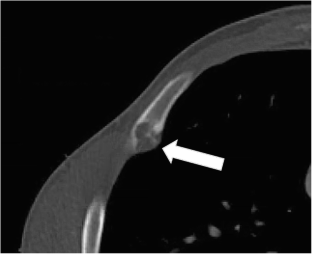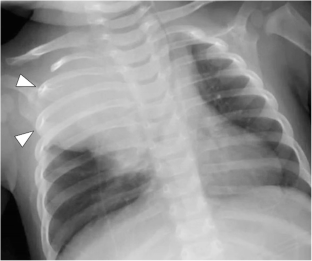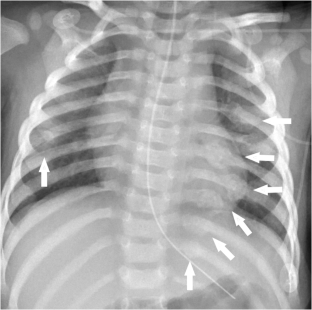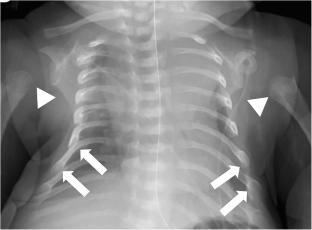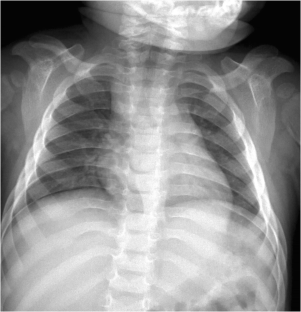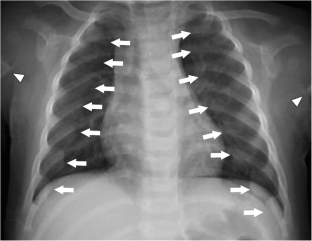 References
1.

Huang R, Zhi Q, Schmidt C et al (2000) Sclerotomal origin of the ribs. Development 127:527–532

2.

Talbot BS, Gange CP Jr, Chaturvedi A et al (2017) Traumatic rib injury: patterns, imaging pitfalls, complications, and treatment. Radiographics 37:628–651

3.

McAloon J, O'Neill C (2011) Ossification centres, not rib fractures. Arch Dis Child 96:284

4.

Glass RBJ, Norton KI, Mitre SA, Kang E (2002) Pediatric ribs: a spectrum of abnormalities. Radiographics 22:87–104

5.

Levine BD, Motamedi K, Chow K et al (2009) CT of rib lesions. AJR Am J Roentgenol 193:5–13

6.

Hansen KK, Prince JS, Nixon GW (2008) Oblique chest views as a routine part of skeletal surveys performed for possible physical abuse — is this practice worthwhile? Child Abuse Negl 32:155–159

7.

Donnelly LF, Frush DP, Foss JN et al (1999) Anterior chest wall: frequency of anatomic variations in children. Radiology 212:837–840

8.

Supakul N, Karmazyn B (2013) Ultrasound evaluation of costochondral abnormalities in children presenting with anterior chest wall mass. AJR Am J Roentgenol 201:W336–W341

9.

Donnelly LF, Frush DP (1999) Abnormalities of the chest wall in pediatric patients. AJR Am J Roentgenol 173:1595–1601

10.

Donnelly LF, Taylor CN, Emery KH, Brody AS (1997) Asymptomatic, palpable, anterior chest wall lesions in children: is cross-sectional imaging necessary? Radiology 202:829–831

11.

Kurihara Y, Yakushiji YK, Matsumoto J et al (1999) The ribs: anatomic and radiologic considerations. Radiographics 19:105–119

12.

Murphey MD, Choi JJ, Kransdorf MJ et al (2000) Imaging of osteochondroma: variants and complications with radiologic-pathologic correlation. Radiographics 20:1407–1434

13.

Nam SJ, Kim S, Lim BJ et al (2011) Imaging of primary chest wall tumors with radiologic-pathologic correlation. Radiographics 31:749–770

14.

Woertler K, Lindner N, Gosheger G et al (2000) Osteochondroma: MR imaging of tumor-related complications. Eur Radiol 10:832–840

15.

Chu L, Seed M, Howse E et al (2011) Mesenchymal hamartoma: prenatal diagnosis by MRI. Pediatr Radiol 41:781–784

16.

Groom KR, Murphey MD, Howard LM et al (2002) Mesenchymal hamartoma of the chest wall: radiologic manifestations with emphasis on cross-sectional imaging and histopathologic comparison. Radiology 222:205–211

17.

Virgone C, Dall'Igna P, Alaggio R et al (2013) Management of symptomatic mesenchymal hamartoma of the chest wall: surgical resection only in symptomatic cases. Klin Padiatr 225:420–422

18.

Hughes EK, James SLJ, Butt S et al (2006) Benign primary tumours of the ribs. Clin Radiol 61:314–322

19.

Kushchayeva YS, Kushchayev SV, Glushko TY et al (2018) Fibrous dysplasia for radiologists: beyond ground glass bone matrix. Insights Imaging 9:1035–1056

20.

Incarbone M, Pastorino U (2001) Surgical treatment of chest wall tumors. World J Surg 25:218–230

21.

Tateishi U, Gladish GW, Kusumoto M et al (2003) Chest wall tumors: radiologic findings and pathologic correlation — part 1. Benign tumors. Radiographics 23:1477–1490

22.

Baez JC, Lee EY, Restrepo R, Eisenberg RL (2013) Chest wall lesions in children. AJR Am J Roentgenol 200:W402–W419

23.

Jeung MY, Gangi A, Gasser B et al (1999) Imaging of chest wall disorders. Radiographics 19:617–637

24.

Khanna G, Sato TS, Ferguson P (2009) Imaging of chronic recurrent multifocal osteomyelitis. Radiographics 29:1159–1177

25.

Moser RP Jr, Davis MJ, Gilkey FW et al (1990) Primary Ewing sarcoma of rib. Radiographics 10:899–914

26.

Ranganath SH, Lee EY, Restrepo R, Eisenberg RL (2012) Mediastinal masses in children. AJR Am J Roentgenol 198:W197–W216

27.

Sharp SE, Trout AT, Weiss BD, Gelfand MJ (2016) MIBG in neuroblastoma diagnostic imaging and therapy. Radiographics 36:258–278

28.

Swift CC, Eklund MJ, Kraveka JM, Alazraki AL (2018) Updates in diagnosis, management, and treatment of neuroblastoma. Radiographics 38:566–580

29.

Zaveri J, La Q, Yarmish G, Neuman J (2014) More than just Langerhans cell histiocytosis: a radiologic review of histiocytic disorders. Radiographics 34:2008–2024

30.

Azouz EM, Saigal G, Rodriguez MM, Podda A (2005) Langerhans' cell histiocytosis: pathology, imaging and treatment of skeletal involvement. Pediatr Radiol 35:103–115

31.

Phillips M, Allen C, Gerson P, McClain K (2009) Comparison of FDG-PET scans to conventional radiography and bone scans in management of Langerhans cell histiocytosis. Pediatr Blood Cancer 52:97–101

32.

Kim JR, Yoon HM, Jung AY et al (2019) Comparison of whole-body MRI, bone scan, and radiographic skeletal survey for lesion detection and risk stratification of Langerhans cell histiocytosis. Sci Rep 9:317

33.

Lonergan GJ, Baker AM, Morey MK, Boos SC (2003) From the archives of the AFIP: child abuse: radiologic-pathologic correlation. Radiographics 23:811–845

34.

Flaherty EG, Perez-Rossello JM, Levine MA et al (2014) Evaluating children with fractures for child physical abuse. Pediatrics 133:e477–e489

35.

Barsness KA, Cha ES, Bensard DD et al (2003) The positive predictive value of rib fractures as an indicator of nonaccidental trauma in children. J Trauma 54:1107–1110

36.

Sanchez TR, Grasparil AD, Chaudhari R et al (2018) Characteristics of rib fractures in child abuse — the role of low-dose chest computed tomography. Pediatr Emerg Care 34:81–83

37.

Bulloch B, Schubert CJ, Brophy PD et al (2000) Cause and clinical characteristics of rib fractures in infants. Pediatrics 105:E48

38.

Worn MJ, Jones MD (2007) Rib fractures in infancy: establishing the mechanisms of cause from the injuries — a literature review. Med Sci Law 47:200–212

39.

Paine CW, Fakeye O, Christian CW, Wood JN (2019) Prevalence of abuse among young children with rib fractures: a systematic review. Pediatr Emerg Care 35:96–103

40.

Carty H, Pierce A (2002) Non-accidental injury: a retrospective analysis of a large cohort. Eur Radiol 12:2919–2925

41.

Ng CS, Hall CM (1998) Costochondral junction fractures and intra-abdominal trauma in non-accidental injury (child abuse). Pediatr Radiol 28:671–676

42.

Pinto DC, Love JC, Derrick SM et al (2015) A proposed scheme for classifying pediatric rib head fractures using case examples. J Forensic Sci 60:112–117

43.

Kleinman PK, Schlesinger AE (1997) Mechanical factors associated with posterior rib fractures: laboratory and case studies. Pediatr Radiol 27:87–91

44.

Kleinman PK, Marks SC, Spevak MR, Richmond JM (1992) Fractures of the rib head in abused infants. Radiology 185:119–123

45.

Expert Panel on Pediatric Imaging, Wootton-Gorges SL, Soares BP et al (2017) ACR appropriateness criteria suspected physical abuse — child. J Am Coll Radiol 14:S338–S349

46.

Mandelstam SA, Cook D, Fitzgerald M, Ditchfield MR (2003) Complementary use of radiological skeletal survey and bone scintigraphy in detection of bony injuries in suspected child abuse. Arch Dis Child 88:387–390

47.

Shelmerdine SC, Langan D, Hutchinson JC et al (2018) Chest radiographs versus CT for the detection of rib fractures in children (DRIFT): a diagnostic accuracy observational study. Lancet Child Adolesc Heal 2:802–811

48.

Kemp AM, Butler A, Morris S et al (2006) Which radiological investigations should be performed to identify fractures in suspected child abuse? Clin Radiol 61:723–736

49.

Mortier GR, Cohn DH, Cormier-Daire V et al (2019) Nosology and classification of genetic skeletal disorders: 2019 revision. Am J Med Genet Part A 179:2393–2419

50.

Yoshimura S, Masuzaki H, Gotoh H et al (1996) Ultrasonographic prediction of lethal pulmonary hypoplasia: comparison of eight different ultrasonographic parameters. Am J Obstet Gynecol 175:477–483

51.

Hertzberg BS, Middleton WD (2016) Fetal skeletal system. In: Ultrasound: the requisites, 3rd edn. Elsevier, New York, pp 454–461

52.

Ngo A-V, Thapa M, Otjen J, Kamps SE (2018) Skeletal dysplasias: radiologic approach with common and notable entities. Semin Musculoskelet Radiol 22:66–80

53.

Spina V, Barbuti D, Gaeta A et al (2018) The role of imaging in the skeletal involvement of mucopolysaccharidoses. Ital J Pediatr 44:118

54.

Beck M (2007) New therapeutic options for lysosomal storage disorders: enzyme replacement, small molecules and gene therapy. Hum Genet 121:1–22

55.

Palmucci S, Attinà G, Lanza ML et al (2013) Imaging findings of mucopolysaccharidoses: a pictorial review. Insights Imaging 4:443–459

56.

Rasalkar DD, Chu WCW, Hui J et al (2011) Pictorial review of mucopolysaccharidosis with emphasis on MRI features of brain and spine. Br J Radiol 84:469–477

57.

Chang CY, Rosenthal DI, Mitchell DM et al (2016) Imaging findings of metabolic bone disease. Radiographics 36:1871–1887

58.

Weisberg P, Scanlon KS, Li R, Cogswell ME (2004) Nutritional rickets among children in the United States: review of cases reported between 1986 and 2003. Am J Clin Nutr 80:1697S–1705S

59.

Shore RM, Chesney RW (2013) Rickets: part I. Pediatr Radiol 43:140–151

60.

Shore RM, Chesney RW (2013) Rickets: part II. Pediatr Radiol 43:152–172

61.

Mak SM, Bhaludin BN, Naaseri S et al (2016) Imaging of congenital chest wall deformities. Br J Radiol 89:20150595

62.

Haller JA Jr, Kramer SS, Lietman SA (1987) Use of CT scans in selection of patients for pectusexcavatum surgery: a preliminary report. J Pediatr Surg 22:904–906

63.

Kim H, Kim HS, Moon ES et al (2010) Scoliosis imaging: what radiologists should know. Radiographics 30:1823–1842

64.

Malfair D, Flemming AK, Dvorak MF et al (2010) Radiographic evaluation of scoliosis. AJR Am J Roentgenol 194:S8–S22

65.

Konieczny MR, Senyurt H, Krauspe R (2013) Epidemiology of adolescent idiopathic scoliosis. J Child Orthop 7:3–9

66.

Campbell RM Jr, Smith MD, Mayes TC et al (2004) The effect of opening wedge thoracostomy on thoracic insufficiency syndrome associated with fused ribs and congenital scoliosis. J Bone Joint Surg Am 86:1659–1674

67.

Parnell SE, Effmann EL, Song K et al (2015) Vertical expandable prosthetic titanium rib (VEPTR): a review of indications, normal radiographic appearance and complications. Pediatr Radiol 45:606–616

68.

Dayer R, Ceroni D, Lascombes P (2014) Treatment of congenital thoracic scoliosis with associated rib fusions using VEPTR expansion thoracostomy: a surgical technique. Eur Spine J 23:424–431

69.

Lew PP, Ngai SS, Hamidi R et al (2014) Imaging of disorders affecting the bone and skin. Radiographics 34:197–216

70.

Guttentag AR, Salwen JK (1999) Keep your eyes on the ribs: the spectrum of normal variants and diseases that involve the ribs. Radiographics 19:1125–1142

71.

Karaosmanoglu AD, Khawaja RDA, Onur MR, Kalra MK (2015) CT and MRI of aortic coarctation: pre- and postsurgical findings. AJR Am J Roentgenol 204:W224–W233

72.

Ferguson EC, Krishnamurthy R, Oldham SAA (2007) Classic imaging signs of congenital cardiovascular abnormalities. Radiographics 27:1323–1334

73.

Warne RR, Ong JSL, Murray CP (2012) Incidental detection of late presenting co-arctation of the aorta on chest x-ray: the importance of rib notching. BMJ Case Rep 2012:bcr1220115347

74.

Gopal A, Loewinger L, Budoff MJ (2010) Aortic coarctation by cardiovascular CT angiography. Catheter Cardiovasc Interv 76:551–552
Ethics declarations
Conflicts of interest
None
Additional information
Publisher's note
Springer Nature remains neutral with regard to jurisdictional claims in published maps and institutional affiliations.
About this article
Cite this article
Aboughalia, H.A., Ngo, AV., Menashe, S.J. et al. Pediatric rib pathologies: clinicoimaging scenarios and approach to diagnosis. Pediatr Radiol 51, 1783–1797 (2021). https://doi.org/10.1007/s00247-021-05070-3
Received:

Revised:

Accepted:

Published:

Issue Date:
Keywords
Children

Computed tomography

Osteochondroma

Osteomyelitis

Radiography

Rib fractures

Ribs

Scoliosis

Thoracic wall