Abstract
Background
Acute screening of pediatric strangulation and hanging injuries has evolved at many institutions to include cervical arterial vascular imaging. As current standards in pediatric imaging support less radiation exposure and increased imaging appropriateness, it is questionable whether vascular arterial injury is a true risk in this population.
Objective
To determine the role of cervical vascular arterial imaging in the evaluation of pediatric hanging and strangulation injuries.
Materials and methods
This is a retrospective study of patients who present at a Level 1 pediatric trauma center with a history of hanging and strangulation injuries. All relevant studies, including computed tomography (CT) angiography of the neck, contrast-enhanced neck CT, cervical magnetic resonance (MR) angiography, magnetic resonance imaging (MRI) and/or CT of the brain and cervical spine and associated clinical records, were reviewed.
Results
Sixty-six patients were identified, 60 with vascular arterial imaging studies. No vascular injury was identified. Soft-tissue injury was noted in 20/66 (30%) patients and craniocervical injury was suspected in 2/66 (3%), but no cervical spine fracture was identified. Only 49 patients had brain imaging, with 7/49 (14%) demonstrating changes consistent with cerebral edema, which correlated negatively with survival (P<0.01).
Conclusion
Vascular arterial imaging, particularly with CT angiography, performed in the pediatric population after hanging and strangulation injury resulted in no positive studies for cervical arterial injury. This study supports the need to reevaluate routine screening CT angiography in this study population.
Access options
Buy single article
Instant access to the full article PDF.
USD 39.95
Price includes VAT (USA)
Tax calculation will be finalised during checkout.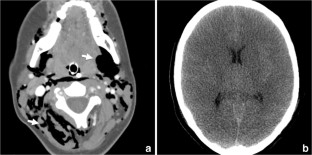 References
1.

Curtin SC, Heron M (2019) Death rates due to suicide and homicide among persons aged 10-24: United States, 2000-2017. NCHS Data Brief 352:1–8

2.

Ruch DA, Sheftall AH, Schlagbaum P et al (2019) Trends in suicide among youth aged 10 to 19 years in the United States, 1975-2016. JAMA Netw Open 2:e193886

3.

La Count S, Lovett ME, Zhao S et al (2019) Factors associated with poor outcome in pediatric near-hanging injuries. J Emerg Med 57:21–28

4.

Feldman KW, Simms RJ (1980) Strangulation in childhood: epidemiology and clinical course. Pediatrics 65:1079–1085

5.

International Association of Forensic Nurses (2016) Non-fatal strangulation documentation toolkit. https://cdn.ymaws.com/www.forensicnurses.org/resource/resmgr/resources/strangulation_documentation_.pdf. Accessed 27 Feb 2021

6.

Davies D, Lang M, Watts R (2011) Paediatric hanging and strangulation injuries: a 10-year retrospective description of clinical factors and outcomes. Paediatr Child Health 16:78–81

7.

Sep D, Thies KC (2007) Strangulation injuries in children. Resuscitation 74:386–391

8.

van Hasselt TJ, Hartshorn S (2019) Hanging and near hanging in children: injury patterns and a clinical approach to early management. Arch Dis Child Educ Pract Ed 104:84–87

9.

Hackett AM, Kitsko DJ (2013) Evaluation and management of pediatric near hanging injury. Int J Pediatr Otorhinolaryngol 77:1899–1901

10.

Verma SK (2007) Pediatric and adolescent strangulation deaths. J Forensic Legal Med 14:61–64

11.

De Boos J (2019) Review article: non-fatal strangulation: hidden injuries, hidden risks. Emerg Med Australas 31:302–308

12.

Nagpal P, Policeni BA, Barthia G et al (2017) Blunt cerebrovascular injuries: advances in screening, imaging and management trends. AJNR Am J Neuroradiol 39:406–414

13.

Ribaute C, Darcourt J, Patsoura S et al (2019) Should CT angiography of the supra-aortic arteries be performed systematically following attempted suicide by hanging? J Neuroradiol Apr 26:S0150-9861(19)30160-9

14.

Zuberi OS, Dixon T, Richardson A et al (2019) CT angiograms of the neck in strangulation victims: incidence of positive findings at a level one trauma center over a 7 year period. Emerg Radiol 26:485–492

15.

Schuberg S, Gupta N, Shah K (2019) Aggressive imaging protocol for hanging patients yields no significant findings. Am J Emerg Med 37:737–739

16.

Desai NK, Kang J, Chokshi FH (2014) Screening CT angiography for pediatric blunt cerebrovascular injury with emphasis on the cervical "seatbelt sign". AJNR Am J Neuroradiol 35:1836–1840
Ethics declarations
Conflicts of interest
None
Additional information
Publisher's note
Springer Nature remains neutral with regard to jurisdictional claims in published maps and institutional affiliations.
About this article
Cite this article
Kline-Fath, B.M., Seman, J.M., Zhang, B. et al. Pediatric hanging and strangulation: is vascular injury a true risk?. Pediatr Radiol 51, 1889–1894 (2021). https://doi.org/10.1007/s00247-021-05056-1
Received:

Revised:

Accepted:

Published:

Issue Date:
Keywords
Artery

Children

Computed tomography angiography

Dissection

Hanging

Injury

Strangulation