Abstract
A wide range of craniofacial malformations can be diagnosed in utero using ultrasonography. However, even with highly experienced sonographers and diagnostic physicians and optimal conditions of examination, some anatomical structures cannot be properly analyzed by this technique. The aim of this pictorial essay is to show the additional value of fetal magnetic resonance imaging and computed tomography in this setting and to illustrate the role of these modalities in facial clefts; craniosynostosis; ear, eye and nose abnormalities; otomandibular dysplasias; and facial cephaloceles.
We're sorry, something doesn't seem to be working properly.
Please try refreshing the page. If that doesn't work, please contact support so we can address the problem.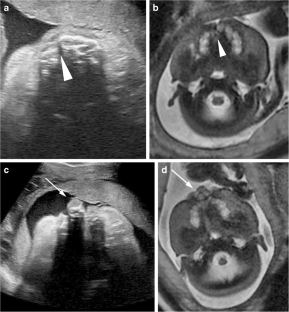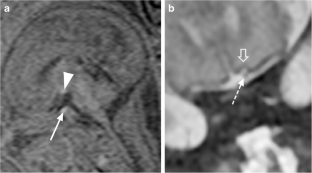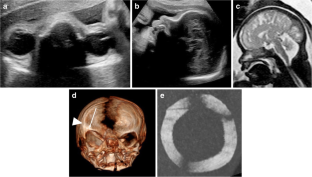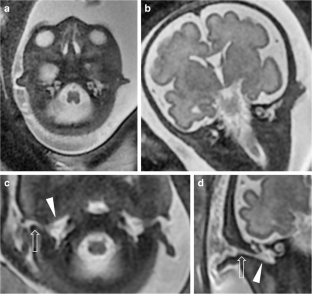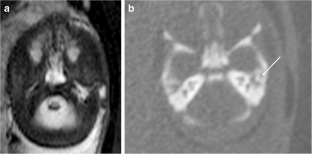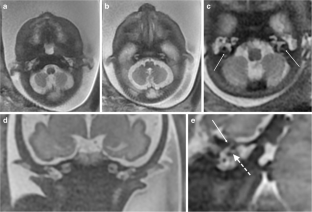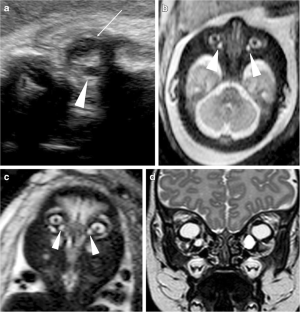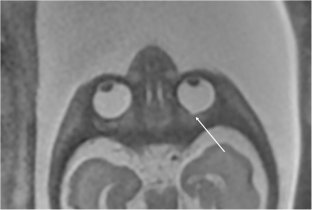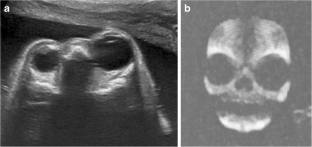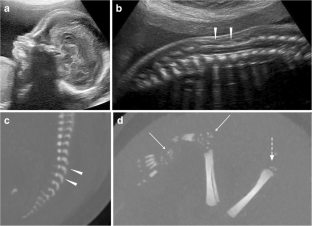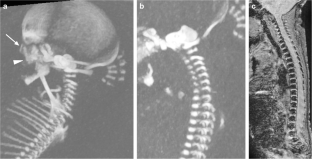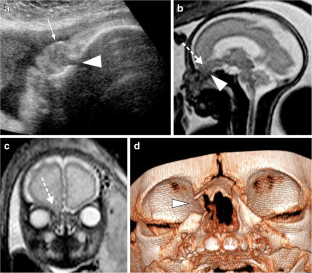 References
1.

Yoon AJ, Pham BN, Dipple KM (2016) Genetic screening in patients with craniofacial malformations. J Pediatr Genet 5:220–224

2.

Byvaltsev V, Belykh O, Belykh E (2012) New aspects in the epidemiology of craniofacial anomalies. World Neurosurg 77:599–600

3.

Mak ASL, Leung KY (2019) Prenatal ultrasonography of craniofacial abnormalities. Ultrasonography 38:13–24

4.

Cassart M (2010) Suspected fetal skeletal malformations or bone diseases: how to explore. Pediatr Radiol 40:1046–1051

5.

Cassart M, Massez A, Cos T et al (2007) Contribution of three-dimensional computed tomography in the assessment of fetal skeletal dysplasia. Ultrasound Obstet Gynecol 29:537–543

6.

Victoria T, Epelman M, Bebbington M et al (2012) Low-dose fetal CT for evaluation of severe congenital skeletal anomalies: preliminary experience. Pediatr Radiol 42(Suppl 1):S142–S149

7.

Victoria T, Epelman M, Coleman BG et al (2013) Low-dose fetal CT in the prenatal evaluation of skeletal dysplasias and other severe skeletal abnormalities. AJR Am J Roentgenol 200:989–1000

8.

Zheng W, Li B, Zou Y, Lou F (2019) The prenatal diagnosis and classification of cleft palate: the role and value of magnetic resonance imaging. Eur Radiol 29:5600–5606

9.

Abramson ZR, Peacock ZS, Cohen HL et al (2015) Radiology of cleft lip and palate: imaging for the prenatal period and throughout life. Radiographics 35:2053–2063

10.

Tian M, Xiao L, Jian N et al (2019) Accurate diagnosis of fetal cleft lip/palate by typical signs of magnetic resonance imaging. Prenat Diagn 39:883–889

11.

Resnick CM, Kooiman TD, Calabrese CE et al (2018) An algorithm for predicting Robin sequence from fetal MRI. Prenat Diagn 38:357–364

12.

de Milly MN, Alison A, Arthurs O et al (2013) Is fetal cerebral MRI worthwhile in antenatally diagnosed isolated cleft lip with or without palate? Prenat Diagn 33:273–278

13.

Ciurea AV, Toader C (2009) Genetics of craniosynostosis: review of the literature. J Med Life 2:5–17

14.

Helfer TM, Peixoto AB, Tonni G et al (2016) Craniosynostosis: prenatal diagnosis by 2D/3D ultrasound, magnetic resonance imaging and computed tomography. Med Ultrason 18:378–385

15.

Rubio EI, Blask A, Bulas DI (2016) Ultrasound and MR imaging findings in prenatal diagnosis of craniosynostosis syndromes. Pediatr Radiol 46:709–718

16.

Saliba S, Morel B, Gonzales M et al (2018) Variable prenatal presentation of Pfeiffer syndrome: suggested aids to prenatal sonographic diagnosis. Prenat Diagn 38:349–356

17.

Werner H, Castro P, Daltro P et al (2018) Prenatal diagnosis of Apert syndrome using ultrasound, magnetic resonance imaging, and three-dimensional virtual/physical models: three case series and literature review. Childs Nerv Syst 34:1563–1571

18.

Katorza E, Nahama-Allouche C, Castaigne V et al (2011) Prenatal evaluation of the middle ear and diagnosis of middle ear hypoplasia using MRI. Pediatr Radiol 41:652–657

19.

Kosling S, Omenzetter M, Bartel-Friedrich S (2009) Congenital malformations of the external and middle ear. Eur J Radiol 69:269–279

20.

Moreira NC, Teixeira J, Raininko R, Wikstrom J (2011) The ear in fetal MRI: what can we really see? Neuroradiology 53:1001–1008

21.

Nemzek WR, Brodie HA, Chong BW et al (1996) Imaging findings of the developing temporal bone in fetal specimens. AJNR Am J Neuroradiol 17:1467–1477

22.

Tilea B, Garel C, Menez F et al (2006) Contribution of fetal MRI to the diagnosis of inner ear abnormalities: report of two cases. Pediatr Radiol 36:149–154

23.

Wei J, Ran S, Yang Z et al (2014) Prenatal ultrasound screening for external ear abnormality in the fetuses. Biomed Res Int 2014:357564

24.

Bartel-Friedrich S, Wulke C (2007) Classification and diagnosis of ear malformations. GMS Curr top Otorhinolaryngol. Head Neck Surg 6:Doc05

25.

Ondeck CL, Pretorius D, McCaulley J et al (2018) Ultrasonographic prenatal imaging of fetal ocular and orbital abnormalities. Surv Ophthalmol 63:745–753

26.

Denis D, Burguiere O, Burillon C (1998) A biometric study of the eye, orbit, and face in 205 normal human fetuses. Invest Ophthalmol Vis Sci 39:2232–2238

27.

Li XB, Kasprian G, Hodge JC et al (2010) Fetal ocular measurements by MRI. Prenat Diagn 30:1064–1071

28.

Paquette LB, Jackson HA, Tavare CJ et al (2009) In utero eye development documented by fetal MR imaging. AJNR Am J Neuroradiol 30:1787–1791

29.

Robinson AJ, Blaser S, Toi A et al (2008) MRI of the fetal eyes: morphologic and biometric assessment for abnormal development with ultrasonographic and clinicopathologic correlation. Pediatr Radiol 38:971–981

30.

Bermejo E, Martinez-Frias ML (1998) Congenital eye malformations: clinical-epidemiological analysis of 1,124,654 consecutive births in Spain. Am J Med Genet 75:497–504

31.

Bremond-Gignac D, Copin H, Elmaleh M, Milazzo S (2010) Fetal ocular anomalies: the advantages of prenatal magnetic resonance imaging. J Fr Ophtalmol 33:350–354

32.

Nagarajan M, Sharbidre K, Bhabad SH, Byrd SE (2018) MR imaging of the fetal face: comprehensive review. Radiographics 38:962–980

33.

Galie M, Clauser LC, Tieghi R et al (2019) The arrhinias: proboscis lateralis literature review and surgical update. J Craniomaxillofac Surg 47:1410–1413

34.

Blask AR, Rubio EI, Chapman KA et al (2018) Severe nasomaxillary hypoplasia (binder phenotype) on prenatal US/MRI: an important marker for the prenatal diagnosis of chondrodysplasia punctata. Pediatr Radiol 48:979–991

35.

Garnier A, Dauger S, Eurin D et al (2007) Brachytelephalangic chondrodysplasia punctata with severe spinal cord compression: report of four new cases. Eur J Pediatr 166:327–331

36.

Burglen L, Soupre V, Diner PA et al (2001) Oto-mandibular dysplasias: genetics and nomenclature of syndromes. Ann Chir Plast Esthet 46:400–409

37.

Castori M, Brancati F, Rinaldi R et al (2006) Antenatal presentation of the oculo-auriculo-vertebral spectrum (OAVS). Am J Med Genet A 140:1573–1579

38.

Rotten D, Levaillant JM, Martinez H et al (2002) The fetal mandible: a 2D and 3D sonographic approach to the diagnosis of retrognathia and micrognathia. Ultrasound Obstet Gynecol 19:122–130

39.

Weichert J, Hoellen F, Krapp M et al (2017) Fetal cephaloceles: prenatal diagnosis and course of pregnancy in 65 consecutive cases. Arch Gynecol Obstet 296:455–463

40.

Van Wyhe RD, Chamata ES, Hollier LH (2016) Midline craniofacial masses in children. Semin Plast Surg 30:176–180
Ethics declarations
Conflicts of interest
None
Additional information
Publisher's note
Springer Nature remains neutral with regard to jurisdictional claims in published maps and institutional affiliations.
About this article
Cite this article
Garel, C., Vande Perre, S., Guilbaud, L. et al. Contribution of computed tomography and magnetic resonance imaging in the analysis of fetal craniofacial malformations. Pediatr Radiol 51, 1917–1928 (2021). https://doi.org/10.1007/s00247-021-05033-8
Received:

Revised:

Accepted:

Published:

Issue Date:
Keywords
Cephalocele

Computed tomography

Craniofacial

Craniosynostosis

Eye

Face

Fetus

Magnetic resonance imaging

Malformation

Nose

Otomandibular dysplasia