Abstract
Background
A portable radiographic system capable of fluoroscopic imaging in the neonatal intensive care unit (NICU) potentially benefits critically ill neonates by eliminating the need to transport them to a fluoroscopy suite.
Objective
To evaluate whether a portable bedside fluoroscopy system in the NICU can deliver comparable image quality at a similar dose rate to a standard system in a fluoroscopy suite.
Materials and methods
In phase A, 20 patients <3 years of age and scheduled to undergo upper gastrointestinal series (upper GI) or voiding cystourethrograms (VCUG) in the radiology fluoroscopy suite were recruited to evaluate a portable fluoroscopic unit. A modified portable radiographic system with a cassette-sized detector and an in-room fluoroscopy system were sequentially used in the same examination. Four radiologists compared the image quality of 20 images from each system using the Radlex score (1–4) for five image quality attributes. The radiation dose rates for the portable and in-suite systems were collected. In phase B, fluoroscopy studies were performed in 5 neonates in the NICU and compared to the 20 previous neonatal studies performed in the department. Clinical workflow, examination time, fluoroscopy time, scattered radiation dose and patient radiation dose were evaluated.
Results
In phase A, average dose rates for in-room and portable systems were equivalent, (0.322 mGy/min and 0.320 mGy/min, respectively). Reader-averaged Radlex scores for in-room and portable systems were statistically significantly greater (P<0.05) for all attributes on the portable system except for image contrast. In phase B, scattered radiation from the average fluoroscopy time (26 s) was equivalent to the scattered radiation of 2.6 portable neonatal chest radiographs. Procedure time and diagnostic quality were deemed equivalent. The average dose rate in the NICU with the portable system was 0.21 mGy/min compared to 0.29 mGy/min for the in-room system.
Conclusion
The portable fluoroscopy unit is capable of providing comparable image quality at equivalent dose levels to an in-room system for neonates with minimal risks to the staff and other patients in the NICU.
Access options
Buy single article
Instant access to the full article PDF.
US$ 39.95
Tax calculation will be finalised during checkout.
Subscribe to journal
Immediate online access to all issues from 2019. Subscription will auto renew annually.
US$ 119
Tax calculation will be finalised during checkout.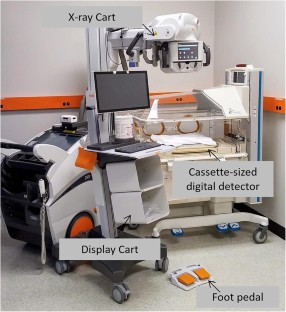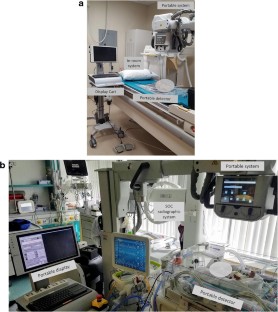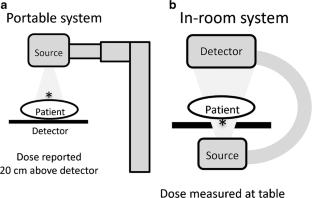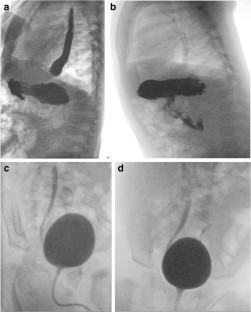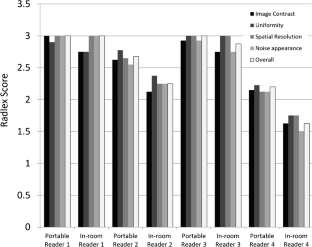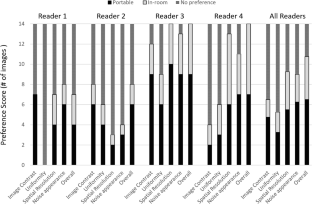 References
1.

Roberts KB, Subcommittee on Urinary Tract Infection, Steering Committee on Quality Improvement and Management (2011) Urinary tract infection: clinical practice guideline for the diagnosis and management of the initial UTI in febrile infants and children 2 to 24 months. Pediatrics 128:595–610

2.

Strouse PJ (2004) Disorders of intestinal rotation and fixation ("malrotation"). Pediatr Radiol 34:837–851

3.

Vieira ALP, dos Santos AMN, Okuyama MK et al (2011) Factors associated with clinical complications during intra-hospital transports in a neonatal unit in Brazil. J Trop Pediatr 57:368–374

4.

Fenton AC, Leslie A, Skeoch CH (2004) Optimizing neonatal transfer. Arch Dis Child Fetal Neonatal Ed 89:F215–F219

5.

Lim MTC, Ratnavel N (2008) A prospective review of adverse events during interhospital transfers of neonates by dedicated neonatal transfer service. Pediatr Crit Care Med 9:289–293

6.

Nayak GK, Levin TL, Kurian J et al (2014) Bedside upper gastrointestinal series in critically ill low birth weight infants. Pediatr Radiol 44:1252–1257

7.

Abdullah AC, Adnan JS, Rahman NAA, Palur R (2017) Limited evaluation of image quality produced by a portable head CT scanner (CereTom) in a neurosurgery centre. Malays J Med Sci 24:104–112

8.

Masaryk T, Kolonick R, Painter T, Weinreb DB (2008) The economic and clinical benefits of portable head/neck CT imaging in the intensive care unit. Radiol Manage 30:50–54

9.

Chacko J, Brar G (2014) Bedside ultrasonography: applications in critical care: part I. Indian J Crit Care Med 18:301–309

10.

National Council on Radiation Protection and Measurements (2009) NCRP report 160: Ionizing radiation exposure of the population of the United States. https://ncrponline.org/publications/reports/ncrp-report-160-2/. Accessed 4 Oct 2020
Acknowledgments
Funding was provided by Carestream Health.
Ethics declarations
Conflicts of interest
Samuel Richard was an employee of Carestream Health at the time of the study. Mark C. Liszewski is an unpaid member of the Carestream Health Medical Advisory Board, has received travel and meal support from Carestream Health and received grant support from Carestream Health for this study. Einat Blumfield is a cofounder of Radnostics LLC.
Additional information
Publisher's note
Springer Nature remains neutral with regard to jurisdictional claims in published maps and institutional affiliations.
About this article
Cite this article
Liszewski, M.C., Richard, S., Gross, J.N. et al. Feasibility study of a novel portable digital radiography system modified for fluoroscopy in the neonatal intensive care unit. Pediatr Radiol (2021). https://doi.org/10.1007/s00247-021-05022-x
Received:

Revised:

Accepted:

Published:
Keywords
Fluoroscopy

Neonatal intensive care unit

Neonates

Portable

Radiation dose

Upper gastrointestinal series

Voiding cystourethrogram