Abstract
In abusive head trauma victims, optic nerves and optic sheath hemorrhages are commonly associated with retinal hemorrhages. Until now, optic nerve and optic nerve sheath hemorrhages related to abusive head trauma have been identified by exenteration and soft-tissue sectioning during postmortem examination. In 2013, we proposed the use of tailored high-resolution susceptibility-weighted imaging (SWI) MRI sequences to depict retinal hemorrhages in lieu of the gold standard dilated fundus exam, in select patients, and in 2017 we showed how the same high-resolution sequences used in the coronal plane can depict ruptured bridging veins in abusive head trauma. This paper describes the new potential diagnostic application of high-resolution axial and coronal SWI in the diagnosis of optic nerve and optic sheath hemorrhages.
Access options
Buy single article
Instant access to the full article PDF.
USD 39.95
Price excludes VAT (USA)
Tax calculation will be finalised during checkout.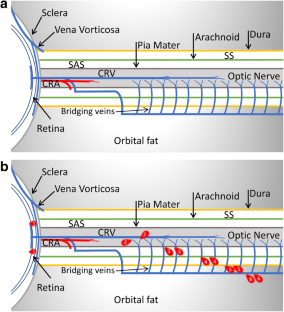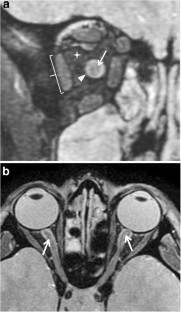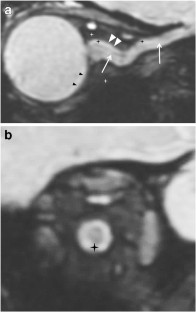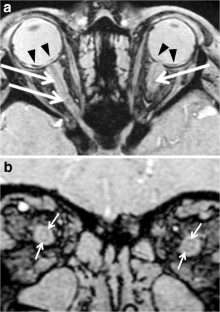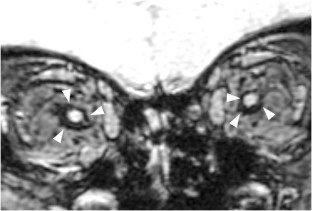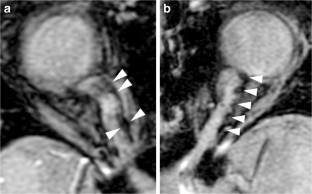 References
Choudhary AK, Servaes S, Slovis TL et al (2018) Consensus statement on abusive head trauma in infants and young children. Pediatr Radiol 48:1048–1065

Aryan HE, Ghosheh FR, Jandial R, Levy ML (2005) Retinal hemorrhage and pediatric brain injury: etiology and review of the literature. J Clin Neurosci 12:624–631

Morad Y, Kim YM, Armstrong DC et al (2002) Correlation between retinal abnormalities and intracranial abnormalities in the shaken baby syndrome. Am J Ophthalmol 134:354–359

Zuccoli G, Panigrahy A, Haldipur A et al (2013) Susceptibility weighted imaging depicts retinal hemorrhages in abusive head trauma. Neuroradiology 55:889–893

Beavers AJ, Stagner AM, Allbery SM et al (2015) MR detection of retinal hemorrhages: correlation with graded ophthalmologic exam. Pediatr Radiol 45:1363–1371

Thamburaj K, Soni A, Frasier LD et al (2019) Susceptibility-weighted imaging of retinal hemorrhages in abusive head trauma. Pediatr Radiol 49:210–216

Wygnanski-Jaffe T, Levin AV, Shafiq A et al (2006) Postmortem orbital findings in shaken baby syndrome. Am J Ophthalmol 142:233–240

Maxeiner H (1997) Detection of ruptured cerebral bridging veins at autopsy. Forensic Sci Int 89:103–110

Zuccoli G, Khan AS, Panigrahy A, Tamber MS (2017) In vivo demonstration of traumatic rupture of the bridging veins in abusive head trauma. Pediatr Neurol 72:31–35

Cheung N, McNab AA (2003) Venous anatomy of the orbit. Investig Ophthalmol Vis Sci 44:988–995

Muller PJ, Deck JHN (1974) Intraocular and optic nerve sheath hemorrhage in cases of sudden intracranial hypertension. J Neurosurg 41:160–166

Hayreh SS (2006) Orbital vascular anatomy. Eye 20:1130–1144

Verschuuren S, Poretti A, Buerki S et al (2012) Susceptibility-weighted imaging of the pediatric brain. AJR Am J Roentgenol 198:W440–W449

Tong KA, Ashwal S, Obenaus A et al (2008) Susceptibility-weighted MR imaging: a review of clinical applications in children. AJNR Am J Neuroradiol 29:9–17

Johnson TE, Hoyt CS (1986) Optic nerve sheath and retinal hemorrhages associated with the shaken baby syndrome. Arch Ophthalmol 104:1509–1512

Munger CE, Peiffer RL, Bouldin TW et al (1993) Ocular and associated neuropathologic observations in suspected whiplash shaken infant syndrome: a retrospective study of 12 cases. Am J Forensic Med Pathol 14:193–200

Puanglumyai S, Lekawanvijit S (2017) The importance of optic nerve sheath hemorrhage as a postmortem finding in cases of fatal abusive head trauma: a 13-year study in a tertiary hospital. Forensic Sci Int 276:5–11

Breazzano MP, Unkrich KH, Barker-Griffith AE (2014) Clinicopathological findings in abusive head trauma: analysis of 110 infant autopsy eyes. Am J Ophthalmol 158:1146–1154.e2

Shi A, Kulkarni A, Feldman KW et al (2019) Retinal findings in young children with increased intracranial pressure from nontraumatic causes. Pediatrics 143:e20181182

Green MA, Lieberman G, Milroy CM, Parsons MA (1996) Ocular and cerebral trauma in non-accidental injury in infancy: underlying mechanisms and implications for paediatric practice. Br J Ophthalmol 80:282–287

Teixeira SR, Gonçalves FG, Servin CA et al (2018) Ocular and intracranial MR imaging findings in abusive head trauma. Top Magn Reson Imaging 27:503–514

Migueis GFJ, Fernandes FAO, Ptak M et al (2019) Detection of bridging veins rupture and subdural haematoma onset using a finite element head model. Clin Biomech 63:104–111

Kapeliotis M, Musigazi GU, Famaey N et al (2019) The sensitivity to inter-subject variability of the bridging vein entry angles for prediction of acute subdural hematoma. J Biomech 92:6–10

Depreitere B, Van Lierde C, Vander Sloten J et al (2006) Mechanics of acute subdural hematomas resulting from bridging vein rupture. J Neurosurg 104:950–956

Silloca-Cabana EO, Hathuc VM, Harrison WT, Lantz PE (2020) Hemorrhagic retinopathy and optic nerve sheath hemorrhage associated with fatal subarachnoid hemorrhage from a ruptured intracranial aneurysm due to segmental fibromuscular dysplasia. J Forensic Sci 65:649–654
Acknowledgments
I would like to thank my family, Tecla, Chiara and Giulia, for their support, and Coleen Cooper and Dennis Willaman, MR technologists, for their outstanding dedication to the patients of Children's Hospital of Pittsburgh.
Ethics declarations
Conflicts of interest
None
Additional information
Publisher's note
Springer Nature remains neutral with regard to jurisdictional claims in published maps and institutional affiliations.
About this article
Cite this article
Zuccoli, G. Magnetic resonance imaging of optic nerve and optic sheath hemorrhages in child abuse. Pediatr Radiol 51, 997–1002 (2021). https://doi.org/10.1007/s00247-020-04891-y
Received:

Revised:

Accepted:

Published:

Issue Date:

DOI: https://doi.org/10.1007/s00247-020-04891-y
Keywords