Abstract
Background
Solitary epiphyseal lesions are rare and present with nonspecific imaging features. Knowledge regarding etiologies of pediatric epiphyseal lesions is limited to small studies.
Objective
The purpose of this study was to determine the relative incidence of pathologies affecting the pediatric epiphysis based on biopsy-proven cases with imaging.
Materials and methods
We conducted a retrospective review of imaging studies including the terms "biopsy" or "resection" and entities known to affect the epiphysis and cross-referenced these with pathology reports, recording the relevant clinical data. Two radiologists performed comprehensive imaging review and recorded relevant features.
Results
Forty-nine children and adolescents met inclusion criteria. The long-bone epiphyseal lesion etiologies included chondroblastoma (n=22, 45%), nonspecific nonmalignant pathology (n=11, 22%), osteomyelitis (n=9, 18%), lymphoma (n=2, 4%) and 1 case of each of aneurysmal bone cyst, chondrosarcoma, enchondroma, hemangioendothelioma, and non-Langerhans cell histiocytosis. Median age was 13.1 years old (range 1.5–18.6 years). We performed comparative analysis of the two most common lesions in our series, chondroblastoma and osteomyelitis. Chondroblastoma was significantly more likely to be peripherally located (94% vs. 33%, P=0.002) and to demonstrate a discrete T1-weighted hypointense rim (94% vs. 33%, P=0.002); there were no significant differences in enhancement or intrinsic signal properties. Children with chondroblastoma were older (15.1 years vs. 7.3 years, P=0.001), and chondroblastoma lesions were significantly larger, with mean maximum lesion diameter of 25 mm (interquartile range [IQR] 20–30) vs. 12 mm (IQR 11–18) (P=0.001) and lesion volumes of 4.4 mL (IQR 2.4–7.9) vs. 0.4 mL (IQR 0.2–1.4) (P=0.01).
Conclusion
This study reports the relative frequency of pathology of pediatric solitary epiphyseal lesions and describes several features that might assist in differentiating between chondroblastoma and osteomyelitis.
Access options
Buy single article
Instant access to the full article PDF.
USD 39.95
Price excludes VAT (USA)
Tax calculation will be finalised during checkout.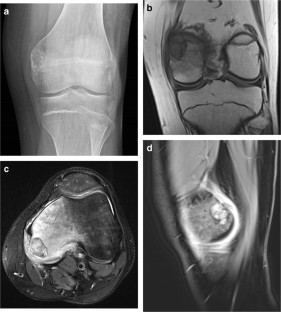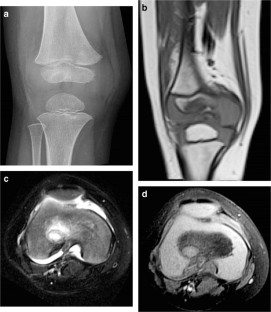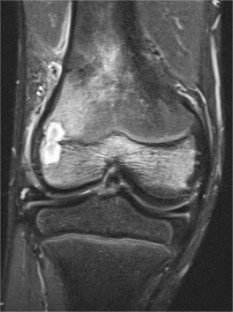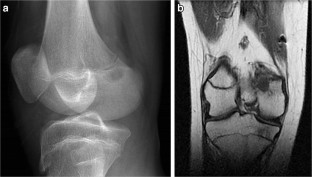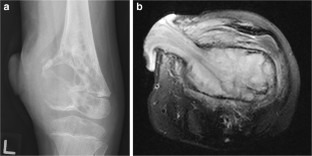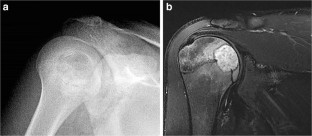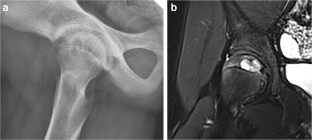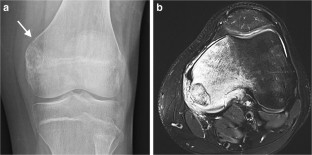 References
Potter BK (2005) Solitary epiphyseal enchondromas. J Bone Joint Surg Am 87:1551–1560

Xu H, Ding Y, Niu X et al (2014) Chondroblastoma of bone in the extremities: a multicenter retrospective study. J Bone Joint Surg Am 97:925–931

Usui M, Matsuno T, Kobayashi M et al (1983) Eosinophilic granuloma of the growing epiphysis. A case report and review of the literature. Clin Orthop Relat Res 176:201–205

Brody JM, Brower AC, Shannon FB (1992) An unusual epiphyseal osteoid osteoma. AJR Am J Roentgenol 158:609–611

Gurney JG, Severson RK, Davis S, Robison LL (1995) Incidence of cancer in children in the United States. Sex-, race-, and 1-year age-specific rates by histologic type. Cancer 75:2186–2195

Stiller CA, Bielack SS, Jundt G et al (2006) Bone tumours in European children and adolescents, 1978-1997. Report from the Automated Childhood Cancer Information System project. Eur J Cancer 42:2124–2135

Grimm NL, Tainter DM, Eward WC, Brigman BE (2017) Tumors of the epiphyses. JBJS Rev 5:e4

Gardner DJ, Michel Azouz E (1988) Solitary lucent epiphyseal lesions in children. Skelet Radiol 17:497–504

Shah JN, Cohen HL, Choudhri AF et al (2017) Pediatric benign bone tumors: what does the radiologist need to know? Radiographics 37:1001–1002

Xu H, Nugent D, Monforte HL et al (2015) Chondroblastoma of bone in the extremities. J Bone Joint Surg Am 97:925–931

Tsuneyoshi M, Dorfman HD (1987) Epiphyseal osteosarcoma: distinguishing features from clear cell chondrosarcoma, chondroblastoma, and epiphyseal enchondroma. Hum Pathol 18:644–651

van Horn JR, Karthaus RP (1989) Epiphyseal osteoid osteoma. Two case reports. Acta Orthop Scand 60:625–627

Ezra E, Cohen N, Segev E et al (2002) Primary subacute epiphyseal osteomyelitis: role of conservative treatment. J Pediatr Orthop 22:333–337

Hoover KB, Rosenthal DI, Mankin H (2007) Langerhans cell histiocytosis. Skelet Radiol 36:95–104

Ma J, Shi Q, Jiang S et al (2011) Primary kaposiform hemangioendothelioma of a long bone: two cases in unusual locations with long-term follow up. Pathol Int 61:382–386

Kasalak Ö, Overbosch J, Suurmeijer AJH et al (2018) Journal club: CT-guided bone biopsies with indeterminate results in pediatric patients. AJR Am J Roentgenol 211:661–671

Manaster BJ (2010) Diagnostic imaging: musculoskeletal: non-traumatic disease. Elsevier, Philadelphia

Penny JN, Spiegel DA (2020) Chronic osteomyelitis in children. In: Gosselin RA, Spiegel DA, Foltz M (eds) Global orthopedics. Springer, New York, pp 315–324

Zhorne DJ, Altobelli ME, Cruz AT (2015) Impact of antibiotic pretreatment on bone biopsy yield for children with acute hematogenous osteomyelitis. Hosp Pediatr 5:337–341

Mcneil JC, Forbes AR, Vallejo JG et al (2016) Role of operative or interventional radiology — guided cultures for osteomyelitis. Pediatrics 137:e20154616

Green NE, Beauchamp RD, Griffin PP (1981) Primary subacute epiphyseal osteomyelitis. J Bone Joint Surg Am 63:107–114

Trueta J (1959) The three types of acute haematogenous osteomyelitis. J Bone Joint Surg (Br) 41B:671–680

Gilbertson-Dahdal D, Wright JE, Krupinski E et al (2014) Transphyseal involvement of pyogenic osteomyelitis is considerably more common than classically taught. AJR Am J Roentgenol 203:190–195

Ceroni D, Belaieff W, Cherkaoui A et al (2014) Primary epiphyseal or apophyseal subacute osteomyelitis in the pediatric population: a report of fourteen cases and a systematic review of the literature. J Bone Joint Surg Am 96:1570–1575

Dartnell J, Ramachandran M, Katchburian M (2012) Haematogenous acute and subacute paediatric osteomyelitis. J Bone Joint Surg (Br) 94B:584–595
Ethics declarations
Conflicts of interest
None
Additional information
Publisher's note
Springer Nature remains neutral with regard to jurisdictional claims in published maps and institutional affiliations.
About this article
Cite this article
El-Ali, A.M., Coblentz, A. & Degnan, A.J. Solitary long-bone epiphyseal lesions in children: radiologic–pathological correlation and epidemiology. Pediatr Radiol 50, 1724–1734 (2020). https://doi.org/10.1007/s00247-020-04752-8
Received:

Revised:

Accepted:

Published:

Issue Date:

DOI: https://doi.org/10.1007/s00247-020-04752-8
Keywords