Abstract
Background
Spine injuries are increasingly common in the evaluation for abusive head trauma (AHT), but additional information is needed to explore the utility of spine MRI in AHT evaluations and to ensure an accurate understanding of injury mechanism.
Objective
To assess the incidence of spine injury on MRI in children evaluated for AHT, and to correlate spine MRI findings with clinical characteristics.
Materials and methods
We identified children younger than 5 years who were evaluated for AHT with spine MRI. Abuse likelihood was determined a priori by expert consensus. We blindly reviewed spine MRIs and compared spinal injury, abuse likelihood, patient demographics, severity of brain injury, presence of retinal hemorrhages, and pattern of head injury between children with and without spine injury.
Results
Forty-five of 76 (59.2%) children had spine injury. Spine injury was associated with more severe injury (longer intensive care stays [P<0.001], lower initial mental status [P=0.01] and longer ventilation times [P=0.001]). Overall abuse likelihood and spine injury were not associated. Spinal subdural hemorrhage was the only finding associated with a combination of retinal hemorrhages (P=0.01), noncontact head injuries (P=0.008) and a diagnosis of AHT (P<0.05). Spinal subdural hemorrhage was associated with other spine injury (P=0.004) but not with intracranial hemorrhage (P=0.28).
Conclusion
Spinal injury is seen in most children evaluated for AHT and might be clinically and forensically valuable. Spinal subdural hemorrhage might support a mechanism of severe acceleration/deceleration head injury and a diagnosis of AHT.
This is a preview of subscription content, log in to check access.
Access options
Buy single article
Instant unlimited access to the full article PDF.
US$ 39.95
Price includes VAT for USA
Subscribe to journal
Immediate online access to all issues from 2019. Subscription will auto renew annually.
US$ 199
This is the net price. Taxes to be calculated in checkout.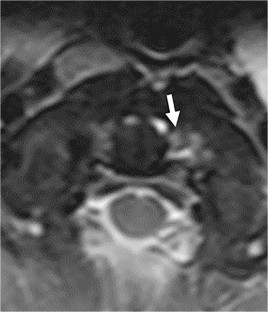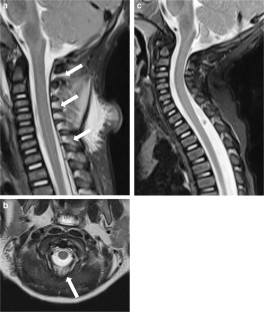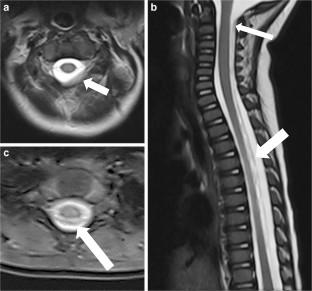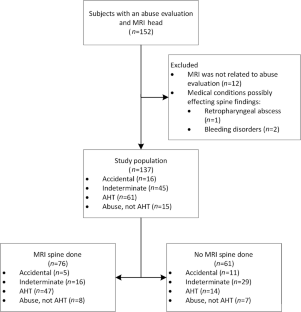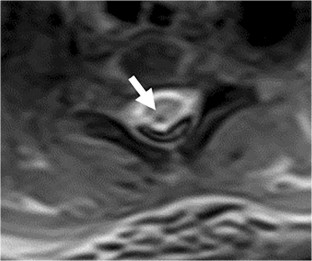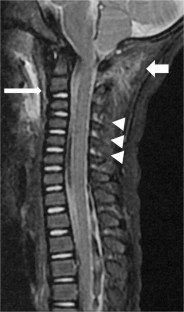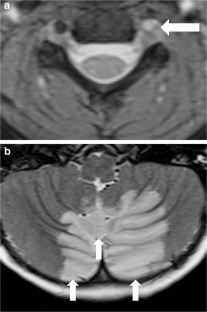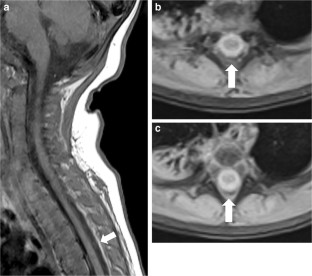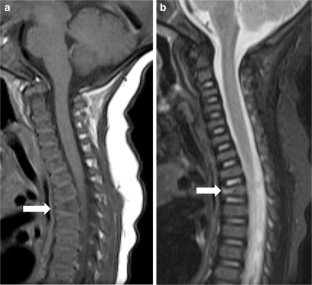 References
1.

Orru E, Huisman T, Izbudak I (2018) Prevalence, patterns, and clinical relevance of hypoxic–ischemic injuries in children exposed to abusive head trauma. J Neuroimaging 28:608–614

2.

Piteau SJ, Ward MGK, Barrowman NJ, Plint AC (2012) Clinical and radiographic characteristics associated with abusive and nonabusive head trauma: a systematic review. Pediatrics 130:315–323

3.

Kemp AM (2011) Abusive head trauma: recognition and the essential investigation. Arch Dis Child Educ Pract Ed 96:202–208

4.

Kemp A, Cowley L, Maguire S (2014) Spinal injuries in abusive head trauma: patterns and recommendations. Pediatr Radiol 44:S604–S612

5.

Oh A, Sawvel M, Heaner D et al (2017) Changes in use of cervical spine magnetic resonance imaging for pediatric patients with nonaccidental trauma. J Neurosurg Pediatr 20:271–277

6.

American College of Radiology (2017) ACR appropriateness criteria: suspected physical abuse — child. J Am Coll Radiol 14:S338–S349

7.

Henry MK, Zonfrillo MR, French B et al (2016) Hospital variation in cervical spine imaging of young children with traumatic brain injury. Acad Pediatr 16:684–691

8.

Hymel KP, Makoroff KL, Laskey AL et al (2007) Mechanisms, clinical presentations, injuries, and outcomes from inflicted versus noninflicted head trauma during infancy: results of a prospective, multicentered, comparative study. Pediatrics 119:922–929

9.

Lindberg DM, Lindsell CJ, Shapiro RA (2008) Variability in expert assessments of child physical abuse likelihood. Pediatrics 121:e945–e953

10.

Parks SE, Annest JL, Hill HA, Karch DL (2012) Pediatric abusive head trauma: recommended definitions for public health surveillance and research. Centers for Diseases Control and Prevention https://www.cdc.gov/violenceprevention/pdf/pedheadtrauma-a.pdf. Accessed 16 May 2019

11.

Baerg J, Thirumoorthi A, Hazboun R et al (2017) Cervical spine injuries in young children: pattern and outcomes in accidental versus inflicted trauma. J Surg Res 219:366–373

12.

Choudhary AK, Ishak R, Zacharia TT, Dias MS (2014) Imaging of spinal injury in abusive head trauma: a retrospective study. Pediatr Radiol 44:1130–1140

13.

Kadom N, Khademian Z, Vezina G et al (2014) Usefulness of MRI detection of cervical spine and brain injuries in the evaluation of abusive head trauma. Pediatr Radiol 44:839–848

14.

Jacob R, Cox M, Koral K et al (2016) MR imaging of the cervical spine in nonaccidental trauma: a tertiary institution experience. AJNR Am J Neuroradiol 37:1944–1950

15.

Baerg J, Thirumoorthi A, Vannix R et al (2017) Cervical spine imaging for young children with inflicted trauma: expanding the injury pattern. J Pediatr Surg 52:816–821

16.

Goradia D, Linnau KF, Cohen WA et al (2007) Correlation of MR imaging findings with intraoperative findings after cervical spine trauma. AJNR Am J Neuroradiol 28:209–215

17.

Zhuge W, Ben-Galim P, Hipp JA, Reitman CA (2015) Efficacy of MRI for assessment of spinal trauma: correlation with intraoperative findings. J Spinal Disord Tech 28:147–151

18.

Krakenes J, Kaale BR (2006) Magnetic resonance imaging assessment of craniovertebral ligaments and membranes after whiplash trauma. Spine 31:2820–2826

19.

Henry MK, French B, Feudtner C et al (2018) Cervical spine imaging and injuries in young children with non-motor vehicle crash-associated traumatic brain injury. Pediatr Emerg Care. https://doi.org/10.1097/PEC.0000000000001455

20.

Anderson SE, Boesch C, Zimmermann H (2012) Are there cervical spine findings at MR imaging that are specific to acute symptomatic whiplash injury? A prospective controlled study with four experienced blinded readers. Radiology 262:567–575

21.

Choudhary AK, Bradford RK, Dias MS et al (2012) Spinal subdural hemorrhage in abusive head trauma: a retrospective study. Radiology 262:216–223

22.

Matshes EW, Evans RM, Pinckard JK et al (2011) Shaken infants die of neck trauma, not of brain trauma. Acad Forensic Pathol 1:82–91

23.

Pang D (2004) Spinal cord injury without radiographic abnormality in children, 2 decades later. Neurosurgery 55:1325–1343

24.

Matsumoto H, Matsumoto S, Yoshida Y (2016) Concomitant intracranial chronic subdural hematoma and spinal subdural hematoma: a case report and literature review. World Neurosurg 90:706

25.

Silvera VM, Danehy AR, Newton AW et al (2014) Retroclival collections associated with abusive head trauma in children. Pediatr Radiol 44:S621–S631

26.

Ahn ES, Smith ER (2005) Acute clinical and spinal subdural hematoma with spontaneous resolution: clinical and radiographic correlation in support of a proposed pathophysiological mechanism. J Neurosurg 103:175–179

27.

Kokubo R, Kyongsong K, Mishina M et al (2014) Prospective assessment of concomitant lumbar and chronic subdural hematoma: is migration from the intracranial space involved in their manifestation? J Neurosurg 20:157–163

28.

Gruber TJ, Rozzelle CJ (2008) Thoracolumbar spine subdural hematoma as a result of nonaccidental trauma in a 4-month-old infant. J Neurosurg 2:139–142

29.

Duhaime AC, Alario AJ, Lewander WJ et al (1992) Head injury in very young children: mechanisms, injury types, and ophthalmologic findings in 100 hospitalized patients younger than 2 years of age. Pediatrics 90:179–185
Ethics declarations
Conflicts of interest
None
Additional information
Publisher's note
Springer Nature remains neutral with regard to jurisdictional claims in published maps and institutional affiliations.
About this article
Cite this article
Rabbitt, A.L., Kelly, T.G., Yan, K. et al. Characteristics associated with spine injury on magnetic resonance imaging in children evaluated for abusive head trauma. Pediatr Radiol 50, 83–97 (2020) doi:10.1007/s00247-019-04517-y
Received:

Revised:

Accepted:

Published:

Issue Date:
Keywords
Abusive head trauma

Child abuse

Children

Infants

Magnetic resonance imaging

Spine

Subdural hemorrhage

Trauma