Abstract
Background
Head computed tomography (CT) is the current standard of care for evaluating infants at high risk of abusive head trauma.
Objective
To both assess the feasibility of using a previously developed magnetic resonance imaging (MRI) brain injury screen (MRBRscreen) in the acute care setting in place of head CT to identify intracranial hemorrhage in high-risk infants and to compare the accuracy of a rapid imaging pulse sequence (single-shot T2 fast spin echo [ssT2FSE]) to a conventional pulse sequence (conventional T2 fast spin echo [conT2FSE]).
Materials and methods
This was a quality improvement initiative to evaluate infants <12 months of age who were screened for intracranial hemorrhage using an MRBRscreen as part of clinical care. The MRBRscreen included axial conT2FSE, axial gradient recalled echo, coronal T1-weighted inversion recovery, axial diffusion-weighted image and an axial ssT2FSE. A comparison of ssT2FSE to conT2FSE with respect to lesion detection was also performed.
Results
Of 158 subjects, the MRBRscreen was able to be completed in 155 (98%); 9% (14/155) were abnormal. Ninety-four percent (137/145) of subjects underwent only an MRBRscreen and avoided both radiation from head CT and sedation from MRI. The axial ssT2FSE and conT2FSE results were congruent 99% of the time.
Conclusion
An MRBRscreen in place of a head CT is feasible and potentially could decrease head CT use by more than 90% in this population. Using a rapid ssT2FSE in place of a conT2FSE can reduce total scan time without losing lesion detection. If an MRBRscreen is readily available, physicians' threshold to perform neuroimaging may be lowered and lead to earlier detection of abusive head trauma.
Access options
Buy single article
Instant access to the full article PDF.
US$ 39.95
Tax calculation will be finalised during checkout.
Subscribe to journal
Immediate online access to all issues from 2019. Subscription will auto renew annually.
US$ 119
Tax calculation will be finalised during checkout.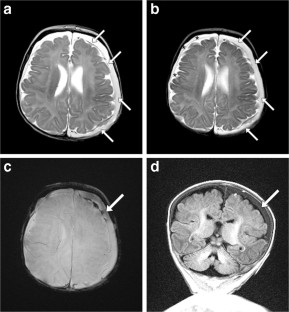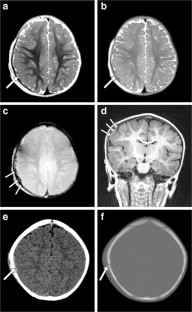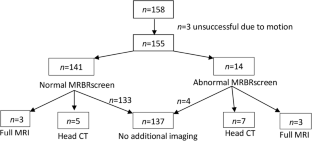 References
1.

Sieswerda-Hoogendoorn T, Bilo RA, van Duurling LL et al (2013) Abusive head trauma in young children in the Netherlands: evidence for multiple incidents of abuse. Acta Paediatr 102:e497–e501

2.

Petska HW, Sheets LK, Knox BL (2013) Facial bruising as a precursor to abusive head trauma. Clin Pediatr (Phila) 52:86–88

3.

Oral R, Yagmur F, Nashelsky M et al (2008) Fatal abusive head trauma cases: consequence of medical staff missing milder forms of physical abuse. Pediatr Emerg Care 24:816–821

4.

Ricci L, Giantris A, Merriam P et al (2003) Abusive head trauma in Maine infants: medical, child protective, and law enforcement analysis. Child Abuse Negl 27:271–283

5.

Jenny C, Hymel KP, Ritzen A et al (1999) Analysis of missed cases of abusive head trauma. JAMA 281:621–626

6.

Letson MM, Cooper JN, Deans KJ et al (2016) Prior opportunities to identify abuse in children with abusive head trauma. Child Abuse Negl 60:36–45

7.

Sieswerda-Hoogendoorn T, Boos S, Spivack B et al (2012) Abusive head trauma part II: radiological aspects. Eur J Pediatr 171:617–623

8.

Ginde AA, Foianini A, Renner DM et al (2008) Availability and quality of computed tomography and magnetic resonance imaging equipment in U.S. emergency departments. Acad Emerg Med 15:780–783

9.

Keenan HT, Runyan DK, Marshall SW et al (2004) A population-based comparison of clinical and outcome characteristics of young children with serious inflicted and noninflicted traumatic brain injury. Pediatrics 114:633–639

10.

Sieswerda-Hoogendoorn T, Boos S, Spivack B et al (2012) Educational paper: abusive head trauma part I. clinical aspects. Eur J Pediatr 171:415–423

11.

Menoch MJ, Hirsh DA, Khan NS et al (2012) Trends in computed tomography utilization in the pediatric emergency department. Pediatrics 129:e690–e697

12.

Brenner DJ, Hall EJ (2007) Computed tomography--an increasing source of radiation exposure. N Engl J Med 357:2277–2284

13.

Bressan S, Romanato S, Mion T et al (2012) Implementation of adapted PECARN decision rule for children with minor head injury in the pediatric emergency department. Acad Emerg Med 19:801–807

14.

Hennelly KE, Mannix R, Nigrovic LE et al (2013) Pediatric traumatic brain injury and radiation risks: a clinical decision analysis. J Pediatr 162:392–397

15.

Foerster BR, Petrou M, Lin D et al (2009) Neuroimaging evaluation of non-accidental head trauma with correlation to clinical outcomes: a review of 57 cases. J Pediatr 154:573–577

16.

Yu CK, Yuen VM, Wong GT, Irwin MG (2013) The effects of anaesthesia on the developing brain: a summary of the clinical evidence. F1000Res 2:166

17.

Kemp AM, Rajaram S, Mann M et al (2009) What neuroimaging should be performed in children in whom inflicted brain injury (iBI) is suspected? A systematic review. Clin Radiol 64:473–483

18.

Patel DM, Tubbs RS, Pate G et al (2014) Fast-sequence MRI studies for surveillance imaging in pediatric hydrocephalus. J Neurosurg Pediatr 13:440–447

19.

Iskandar BJ, Sansone JM, Medow J, Rowley HA (2004) The use of quick-brain magnetic resonance imaging in the evaluation of shunt-treated hydrocephalus. J Neurosurg 101:147–151

20.

Rozovsky K, Ventureyra EC, Miller E (2013) Fast-brain MRI in children is quick, without sedation, and radiation-free, but beware of limitations. J Clin Neurosci 20:400–405

21.

Young JY, Duhaime AC, Caruso PA, Rincon SP (2016) Comparison of non-sedated brain MRI and CT for the detection of acute traumatic injury in children 6 years of age or less. Emerg Radiol 23:325–331

22.

Ryan ME, Jaju A, Ciolino JD, Alden T (2016) Rapid MRI evaluation of acute intracranial hemorrhage in pediatric head trauma. Neuroradiology 58:793–799

23.

Flom L, Fromkin J, Panigrahy A et al (2016) Development of a screening MRI for infants at risk for abusive head trauma. Pediatr Radiol 46:519–526

24.

Christian CW, Committee on Child Abuse and Neglect, American Academy of Pediatrics (2015) The evaluation of suspected child physical abuse. Pediatrics 135:e1337–e1354

25.

Kuppermann N, Holmes JF, Dayan PS et al (2009) Identification of children at very low risk of clinically-important brain injuries after head trauma: a prospective cohort study. Lancet 374:1160–1170

26.

American College of Radiology (2016) ACR-SPR Practice Parameter for the Performance and Interpretation of Skeletal Surveyshttps://www.acr.org/-/media/ACR/Files/Practice-Parameters/Skeletal-Survey.pdf. Accessed 17 December 2018

27.

Meyer JS, Gunderman R, Coley BD et al (2011) ACR appropriateness criteria on suspected physical abuse-child. J Am Coll Radiol 8:87–94

28.

Berger RP, Panigrahy A, Gottschalk S, Sheetz M (2016) Effective radiation dose in a skeletal survey performed for suspected child abuse. J Pediatr 171:310–312

29.

King MA, Kanal KM, Relyea-Chew A et al (2009) Radiation exposure from pediatric head CT: a bi-institutional study. Pediatr Radiol 39:1059–1065

30.

Kanal KM, Graves JM, Vavilala MS et al (2015) Variation in CT pediatric head examination radiation dose: results from a national survey. AJR Am J Roentgenol 204:W293–W301
Acknowledgments
The authors would like to thank Tom Sutcavage, who pulled the data, and Julia Wallace and Eleanor Zinn, who assisted with data cleaning and provided administrative assistance.
Ethics declarations
Conflicts of interest
None
Additional information
Publisher's note
Springer Nature remains neutral with regard to jurisdictional claims in published maps and institutional affiliations.
About this article
Cite this article
Berger, R.P., Furtado, A.D., Flom, L.L. et al. Implementation of a brain injury screen MRI for infants at risk for abusive head trauma. Pediatr Radiol 50, 75–82 (2020). https://doi.org/10.1007/s00247-019-04506-1
Received:

Revised:

Accepted:

Published:

Issue Date:
Keywords
Abusive head trauma

Brain

Child abuse

Computed tomography

Infants

Magnetic resonance imaging

Screening