Abstract
Skeletal dysplasias are a large group of rare conditions with widely heterogeneous manifestations and a reputation for being diagnostically difficult. Involvement of the brain and craniovertebral junction are features familiar to the paediatric neuroradiologist. Involvement of the skull itself represents an area of overlap between the domains of the neuroradiologist and the skeletal dysplasia radiologist. In this pictorial essay, we review the principal skull manifestations of skeletal dysplasias as they present to the neuroradiologist.
Access options
Buy single article
Instant access to the full article PDF.
USD 39.95
Price excludes VAT (USA)
Tax calculation will be finalised during checkout.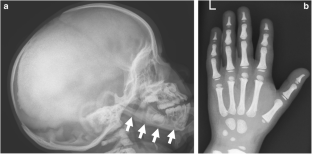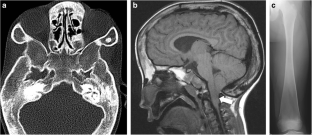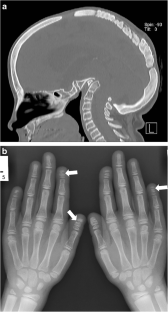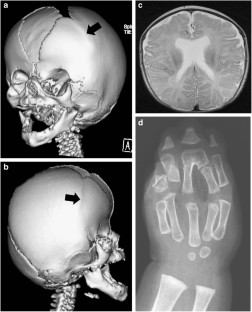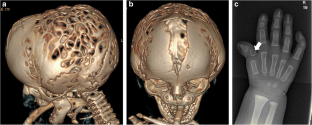 References
Bonafe L, Cormier-Daire V, Hall C et al (2015) Nosology and classification of genetics skeletal disorders: 2015 revision. Am J Med Genet A 167A:2869–2892

Gaunt T, Mankad K, Calder A et al (2018) Abnormalities of the craniovertebral junction in the paediatric population: a novel biomechanical approach. Clin Radiol 73:839–854

Morriss-Kay GM, Wilkie AO (2005) Growth of the normal skull vault and its alterations in craniosynostosis: insights from human genetics and experimental studies. J Anat 207:637–653

Orchard PL, Fasth AL, Le Rademacher J et al (2015) Hematopoietic stem cell transplantation for infantile osteopetrosis. Blood 126:270–276

Haines SJ, Erickson DL, Wirtschafter JD (1998) Optic nerve decompression for osteopetrosis in early childhood. Neurosurgery 23:470–475

Gelb BD, Shi GP, Chapman HA, Desnick RJ (1996) Pycnodysostosis, a lysosomal disease casused by cathepsin K deficiency. Science 273:1236–1238

Sly WS, Whute MP, Sundaram V et al (1985) Carbonic anhydrase II deficiency in 12 families with the autosomal recessive syndrome of osteopetrosis with renal tubular acidosis and cerebral calcification. N Engl J Med 313:139–145

Simpson MA, Hsu R, Keir LS et al (2007) Mutations in FAM20C are associated with lethal osteosclerotic bone dysplasia (Raine syndrome) highlighting a crucial molecule in bone development. Am J Hum Genet 81:906–912

Guo L, Bertola DR, Takanohashi A et al (2019) Bi-allelic CSF1R mutations cause skeletal dysplasia of dysosteosclerosis-Pyle disease spectrum and degenerative encephalopathy with brain malformation. Am J Hum Genet 104:925–935

Beighton PH, Hamersma H, Brunkow ME (2002, updated 2013). SOST-related Sclerosing bone dysplasias. In: Adam MP, Ardinger HH, Pagon RA et al (eds). GeneReviews® [internet]. Seattle: University of Washington, Seattle. HYPERLINK. https://www.ncbi.nlm.nih.gov/books/NBK1228/. Accessed July 2 2019

Reichenberger E, Chen IP (2007, updated 2015) Craniometaphyseal dysplasia, autosomal dominant. In: Adam MP, Ardinger HH, Pagon RA et al (eds) GeneReviews. University of Washington, Seattle. HYPERLINK. https://www.ncbi.nlm.nih.gov/books/NBK1461/. Accessed 2 July 2019

Robertson SP, Jenkins ZA, Morgan T et al (2006) Frontometaphyseal dysplasia: mutations in FLNA and phenotypic diversity. Am J Med Genet A 140A:1726–1736

Sousa SB, Jenkins D, Chanudet E et al (2014) Gain-of-function mutations in the phosphatidylserine synthase 1 (PTDSS1) gene cause Lenz-Majewski syndrome. Nat Genet 46:70–76

Perdu B, de Freitas F, Frints SG et al (2010) Osteopathia striata with cranial sclerosis owing to WTX gene defect. J Bone Miner Res 25:82–90

Cremin B, Goodman H, Spranger J, Beighton P (1982) Wormian bones in osteogenesis imperfecta and other disorders. Skelet Radiol 8:35–38

Cheung MS, Arponen H, Roughley P et al (2011) Cranial base abnormalities in osteogenesis imperfecta: phenotypic and genotypic determinants. J Bone Miner Res 26:405–413

Machol K, Mendoza-Londono R, Lee B (2006, updated 2017) Cleidocranial dysplasia spectrum disorder. In: Adam MP, Ardinger HH, Pagon RA et al (eds). GeneReviews. University of Washington, Seattle. HYPERLINK. https://www.ncbi.nlm.nih.gov/books/NBK1513/. Accessed 2 July 2019

Canalis E, Zanotti S (2016) Hajdu-Cheney syndrome, a disease associated with NOTCH2 mutations. Curr Osteoporos Rep 14:126–131

Dabir T, Sills AM, Hall CM et al (2007) Cranio-osteoarthropathy in sibs. Clin Dysmorphol 16:197–201

Robin NH, Falk MJ, Haldeman-Englert CR (1998, Updated 2011) FGFR-related craniosynostosis syndromes. In: Adam MP, Ardinger HH, Pagon RA et al (eds) GeneReviews. University of Washington, Seattle. HYPERLINK Accessed 2 July 2019. https://www.ncbi.nlm.nih.gov/books/NBK1455/

Scott RH, Meaney C, Jenkins L et al (2014) The postnatal features of bent bone dysplasia-FGFR2 type. Clin Dysmorphol 23:8–11

Nishimura G, Nagai T (1996) Radiographic findings in Shrpintzen-Goldberg syndrome. Pediatr Radiol 26:775–778

Bottero L, Cinalli G, Labrune P et al (1997) Antley-Bixler syndrome. Description of two new cases and a review of the literature. Childs Nerv Syst 13:275–280

Jenkins D, Seelow D, Jehee FS et al (2007) RAB23 mutations in Carpenter syndrome imply an unexpected role for hedgehog signaling in cranial-suture development and obesity. Am J Hum Genet 80:1162–1170

Vakharia JD, Matlock K, Taylor HO et al (2018) Craniosynostosis as the presenting feature of x-linked hypophosphatemic rickets. Paediatrics 141:S515–S519
Ethics declarations
Conflicts of interest
Dr. Calder has received hospitality and honoraria from Sanofi-Genzyme and Biomarin for speaking at symposia. There are no further conflicts of interest.
Additional information
Publisher's note
Springer Nature remains neutral with regard to jurisdictional claims in published maps and institutional affiliations.
About this article
Cite this article
Calder, A.D., Gaunt, T., Hickson, M. et al. Major skull manifestations of skeletal dysplasias — pictorial essay. Pediatr Radiol 50, 1658–1668 (2020). https://doi.org/10.1007/s00247-019-04473-7
Received:

Revised:

Accepted:

Published:

Issue Date:

DOI: https://doi.org/10.1007/s00247-019-04473-7
Keywords