Abstract
Background
Metaphyseal lesions in infants and toddlers are believed to have a high specificity for inflicted injury.
Objectives
To examine the prevalence of metaphyseal injury and its mimickers in otherwise healthy children younger than 2 years of age.
Materials and methods
During 2010–2015, all children 2 years old and younger seen at the Accident and Emergency (A&E) Department due to an injury who had radiographs taken were included. Information on mechanism and clinical findings were drawn from the medical notes. All radiographs were reviewed by two of five researchers together with an experienced paediatric radiologist, registering fracture site and type, and metaphyseal appearances.
Results
Four hundred and eight children (212 boys) (mean age: 17.7 months, range: 3–24 months) were included, of whom 149 (77 boys) had a total of 162 fractures (incidence of 5.4 per 1,000 children). Only one metaphyseal lesion, without a history of trauma, was seen. Of the 860 metaphyses analysed, 140 (16.3%) were defined as either irregular (74/860, 8.6%) or as having a metaphyseal collar (66/860, 7.7%). Sixty-four of the 66 collars (97.0%) and 54/104 irregularities (60.8%) were located around the wrist and the ankle, while 25/74 irregularities (33.8%) were found around the knee joint.
Conclusion
Metaphyseal lesions with a history of trauma did not occur in otherwise healthy neonates and infants younger than 2 years of age, indicating that this type of fracture has a particular trauma mechanism. Metaphyseal irregularities/collars are frequently seen and should not be mistaken for a classic metaphyseal lesion.
This is a preview of subscription content, log in to check access.
Access options
Buy single article
Instant access to the full article PDF.
US$ 39.95
Price includes VAT for USA
Subscribe to journal
Immediate online access to all issues from 2019. Subscription will auto renew annually.
US$ 199
This is the net price. Taxes to be calculated in checkout.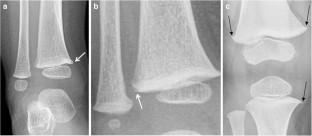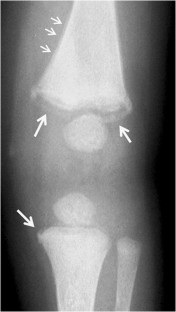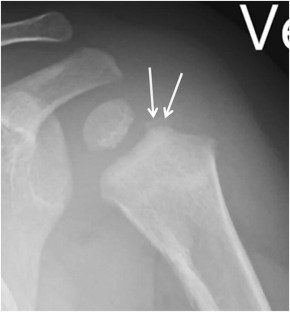 References
1.

Clarke NM, Shelton FR, Taylor CC et al (2012) The incidence of fractures in children under the age of 24 months--in relation to non-accidental injury. Injury 43:762–765

2.

Brudvik C (2006) Child injuries in Bergen, Norway: identifying high-risk groups and activity specific injuries. Thesis, University of Bergen

3.

Hedstrom EM, Svensson O, Bergstrom U, Michno P (2010) Epidemiology of fractures in children and adolescents. Acta Orthop 81:148–153

4.

Lyons RA, Delahunty AM, Kraus D et al (1999) Children's fractures: a population based study. Inj Prev 5(2):129–132

5.

Kocher MS, Kasser JR (2009) Orthopaedic aspects of child abuse. J Am Acad Orthop Surg 8:10–20

6.

Kemp AM, Dunstan F, Harrison S et al (2008) Patterns of skeletal fractures in child abuse: systematic review. BMJ 337:a1518

7.

Pandya NK, Baldwin KD, Wolfgruber H et al (2010) Humerus fractures in the pediatric population: an algorithm to identify abuse. J Pediatr Orthop B 19:535–541

8.

Baldwin K, Pandya NK, Wolfgruber H et al (2011) Femur fractures in the pediatric population: abuse or accidental trauma? Clin Orthop Relat Res 469:798–804

9.

Leventhal JM, Martin KD, Asnes AG (2010) Fractures and traumatic brain injuries: abuse versus accidents in a US database of hospitalized children. Pediatrics 126:e104–e115

10.

Barber I, Kleinman PK (2014) Imaging of skeletal injuries associated with abusive head trauma. Pediatr Radiol 44:S613–S620

11.

Kleinman PK, Perez-Rossello JM, Newton AW (2011) Prevalence of the classic metaphyseal lesion in infants at low versus high risk for abuse. AJR AmJ Roentgenol 197:1005–1008

12.

Thackeray JD, Wannemacher J, Adler BH, Lindberg DM (2016) The classic metaphyseal lesion and traumatic injury. Pediatr Radiol 46:1128–1133

13.

Tsai A, Coats B, Kleinman PK (2017) Biomechanics of the classic metaphyseal lesion: finite element analysis. Pediatr Radiol 47:1622–1630

14.

Tsai A, Johnston PR, Perez-Rossello JM et al (2018) The distal tibial classic metaphyseal lesion: medial versus lateral cortical injury. Pediatr Radiol 48:973–978

15.

Tsai A, McDonald AG, Rosenberg AE et al (2014) High-resolution CT with histopathological correlates of the classic metaphyseal lesion of infant abuse. Pediatr Radiol 44:124–140

16.

Quigley AJ, Stafrace S (2014) Skeletal survey normal variants, artefacts and commonly misinterpreted findings not to be confused with non-accidental injury. Pediatr Radiol 44:82–93

17.

Kleinman PK (2015) Diagnostic imaging of child abuse, 3rd edn. Cambridge University Press

18.

Oestreich AE (2008) Growth of the pediatric skeleton. Springer, Berlin

19.

Laval-Jeantet M, Balmain N, Juster M, Bernard J (1968) Relations of the perichondral ring to the cartilage in normal and pathologic growth. Ann Radiol (Paris) 11:327–335

20.

Servaes S, Brown SD, Choudhary AK et al (2016) The etiology and significance of fractures in infants and young children: a critical multidisciplinary review. Pediatr Radiol 46:591–600

21.

Flaherty EG, Perez-Rossello JM, Levine MA et al (2014) Evaluating children with fractures for child physical abuse. Pediatrics 133:e477–e489

22.

Ayoub DM, Hyman C, Cohen M, Miller M (2014) A critical review of the classic metaphyseal lesion: traumatic or metabolic? AJR Am J Roentgenol 202:185–196

23.

Oestreich AE (2018) Distinguishing child abuse fractures from rickets. Pediatr Radiol 48:305–307

24.

Burrell T, Opfer E, Berglund L et al (2015) A witnessed case of a classic metaphyseal fracture caused during IV line placement in a child: insight into mechanism of injury. J Forensic Legal Med 35:51–53

25.

Kleinman PK, Belanger PL, Karellas A, Spevak MR (1991) Normal metaphyseal radiologic variants not to be confused with findings of infant abuse. AJR Am J Roentgenol 156:781–783
Ethics declarations
Conflicts of interest
None
Additional information
Publisher's note
Springer Nature remains neutral with regard to jurisdictional claims in published maps and institutional affiliations.
About this article
Cite this article
Eide, P., Djuve, Å., Myklebust, R. et al. Prevalence of metaphyseal injury and its mimickers in otherwise healthy children under two years of age. Pediatr Radiol 49, 1051–1055 (2019). https://doi.org/10.1007/s00247-019-04413-5
Received:

Revised:

Accepted:

Published:

Issue Date:
Keywords
Children

Classic metaphyseal lesion

Collar

Infants

Metaphyseal irregularity

Non-accidental injury

Normal variation

Radiography