Abstract
Malignant hepatic tumors in children are rare, comprising 1.3% of all pediatric malignancies. Following hepatoblastoma, hepatocellular carcinoma is the second most common. Other malignant hepatic tumors seen in childhood include those of mesenchymal origin including undifferentiated embryonal sarcoma, angiosarcoma, rhabdomyosarcoma and epithelioid hemangioendothelioma, as well as biliary tumors such as cholangiocarcinoma. Diagnosis can be challenging because of their rarity, and the recognition of distinctive imaging features for certain tumors such as epithelioid hemangioendothelioma and biliary rhabdomyosarcoma can focus the differential diagnosis and expedite the diagnostic process. A complete MRI examination with hepatocyte-specific contrast media and diffusion-weighted imaging helps to focus the differential diagnosis, and, although findings are often nonspecific, in some cases typical features on MRI can be helpful in diagnosis. Histopathological analysis is usually required for definitive diagnosis. Hepatic tumors tend to be aggressive, and full staging is imperative to establish disease extent. Significant proportions are not amenable to upfront surgical resection and often require a multimodality approach including neoadjuvant chemotherapy within a multidisciplinary setting. Facilitating complete surgical resection is usually required for better survival. In this review, we emphasize pathology and imaging features for rare liver tumors that are useful in reaching a prompt diagnosis. We also discuss general clinical findings, prognosis and management of these tumors.
Access options
Buy single article
Instant access to the full article PDF.
USD 39.95
Price excludes VAT (USA)
Tax calculation will be finalised during checkout.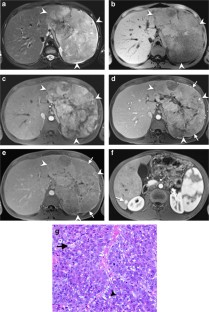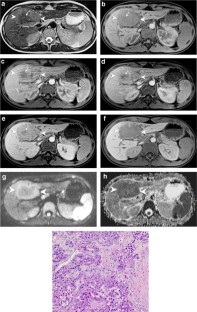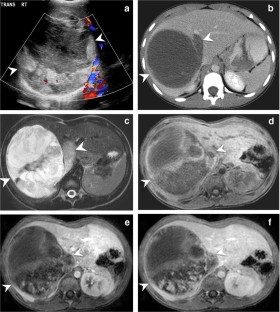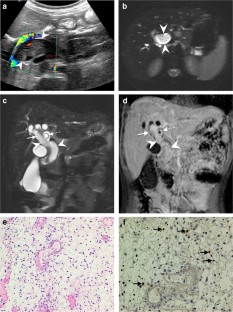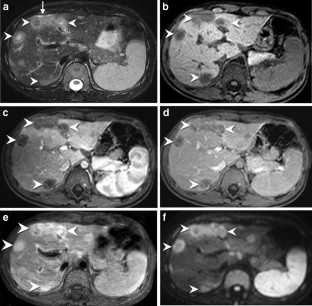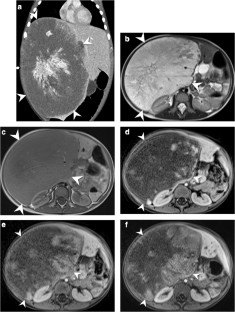 References
Meyers RL (2007) Tumors of the liver in children. Surg Oncol 16:195–203

López-Terrada D, Alaggio R, de Dávila MT et al (2014) Towards an international pediatric liver tumor consensus classification: proceedings of the Los Angeles COG liver tumors symposium. Mod Pathol 27:472–491

Gupta AA, Gerstle JT, Ng V et al (2011) Critical review of controversial issues in the management of advanced pediatric liver tumors. Pediatr Blood Cancer 56:1013–1018

Chung EM, Lattin GE, Cube R et al (2011) From the archives of the AFIP: pediatric liver masses: radiologic-pathologic correlation. Part 2. Malignant tumors. Radiographics 31:483–507

Alqatie A, Mann E, Moineddin R et al (2015) Solitary liver lesions in children: interobserver agreement and accuracy of MRI diagnosis. Clin Imaging 39:442–448

Almotairi M, Oudjhane K, Chavhan GB (2015) Pediatric multifocal liver lesions evaluated by MRI. Indian J Radiol Imaging 25:296–302

Chavhan GB, Shelmerdine S, Jhaveri K, Babyn PS (2016) Liver MR imaging in children: current concepts and technique. Radiographics 36:1517–1532

Zsiros J, Brugieres L, Brock P et al (2013) Dose-dense cisplatin-based chemotherapy and surgery for children with high-risk hepatoblastoma (SIOPEL-4): a prospective, single-arm, feasibility study. Lancet Oncol 14:834–842

Czauderna P, Mackinlay G, Perilongo G et al (2002) Hepatocellular carcinoma in children: results of the first prospective study of the International Society of Pediatric Oncology group. J Clin Oncol 20:2798–2804

Czauderna P (2002) Adult type vs. childhood hepatocellular carcinoma — are they the same or different lesions? Biology, natural history, prognosis, and treatment. Med Pediatr Oncol 39:519–523

Allan BJ, Wang B, Davis JS et al (2014) A review of 218 pediatric cases of hepatocellular carcinoma. J Pediatr Surg 49:166–171

Khanna R, Verma SK (2018) Pediatric hepatocellular carcinoma. World J Gastroenterol 24:3980–3999

Li M, Gerber DA, Koruda M, O'Neil BH (2012) Hepatocelluar carcinoma associated with attenuated familial adenomatous polyposis: a case report and review of the literature. Clin Colorectal Cancer 11:77–81

Bosman FT, Carneiro F, Hruban RH, Theise ND (eds) (2010) WHO classification of tumours of the digestive system. WHO Press, Geneva, pp 211–212

Amin MB, Edge S, Greene FL et al (eds) (2017) AJCC cancer staging manual, 8th edn. Springer, New York

Zimmermann A, Lopez-Terrada D (2011) Pathology of pediatric liver tumors. In: Zimmermann A, Perilongo G, Malogolowkin M, von Schweinitz D (eds) Pediatric liver tumors. Springer, Berlin, pp 83–112

Zen Y, Vara R, Portmann B, Hadzic N (2014) Childhood hepatocellular carcinoma: a clinicopathological study of 12 cases with special reference to EpCAM. Histopathology 64:671–682

Towbin AJ, Meyers RL, Woodley H et al (2018) 2017 PRETEXT: radiologic staging system for primary hepatic malignancies of childhood revised for the Paediatric Hepatic International Tumour Trial (PHITT). Pediatr Radiol 48:536–554

Lencioni R, Llovet JM (2010) Modified RECIST (mRECIST) assessment for hepatocellular carcinoma. Semin Liver Dis 30:52–60

Schmid I, Häberle B, Albert MH et al (2012) Sorafenib and cisplatin/doxorubicin (PLADO) in pediatric hepatocellular carcinoma. Pediatr Blood Cancer 58:539–544

Angelico R, Grimaldi C, Saffioti MC et al (2018) Hepatocellular carcinoma in children: hepatic resection and liver transplantation. Transl Gastroenterol Hepatol 3:59

D'Souza AM, Shah R, Gupta A et al (2018) Surgical management of children and adolescents with upfront completely resected hepatocellular carcinoma. Pediatr Blood Cancer 65:e27293

Lungren MP, Towbin AJ, Roebuck DJ et al (2018) Role of interventional radiology in managing pediatric liver tumors: part 1: endovascular interventions. Pediatr Radiol 48:555–564

Wang J, Mao Y, Liu Y et al (2017) Hepatocellular carcinoma in children and adolescents: clinical characteristics and treatment. J Gastrointest Surg 21:1128–1135

Kersten CA, Sloey EN, Zhou E et al (2017) Fibrolamellar hepatocellular carcinoma: exploring molecular mechanisms and differentiation pathways to better understand disease outcomes and prognosis. Liver Res 1:187–192

Ganeshan D, Szklaruk J, Kaseb A et al (2018) Fibrolamellar hepatocellular carcinoma: multiphasic CT features of the primary tumor on pre-therapy CT and pattern of distant metastases. Abdom Radiol 43:3340–3348

Garg R, Srinivasan R, Dey P et al (2018) Utility of cytokeratin7 immunocytochemistry in the cytopathological diagnosis of fibrolamellar hepatocellular carcinoma. J Cytol 35:75–78

Graham RP, Yeh MM, Lam-Himlin D et al (2017) Molecular testing for the clinical diagnosis of fibrolamellar carcinoma. Mod Pathol 31:141–149

Palm V, Sheng R, Mayer P et al (2018) Imaging features of fibrolamellar hepatocellular carcinoma in gadoxetic acid-enhanced MRI. Cancer Imaging 18(9)

Torbenson M (2015) Fibrolamellar carcinoma: 2012 update. Scientifica 2012:743790

Darcy DG, Malek MM, Kobos R et al (2015) Prognostic factors in fibrolamellar hepatocellular carcinoma in young people. J Pediatr Surg 50:153–156

McAteer JP, Goldin AB, Healey PJ, Gow KW (2013) Hepatocellular carcinoma in children: epidemiology and the impact of regional lymphadenectomy on surgical outcomes. J Pediatr Surg 48:2194–2201

Weeda VB, Murawski M, McCabe AJ et al (2013) Fibrolamellar variant of hepatocellular carcinoma does not have a better survival than conventional hepatocellular carcinoma — results and treatment recommendations from the childhood liver tumour strategy group (SIOPEL) experience. Eur J Cancer 49:2698–2704

Katzenstein HM, Krailo MD, Malogolowkin MH et al (2003) Fibrolamellar hepatocellular carcinoma in children and adolescents. Cancer 97:2006–2012

Atienza LG, Berger J, Mei X et al (2017) Liver transplantation for fibrolamellar hepatocellular carcinoma: a national perspective. J Surg Oncol 115:319–323

Zhou S, Venkatramani R, Gupta S et al (2017) Hepatocellular malignant neoplasm, NOS: a clinicopathological study of 11 cases from a single institution. Histopathology 71:813–822

Ismail H, Dembowska-Bagińska B, Broniszczak D et al (2013) Treatment of undifferentiated embryonal sarcoma of the liver in children — single center experience. J Pediatr Surg 48:2202–2206

Shi Y, Rojas Y, Zhang W et al (2017) Characteristics and outcomes in children with undifferentiated embryonal sarcoma of the liver: a report from the National Cancer Database. Pediatr Blood Cancer 64(4)

Stringer MD, Alizai NK (2005) Mesenchymal hamartoma of the liver: a systematic review. J Pediatr Surg 40:1681–1690

Shehata BM, Gupta NA, Katzenstein HM et al (2011) Undifferentiated embryonal sarcoma of the liver is associated with mesenchymal hamartoma and multiple chromosomal abnormalities: a review of eleven cases. Pediatr Dev Pathol 14:111–116

Gabor F, Franchi-Abella S, Merli L et al (2016) Imaging features of undifferentiated embryonal sarcoma of the liver: a series of 15 children. Pediatr Radiol 46:1694–1704

Mathias MD, Ambati SR, Chou AJ et al (2016) A single-center experience with undifferentiated embryonal sarcoma of the liver. Pediatr Blood Cancer 63:2246–2248

Techavichit P, Masand PM, Himes RW et al (2016) Undifferentiated embryonal sarcoma of the liver (UESL): a single-center experience and review of the literature. J Pediatr Hematol Oncol 38:261–268

Malkan AD, Fernandez-Pineda I (2016) The evolution of diagnosis and management of pediatric biliary tract rhabdomyosarcoma. Curr Pediatr Rev (2016 Jan 17)

Nicol K, Savell V, Moore J et al (2007) Distinguishing undifferentiated embryonal sarcoma of the liver from biliary tract rhabdomyosarcoma: a Children's Oncology Group study. Pediatr Dev Pathol 10:89–97

Monsereenusorn C, Satayasoontorn K, Rujkijyanont P, Traivaree C (2018) Cholangiocarcinoma in a child with progressive abdominal distension and secondary hypercalcemia. Case Rep Pediatr 2018:6828037

Newsome JR, Venkatramani R, Heczey A et al (2018) Cholangiocarcinoma among children and adolescents: a review of the literature and surveillance, epidemiology, and end results program database analysis. J Pediatr Gastroenterol Nutr 66:e12–e18

Bergquist JR, Groeschl RT, Ivanics T et al (2016) Mixed hepatocellular and cholangiocarcinoma: a rare tumor with a mix of parent phenotypic characteristics. HPB 18:886–892

Vanderveen KA, Hussain HK (2004) Magnetic resonance imaging of cholangiocarcinoma. Cancer Imaging 4:104–115

International Society for the Study of Vascular Anomalies (2018) Classification. issva.org/classification. Accessed 2018 Oct 27

Shiba S, Imaoka H, Shioji K et al (2018) Clinical characteristics of Japanese patients with epithelioid hemangioendothelioma: a multicenter retrospective study. BMC Cancer 18:993

Flucke U, Vogels RJ, de Saint Aubain Somerhausen N et al (2014) Epithelioid hemangioendothelioma: clinicopathologic, immunhistochemical, and molecular genetic analysis of 39 cases. Diagn Pathol 9:131

Lee JH, Jeong WK, Kim YK et al (2017) Magnetic resonance findings of hepatic epithelioid hemangioendothelioma: emphasis on hepatobiliary phase using Gd-EOB-DTPA. Abdom Radiol 42:2261–2271

Seo JW, Kim SH, Kim AY et al (2017) Differentiating primary hepatic angiosarcomas from hemangiomatosis and epithelioid hemangioendotheliomas using gadoxetic acid-enhanced and diffusion-weighted MR imaging. Jpn J Radiol 35:655–663

Hettmer S, Andrieux G, Hochrein J et al (2017) Epithelioid hemangioendotheliomas of the liver and lung in children and adolescents. Pediatr Blood Cancer 64(12)

Mehrabi A, Kashfi A, Fonouni H et al (2006) Primary malignant hepatic epithelioid hemangioendothelioma: a comprehensive review of the literature with emphasis on the surgical therapy. Cancer 107:2108–2121

Lau K, Massad M, Pollak C et al (2011) Clinical patterns and outcome in epithelioid hemangioendothelioma with or without pulmonary involvement: insights from an internet registry in the study of a rare cancer. Chest 140:1312–1318

Grassia KL, Peterman CM, Iacobas I et al (2017) Clinical case series of pediatric hepatic angiosarcoma. Pediatr Blood Cancer 64(11)

Awan S, Davenport M, Portmann B, Howard ER (1996) Angiosarcoma of the liver in children. J Pediatr Surg 31:1729–1732

Koyama T, Fletcher JG, Johnson CD et al (2002) Primary hepatic angiosarcoma: findings at CT and MR imaging. Radiology 222:667–673

Dimashkieh HH, Mo JQ, Wyatt-Ashmead J, Collins MH (2004) Pediatric hepatic angiosarcoma: case report and review of the literature. Pediatr Dev Pathol 7:527–532

Kim B, Byun JH, Lee JH et al (2018) Imaging findings of primary hepatic angiosarcoma on gadoxetate disodium-enhanced liver MRI: comparison with hepatic haemangiomas of similar size. Clin Radiol 73:244–253
Ethics declarations
Conflict of interest
None
Additional information
Publisher's note
Springer Nature remains neutral with regard to jurisdictional claims in published maps and institutional affiliations.
About this article
Cite this article
Chavhan, G.B., Siddiqui, I., Ingley, K.M. et al. Rare malignant liver tumors in children. Pediatr Radiol 49, 1404–1421 (2019). https://doi.org/10.1007/s00247-019-04402-8
Received:

Revised:

Accepted:

Published:

Issue Date:

DOI: https://doi.org/10.1007/s00247-019-04402-8
Keywords