Abstract
Background
Abusive head trauma (AHT) is the most common cause of subdural hemorrhage (SDH) in infants younger than 12 months old. Clot formation in the parasagittal vertex seen on imaging has been associated with SDH due to AHT. There have been very few studies regarding these findings; to our knowledge, no studies including controls have been performed.
Objective
To describe parasagittal vertex clots on head computed tomography (CT) in infants with SDH and AHT compared to patients with SDH and accidental trauma, and to evaluate for parasagittal vertex clots in the absence of SDH in the setting of known accidental head trauma.
Materials and methods
All infants younger than 12 months old with SDH present on CT scan were retrospectively identified from 2004 to 2014. Blinded, independent review of all CT scans for clot formation at the parasagittal vertex was performed by a pediatric neuroradiologist.
Results
Ninety-nine patients were eligible for analysis. Mean age was 4 months. Fifty-seven (57.6%) were male. Fifty-five (55.6%) patients were identified as having AHT and 22 (22.2%) had accidental trauma. Forty-five (81.2%) patients with AHT had parasagittal vertex clots present on CT scan compared to 8 (36.4%) patients with accidental trauma. Compared to patients without parasagittal vertex clots, those with parasagittal vertex clots were more likely to have AHT (66.2% vs. 32.3%, P=0.001), no known mechanism of injury (69.1% vs. 32.3%, P=0.015), retinal hemorrhage (75% vs. 35.5%, P=0.002) and hypoxic-ischemic changes (25% vs. 0%, P=0.002). Patients with parasagittal vertex clots have eight times the odds of AHT compared to patients without parasagittal vertex clots. Age-matched control patients who underwent head CT scan due to a history of accidental head injury without SDH were identified (n=87); no patient in the control group had parasagittal vertex clots.
Conclusion
The finding of parasagittal vertex clots on CT scans should raise suspicion for abuse and prompt further investigation, especially in the setting of no known, uncertain or inconsistent mechanism of injury.
This is a preview of subscription content, log in to check access.
Access options
Buy single article
Instant access to the full article PDF.
US$ 39.95
Price includes VAT for USA
Subscribe to journal
Immediate online access to all issues from 2019. Subscription will auto renew annually.
US$ 199
This is the net price. Taxes to be calculated in checkout.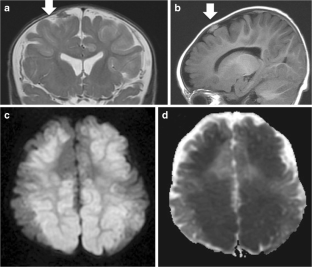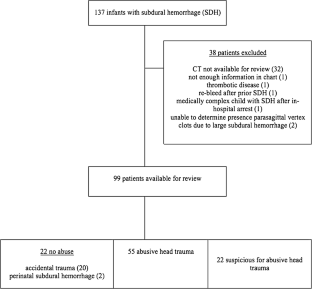 References
1.

Klevens J, Leeb RT (2010) Child maltreatment fatalities in children under 5: findings from the national violence death reporting system. Child Abuse Negl 34:262–266

2.

Duhaime AC, Christian CW, Rorke LB, Zimmerman RA (1998) Nonaccidental head injury in infants--the "shaken-baby syndrome". N Engl J Med 338:1822–1829

3.

Matschke J, Voss J, Obi N et al (2009) Nonaccidental head injury is the most common cause of subdural bleeding in infants <1 year of age. Pediatrics 124:1587–1594

4.

Keenan HT, Runyan DK, Marshall SW et al (2003) A population-based study of inflicted traumatic brain injury in young children. JAMA 290:621–626

5.

American Academy of Pediatrics: Committee on Child Abuse and Neglect (2001) Shaken baby syndrome: rotational cranial injury technical report. Pediatrics 108:206–210

6.

Shanahan ME, Zolotor AJ, Parrish JW et al (2013) National, regional, and state abusive head trauma: application of the CDC algorithm. Pediatrics 132:2013–2049

7.

Maguire S, Pickerd N, Farewell D et al (2009) Which clinical features distinguish inflicted from non-inflicted brain injury? A systematic review. Arch Dis Child 94:860–867

8.

Rooks VJ, Eaton JP, Ruess L et al (2008) Prevalence and evolution of intracranial hemorrhage in asymptomatic term infants. AJNR Am J Neuroradiol 29:1082–1089

9.

King JW, Mackay M, Simick A (2003) Shaken baby syndrome in Canada: clinical characteristics and outcomes of hospital cases. CMAJ 168:155–159

10.

Case ME (2008) Inflicted traumatic brain injury in infants and young children. Brain Pathol 18:571–582

11.

Yamashima T, Friede RL (1984) Why do bridging veins rupture into the virtual subdural space? J Neurol Neurosurg Psychiatry 47:121–127

12.

Tung GA, Kumar M, Richardson RC et al (2006) Comparison of accidental and nonaccidental traumatic head injury in children on noncontrast computed tomography. Pediatrics 118:626–633

13.

Duhaime AC, Alario AJ, Lewander WJ et al (1992) Head injury in very young children: mechanisms, injury types, and ophthalmologic findings in 100 hospitalized patients younger than 2 years of age. Pediatrics 90:179–185

14.

Rambaud C (2015) Bridging veins and autopsy findings in abusive head trauma. Pediatr Radiol 45:1126–1131

15.

Yilmaz U, Korner H, Meyer S, Reith W (2014) Multifocal signal loss at bridging veins on susceptability-weighted imaging in abusive head trauma. Clin Neuroradiol 25:181–185

16.

Adamsbaum C, Rambaud C (2012) Abusive head trauma: don't overlook bridging vein thrombosis. Pediatr Radiol 42:1298–1300

17.

Hahnemann ML, Kinner S, Schweiger B et al (2015) Imaging of bridging vein throbosis in infants with abusive head truma: the "tadpole sign.". Eur Radiol 25:299–305

18.

Choudhary AK, Bradford R, Dias MS et al (2015) Venous injury in abusive head trauma. Pediatr Radiol 44:1803–1813

19.

Kemp AM, Jaspan T, Griffiths J et al (2011) Neuroimaging: what neuroradiological features distinguish abusive from non-abusive head trauma? A systematic review. Arch Dis Child 96:1103–1112

20.

Christian CW, Committee on Child Abuse and Neglect, American Academy of Pediatrics (2015) The evaluation of suspected child physical abuse. Pediatrics 135:1337–1354

21.

Maxeiner H (2001) Demonstration and interpretation of bridging vein ruptures in cases of infantile subdural bleedings. J Forensic Sci 46:85–93

22.

Stein KM, Ruf K, Ganten MK, Mattern R (2006) Representation of cerebral bridging veins in infants by postmortem computed tomography. Forensic Sci Int 163:93–101

23.

Maxeiner H (2001) Evaluation of subdural hemorrhage in infants after alleged minor trauma. Unfallchirurg 104:569–576

24.

Hong HS, Lee JY (2018) Intracranial hemorrhage in term neonates. Childs Nerv Syst 34:1135–1143
Ethics declarations
Conflicts of interest
None
About this article
Cite this article
Ronning, M.M., Carolan, P.L., Cutler, G.J. et al. Parasagittal vertex clots on head CT in infants with subdural hemorrhage as a predictor for abusive head trauma. Pediatr Radiol 48, 1915–1923 (2018). https://doi.org/10.1007/s00247-018-4237-2
Received:

Revised:

Accepted:

Published:

Issue Date:
Keywords
Abusive head trauma

Child abuse

Computed tomography

Infants

Parasagittal vertex clots

Subdural hemorrhage