Abstract
Central nervous system neoplasms are the most common solid tumours that develop in children, with the greatest proportion located in the infratentorium. The 2016 World Health Organization Central Nervous System tumour classification evolved from the 2007 edition with the integration of molecular and genetic profiling into the diagnosis, the addition of new entities and the removal of others. Radiology can assist with the subtyping of tumours from certain characteristics described below to provide prognostic information and guide further management. The latest insights into the radiologic characteristics of these posterior fossa tumours are presented below: medulloblastoma, ependymoma, pilocytic astrocytoma, embryonal tumours with multilayered rosettes, atypical teratoid rhabdoid tumours, diffuse midline glioma and the new entity of diffuse leptomeningeal glioneuronal tumours.
Access options
Buy single article
Instant access to the full article PDF.
US$ 39.95
Tax calculation will be finalised during checkout.
Subscribe to journal
Immediate online access to all issues from 2019. Subscription will auto renew annually.
US$ 119
Tax calculation will be finalised during checkout.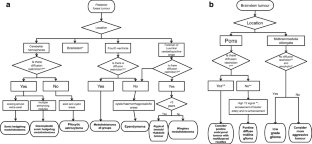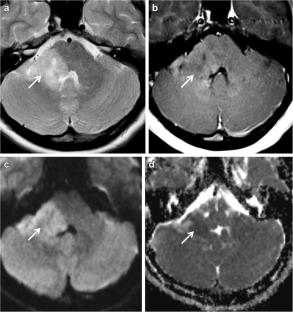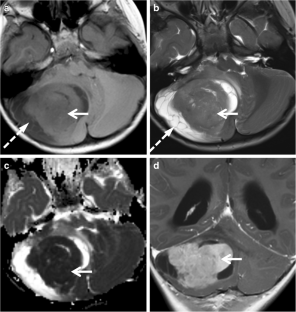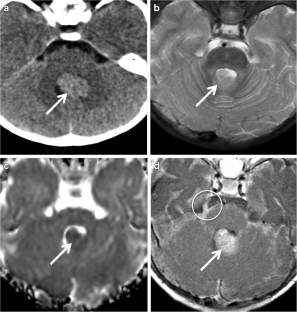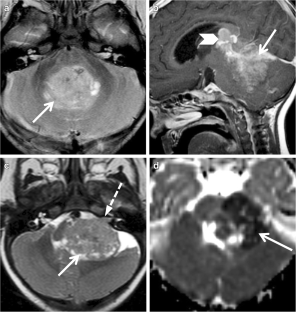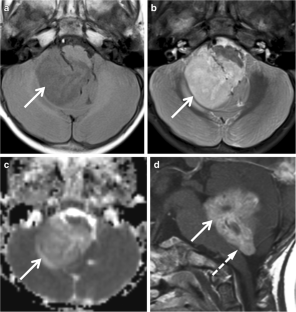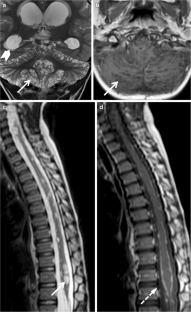 References
1.

Louis DN, Ohgaki H, Wiestler OD et al (2007) The 2007 WHO classification of tumours of the central nervous system. Acta Neuropathol 114:97–109

2.

Louis DN, Perry A, Reifenberger G et al (2016) The 2016 World Health Organization Classification of Tumors of the Central Nervous System: a summary. Acta Neuropathol 131:803–820

3.

Pollack IF (1994) Brain tumors in children. N Engl J Med 331:1500–1507

4.

Davis FG, McCarthy BJ (2000) Epidemiology of brain tumors. Curr Opin Neurol 13:635–640

5.

Taylor MD, Northcott PA, Korshunov A et al (2012) Molecular subgroups of medulloblastoma: the current consensus. Acta Neuropathol 123:465–472

6.

Brandão LA, Young Poussaint T (2017) Posterior fossa tumors. Neuroimaging Clin N Am 27:1–37

7.

Perreault S, Ramaswamy V, Achrol AS et al (2014) MRI surrogates for molecular subgroups of medulloblastoma. AJNR Am J Neuroradiol 35:1263–1269

8.

Gibson P, Tong Y, Robinson G et al (2010) Subtypes of medulloblastoma have distinct developmental origins. Nature 468:1095–1099

9.

Patay Z, DeSain LA, Hwang SN et al (2015) MR imaging characteristics of wingless-type-subgroup pediatric medulloblastoma. AJNR Am J Neuroradiol 36:2386–2393

10.

Northcott PA, Korshunov A, Pfister SM, Taylor MD (2012) The clinical implications of medulloblastoma subgroups. Nat Rev Neurol 8:340–351

11.

Jin B, Feng XY (2013) MRI features of atypical teratoid/rhabdoid tumors in children. Pediatr Radiol 43:1001–1008

12.

Koral K, Gargan L, Bowers DC et al (2008) Imaging characteristics of atypical teratoid-rhabdoid tumor in children compared with medulloblastoma. AJR Am J Roentgenol 190:809–814

13.

Adamek D, Sofowora KD, Cwiklinska M et al (2013) Embryonal tumor with abundant neuropil and true rosettes: an autopsy case-based update and review of the literature. Childs Nerv Syst 29:849–854

14.

Yuh EL, Barkovich AJ, Gupta N (2009) Imaging of ependymomas: MRI and CT. Childs Nerv Syst 25:1203–1213

15.

Witt H, Mack SC, Ryzhova M et al (2011) Delineation of two clinically and molecularly distinct subgroups of posterior fossa ependymoma. Cancer Cell 20:143–157

16.

U-King-Im JM, Taylor MD, Raybaud C (2010) Posterior fossa ependymomas: new radiological classification with surgical correlation. Childs Nerv Syst 26:1765–1772

17.

Chourmouzi D, Papadopoulou E, Konstantinidis M et al (2014) Manifestations of pilocytic astrocytoma: a pictorial review. Insights Imaging 5:387–402

18.

Louis DN, Giannini C, Capper D et al (2018) cIMPACT-NOW update 2: diagnostic clarifications for diffuse midline glioma, H3 K27M-mutant and diffuse astrocytoma/anaplastic astrocytoma, IDH-mutant. Acta Neuropathol 135:639–642

19.

Löbel U, Sedlacik J, Reddick WE et al (2011) Quantitative diffusion-weighted and dynamic susceptibility-weighted contrast-enhanced perfusion MR imaging analysis of T2 hypointense lesion components in pediatric diffuse intrinsic pontine glioma. AJNR Am J Neuroradiol 32:315–322

20.

Aboian MS, Solomon DA, Felton E et al (2017) Imaging characteristics of pediatric diffuse midline gliomas with histone H3 K27M mutation. AJNR Am J Neuroradiol 38:795–800

21.

Gardiman MP, Fassan M, Orvieto E et al (2010) Diffuse leptomeningeal glioneuronal tumors: a new entity? Brain Pathol 20:361–366
Ethics declarations
Conflicts of interest
None
About this article
Cite this article
D'Arco, F., Khan, F., Mankad, K. et al. Differential diagnosis of posterior fossa tumours in children: new insights. Pediatr Radiol 48, 1955–1963 (2018). https://doi.org/10.1007/s00247-018-4224-7
Received:

Accepted:

Published:

Issue Date:
Keywords
Brain

Children

Magnetic resonance imaging

Neoplasm

Posterior fossa