Abstract
The mucopolysaccharidoses are a heterogeneous group of inherited lysosomal storage disorders, characterized by the accumulation of undegraded glycosaminoglycans in various organs, leading to tissue damage. Mucopolysaccharidoses include eight individual disorders (IS [Scheie syndrome], IH [Hurler syndrome], II, III, IV, VI, VII and IX). They have autosomal-recessive transmission with the exception of mucopolysaccharidosis II, which is X-linked. Each individual disorder has a wide spectrum of phenotypic variation, depending on the specific mutation, from very mild to very severe. The skeletal and central nervous systems are particularly affected. The typical clinical presentation includes organomegaly, dysostosis multiplex with short trunk dwarfism, mental retardation and developmental delay. In this article, we review the neuroimaging manifestations of the different types of mucopolysaccharidoses including the dysostosis multiplex of the skull and spine as well as the various central nervous system complications. These include white matter injury, enlargement of the perivascular spaces, hydrocephalus, brain atrophy, characteristic enlargement of the subarachnoid spaces as well as compressive myelopathy. The correlation between several of the neuroimaging features and disease severity remains controversial, without well-established imaging biomarkers at this time. Imaging has, however, a crucial role in monitoring disease progression, in particular craniocervical junction stenosis, cord compression and hydrocephalus, because this allows for timely intervention before permanent damage occurs.
This is a preview of subscription content, log in to check access.
Access options
Buy single article
Instant access to the full article PDF.
US$ 39.95
Price includes VAT for USA
Subscribe to journal
Immediate online access to all issues from 2019. Subscription will auto renew annually.
US$ 199
This is the net price. Taxes to be calculated in checkout.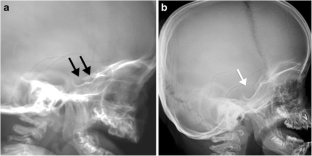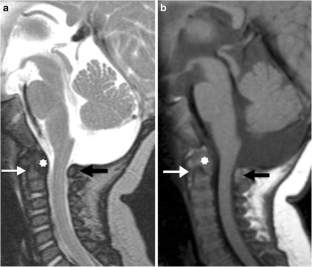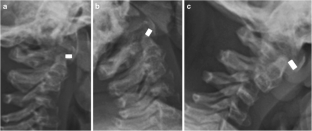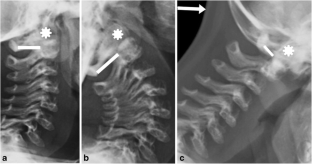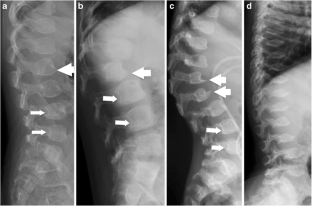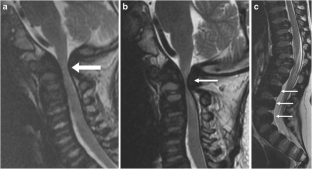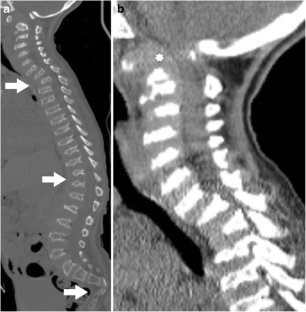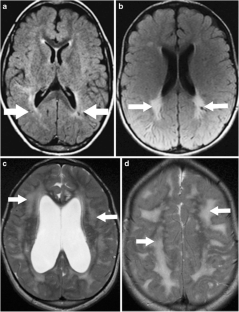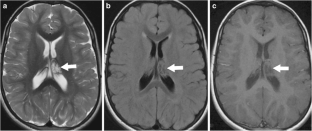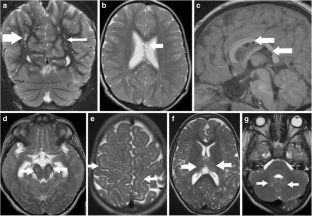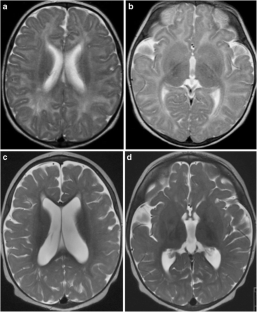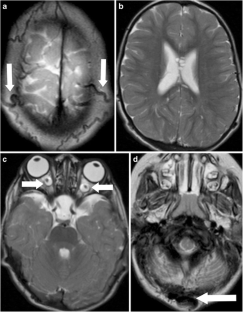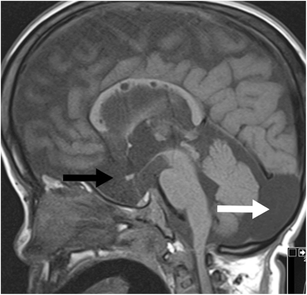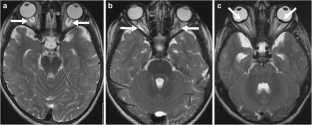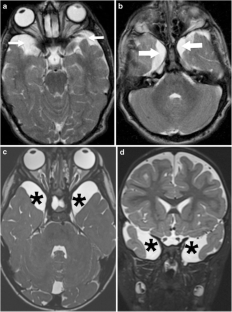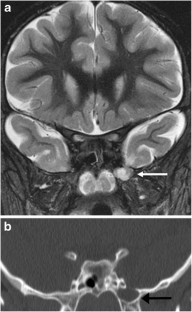 References
1.

Neufeld EU, Muenzer J (2001) The mucopolysaccharidoses. In: Scriver CR (ed) The metabolic and molecular bases of inherited disease. McGraw-Hill, New York, pp 3421–3452

2.

Muenzer J (2011) Overview of the mucopolysaccharidoses. Rheumatology 50:v4–v12

3.

Vedolin L, Schwartz IV, Komlos M et al (2007) Brain MRI in mucopolysaccharidosis: effect of aging and correlation with biochemical findings. Neurology 69:917–924

4.

Palmucci S, Attinà G, Lanza ML et al (2013) Imaging findings of mucopolysaccharidosis: a pictorial review. Insights Imaging 4:443–459

5.

Manara R, Priante E, Grimaldi M et al (2011) Brain and spine MRI features of Hunter disease: frequency, natural evolution and response to therapy. J Inherit Metab Dis 34:763–780

6.

Zafeiriou DI, Batzios SP (2013) Brain and spinal MR imaging findings in mucopolysaccharidoses: a review. AJNR Am J Neuroradiol 34:5–13

7.

Triggs-Raine B, Salo TJ, Zhang H et al (1999) Mutations in HYAL1, a member of a tandemly distributed multigene family encoding disparate hyaluronidase activities, cause a newly described lysosomal disorder, mucopolysaccharidosis IX. Proc Natl Acad Sci U S A 96:6296–6300

8.

Imundo L, Leduc CA, Guha S et al (2011) A complete deficiency of hyaluronoglucosaminidase 1 (HYAL1) presenting as familial juvenile idiopathic arthritis. J Inherit Metab Dis 34:1013–1022

9.

Wilson S, Hashamiyan S, Clarke L et al (2009) Glycosaminoglycan-mediated loss of cathepsin K collagenolytic activity in MPS I contributes to osteoclast and growth plate abnormalities. Am J Pathol 175:2053–2062

10.

Büyukgebiz B, Eroğlu Y, Kovanlikaya I et al (1995) Maroteaux-Lamy syndrome associated with growth hormone deficiency. J Pediatr Endocrinol Metab 8:305–307

11.

Peck SH, Casal ML, Malhotra NR et al (2016) Pathogenesis and treatment of spine disease in the mucopolysaccharidoses. Mol Genet Metab 118:232–243

12.

Solanki GA, Lo WB, Hendriksz CJ (2013) MRI morphometric characterisation of the paediatric cervical spine and spinal cord in children with MPS IVA (Morquio-Brailsford syndrome). J Inherit Metab Dis 36:329–337

13.

Tandon V, Williamson JB, Cowie RA, Wraith JE (1996) Spinal problems in mucopolysaccharidosis I (Hurler syndrome). J Bone Joint Surg Br 78:938–944

14.

Noh H, Lee JI (2014) Current and potential therapeutic strategies for mucopolysaccharidoses. J Clin Pharm Ther 39:215–224

15.

Möllmann C, Lampe CG, Müller-Forell W et al (2013) Development of a scoring system to evaluate the severity of craniocervical spinal cord compression in patients with mucopolysaccharidosis IVA (Morquio A syndrome). JIMD Rep 11:65–72

16.

Solanki GA, Martin KW, Theroux MC et al (2013) Spinal involvement in mucopolysaccharidosis IVA (Morquio-Brailsford or Morquio A syndrome): presentation, diagnosis and management. J Inherit Metab Dis 36:339–355

17.

Solanki GA, Sun PP, Martin KW et al (2016) Cervical cord compression in mucopolysaccharidosis VI (MPS VI): findings from the MPS VI Clinical Surveillance Program (CSP). Mol Genet Metab 118:310–318

18.

White KK (2011) Orthopaedic aspects of mucopolysaccharidoses. Rheumatology 50:v26–v33

19.

Abelin Genevois C, Garin F, Solla N et al (2014) Surgical management of thoracolumbar kyphosis in mucopolysaccharidosis type 1 in a reference center. J Inherit Metab Dis 37:69–78

20.

Rasalkar DD, Chu WC, Hui J et al (2011) Pictorial review of mucopolysaccharidosis with emphasis on MRI features of brain and spine. Br J Radiol 84:469–477

21.

Muller-Forell W, Frenking GS, Amraoui Y, Beck M (2007) Mucopolysaccharidosis (MPS): clinical and neuroradiological aspects of the different types. Clin Neuroradiol 17:141–158

22.

Smith LJ, Baldo G, Wu S et al (2012) Pathogenesis of lumbar spine disease in mucopolysaccharidosis VII. Mol Genet Metab 107:153–160

23.

Roberts SB, Dryden R, Tsirikos AI (2016) Thoracolumbar kyphosis in patients with mucopolysaccharidoses: clinical outcomes and predictive radiographic factors for progression of deformity. Bone Joint J 98-B:229–237

24.

Levin TL, Berdon WE, Lachman RS et al (1997) Lumbar gibbus in storage diseases and bone dysplasias. Pediatr Radiol 27:289–294

25.

Williams N, Cundy P, Eastwood D (2017) Surgical management of thoracolumbar kyphosis in patients with mucopolysaccharidosis: a systematic review. Spine 42:1817–1825

26.

Parsons VJ, Hughes DG, Wraith JE (1996) Magnetic resonance imaging of the brain, neck and cervical spine in mild Hunter's syndrome (mucopolysaccharidosis type II). Clin Radiol 51:719–723

27.

Lee C, Dineen TE, Brack M et al (1993) The mucopolysaccharidoses: characterization by cranial MR imaging. AJNR Am J Neuroradiol 4:1285–1292

28.

Gabrielli O, Polonara G, Regnicolo L et al (2004) Correlation between cerebral MRI abnormalities and mental retardation in patients with mucopolysaccharidoses. Am J Med Genet A 125A:224–231

29.

Wang RY, Cambray-Forker EJ, Ohanian K et al (2009) Treatment reduces or stabilizes brain imaging abnormalities in patients with MPS I and II. Mol Genet Metab 98:406–411

30.

Vedolin L, Schwartz IV, Komlos M et al (2007) Correlation of MR imaging and MR spectroscopy findings with cognitive impairment in mucopolysaccharidosis II. AJNR Am J Neuroradiol 28:1029–1033

31.

Matheus MG, Castillo M, Smith JK et al (2004) Brain MRI findings in patients with mucopolysaccharidosis types I and II and mild clinical presentation. Neuroradiology 46:666–672

32.

Kwee RM, KweeTC (2007) Virchow Robin spaces at MR imaging. Radiographics 27:1071–1086

33.

Seto T, Kono K, Morimoto K et al (2001) Brain magnetic resonance imaging in 23 patients with mucopolysaccharidoses and the effect of bone marrow transplantation. Ann Neurol 50:79–92

34.

Dalla Corte A, de Souza CFM, Anés M, Giugliani R (2017) Hydrocephalus and mucopolysaccharidoses: what do we know and what do we not know? Childs Nerv Syst 33:1073–1080

35.

Ashworth JL, Biswas S, Wraith E, Lloyd IC (2006) Mucopolysaccharidosis and the eye. Surv Ophthalmol 51:1–17

36.

Beck M, Cole G (1984) Disc oedema in association with Hunter's syndrome: ocular histopathological findings. Br J Ophthalmol 68:590–594

37.

Neto ÂR, Holanda GB, Farias MC et al (2013) Hydrocephalus in mucopolysaccharidosis type VI successfully treated with endoscopic third ventriculostomy. J Neurosurg Pediatr 11:327–330

38.

Manara R, Priante E, Grimaldi M et al (2012) Closed meningo(encephalo)cele: a new feature in Hunter syndrome. AJNR Am J Neuroradiol 33:873–877

39.

Takahashi Y, Sukegawa K, Aoki M et al (2001) Evaluation of accumulated mucopolysaccharides in the brain of patients with mucopolysaccharidoses by (1)H-magnetic resonance spectroscopy before and after bone marrow transplantation. Pediatr Res 49:349–355

40.

Walkley SU, Haskins ME, Shull RM (1988) Alterations in neuron morphology in mucopolysaccharidosis type I. A Golgi study. Acta Neuropathol 75:611–620

41.

Hite SH, Peters C, Krivit W (2000) Correction of odontoid dysplasia following bone-marrow transplantation and engraftment (in Hurler syndrome MPS 1H). Pediatr Radiol 30:464–470

42.

Kakkis ED, Muenzer J, Tiller GE et al (2001) Enzyme-replacement therapy in mucopolysaccharidosis I. N Engl J Med 344:182–188

43.

Nestrasil I, Shapiro E, Svatkova A et al (2017) Intrathecal enzyme replacement therapy reverses cognitive decline in mucopolysaccharidosis type I. Am J Med Genet 173A:780–783

44.

Souillet G, Guffon N, Maire I et al (2003) Outcome of 27 patients with Hurler's syndrome transplanted from either related or unrelated haematopoietic stem cell sources. Bone Marrow Transplant 31:1105–1117

45.

Lucke T, Das AM, Hartmann H et al (2007) Developmental outcome in five children with Hurler syndrome after stem cell transplantation: a pilot study. Dev Med Child Neurol 49:693–696

46.

Prasad VK, Kurtzberg J (2010) Transplant outcomes in mucopolysaccharidoses. Semin Hematol 47:59–69

47.

Kachur E, Del Maestro R (2000) Mucopolysaccharidoses and spinal cord compression: case report and review of the literature with implications of bone marrow transplantation. Neurosurgery 47:223–228

48.

Weisstein JS, Delgado E, Steinbach LS et al (2004) Musculoskeletal manifestations of Hurler syndrome: long-term follow-up after bone marrow transplantation. J Pediatr Orthop 24:97–101

49.

Schmidt M, Breyer S, Löbel U et al (2016) Musculoskeletal manifestations in mucopolysaccharidosis type I (Hurler syndrome) following hematopoietic stem cell transplantation. Orphanet J Rare Dis 11:93
Ethics declarations
Conflicts of interest
None
About this article
Cite this article
Nicolas-Jilwan, M., AlSayed, M. Mucopolysaccharidoses: overview of neuroimaging manifestations. Pediatr Radiol 48, 1503–1520 (2018). https://doi.org/10.1007/s00247-018-4139-3
Received:

Revised:

Accepted:

Published:

Issue Date:
Keywords
Children

Computed tomography

Hurler syndrome

Magnetic resonance imaging

Mucopolysaccharidosis

Radiography

Scheie syndrome