Abstract
Background
Magnetic resonance enterography (MRE) is the current gold standard for imaging in inflammatory bowel disease, but ultrasound (US) is a potential alternative.
Objective
To determine whether US is as good as MRE for the detecting inflamed bowel, using a combined consensus score as the reference standard.
Materials and methods
We conducted a retrospective cohort study in children and adolescents <18 years with inflammatory bowel disease (IBD) at a tertiary and quaternary centre. We included children who underwent MRE and US within 4 weeks. We scored MRE using the London score and US using a score adapted from the METRIC (MR Enterography or Ultrasound in Crohn's Disease) trial. Four gastroenterologists assessed an independent clinical consensus score. A combined consensus score using the imaging and clinical scores was agreed upon and used as the reference standard to compare MRE with US.
Results
We included 53 children. At a whole-patient level, MRE scores were 2% higher than US scores. We used Lin coefficient to assess inter-observer variability. The repeatability of MRE scores was poor (Lin 0.6). Agreement for US scoring was substantial (Lin 0.95). There was a significant positive correlation between MRE and clinical consensus scores (Spearman's rho = 0.598, P=0.0053) and US and clinical consensus scores (Spearman's rho = 0.657, P=0.0016).
Conclusion
US detects as much clinically significant bowel disease as MRE. It is possible that MRE overestimates the presence of disease when using a scoring system. This study demonstrates the feasibility of using a clinical consensus reference standard in paediatric IBD imaging studies.
This is a preview of subscription content, log in to check access.
Access options
Buy single article
Instant access to the full article PDF.
US$ 39.95
Tax calculation will be finalised during checkout.
Subscribe to journal
Immediate online access to all issues from 2019. Subscription will auto renew annually.
US$ 199
Tax calculation will be finalised during checkout.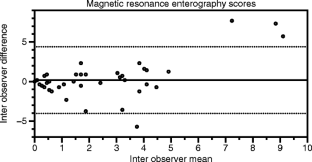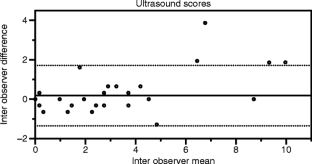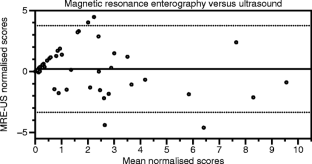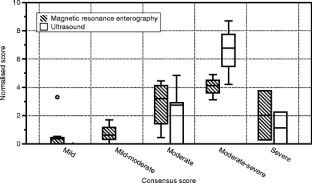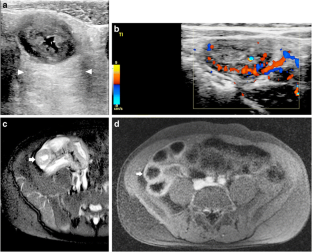 References
1.

Levine A, Koletzko S, Turner D, Escher JC (2014) ESPGHAN revised Porto criteria for the diagnosis of inflammatory bowel disease in children and adolescents. J Pediatr Gastroenterol Nutr 58:795–806

2.

Fraquelli M, Colli A, Casazza G (2005) Role of US in detection of Crohn disease: meta-analysis. Radiology 236:95–101

3.

NHS Improvement (2017) Full unbundled HRG list 2017/18. In: The national prices and national tariff workbook. https://improvement.nhs.uk/resources/national-tariff-1719/#h2-annexes. Accessed 12 June 2017

4.

Oliva S, Cucchiara S, Civitelli F, Casciani E (2016) Colon capsule endoscopy compared with other modalities in the evaluation of pediatric Crohn's disease of the small bowel and colon. Gastrointest Endosc 83:975–983

5.

Ziech ML, Hummel TZ, Smets AM, Nievelstein RA (2014) Accuracy of abdominal ultrasound and MRI for detection of Crohn disease and ulcerative colitis in children. Pediatr Radiol 44:1370–1378

6.

Miao YM, Koh D-M, Amin Z et al (2002) Ultrasound and magnetic resonance imaging assessment of active bowel segments in Crohn's disease. Clin Radiol 57:913–918

7.

Pascu M, Roznowski AB, Müller HP, Adler A (2004) Clinical relevance of transabdominal ultrasonography and magnetic resonance imaging in patients with inflammatory bowel disease of the terminal ileum and large bowel. Inflamm Bowel Dis 10:373–382

8.

Martinez MJ, Ripolles T, Paredes JM et al (2009) Assessment of the extension and the inflammatory activity in Crohn's disease: comparison of ultrasound and MRI. Abdom Imaging 34:141–148

9.

Potthast S, Rieber A, Von Tirpitz C et al (2002) Ultrasound and magnetic resonance imaging in Crohn's disease: a comparison. Eur Radiol 12:1416–1422

10.

Zhu C, Ma X, Xue L et al (2016) Small intestine contrast ultrasonography for the detection and assessment of Crohn disease: a meta-analysis. Medicine 95:e4235

11.

Panés J, Bouzas R, Chaparro M et al (2011) Systematic review: the use of ultrasonography, computed tomography and magnetic resonance imaging for the diagnosis, assessment of activity and abdominal complications of Crohn's disease. Aliment Pharmacol Ther 34:125–145

12.

Taylor S, Mallett S, Bhatnagar G et al (2014) METRIC (MREnterography or ulTRasound in Crohn's disease): a study protocol for a multicentre, non-randomised, single-arm, prospective comparison study of magnetic resonance enterography and small bowel ultrasound compared to a reference standard in those aged 16 and over. BMC Gastroenterol 14:142

13.

Rutjes AW, Reitsma JB, Coomarasamy A et al (2007) Evaluation of diagnostic tests when there is no gold standard. A review of methods. Health Technol Assess 11:iii, ix–51

14.

Barber JL, Lozinsky AC, Kiparissi F et al (2016) Detecting inflammation in the unprepared pediatric colon — how reliable is magnetic resonance enterography? Pediatr Radiol 46:646–652

15.

Sadigh S, Chopra M, Sury MR et al (2017) Paediatric magnetic resonance enteroclysis under general anaesthesia — initial experience. Pediatr Radiol 47:877–883

16.

Hafeez R, Punwani S, Pendse D et al (2011) Derivation of a T2-weighted MRI total colonic inflammation score (TCIS) for assessment of patients with severe acute inflammatory colitis — a preliminary study. Eur Radiol 21:366–377

17.

Makanyanga JC, Pendsé D, Dikaios N et al (2014) Evaluation of Crohn's disease activity: initial validation of a magnetic resonance enterography global score (MEGS) against faecal calprotectin. Eur Radiol 24:277–287

18.

Crandall W, Kappelman MD, Colletti B et al (2011) ImproveCareNow: the development of a pediatric inflammatory bowel disease improvement network. Inflamm Bowel Dis 17:450–457

19.

Kappelman MD, Crandall WV, Colletti RB et al (2011) ImproveCareNow collaborative. Short pediatric Crohn's disease activity index for quality improvement and observational research. Inflamm Bowel Dis 17:112–117

20.

Turner D, Otley AR, Mack D et al (2007) Development, validation, and evaluation of a pediatric ulcerative colitis activity index: a prospective multicenter study. Gastroenterology 133:423–432

21.

Bland JM, Altman DG (1986) Statistical methods for assessing agreement between two methods of clinical measurement. Lancet 1:307–310

22.

Lin LI (1989) A concordance correlation coefficient to evaluate reproducibility. Biometrics 45:255–268

23.

Van Limbergen J, Russell RK, Drummond HE et al (2008) Definition of phenotypic characteristics of childhood onset inflammatory bowel disease. Gasteroenterology 135:1114–1122

24.

Guariso G, Gasparetto M, Visona Dalla Pozza L et al (2010) Inflammatory bowel disease developing in paediatric and adult age. J Pediatr Gastroenterol Nutr 51:698–707

25.

Pigneur B, Seksik P, Viola S et al (2010) Natural history of Crohn's disease: comparison between childhood- and adult-onset disease. Inflamm Bowel Dis 16:953–961

26.

Lin E, Alessio A (2009) What are the basic concepts of temporal, contrast, and spatial resolution in cardiac CT? J Cardiovasc Comput Tomogr 3:403–408

27.

Conti BC, Giunta M, Gridavilla D et al (2017) Role of bowel ultrasound in the diagnosis and follow-up of patients with Crohns disease. Ultrasound Med Biol 43:725–734

28.

Barber JL, Maclachlan J, Planche K et al (2017) There is good agreement between MR enterography and bowel ultrasound with regard to disease location and activity in paediatric inflammatory bowel disease. Clin Radiol 72:590–597

29.

Tsai TL, Marine MB, Wanner MR et al (2017) Can ultrasound be used as the primary imaging in children with suspected Crohn disease? Pediatr Radiol 22:1–7

30.

Tielbeek JA, Bipat S, Boellaard TN et al (2014) Training readers to improve their accuracy in grading Crohn's disease activity on MRI. Eur Radiol 24:1059–1067

31.

Atkinson NSS, Bryant RV, Dong Y et al (2016) WFUMB position paper. Learning gastrointestinal ultrasound: theory and practice. Ultrasound Med Biol 42:2732–2742

32.

Rimola J, Rodriguez S, García-Bosch O et al (2009) Magnetic resonance for assessment of disease activity and severity in ileocolonic Crohn's disease. Gut 58:1113–1120

33.

Church PC, Greer MLC, Cytter-Kuint R, Doria AS (2017) Magnetic resonance enterography has good inter-rater agreement and diagnostic accuracy for detecting inflammation in pediatric Crohn disease. Pediatr Radiol 47:565–575

34.

Santillan C, Rimola J, Levesque B et al (2016) Clinical and MR indices of inflammatory bowel disease activity. Radiological Society of North America 2016 Scientific Assembly and Annual Meeting, Nov. 27–Dec. 2, 2016, Chicago, IL archive.rsna.org/2016/16015846.html. Accessed 12 June 2017

35.

Biko DM, Rapp JB, Maya C, Anupindi SA (2017) Non-pathologic diffusion restriction of the jejunum on MR enterography. Pediatr Radiol 47:S297–S421

36.

Pendse DA, Makanyanga JC, Plumb AA et al (2017) Diffusion-weighted imaging for evaluating inflammatory activity in Crohn's disease: comparison with histopathology conventional MRI activity scores, and faecal calprotectin. Abdom Radiol 42:115–123
Acknowledgements
We thank Dr. Antony Higginson, Prof. Stuart Taylor and Dr. Gauraang Bhatnagar for their permission to use the METRIC ultrasound scoring system and for their guidance when preparing the manuscript.
Ethics declarations
Conflicts of interest
None
Electronic supplementary material
About this article
Cite this article
Barber, J.L., Zambrano-Perez, A., Olsen, Ø.E. et al. Detecting inflammation in inflammatory bowel disease — how does ultrasound compare to magnetic resonance enterography using standardised scoring systems?. Pediatr Radiol 48, 843–851 (2018). https://doi.org/10.1007/s00247-018-4084-1
Received:

Revised:

Accepted:

Published:

Issue Date:
Keywords
Adolescents

Children

Diagnostic accuracy

Inflammatory bowel disease

Magnetic resonance imaging

Reproducibility

Ultrasound