Abstract
Background
The role of magnetic resonance imaging (MRI) in pediatric appendicitis is increasing; MRI findings predictive of appendiceal perforation have not been specifically evaluated.
Objective
To assess the performance of MRI in differentiating perforated from non-perforated appendicitis.
Materials and methods
A retrospective review of pediatric patients undergoing contrast-enhanced MRI and subsequent appendectomy was performed, with surgicopathological confirmation of perforation. Appendiceal diameter and the following 10 MRI findings were assessed: appendiceal restricted diffusion, wall defect, appendicolith, periappendiceal free fluid, remote free fluid, restricted diffusion within free fluid, abscess, peritoneal enhancement, ileocecal wall thickening and ileus. Two-sample t-test and chi-square tests were used to analyze continuous and discrete data, respectively. Sensitivity and specificity for individual MRI findings were calculated and optimal thresholds for measures of accuracy were selected.
Results
Seventy-seven patients (mean age: 12.2 years) with appendicitis were included, of whom 22 had perforation. The perforated group had a larger mean appendiceal diameter and mean number of MRI findings than the non-perforated group (12.3 mm vs. 8.6 mm; 5.0 vs. 2.0, respectively). Abscess, wall defect and restricted diffusion within free fluid had the greatest specificity for perforation (1.00, 1.00 and 0.96, respectively) but low sensitivity (0.36, 0.25 and 0.32, respectively). The receiver operator characteristic curve for total number of MRI findings had an area under the curve of 0.92, with an optimal threshold of 3.5. A threshold of any 4 findings had the best ability to accurately discriminate between perforated and non-perforated cases, with a sensitivity of 82% and specificity of 85%.
Conclusion
Contrast-enhanced MRI can differentiate perforated from non-perforated appendicitis. The presence of multiple findings increases diagnostic accuracy, with a threshold of any four findings optimally discriminating between perforated and non-perforated cases. These results may help guide management decisions as MRI assumes a greater role in the work-up of pediatric appendicitis.
Access options
Buy single article
Instant access to the full article PDF.
US$ 39.95
Tax calculation will be finalised during checkout.
Subscribe to journal
Immediate online access to all issues from 2019. Subscription will auto renew annually.
US$ 119
Tax calculation will be finalised during checkout.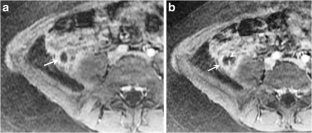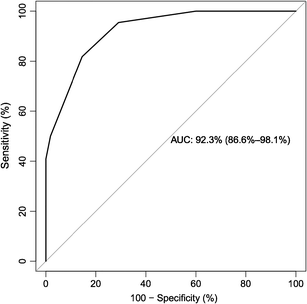 References
1.

Rosen MP, Ding A, Blake MA et al (2011) ACR appropriateness criteria® right lower quadrant pain--suspected appendicitis. J Am Coll Radiol 8:749–755

2.

Burr A, Renaud EJ, Manno M et al (2011) Glowing in the dark: time of day as a determinant of radiographic imaging in the evaluation of abdominal pain in children. J Pediatr Surg 46:188–191

3.

Abo AA, Shannon MM, Taylor GG, Bachur RR (2011) The influence of body mass index on the accuracy of ultrasound and computed tomography in diagnosing appendicitis in children. Pediatr Emerg Care 27:731–736

4.

Strouse PJ (2010) Pediatric appendicitis: an argument for US. Radiology 255:8–13

5.

Baldisserotto M, Marchiori E (2000) Accuracy of noncompressive sonography of children with appendicitis according to the potential positions of the appendix. AJR Am J Roentgenol 175:1387–1392

6.

Fahimi J, Herring A, Harries A et al (2012) Computed tomography use among children presenting to emergency departments with abdominal pain. Pediatrics 130:e1069–e1075

7.

Mathews JD, Forsythe AV, Brady Z et al (2013) Cancer risk in 680,000 people exposed to computed tomography scans in childhood or adolescence: data linkage study of 11 million Australians. BMJ 346:f2360

8.

Pearce MS, Salotti JA, Little MP et al (2012) Radiation exposure from CT scans in childhood and subsequent risk of leukaemia and brain tumours: a retrospective cohort study. Lancet 380:499–505

9.

Aspelund G, Fingeret A, Gross E et al (2014) Ultrasonogaphy/MRI versus CT for diagnosing appendicitis. Pediatrics 133:586–593

10.

Dillman JR, Gadepalli S, Sroufe NS et al (2016) Equivocal pediatric appendicitis: unenhanced MR imaging protocol for nonsedated children-a clinical effectiveness study. Radiology 279:216–225

11.

Heverhagen JT, Pfestroff K, Heverhagen AE et al (2012) Diagnostic accuracy of magnetic resonance imaging: a prospective evaluation of patients with suspected appendicitis (diamond). J Magn Reson Imaging 35:617–623

12.

Rosines LA, Chow DS, Lampl BS et al (2014) Value of gadolinium-enhanced MRI in detection of acute appendicitis in children and adolescents. AJR Am J Roentgenol 203:543–548

13.

Incesu L, Coskun A, Selcuk MB et al (1997) Acute appendicitis: MR imaging and sonographic correlation. AJR Am J Roentgenol 168:669–674

14.

Koning JL, Naheedy JH, Kruk PG (2014) Diagnostic performance of contrast-enhanced MR for acute appendicitis and alternative causes of abdominal pain in children. Pediatr Radiol 44:948–955

15.

Johnson AK, Filippi CG, Andrews T et al (2012) Ultrafast 3-T MRI in the evaluation of children with acute lower abdominal pain for the detection of appendicitis. AJR Am J Roentgenol 198:1424–1430

16.

Moore MM, Gustas CN, Choudhary AK et al (2012) MRI for clinically suspected pediatric appendicitis: an implemented program. Pediatr Radiol 42:1056–1063

17.

Orth RC, Guillerman RP, Zhang W et al (2014) Prospective comparison of MR imaging and US for the diagnosis of pediatric appendicitis. Radiology 272:233–240

18.

Moore MM, Kulaylat AN, Hollenbeak CS et al (2016) Magnetic resonance imaging in pediatric appendicitis: a systematic review. Pediatr Radiol 46:928–939

19.

Velanovich V, Satava R (1992) Balancing the normal appendectomy rate with the perforated appendicitis rate: implications for quality insurance. Am Surg 58:264–269

20.

Lee SL, Yaghoubian A, Kaji A (2011) Laparoscopic vs open appendectomy in children: outcomes comparison based on age, sex, and perforation status. Arch Surg 146:1118–1121

21.

Liu SI, Siewert B, Raptopoulos V, Hodin RA (2002) Factors associated with conversion to laparotomy in patients undergoing laparoscopic appendectomy. J Am Coll Surg 194:298–305

22.

Siewert B, Raptopoulos V, Liu SI et al (2003) CT predictors of failed laparoscopic appendectomy. Radiology 229:415–420

23.

Brown CV, Abrishami M, Muller M, Velmahos GC (2003) Appendiceal abscess: immediate operation or percutaneous drainage? Am Surg 69:829–832

24.

Oliak D, Yamini D, Udani VM et al (2000) Nonoperative management of perforated appendicitis without periappendiceal mass. Am J Surg 179:177–181

25.

Jeffrey RB, Federle MP, Tolentino CS (1988) Periappendiceal inflammatory masses: CT-directed management and clinical outcome in 70 patients. Radiology 167:13–16

26.

Nazarey PP, Stylianos S, Velis E et al (2014) Treatment of suspected acute perforated appendicitis with antibiotics and interval appendectomy. J Pediatr Surg 49:447–450

27.

Svensson JF, Patkova B, Almström M et al (2015) Nonoperative treatment with antibiotics versus surgery for acute nonperforated appendicitis in children: a pilot randomized controlled trial. Ann Surg 261:67–71

28.

Minneci PC, Mahida JB, Lodwick DL et al (2016) Effectiveness of patient choice in nonoperative vs. surgical management in pediatric uncomplicated acute appendicitis. JAMA Surg 151:408–415

29.

Blumfield E, Nayak G, Srinivasan R et al (2013) Ultrasound for differentiation between perforated and nonperforated appendicitis in pediatric patients. AJR Am J Roentgenol 200:957–962

30.

Tulin-Silver S, Babb J, Pinkney L et al (2015) The challenging ultrasound diagnosis of perforated appendicitis in children: constellations of sonographic findings improve specificity. Pediatr Radiol 45:820–830

31.

Kim MS, Park HW, Park JY et al (2014) Differentiation of early perforated from nonperforated appendicitis: MDCT findings, MDCT diagnostic performance, and clinical outcome. Abdom Imaging 39:459–466

32.

Foley TA, Earnest F 4th, Nathan MA et al (2005) Differentiation of nonperforated from perforated appendicitis: accuracy of CT diagnosis and relationship of CT findings to length of hospital stay. Radiology 235:89–96

33.

Horrow MM, White DS, Horrow JC (2003) Differentiation of perforated from nonperforated appendicitis at CT. Radiology 227:46–51

34.

Bixby SD, Lucey BC, Soto JA et al (2006) Perforated versus nonperforated acute appendicitis: accuracy of multidetector CT detection. Radiology 241:780–786

35.

Bundy DG, Byerley JS, Liles EA et al (2007) Does this child have appendicitis? JAMA 298:438–451

36.

Lyons GR, Renjen P, Askin G et al (2017) Diagnostic utility of intravenous contrast for MR imaging in pediatric appendicitis. Pediatr Radiol 47:398–403

37.

Bayraktutan Ü, Oral A, Kantarci M et al (2014) Diagnostic performance of diffusion-weighted MR imaging in detecting acute appendicitis in children: comparison with conventional MRI and surgical findings. J Magn Reson Imaging 39:1518–1524

38.

Otero HJ, Crowder L (2017) Imaging utilization for the diagnosis of appendicitis in stand-alone children's hospitals in the United States: trends and costs. J Am Coll Radiol. doi:10.1016/j.jacr.2016.12.013

39.

Cobben L, Groot I, Kingma L et al (2009) A simple MRI protocol in patients with clinically suspected appendicitis: results in 138 patients and effect on outcome of appendectomy. Eur Radiol 19:1175–1183

40.

Fonseca AL, Schuster KM, Kaplan LJ et al (2014) The use of magnetic resonance imaging in the diagnosis of suspected appendicitis in pregnancy: shortened length of stay without increase in hospital charges. JAMA Surg 149:687–693
Ethics declarations
Conflicts of interest
None.
About this article
Cite this article
Rosenbaum, D.G., Askin, G., Beneck, D.M. et al. Differentiating perforated from non-perforated appendicitis on contrast-enhanced magnetic resonance imaging. Pediatr Radiol 47, 1483–1490 (2017). https://doi.org/10.1007/s00247-017-3900-3
Received:

Revised:

Accepted:

Published:

Issue Date:
Keywords
Appendicitis

Children

Gadolinium-based contrast medium

Magnetic resonance imaging

Perforation