Abstract
The epidemiology of tuberculosis is adversely impacted by the human immunodeficiency virus (HIV) coinfection. HIV-infected patients are more prone to opportunistic infections, most commonly tuberculosis, and the risk of death in coinfected patients is higher than in those without HIV. Due to the impaired cellular immunity and reduced immunological response in HIV-infected patients, the classic imaging features of tuberculosis usually seen in patients without HIV may present differently. The aim of this review article is to highlight the imaging features that may assist in the diagnosis of tuberculosis in patients with HIV coinfection.
Access options
Buy single article
Instant access to the full article PDF.
US$ 39.95
Tax calculation will be finalised during checkout.
Subscribe to journal
Immediate online access to all issues from 2019. Subscription will auto renew annually.
US$ 119
Tax calculation will be finalised during checkout.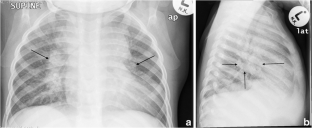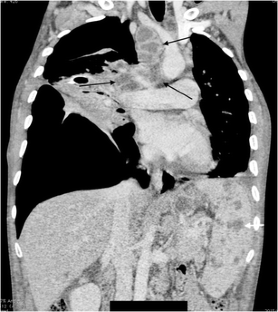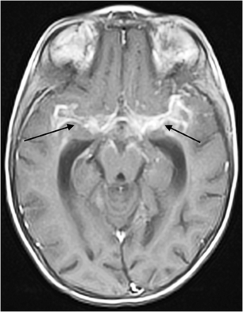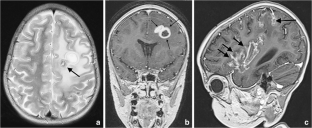 References
1.

Nelson C, Zunt J (2011) Tuberculosis of the central nervous system in immunocompromised patients: HIV infection and solid organ transplant recipients. Clin Infect Dis 53:915–926

2.

Berenguer J, Moreno S, Laguna F et al (1992) Tuberculous meningitis in patients infected with the human immunodeficiency virus. N Engl J Med 326:668–672

3.

World Health Organization Tuberculosis (2016) www.who./int/mediacentre/factsheet/fs104/en-WHO/Tuberculosis. Accessed Jan 2017

4.

Zar HJ (2008) Chronic lung disease in human immunodeficiency virus (HIV) infected children. Pediatr Pulmonol 43:1–10

5.

Zampoli M, Kilborn T, Eley B et al (2007) Tuberculosis during early antiretroviral-induced immune reconstitution in HIV-infected children. Int J Tuberc Lung Dis 11:417–423

6.

George R, Andronikou S, Theron S et al (2009) Pulmonary infections in HIV-positive children. Pediatr Radiol 39:545–554

7.

Du Toit G, Swingler G, Iloni K et al (2002) Observer variation in detecting lymphadenopathy on chest radiography. Int J Tuberc Lung Dis 6:814–817

8.

Zar HJ (2007) Diagnosis of pulmonary tuberculosis in children-what's new? S Afr Med J 97:983–985

9.

Andronikou S, van der Merwe DJ, Goussard P et al (2012) Usefulness of lateral radiographs for detecting tuberculous lymphadenopathy in children- confirmation using sagittal CT reconstruction with multiplanar cross-referencing. SA J Radiol 16:87–92

10.

South African National Department of Health (2010) Guidelines for the management of HIV in children, 2nd edn

11.

Donald PR (2002) Childhood tuberculosis: out of control? Curr Opin Pulm Med 8:178–182

12.

South African National Department of Health (2010) New EPI Vaccine Guidelines. https://www.health-e.org.za/wp-content/uploads/2014/02/South-Africa-EPI-vaccines-revised-Oct-2010.pdf. Accessed 20 Oct 2016

13.

World Health Organization AIDS epidemic update UNAIDS/09.36E/JC1700E 2009 372 November 2009. http://data.unaids.org/pub/report/2009/jc1700_epi_update_2009_en.pdf. Accessed 20 Oct 2016

14.

Andronikou S, Joseph E, Lucas S et al (2004) CT scanning for the detection of tuberculous mediastinal and hilar lymphadenopathy in children. Pediatr Radiol 34:232–236

15.

Leung AN, Muller NL, Pineda PR et al (1992) Primary tuberculosis in childhood: radiographic manifestations. Radiology 182:87–91

16.

Mahomed N, Hleza B, Andronikou S et al (2011) The doughnut sign. SA J Child Health 5:2

17.

Andronikou S, Brauer B, Galpin J et al (2005) Interobserver variability in the detection of mediastinal and hilar lymph nodes on CT in children with suspected pulmonary tuberculosis. Pediatr Radiol 235:425–428

18.

Andronikou S, Wieselthaler N (2004) Modern imaging of tuberculosis in children: thoracic, central nervous system and abdominal tuberculosis. Pediatr Radiol 34:861–875

19.

Lucas S, Andronikou S, Goussard P et al (2012) CT features of lymphobronchial tuberculosis in children, including complications and associated abnormalities. Pediatr Radiol 42:923–931

20.

Andronikou S, Wieselthlaler N (2009) Imaging for tuberculosis in children. In: Schaaf HS (ed) Tuberculosis: A comprehensive clinical reference. Saunders Elsevier, p 36

21.

Moseme T, Andronikou S (2014) Through the eye of the suprasternal notch: point-of-care sonography for tuberculous mediastinal lymphadenopathy in children. Pediatr Radiol 44:681–684

22.

Bosch-Marcet J, Serres-Creixams X, Borras-Perez V et al (2007) Value of sonography for follow-up of mediastinal lymphadenopathy in children with tuberculosis. J Clin Ultrasound 35:118–124

23.

Lin YS, Huang YC, Lin TY et al (2010) Abdominal tuberculosis in children: Diagnostic imaging. J Microbiol Immunol Infect 43:88–193

24.

Venturini E, Turkova A, Chiappini E et al (2014) Tuberculosis and HIV co-infection in children. BMC Infect Dis 14:1471–2234

25.

Andronikou S, Welman CJ, Kader E et al (2002) The CT features of abdominal tuberculosis in children. Pediatr Radiol 32:75–81

26.

Shao H, Yang Z, Deng W et al (2012) Tuberculosis versus lymphoma in the abdominal lymph nodes: a comparative study using contrast enhanced MRI. Eur J Radiol 81:2513–2517

27.

Jamieson DH (1995) Imaging intracranial tuberculosis in childhood. Pediatr Radiol 25:165–170

28.

Dekker G, Andronikou S, van Toorn R et al (2011) MRI findings in children with tuberculous meningitis: comparison of HIV-infected and non-infected patients. Childs Nerv Syst 27:1943–1949

29.

Madhi S, Huebner R, Doedens L et al (2000) HIV-1 co-infection in children hospitalised with tuberculosis in South Africa. Int J Tuberc Lung Dis 4:448–454

30.

Andronikou S, Govender N, Ramdass A et al (2012) MRI appearances of tuberculous meningitis in HIV-infected children – a paradoxically protective mechanism at play? Imaging Med 4:359–366

31.

Janse van Rensburg P, Andronikou S, van Toorn R et al (2008) Magnetic resonance imaging of miliary tuberculosis of the central nervous system in children with tuberculous meningitis. Pediatr Radiol 38:1306–1313

32.

Whiteman M, Espinoza L, Post MJ et al (1995) Central nervous system tuberculosis in HIV-infected patients: clinical and radiographic findings. AJNR Am J Neuroradiol 16:1319–1327

33.

Anuradha HK, Garg RK, Sinha MK et al (2011) Intracranial tuberculomas in patients with tuberculous meningitis: predictors and prognostic significance. Int J Tuberc Lung Dis 15:234–239

34.

Garg RK, Malhotra HS, Jain A et al (2016) Neuroimaging in tuberculous meningitis. Neurol India 64:219–227

35.

Garg RK, Sinha MK (2011) Tuberculous meningitis in patients infected with human immunodeficiency virus. J Neurol 258:3–13

36.

Kamra P, Azad R, Prasad KN et al (2004) Infectious meningitis: prospective evaluation with magnetization transfer MRI. Br J Radiol 77:387–394

37.

van Toorn R, Schaaf HS, Solomons R et al (2014) The value of transcranial Doppler imaging in children with tuberculous meningitis. Childs Nerv Syst 30:1711–1716

38.

Katrak SM, Shembalkar PK, Bijwe SR et al (2000) The clinical, radiological and pathological profile of tuberculous meningitis in patients with and without human immunodeficiency virus infection. J Neurol Sci 181:118–126

39.

Andronikou S, Binderpasad M, Govender N et al (2011) Musculoskeletal tuberculosis – imaging using low-end and advanced modalities for developing and developed countries. Acta Radiol 52:430–441

40.

Dunn R (2010) The medical management of spinal tuberculosis. SA Orthop J 9:37–41. Available at: http://www.scielo.org.za/scielo.php?script=sci_arttext&pid=S1681-150X2010000100007&lng=en. Accessed 14 Sept 2015

41.

Shah M, Jhaveri S, Tuli S et al (2011) Musculoskeletal tuberculosis in children. Surgery in Africa–monthly review. Available at: https://ptolemy.library.utoronto.ca/sites/default/files/reviews/2011/May%20-%20Musculoskeletal%20Tuberculosis%20in%20Children.pdf. Accessed 14 Sept 2015

42.

Theron S, Andronikou S, George R et al (2009) Non-infective pulmonary disease in HIV-positive children. Pediatr Radiol 39:555–564

43.

Kilborn T, Zampoli M (2009) Immune reconstitution inflammatory syndrome after initiating highly active antiretroviral therapy in HIV-infected children. Pediatr Radiol 39:569–574

44.

Van Rie A, Sawry S, Link-Gelles R et al (2016) Paradoxical tuberculosis-associated immune reconstitution inflammatory syndrome in children. Pediatr Pulmonol 51:157–164

45.

Smith K, Kuhn L, Coovadia A et al (2009) Immune reconstitution inflammatory syndrome among HIV-infected South African infants initiating antiretroviral therapy. AIDS 23:1097–1107

46.

Rabie H, Violari A, Duong T et al (2011) Early antiretroviral treatment reduces risk of bacille Calmette-Guerin immune reconstitution adenitis. Int J Tuberc Lung Dis 15:1194–1200 i

47.

Link-Gelles R, Moultrie H, Sawry S et al (2014) Tuberculosis immune reconstitution inflammatory syndrome in children initiating antiretroviral therapy for HIV infection: a systematic literature review. Pediatr Infect Dis J 33:499–503

48.

Rajeswaran G, Becker JL, Michailidis C et al (2006) The radiology of IRIS in patients with mycobacterial tuberculosis and HIV co–infection: appearances in 11 patients. Clin Radiol 61:833–843

49.

Marais S, Scholtz P, Pepper DJ et al (2010) Neuroradiological features of the tuberculosis-associated immune reconstitution inflammatory syndrome. Int J Tuberc Lung Dis 14:188–196

50.

Van Toorn R, Rabie H, Dramawski A et al (2012) Neurological manifestations of TB-IRIS: a report of 4 children. Eur J Paediatr Neurol 16:676–682

51.

Lawn SD, Bekker LG, Miller RF et al (2005) Immune reconstitution disease associated with mycobacterial infections in HIV-infected individuals receiving antiretrovirals. Lancet Infect Dis 5:361–373
Ethics declarations
Conflicts of interest
None
About this article
Cite this article
Naidoo, J., Mahomed, N. & Moodley, H. A systemic review of tuberculosis with HIV coinfection in children. Pediatr Radiol 47, 1269–1276 (2017). https://doi.org/10.1007/s00247-017-3895-9
Received:

Revised:

Accepted:

Published:

Issue Date:
Keywords
Children

Diagnosis

Diagnostic imaging

Human immunodeficiency virus

Immunity

Opportunistic infection

Tuberculosis