Abstract
Background
Magnetic resonance (MR) elastography allows the noninvasive assessment of liver stiffness, which is a surrogate for fibrosis.
Objective
The purpose of this study was to describe our experience using liver MR elastography in a large pediatric population with attention to the frequency and causes of exam failure.
Materials and methods
Imaging records were searched for patients ≤18 years of age who underwent 2-D gradient recalled echo (GRE) MR elastography of the liver between September 2011 and August 2015 on one of two 1.5-T MRI platforms. Imaging reports and clinical records were reviewed for failed MR elastography acquisitions, factor(s) resulting in failure and whether a subsequent successful examination had been performed.
Results
Four hundred sixty-eight MR elastography examinations were performed in 372 patients between 1.5 months and 18 years of age during the study period. Ninety-six percent (450/468) of the examinations were successful. There was no significant difference in mean age (12.6±3.6 vs. 11.2±4.1 years, P=0.12) or body mass index (BMI) (28.2±12.4 vs. 29.5±10 kg/m2, P=0.6) between patients with and without successful examinations. MR elastography failures were due to poor paddle positioning resulting in inadequate generation of hepatic shear waves (n=5), iron overload (n=4), patient inability to tolerate MRI (n=3), patient breathing/motion (n=3), artifact from implanted hardware (n=1) and technical malfunction (n=2). Seven of nine (78%) repeat examinations were successful (78%).
Conclusion
Hepatic 2-D GRE MR elastography at 1.5 T is technically robust in children. Exam failure is infrequent and largely reflects patient specific factors, some of which can be mitigated with careful technique.
This is a preview of subscription content, log in to check access.
Access options
Buy single article
Instant access to the full article PDF.
US$ 39.95
Price includes VAT for USA
Subscribe to journal
Immediate online access to all issues from 2019. Subscription will auto renew annually.
US$ 199
This is the net price. Taxes to be calculated in checkout.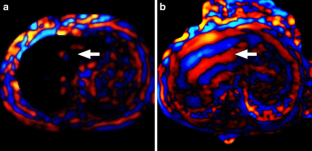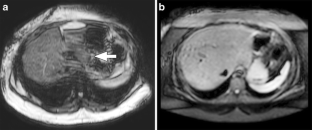 References
1.

Mavis AM, Alonso EM (2015) Liver disease in the adolescent. Clin Liver Dis 19:171–185

2.

Yeh WC, Li PC, Jeng YM et al (2002) Elastic modulus measurements of human liver and correlation with pathology. Ultrasound Med Biol 28:467–474

3.

Ziol M, Handra-Luca A, Kettaneh A et al (2005) Noninvasive assessment of liver fibrosis by measurement of stiffness in patients with chronic hepatitis C. Hepatology 41:48–54

4.

Godfrey EM, Mannelli L, Griffin N et al (2013) Magnetic resonance elastography in the diagnosis of hepatic fibrosis. Semin Ultrasound CT MR 34:81–88

5.

Huwart L, Sempoux C, Vicaut E et al (2008a) Magnetic resonance elastography for the noninvasive staging of liver fibrosis. Gastroenterology 135:32–40

6.

Loomba R, Wolfson T, Ang B et al (2014) Magnetic resonance elastography predicts advanced fibrosis in patients with nonalcoholic fatty liver disease: a prospective study. Hepatology 60:1920–1928

7.

Rustogi R, Horowitz J, Harmath C et al (2012) Accuracy of MR elastography and anatomic MR imaging features in the diagnosis of severe hepatic fibrosis and cirrhosis. J Magn Reson Imaging 35:1356–1364

8.

Singh S, Venkatesh SK, Loomba R et al (2016) Magnetic resonance elastography for staging liver fibrosis in non-alcoholic fatty liver disease: a diagnostic accuracy systematic review and individual participant data pooled analysis. Eur Radiol 26:1431–1440

9.

Yin M, Glaser KJ, Talwalkar JA et al (2016) Hepatic MR elastography: clinical performance in a series of 1377 consecutive examinations. Radiology 278:114–124

10.

Yin M, Talwalkar JA, Glaser KJ et al (2007) Assessment of hepatic fibrosis with magnetic resonance elastography. Clin Gastroenterol Hepatol 5:1207–1213.e1202

11.

Xanthakos SA, Podberesky DJ, Serai SD et al (2014) Use of magnetic resonance elastography to assess hepatic fibrosis in children with chronic liver disease. J Pediatr 164:186–188

12.

Manduca A, Oliphant TE, Dresner MA et al (2001) Magnetic resonance elastography: non-invasive mapping of tissue elasticity. Med Image Anal 5:237–254

13.

Mariappan YK, Glaser KJ, Ehman RL (2010) Magnetic resonance elastography: a review. Clin Anat 23:497–511

14.

Yoon JH, Lee JM, Woo HS et al (2013) Staging of hepatic fibrosis: comparison of magnetic resonance elastography and shear wave elastography in the same individuals. Korean J Radiol 14:202–212

15.

Wagner M, Corcuera-Solano I, Lo G et al (2017) Technical failure of MR elastography examinations of the liver: experience from a large single-center study. Radiology 160863. doi:10.1148/radiol.2016160863

16.

Chen J, Yin M, Talwalkar JA, Oudry J, Glaser KJ, Smyrk TC, Miette V, Sandrin L, Ehman RL (2016) Diagnostic Performance of MR Elastography and Vibration-controlled Transient Elastography in the Detection of Hepatic Fibrosis in Patients with Severe to Morbid Obesity. Radiology 18:160685. doi:10.1148/radiol.2016160685. [Epub ahead of print] PubMed PMID: 27861111

17.

Garteiser P, Sahebjavaher RS, Ter Beek LC et al (2013) Rapid acquisition of multifrequency, multislice and multidirectional MR elastography data with a fractionally encoded gradient echo sequence. NMR Biomed 26:1326–1335

18.

Huwart L, Salameh N, ter Beek L et al (2008b) MR elastography of liver fibrosis: preliminary results comparing spin-echo and echo-planar imaging. Eur Radiol 18:2535–2541

19.

Serai SD, Dillman JR, Trout AT (2016) Spin-echo echo-planar imaging MR elastography versus gradient-echo MR elastography for assessment of liver stiffness in children and young adults suspected of having liver disease. Radiology 282:761–777
Ethics declarations
Conflicts of interest
None
About this article
Cite this article
Joshi, M., Dillman, J.R., Towbin, A.J. et al. MR elastography: high rate of technical success in pediatric and young adult patients. Pediatr Radiol 47, 838–843 (2017). https://doi.org/10.1007/s00247-017-3831-z
Received:

Revised:

Accepted:

Published:

Issue Date:
Keywords
Children

Fibrosis

Liver

Magnetic resonance elastography

Stiffness