Abstract
Pediatric lumbar puncture can be challenging or unsuccessful for several reasons. At the same time, the excellent sonographic window into the pediatric spine provides a distinct opportunity for ultrasound-guided lumbar puncture. Minimal cerebrospinal fluid and thecal displacement by subdural or epidural hematomas are common after failed clinical attempts. Ultrasound is useful for determining a safe infraconal level for subarachnoid access. Real-time guidance increases not only the success rate but also the safety of diagnostic lumbar puncture and injections for chemotherapy and myelography. In this article, we discuss clinical and technical factors for ultrasound-guided pediatric lumbar puncture.
Access options
Buy single article
Instant access to the full article PDF.
US$ 39.95
Tax calculation will be finalised during checkout.
Subscribe to journal
Immediate online access to all issues from 2019. Subscription will auto renew annually.
US$ 119
Tax calculation will be finalised during checkout.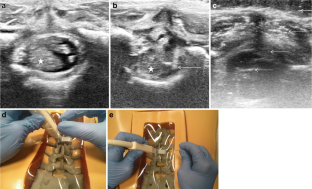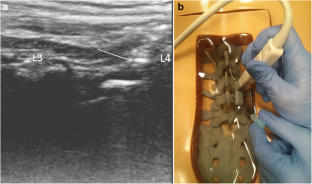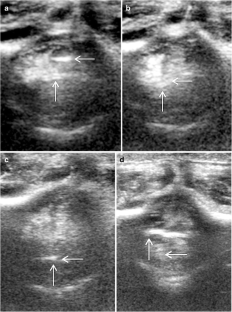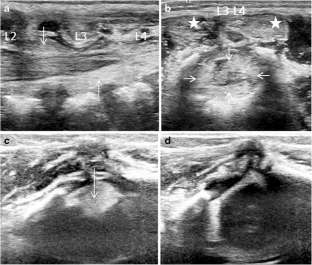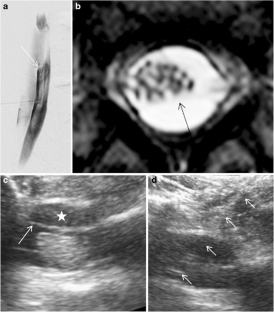 References
1.

Özdamar E, Özkaya AK, Güler E et al (2015) Ultrasound-assisted lumbar puncture in pediatric emergency department. Pediatr Emerg Care. doi:10.1097/PEC.0000000000000593

2.

Nomura JT, Leech SJ, Shenbagamurthi S et al (2007) A randomized controlled trial of ultrasound-assisted lumbar puncture. J Ultrasound Med 26:1341–1348

3.

Brousseau A-A, Parent DM-C (2016) Towards evidence based emergency medicine: Best BETs from the Manchester Royal Infirmary. BET 3: Advantages of ultrasound-assisted lumbar puncture. Emerg Med J 33:163–165

4.

Strony R (2010) Ultrasound-assisted lumbar puncture in obese patients. Crit Care Clin 26:661–664

5.

Shaikh F, Brzezinski J, Alexander S et al (2013) Ultrasound imaging for lumbar punctures and epidural catheterisations: systematic review and meta-analysis. BMJ 346:f1720

6.

Grau T, Leipold RW, Conradi R et al (2001) Ultrasound imaging facilitates localization of the epidural space during combined spinal and epidural anesthesia. Reg Anesth Pain Med 26:64–67

7.

Coley DB, Shiels EW II, Hogan JM (2001) Diagnostic and interventional ultrasonography in neonatal and infant lumbar puncture. Pediatr Radiol 31:399–402

8.

Abukawa Y, Hiroki K, Morioka N et al (2015) Ultrasound versus anatomical landmarks for caudal epidural anesthesia in pediatric patients. BMC Anesthesiol 15:102

9.

Glatstein MM, Zucker-Toledano M, Arik A et al (2011) Incidence of traumatic lumbar puncture: experience of a large, tertiary care pediatric hospital. Clin Pediatr 50:1005–1009

10.

Rankin J, Wang VJ, Goodarzian F et al (2016) Intravenous fluid bolus prior to neonatal and infant lumbar puncture: a sonographic assessment of the subarachnoid space after intravenous fluid administration. JAMA Pediatr 170:e154636

11.

Park Y, Lee J-H, Park KD et al (2013) Ultrasound-guided vs. fluoroscopy-guided caudal epidural steroid injection for the treatment of unilateral lower lumbar radicular pain: a prospective, randomized, single-blind clinical study. Am J Phys Med Rehabil 92:575–586

12.

Sandoval M, Shestak W, Stürmann K et al (2004) Optimal patient position for lumbar puncture, measured by ultrasonography. Emerg Radiol 10:179–181

13.

Öncel S, Günlemez A, Anik Y et al (2013) Positioning of infants in the neonatal intensive care unit for lumbar puncture as determined by bedside ultrasonography. Arch Dis Child Fetal Neonatal Ed 98:F133–F135

14.

Abo A, Chen L, Johnston P et al (2010) Positioning for lumbar puncture in children evaluated by bedside ultrasound. Pediatrics 125:e1149–e1153

15.

Cadigan BA, Cydulka RK, Werner SL et al (2011) Evaluating infant positioning for lumbar puncture using sonographic measurements. Acad Emerg Med Off J Soc Acad Emerg Med 18:215–218

16.

Nigrovic LE, Kuppermann N, Neuman MI (2007) Risk Factors for traumatic or unsuccessful lumbar punctures in children. Ann Emerg Med 49:762–771

17.

Baxter AL, Fisher RG, Burke BL et al (2006) Local anesthetic and stylet styles: factors associated with resident lumbar puncture success. Pediatrics 117:876–881

18.

Koch BL, Moosbrugger EA, Egelhoff JC (2007) Symptomatic spinal epidural collections after lumbar puncture in children. AJNR Am J Neuroradiol 28:1811–1816

19.

Lo MD, Parisi MT, Brown JC et al (2013) Sitting or tilt position for infant lumbar puncture does not increase ultrasound measurements of lumbar subarachnoid space width. Pediatr Emerg Care 29:588–591

20.

Wang PI, Wang AC, Naidu JO et al (2013) Sonographically guided lumbar puncture in pediatric patients. J Ultrasound Med 32:2191–2197

21.

Hazra AK, Bhattacharya D, Mukherjee S et al (2016) Ultrasound versus fluoroscopy-guided caudal epidural steroid injection for the treatment of chronic low back pain with radiculopathy: a randomised, controlled clinical trial. Indian J Anaesth 60:388–392
Ethics declarations
Conflicts of interest
None
Appendix 1 Land-marking technique for lumbar puncture using ultrasound
Appendix 1 Land-marking technique for lumbar puncture using ultrasound
Patient is positioned in left lateral decubitus, flexed at hip and knee.

Sagittal ultrasound image is obtained to identify upper sacral margin (S1).

Ultrasound probe is moved cephalad to identify L3 and L4 vertebral body levels, which are marked by horizontal lines on the skin on either side of the probe.

Axial ultrasound scanning is performed to identify the midline (spinous process) at the L3 and L4 levels, and is marked by vertical lines on the skin to transect the previously marked horizontal lines.

Axial scanning is performed on the midline (vertical line) in the interspinous space (between the two horizontal lines) with gradual cephalad angulation of the transducer to obtain a clear view of the ligamentum flavum–posterior dura echogenicity. This transducer angle is eyeballed to determine the angle of needle entry.

Measurement of skin-to-posterior-dura distance is obtained in the last axial image.

Skin preparation and sterile draping are conducted.

The spinal needle is introduced into the L3–L4 interspace on the previously marked vertical line, along the predetermined angle.
About this article
Cite this article
Muthusami, P., Robinson, A.J. & Shroff, M.M. Ultrasound guidance for difficult lumbar puncture in children: pearls and pitfalls. Pediatr Radiol 47, 822–830 (2017). https://doi.org/10.1007/s00247-017-3794-0
Received:

Revised:

Accepted:

Published:

Issue Date:
Keywords
Cerebrospinal fluid

Interventional radiology

Lumbar puncture

Meningitis

Neonate

Subdural hematoma

Ultrasound