Abstract
Magnetic resonance imaging (MRI) is the workhorse modality in pediatric neuroimaging because it provides excellent soft-tissue contrast without ionizing radiation. Until recently, studies were uninterpretable without sedation; however, given development of shorter sequences, sequences that correct for motion, and studies showing the potentially deleterious effects of sedation on immature laboratory animals, it is prudent to minimize sedation when possible. This manuscript provides basic guidelines for performing pediatric neuro MRI without sedation by both modifying technical factors to reduce scan time and noise, and using a multi-disciplinary team to coordinate imaging with the patient's biorhythms.
Access options
Buy single article
Instant access to the full article PDF.
US$ 39.95
Tax calculation will be finalised during checkout.
Subscribe to journal
Immediate online access to all issues from 2019. Subscription will auto renew annually.
US$ 119
Tax calculation will be finalised during checkout.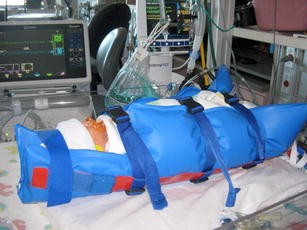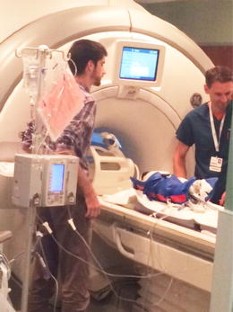 References
1.

Ikonomidou C, Bosch F, Miksa M et al (1999) Blockade of NMDA receptors and apoptotic neurodegeneration in the developing brain. Science 283:70–74

2.

Jevtovic-Todorovic V, Hartman RE, Izumi Y et al (2003) Early exposure to common anesthetic agents causes widespread neurodegeneration in the developing rat brain and persistent learning deficits. J Neurosci 23:876–882

3.

Bercker S, Bert B, Bittigau P et al (2009) Neurodegeneration in newborn rats following propofol and sevoflurane anesthesia. Neurotox Res 16:140–147

4.

Bajic D, Commons KG, Soriano SG (2013) Morphine-enhanced apoptosis in selective brain regions of neonatal rats. Int J Dev Neurosci 31:258–266

5.

Olney JW, Wozniak DF, Jevtovic-Todorovic V et al (2002) Drug-induced apoptotic neurodegeneration in the developing brain. Brain Pathol 12:488–498

6.

Patel DM, Tubbs RS, Pate G et al (2014) Fast-sequence MRI studies for surveillance imaging in pediatric hydrocephalus. J Neurosurg Pediatr 13:440–447

7.

Gupta P, Sodhi KS, Saxena AK et al (2016) Neonatal cranial sonography: a concise review for clinicians. J Pediatr Neurosci 11:7–13

8.

Courtier J, Cardenas A, Tan C et al (2015) Nonanesthesia magnetic resonance enterography in young children: feasibility, technique, and performance. J Pediatr Gastroenterol Nutr 60:754–761

9.

Forbes KP, Pipe JG, Karis JP et al (2003) Brain imaging in the unsedated pediatric patient: comparison of periodically rotated overlapping parallel lines with enhanced reconstruction and single-shot fast spin-echo sequences. AJNR Am J Neuroradiol 24:794–798

10.

White N, Roddey C, Shankaranarayanan A et al (2010) PROMO: real-time prospective motion correction in MRI using image-based tracking. Magn Reson Med 63:91–105

11.

Patel MR, Klufas RA, Alberico RA et al (1997) Half-fourier acquisition single-shot turbo spin-echo (HASTE) MR: comparison with fast spin-echo MR in diseases of the brain. AJNR Am J Neuroradiol 18:1635–1640

12.

Pruessmann KP, Weiger M, Scheidegger MB et al (1999) SENSE: sensitivity encoding for fast MRI. Magn Reson Med 42:952–962

13.

Algin O, Hakyemez B, Parlak M (2010) Phase-contrast MRI and 3D-CISS versus contrast-enhanced MR cisternography on the evaluation of the aqueductal stenosis. Neuroradiology 52:99–108

14.

de Zwart JA, van Gelderen P, Kellman P et al (2002) Reduction of gradient acoustic noise in MRI using SENSE-EPI. Neuroimage 16:1151–1155

15.

Dean DC 3rd, Dirks H, O'Muircheartaigh J et al (2014) Pediatric neuroimaging using magnetic resonance imaging during non-sedated sleep. Pediatr Radiol 44:64–72

16.

McGuirt D (2016) Alternatives to sedation and general anesthesia in pediatric magnetic resonance imaging: a literature review. Radiol Technol 88:18–26

17.

de Bie HM, Boersma M, Wattjes MP et al (2010) Preparing children with a mock scanner training protocol results in high quality structural and functional MRI scans. Eur J Pediatr 169:1079–1085
Acknowledgements
Dr. A. J. Barkovich receives funding from the National Institute of Neurological Disorders and Stroke for grant R01NS046432.
Ethics declarations
Conflicts of interest
None
About this article
Cite this article
Barkovich, M.J., Xu, D., Desikan, R.S. et al. Pediatric neuro MRI: tricks to minimize sedation. Pediatr Radiol 48, 50–55 (2018). https://doi.org/10.1007/s00247-017-3785-1
Received:

Revised:

Accepted:

Published:

Issue Date:
Keywords
Anesthesia

Children

Magnetic resonance imaging

Neuroradiology

Sedation