Abstract
Background
Ultrasonography is considered the most appropriate initial imaging study in the evaluation of acute appendicitis in children but has recently come under criticism with reports of low specificity and high indeterminate study rates, particularly when used in obese patients and patients early in the course of their disease, or when performed by sonographers with limited experience.
Objective
To (1) assess the impact of patient factors (gender, age, body mass index, and symptom duration) and system factors (call status or year of exam) on pediatric appendiceal US accuracy and indeterminate study rate, (2) assess the impact of indeterminate study results on follow-up CT and negative laparotomy rates and (3) present strategies to reduce the rate of indeterminate US studies and improve accuracy.
Materials and methods
We retrospectively reviewed all US reports performed for the assessment of acute appendicitis in children <18 years old at Mayo Clinic Rochester from January 2010 to June 2014.
Results
A total of 790 US examinations were performed in 452 girls (57%) and 338 boys (43%). The prevalence of appendicitis was 18.5% (146/790). There were 109 true-positive, 440 true-negative, 17 false-positive, 6 false-negative, 218 equivocal and 41 technically inadequate US studies. A definitive interpretation was made in 72% of the studies, with an accuracy, sensitivity and specificity of 0.960, 0.948 and 0.963, respectively. No patient or system factors significantly affected US accuracy. Indeterminate studies (28%) had significantly higher CT utilization (46% vs. 11%) and normal appendectomy rates (6.9% vs. 3.5%).
Conclusion
US should be the initial imaging study of choice for pediatric appendicitis. When a definitive interpretation was given, the accuracy was 96%, was independent of patient and system factors and resulted in reduced follow-up CTs and negative laparotomies. Accuracy can be increased by requiring the presence of periappendiceal inflammatory changes prior to interpreting a mildly distended appendix as positive for acute appendicitis. The indeterminate study rate can be reduced by not requiring visualization of the normal appendix for the exclusion of acute appendicitis.
Access options
Buy single article
Instant access to the full article PDF.
US$ 39.95
Tax calculation will be finalised during checkout.
Subscribe to journal
Immediate online access to all issues from 2019. Subscription will auto renew annually.
US$ 119
Tax calculation will be finalised during checkout.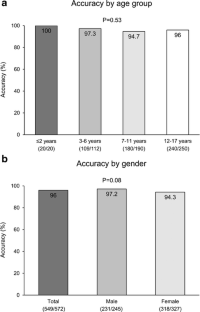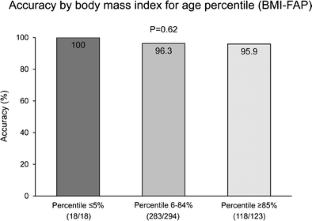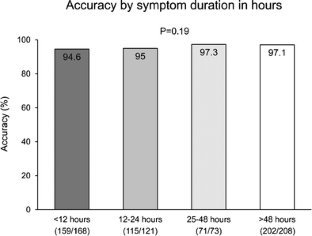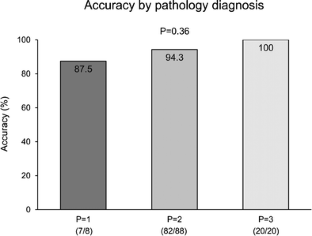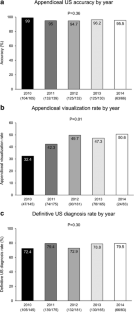 References
1.

Sivit CJ (2004) Imaging the child with right lower quadrant pain and suspected appendicitis: current concepts. Pediatr Radiol 34:447–453

2.

Flum DR, Koepsell T (2002) The clinical and economic correlates of misdiagnosed appendicitis: nationwide analysis. Arch Surg 137:799–804

3.

Morrow SE, Newman KD (2007) Current management of appendicitis. Semin Pediatr Surg 16:34–40

4.

Williams RF, Blakely ML, Fischer PE et al (2009) Diagnosing ruptured appendicitis preoperatively in pediatric patients. J Am Coll Surg 208:819–825

5.

Taylor GA, Wesson DE (2015) Acute appendicitis in children: diagnostic imaging. UpToDate. http://www.uptodate.com/contents/acute-appendicitis-in-children-diagnostic-imaging. Accessed 23 April 2015

6.

Koning JL, Naheedy JH, Kruk PG (2014) Diagnostic performance of contrast-enhanced MR for acute appendicitis and alternative causes of abdominal pain in children. Pediatr Radiol 44:948–955

7.

Orth RC, Guillerman RP, Zhang W et al (2014) Prospective comparison of MR imaging and US for the diagnosis of pediatric appendicitis. Radiology 272:233–240

8.

Frush DP, Frush KS, Oldham KT (2009) Imaging of acute appendicitis in children: EU versus U.S. … or US versus CT? A North American perspective. Pediatr Radiol 39:500–505

9.

Strouse PJ (2010) Pediatric appendicitis: an argument for US. Radiology 255:8–13

10.

Hernanz-Schulman M (2010) CT and US in the diagnosis of appendicitis: an argument for CT. Radiology 255:3–7

11.

Puylaert JB (1986) Acute appendicitis: US evaluation using graded compression. Radiology 158:355–360

12.

Okoji GO, Cameron BH (1991) Appendicitis presenting with dysuria in a 2-year-old: ultrasound-aided diagnosis — a case report. Ann Trop Paediatr 11:389–390

13.

Rosen MP, Ding A, Blake MA et al (2011) ACR appropriateness criteria® right lower quadrant pain — suspected appendicitis. J Am Coll Radiol 8:749–755

14.

Doria AS, Moineddin R, Kellenberger CJ et al (2006) US or CT for diagnosis of appendicitis in children and adults? A meta-analysis. Radiology 241:83–94

15.

Pena BM, Taylor GA, Fishman SJ et al (2000) Costs and effectiveness of ultrasonography and limited computed tomography for diagnosing appendicitis in children. Pediatrics 106:672–676

16.

Mittal MK, Dayan PS, Macias CG et al (2013) Performance of ultrasound in the diagnosis of appendicitis in children in a multicenter cohort. Acad Emerg Med 20:697–702

17.

Schuh S, Man C, Cheng A et al (2011) Predictors of non-diagnostic ultrasound scanning in children with suspected appendicitis. J Pediatr 158:112–118

18.

Bachur RG, Dayan PS, Bajaj L et al (2012) The effect of abdominal pain duration on the accuracy of diagnostic imaging for pediatric appendicitis. Ann Emerg Med 60:582–590, e583

19.

Trout AT, Sanchez R, Ladino-Torres MF et al (2012) A critical evaluation of US for the diagnosis of pediatric acute appendicitis in a real-life setting: how can we improve the diagnostic value of sonography? Pediatr Radiol 42:813–823

20.

Polites SF, Mohamed MI, Habermann EB et al (2014) A simple algorithm reduces computed tomography use in the diagnosis of appendicitis in children. Surgery 156:448–454

21.

Fedko M, Bellamkonda VR, Bellolio MF et al (2014) Ultrasound evaluation of appendicitis: importance of the 3×2 table for outcome reporting. Am J Emerg Med 32:346–348

22.

(2002) 2000 CDC growth charts for the United States: Methods and Development. http://www.cdc.gov/nchs/data/series/sr_11/sr11_246.pdf. Accessed 22 April 2015

23.

Estey A, Poonai N, Lim R (2013) Appendix not seen: the predictive value of secondary inflammatory sonographic signs. Pediatr Emerg Care 29:435–439

24.

Trout AT, Sanchez R, Ladino-Torres MF (2012) Reevaluating the sonographic criteria for acute appendicitis in children: a review of the literature and a retrospective analysis of 246 cases. Acad Radiol 19:1382–1394

25.

Krishnamoorthi R, Ramarajan N, Wang NE et al (2011) Effectiveness of a staged US and CT protocol for the diagnosis of pediatric appendicitis: reducing radiation exposure in the age of ALARA. Radiology 259:231–239

26.

Wiersma F, Toorenvliet BR, Bloem JL et al (2009) US examination of the appendix in children with suspected appendicitis: the additional value of secondary signs. Eur Radiol 19:455–461

27.

Nielsen JW, Boomer L, Kurtovic K et al (2015) Reducing computed tomography scans for appendicitis by introduction of a standardized and validated ultrasonography report template. J Pediatr Surg 50:144–148

28.

Chang ST, Jeffrey RB, Olcott EW (2014) Three-step sequential positioning algorithm during sonographic evaluation for appendicitis increases appendiceal visualization rate and reduces CT use. AJR Am J Roentgenol 203:1006–1012

29.

Rompel O, Huelsse B, Bodenschatz K et al (2006) Harmonic US imaging of appendicitis in children. Pediatr Radiol 36:1257–1264

30.

Chang YJ, Kong MS, Hsia SH et al (2007) Usefulness of ultrasonography in acute appendicitis in early childhood. J Pediatr Gastroenterol Nutr 44:592–595

31.

Sulowski C, Doria AS, Langer JC et al (2011) Clinical outcomes in obese and normal-weight children undergoing ultrasound for suspected appendicitis. Acad Emerg Med 18:167–173

32.

Abo A, Shannon M, Taylor G et al (2011) The influence of body mass index on the accuracy of ultrasound and computed tomography in diagnosing appendicitis in children. Pediatr Emerg Care 27:731–736

33.

Yigiter M, Kantarci M, Yalcin O et al (2011) Does obesity limit the sonographic diagnosis of appendicitis in children? J Clin Ultrasound 39:187–190

34.

Lee JH, Jeong YK, Park KB et al (2005) Operator-dependent techniques for graded compression sonography to detect the appendix and diagnose acute appendicitis. AJR Am J Roentgenol 184:91–97

35.

Karakas SP, Guelfguat M, Leonidas JC et al (2000) Acute appendicitis in children: comparison of clinical diagnosis with ultrasound and CT imaging. Pediatr Radiol 30:94–98

36.

Spahr C, Homme J, Mannenbach M et al (2010) Management of the elusive inconclusive ultrasound for pediatric appendicitis. Pediatric Academic Societies Meeting, Vancouver

37.

Andersson RE (2007) The natural history and traditional management of appendicitis revisited: spontaneous resolution and predominance of prehospital perforations imply that a correct diagnosis is more important than an early diagnosis. World J Surg 31:86–92

38.

Barber MD, McLaren J, Rainey JB (1997) Recurrent appendicitis. Br J Surg 84:110–112
Acknowledgments
The authors thank Sonia Watson, PhD, for assistance in editing the manuscript.
Conflicts of interest
None
About this article
Cite this article
Binkovitz, L.A., Unsdorfer, K.M.L., Thapa, P. et al. Pediatric appendiceal ultrasound: accuracy, determinacy and clinical outcomes. Pediatr Radiol 45, 1934–1944 (2015). https://doi.org/10.1007/s00247-015-3432-7
Received:

Revised:

Accepted:

Published:

Issue Date:
Keywords
Appendicitis

Appendix

Children

Diagnostic accuracy

Ultrasound