Abstract
Background
Juvenile idiopathic arthritis (JIA) is characterized by synovial inflammation, with potential risk of developing progressive joint destruction. Personalized state-of-the-art treatment depends on valid markers for disease activity to monitor response; however, no such markers exist.
Objective
To evaluate the reliability of scoring of carpal bone erosions on MR in children with JIA using two semi-quantitative scoring systems.
Materials and methods
A total of 1,236 carpal bones (91 MR wrist examinations) were scored twice by two independent pediatric musculoskeletal radiologists. Bony erosions were scored according to estimated bone volume loss using a 0–4 scale and a 0–10 scale. An aggregate erosion score comprising the sum total carpal bone volume loss was calculated for each examination.
Results
The 0–4 scoring system resulted in good intra-reader agreement and moderate to good inter-observer agreement in the assessment of individual bones. Fair and moderate agreement were achieved for inter-reader and intra-reader agreement, respectively, using the 0–10 scale. Intra- and particularly inter-reader aggregate score variability were much less favorable, with wide limits of agreement.
Conclusion
Further analysis of erosive disease patterns compared with normal subjects is required, and to facilitate the development of an alternative means of quantifying disease.
This is a preview of subscription content, log in to check access.
Access options
Buy single article
Instant access to the full article PDF.
US$ 39.95
Price includes VAT for USA
Subscribe to journal
Immediate online access to all issues from 2019. Subscription will auto renew annually.
US$ 199
This is the net price. Taxes to be calculated in checkout.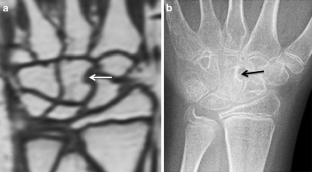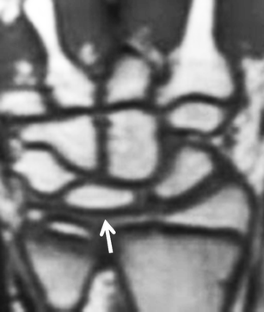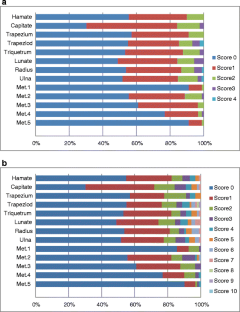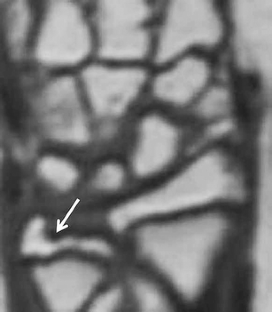 References
1.

Ravelli A, Martini A (2007) Juvenile idiopathic arthritis. Lancet 369:767–778

2.

Gabriel SE, Michaud K (2009) Epidemiological studies in incidence, prevalence, mortality, and comorbidity of the rheumatic diseases. Arthritis Res Ther 11:229

3.

Riise OR, Handeland KS, Cvancarova M et al (2008) Incidence and characteristics of arthritis in Norwegian children: a population-based study. Pediatrics 121:e299–e306

4.

Moe N, Rygg M (1998) Epidemiology of juvenile chronic arthritis in northern Norway: a ten-year retrospective study. Clin Exp Rheumatol 16:99–101

5.

Beukelman T, Patkar NM, Saag KG et al (2011) 2011 American college of rheumatology recommendations for the treatment of juvenile idiopathic arthritis: initiation and safety monitoring of therapeutic agents for the treatment of arthritis and systemic features. Arthritis Care Res (Hoboken) 63:465–482

6.

Prince FH, Otten MH, van Suijlekom-Smit LW (2010) Diagnosis and management of juvenile idiopathic arthritis. BMJ 341:c6434

7.

Otten MH, Anink J, Prince FH, Twilt M, Vastert SJ, Ten CR et al (2014) Trends in prescription of biological agents and outcomes of juvenile idiopathic arthritis: results of the Dutch national arthritis and biologics in children register. Ann Rheum Dis

8.

Kessler EA, Becker ML (2014) Therapeutic advancements in juvenile idiopathic arthritis. Best Pract Res Clin Rheumatol 28:293–313

9.

Ravelli A, Ioseliani M, Norambuena X et al (2007) Adapted versions of the Sharp/van der Heijde score are reliable and valid for assessment of radiographic progression in juvenile idiopathic arthritis. Arthritis Rheum 56:3087–3095

10.

Malattia C, Damasio MB, Magnaguagno F et al (2008) Magnetic resonance imaging, ultrasonography, and conventional radiography in the assessment of bone erosions in juvenile idiopathic arthritis. Arthritis Rheum 59:1764–1772

11.

Malattia C, Damasio MB, Basso C et al (2010) Dynamic contrast-enhanced magnetic resonance imaging in the assessment of disease activity in patients with juvenile idiopathic arthritis. Rheumatology (Oxford) 49:178–185

12.

Malattia C, Damasio MB, Basso C, Santoro M, Verri A, Pederzoli S et al (2012) A novel automated system for MRI quantification of the inflamed synovial membrane volume in patients with juvenile idiopathic arthritis. Arthritis Care Res (Hoboken)

13.

de Tanturri HL, Damasio MB, Barbuti D et al (2012) MRI assessment of bone marrow in children with juvenile idiopathic arthritis: intra- and inter-observer variability. Pediatr Radiol 42:714–720

14.

Damasio MB, Malattia C, de Tanturri HL et al (2012) MRI of the wrist in juvenile idiopathic arthritis: proposal of a paediatric synovitis score by a consensus of an international working group. Results of a multicentre reliability study. Pediatr Radiol 42:1047–1055

15.

Lambot K, Boavida P, Damasio MB et al (2013) MRI assessment of tenosynovitis in children with juvenile idiopathic arthritis: inter- and intra-observer variability. Pediatr Radiol 43:796–802

16.

Malattia C, Damasio MB, Pistorio A et al (2011) Development and preliminary validation of a paediatric-targeted MRI scoring system for the assessment of disease activity and damage in juvenile idiopathic arthritis. Ann Rheum Dis 70:440–446

17.

Boavida P, Hargunani R, Owens CM et al (2012) Magnetic resonance imaging and radiographic assessment of carpal depressions in children with juvenile idiopathic arthritis: normal variants or erosions? J Rheumatol 39:645–650

18.

Ording Muller LS, Boavida P, Avenarius D, Damasio B, Eldevik OP, Malattia C et al (2013) MRI of the wrist in juvenile idiopathic arthritis: erosions or normal variants? A prospective case–control study. Pediatr Radiol

19.

Bland JM, Altman DG (2003) Applying the right statistics: analyses of measurement studies. Ultrasound Obstet Gynecol 22:85–93

20.

Ostergaard M, Peterfy C, Conaghan P et al (2003) OMERACT rheumatoid arthritis magnetic resonance imaging studies. Core set of MRI acquisitions, joint pathology definitions, and the OMERACT RA-MRI scoring system. J Rheumatol 30:1385–1386

21.

Ostergaard M, McQueen F, Bird P et al (2007) The OMERACT magnetic resonance imaging inflammatory arthritis group - advances and priorities. J Rheumatol 34:852–853

22.

Ostergaard M, Klarlund M, Lassere M et al (2001) Interreader agreement in the assessment of magnetic resonance images of rheumatoid arthritis wrist and finger joints--an international multicenter study. J Rheumatol 28:1143–1550

23.

Lassere M, McQueen F, Ostergaard M et al (2003) OMERACT rheumatoid arthritis magnetic resonance imaging studies. Exercise 3: an international multicenter reliability study using the RA-MRI score. J Rheumatol 30:1366–1375

24.

Muller LS, Avenarius D, Damasio B et al (2011) The paediatric wrist revisited: redefining MR findings in healthy children. Ann Rheum Dis 70:605–610
Conflicts of interest
None
About this article
Cite this article
Boavida, P., Lambot-Juhan, K., Müller, L.O. et al. Carpal erosions in children with juvenile idiopathic arthritis: repeatability of a newly devised MR-scoring system. Pediatr Radiol 45, 1972–1980 (2015). https://doi.org/10.1007/s00247-015-3421-x
Received:

Revised:

Accepted:

Published:

Issue Date:
Keywords
Child

Juvenile idiopathic arthritis

Magnetic resonance imaging

Reliability

Scoring system

Wrist