Abstract
Background
Abusive head trauma (AHT) is an important cause of serious brain injury in infants and young children who have characteristic clinical and imaging findings that are discordant with the clinical history provided. Recent attention has focused on abnormalities of the cranial venous sinuses and cortical veins, both on MRI and at autopsy. Although many have interpreted these to be secondary to the AHT, some have recently argued that these venous abnormalities represent primary cortical sinus and venous thrombosis that leads secondarily to subdural hemorrhage and secondary brain injury. Direct trauma to the veins and sinuses has been reported at autopsy in AHT, but there has been no systematic study of venous abnormalities in cases of AHT.
Objective
The purpose of this study was to define the incidence and characteristics of venous and sinus abnormalities in AHT.
Materials and methods
We included all children <36 months of age who were diagnosed with abusive head trauma between 2001 and 2012 and who had MRI and magnetic resonance (MR) venography as part of their diagnostic workup. We analyzed age, gender and clinical findings. MRI and MR venography were analyzed independently by two neuroradiologists with a focus on abnormalities involving the intracranial veins and venous sinuses.
Results
A total of 45 children were included. The median age was 3 months (range 15 days to 31 months) and 28 were boys (62%). Clinical findings included retinal hemorrhage in 71% and extracranial fractures in 55%. CT or MRI demonstrated subdural hemorrhage in 41 (91%); none had subdural effusions. In 31 cases (69%) MR venography demonstrated mass effect on the venous sinuses or cortical draining veins, with either displacement or partial or complete effacement of the venous structures from an adjacent subdural hematoma or brain swelling. We also describe the lollipop sign, which represents direct trauma to the cortical bridging veins and was present in 20/45 (44%) children.
Conclusion
Evidence of displacement or compression of cortical veins and sinuses from subdural hemorrhage or edema on MR venography was present in the majority of children with abusive head trauma. Evidence of direct trauma to the veins (lollipop sign) was identified in nearly half of cases. It is important to understand the superimposed effects of subdural hematoma and brain swelling on the veins and sinuses to differentiate it from cortical sinus and venous thrombosis.
Access options
Buy single article
Instant access to the full article PDF.
USD 39.95
Price excludes VAT (USA)
Tax calculation will be finalised during checkout.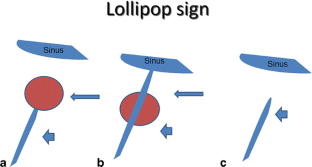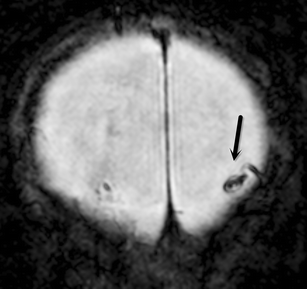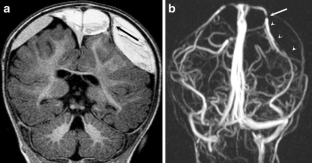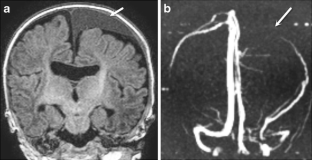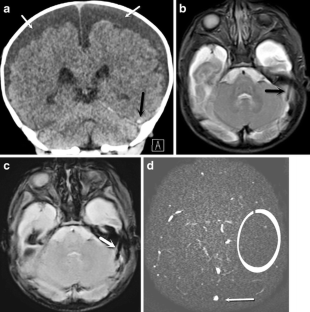 References
Makaroff KL, Putnam FW (2003) Outcomes of infants and children with inflicted traumatic brain injury. Dev Med Child Neurol 45:497–502

Christian CW, Block R, Committee on Child Abuse and Neglect, Pediatrics American Academy of Pediatrics (2009) Abusive head trauma in infants and children. Pediatrics 123:1409–1411

Hedlund GL, Frasier LD (2009) Neuroimaging of abusive head trauma. Forensic Sci Med Pathol 5:280–290

Leach JL, Fortuna RB, Jones BV et al (2006) Imaging of cerebral venous thrombosis: current techniques, spectrum of findings, and diagnostic pitfalls. Radiographics 26:S19–S41

McLean LA, Frasier LD, Hedlund GL (2012) Does intracranial venous thrombosis cause subdural subdural hemorrhage in the pediatric population? AJNR Am J Neuroradiol 33:1281–1284

Bracken J, Barnacle A, Ditchfield M (2013) Potential pitfalls in imaging of paediatric cerebral sinovenous thrombosis. Pediatr Radiol 43:219–231

Hedlund GL (2013) Cerebral sinovenous thrombosis in pediatric practice. Pediatr Radiol 43:173–188

Eichler F, Krishnamoorthy K, Grant PE (2007) Magnetic resonance imaging evaluation of possible neonatal sinovenous thrombosis. Pediatr Neurol 37:317–323

Adamsbaum C, Rambaud C (2012) Abusive head trauma: don't overlook bridging vein thrombosis. Pediatr Radiol 42:1298–1300

Barlow KM, Gibson RJ, McPhillips M et al (1999) Magnetic resonance imaging in acute non-accidental head injury. Acta Paediatr 88:734–740

Maxeiner H (2001) Demonstration and interpretation of bridging vein ruptures in cases of infantile subdural bleedings. J Forensic Sci 46:85–93

Morris MW, Smith S, Cressman J et al (2000) Evaluation of infants with subdural hematoma who lack external evidence of abuse. Pediatrics 105:549–553

Stein KM, Ruf K, Ganten MK et al (2006) Representation of cerebral bridging veins in infants by postmortem computed tomography. Forensic Sci Int 163:93–101

Monea AG, Baeck K, Verbeken E et al (2014) The biomechanical behaviour of the bridging vein–superior sagittal sinus complex with implications for the mechanopathology of acute subdural haematoma. J Mech Behav Biomed Mater 32:155–165

Miller JD, Nader R (2014) Acute subdural hematoma from bridging vein rupture: a potential mechanism for growth. J Neurosurg 120:1378–1384

Klingebiel R, Bauknecht HC, Bohner G et al (2007) Comparative evaluation of 2D time-of-flight and 3D elliptic centric contrast-enhanced MR venography in patients with presumptive cerebral venous and sinus thrombosis. Eur J Neurol 14:139–143

Ayanzen RH, Bird CR, Keller PJ et al (2000) Cerebral MR venography: normal anatomy and potential diagnostic pitfalls. AJNR Am J Neuroradiol 21:74–78

Boukobza M, Crassard I, Bousser MG et al (2009) MR imaging features of isolated cortical vein thrombosis: diagnosis and follow-up. AJNR Am J Neuroradiol 30:344–348

Ferro JM, Morgado C, Sousa R et al (2007) Interobserver agreement in the magnetic resonance location of cerebral vein and dural sinus thrombosis. Eur J Neurol 14:353–356

Widjaja E, Griffiths PD (2004) Intracranial MR venography in children: normal anatomy and variations. AJNR Am J Neuroradiol 25:1557–1562

Curé JK, Van Tassel P, Smith MT (1994) Normal and variant anatomy of the dural venous sinuses. Semin Ultrasound CT MR 15:499–519

Osborn AG (1994) Normal vascular anatomy. In: Osborn AG (ed) Diagnostic neuroradiology, 1st edn. Mosby, Maryland Heights, pp 145–152

Rhoton AL (2002) The cerebral veins. Neurosurgery 51:S159–S205

Thamburaj K, Choudhary A (2009) Hyperintense vessel sign: isolated cortical venous thrombosis after L-asparaginase therapy. Pediatr Radiol 39:757

Favrole P, Guichard JP, Crassard I et al (2004) Diffusion-weighted imaging of intravascular clots in cerebral venous thrombosis. Stroke 35:99–103

Leach JL, Strub WM, Gaskill-Shipley MF (2007) Cerebral venous thrombus signal intensity and susceptibility effects on gradient recalled-echo MR imaging. AJNR Am J Neuroradiol 28:940–945

Widjaja E, Shroff M, Blaser S et al (2006) 2D time-of-flight MR venography in neonates: anatomy and pitfalls. AJNR Am J Neuroradiol 27:1913–1918

Newton TH, Gooding CA (1975) Compression of superior sagittal sinus by neonatal calvarial molding. Radiology 115:635–640

Cowan F, Thoresen M (1985) Changes in superior sagittal sinus blood velocities due to postural alterations and pressure on the head of the newborn infant. Pediatrics 75:1038–1047

Tan M, Deveber G, Shroff M et al (2011) Sagittal sinus compression is associated with neonatal cerebral sinovenous thrombosis. Pediatrics 128:e429–e435

DeVeber G, Andrew M, Adams C et al (2001) Cerebral sinovenous thrombosis in children. N Engl J Med 345:417–423

Dlamini N, Billinghurst L, Kirkham FJ (2010) Cerebral venous sinus (sinovenous) thrombosis in children. Neurosurg Clin N Am 21:511–527

Steinborn M, Schäffeler C, Kabs C et al (2010) CT and MR imaging of primary cerebrovascular complications in pediatric head trauma. Emerg Radiol 17:309–315

Huisman TA, Holzmann D, Martin E et al (2001) Cerebral venous thrombosis in childhood. Eur Radiol 11:1760–1765

Delgado Almandoz JE, Kelly HR, Schaefer PW et al (2010) Prevalence of traumatic dural venous sinus thrombosis in high-risk acute blunt head trauma patients evaluated with multidetector CT venography. Radiology 255:570–577

Binenbaum G, Forbes BJ (2014) The eye in child abuse: key points on retinal hemorrhages and abusive head trauma. Pediatr Radiol 44:S571–S577

Sébire G, Tabarki B, Saunders DE et al (2005) Cerebral venous sinus thrombosis in children: risk factors, presentation, diagnosis and outcome. Brain 128:477–489

Lafitte F, Boukobza M, Guichard JP et al (1999) Deep cerebral venous thrombosis: imaging in eight cases. Neuroradiology 41:410–418

Teksam M, Moharir M, Deveber G et al (2008) Frequency and topographic distribution of brain lesions in pediatric cerebral venous thrombosis. AJNR Am J Neuroradiol 29:1961–1965

Barnes PD (2011) Imaging of nonaccidental injury and the mimics: issues and controversies in the era of evidence-based medicine. Radiol Clin N Am 49:205–229

Goldenberg NA, Manco-Johnson MJ (2008) Protein C deficiency. Haemophilia 14:1214–1221

Monagle P, Ignjatovic V, Savoia H (2010) Hemostasis in neonates and children: pitfalls and dilemmas. Blood Rev 24:63–68

Bauer KA (2001) The thrombophilias: well-defined risk factors with uncertain therapeutic implications. Ann Intern Med 135:367–373

D'Angelo A, Vigano-D'Angelo S, Esmon CT et al (1988) Acquired deficiencies of protein S. Protein S activity during oral anticoagulation, in liver disease, and in disseminated intravascular coagulation. J Clin Invest 81:1445–1454

Lippi G, Salvagno GL, Rugolotto S et al (2007) Routine coagulation tests in newborn and young infants. J Thromb Thrombolysis 24:153–155

Choudhary AK, Bradford RK, Dias MS et al (2012) Spinal subdural hemorrhage in abusive head trauma: a retrospective study. Radiology 262:216–223

Choudhary AK, Ishak R, Zacharia TT et al (2014) Imaging of spinal injury in abusive head trauma: a retrospective study. Pediatr Radiol 44:1130–1140
Conflicts of interest
Dr. M. Dias provides expert witness testimony in child abuse cases.
About this article
Cite this article
Choudhary, A.K., Bradford, R., Dias, M.S. et al. Venous injury in abusive head trauma. Pediatr Radiol 45, 1803–1813 (2015). https://doi.org/10.1007/s00247-015-3399-4
Received:

Revised:

Accepted:

Published:

Issue Date:

DOI: https://doi.org/10.1007/s00247-015-3399-4
Keywords