Giant gastric bezoar presenting as an acute abdominal emergency
Keywords
Foam 
Mental Retardation 
Neurofibromatosis 
Neurofibroma 
Endoscopic Therapy 
These keywords were added by machine and not by the authors. This process is experimental and the keywords may be updated as the learning algorithm improves.
A 13-year-old girl with neurofibromatosis presented to the ER with emesis and anorexia for 3 days. A firm epigastric mass was palpated on physical examination. The rare diagnosis of gastric neurofibroma was suspected. Supine abdominal radiograph demonstrated mottled lucencies distending the stomach and simulating a large, recently ingested meal (Fig. 
1
). CT revealed a mixed air and soft-tissue density intraluminal gastric mass, confirming the diagnosis of a gastric bezoar (Fig. 
2
). Subsequently, our patient admitted to habitually ingesting foam and hair. Patient's IQ was normal.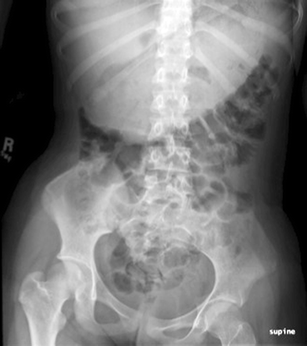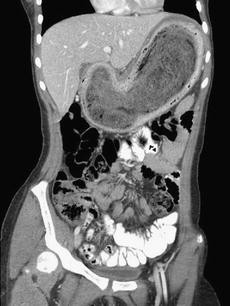 Up to 90% of trichobezoars occur in girls younger than 20 years. Common associations are mental retardation, pica, and trichotillomania [1]. Gastric bezoars often present with acute symptoms and sometimes respond to conservative or endoscopic therapy [2]. In our patient, the bezoar was removed via open surgery forming a cast of the stomach (Supplementary materials available with this article online).
Supplementary material
ESM 1
Video demonstrating the surgical removal of the bezoar in the operating room. (AVI 7970kb)
References
1.

Lynch KA, Feola PG, Guenther E (2003) Gastric trichobezoar: an important cause of abdominal pain presenting to the pediatric emergency department. Pediatr Emerg Care 19:343–347

PubMed

CrossRef

Google Scholar

2.

Hewitt AN, Levine MS, Rubesin SE et al (2009) Gastric bezoars: reassessment of clinical and radiographic findings in 19 patients. Br J Radiol 82:901–907

PubMed

CrossRef

Google Scholar