Abstract
Wilms tumour is one of the most common malignancies in children, with an excellent prognosis after therapy. There is a very diverse approach to treatment according to geographical location. This variation in therapeutic attitude toward Wilms tumour, particularly between the United States and Europe, has consequences for the choice of imaging modality at diagnosis. In Europe, the International Society of Paediatric Oncology (SIOP) treatment protocol is based on chemotherapy followed by surgery. Imaging (US, CT and MRI), clinical history and examination will help predict whether the findings are consistent with Wilms tumour. Furthermore, in the UK preoperative image-guided biopsy is advised to help identify the small group of patients who, despite typical imaging features of Wilms tumour, have other types of neoplasia that require alternative management. In the United States, the National Wilms Tumor Study (NWTS) advises surgery prior to chemo- and radiotherapy. Hence imaging must provide detailed anatomical information for surgical planning. This article discusses the role of imaging at diagnosis and the relative strengths and weaknesses of the available radiological techniques. We also focus on imaging the lung for metastatic disease and the consequences (to the patient's ultimate outcome) of CT-diagnosed small pulmonary nodules and discuss the radiological diagnosis and consequences of tumour rupture present at diagnosis.
This is a preview of subscription content, log in to check access.
Access options
Buy single article
Instant access to the full article PDF.
US$ 39.95
Tax calculation will be finalised during checkout.
Subscribe to journal
Immediate online access to all issues from 2019. Subscription will auto renew annually.
US$ 199
Tax calculation will be finalised during checkout.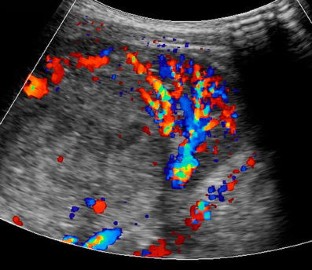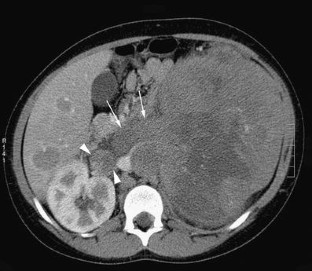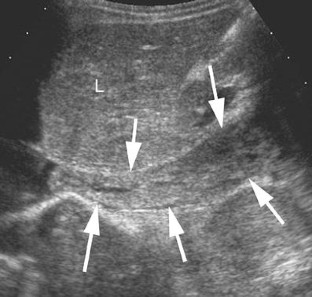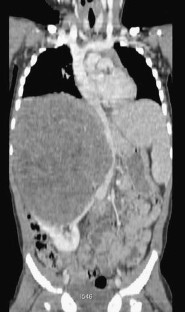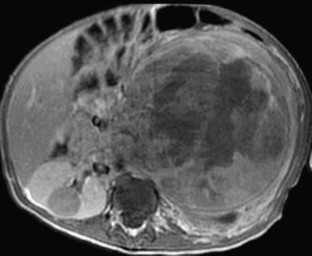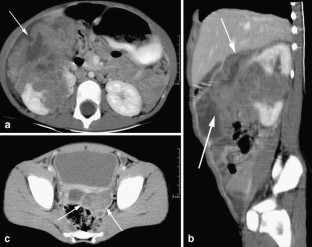 References
1.

Panuel M, Bourliere-Najean B, Gentet JC et al (1992) Aggressive neuroblastoma with initial pulmonary metastases and kidney involvement simulating Wilms' tumor. Eur J Radiol 14:201–203

2.

Scott DJ, Wallace WH, Hendry GM (1999) With advances in medical imaging can the radiologist reliably diagnose Wilms' tumours? Clin Radiol 54:321–327

3.

Niu CK, Chen WF, Chuang JH et al (1993) Intrapelvic Wilms tumor: report of 2 cases and review of the literature. J Urol 150:936–939

4.

Schenk JP, Gunther P, Schrader C et al (2005) Childhood kidney tumors – the relevance of imaging. Radiologe 45:1112–1123

5.

Lall A, Pritchard-Jones K, Walker J et al (2006) Wilms' tumor with intracaval thrombus in the UK Children's Cancer Study Group UKW3 trial. J Pediatr Surg 41:382–387

6.

Ritchey ML, Kelalis PP, Breslow N et al (1988) Intracaval and atrial involvement with nephroblastoma: review of National Wilms Tumor Study-3. J Urol 140:1113–1118

7.

Slovis TL (ed) (2002) The ALARA (as low as reasonably achievable) concept in pediatric CT intelligent dose reduction. Multidisciplinary conference organized by the Society of Pediatric Radiology. Aug. 18–19, 2001. Pediatr Radiol 32:217–313

8.

Barnacle AM, McHugh K (2006) Limitations with the response evaluation criteria in solid tumors (RECIST) guidance in disseminated pediatric malignancy. Pediatr Blood Cancer 46:127–134

9.

Burgers JM, Tournade MF, Bey P et al (1986) Abdominal recurrences in Wilms' tumours: a report from the SIOP Wilms' tumour trials and studies. Radiother Oncol 5:175–182

10.

Godzinski J, Weirich A, Tournade MF et al (2001) Primary nephrectomy for emergency: a rare event in the International Society of Paediatric Oncology Nephroblastoma Trial and Study No. 9. Eur J Pediatr Surg 11:36–39

11.

Leape LL, Breslow NE, Bishop HC (1978) The surgical treatment of Wilms' tumor: results of the National Wilms' Tumor Study. Ann Surg 187:351–356

12.

Grundy RG, Hutton C, Middleton H et al (2004) Outcome of patients with stage III or inoperable WT treated on the second United Kingdom WT protocol (UKWT2); a United Kingdom Children's Cancer Study Group (UKCCSG) study. Pediatr Blood Cancer 42:311–319

13.

Rosenfeld M, Rodgers BM, Talbert JL (1977) Wilms' tumor with acute abdominal pain. Arch Surg 112:1080–1082

14.

Brisse H (2005) The radiologic contribution to surgical aspects of kidney tumors in children. JBR-BTR 88:250–253

15.

Slasky BS, Bar-Ziv J, Freeman AI et al (1997) CT appearances of involvement of the peritoneum, mesentery and omentum in Wilms' tumor. Pediatr Radiol 27:14–17

16.

Brisse H, Schleiermacher G, Helfre S et al (2006) Evaluation of 61 nephroblastoma patients with clinical and/or radiological signs of tumor rupture. SIOP 2006. Abstracts of the 38th Annual Conference of the International Society of Paediatric Oncology, Geneva, Switzerland, 18–21 September 2006. Pediatr Blood Cancer 47:364

17.

Vujanic GM, Kelsey A, Mitchell C et al (2003) The role of biopsy in the diagnosis of renal tumors of childhood: results of the UKCCSG Wilms tumor study 3. Med Pediatr Oncol 40:18–22

18.

Lee IS, Nguyen S, Shanberg AM (1995) Needle tract seeding after percutaneous biopsy of Wilms tumor. J Urol 153:1074–1076

19.

Skoldenberg EG, Jakobson A, Elvin A et al (1999) Pretreatment, ultrasound-guided cutting needle biopsies in childhood renal tumors. Med Pediatr Oncol 32:283–288

20.

Dykes EH, Marwaha RK, Dicks-Mireaux C et al (1991) Risks and benefits of percutaneous biopsy and primary chemotherapy in advanced Wilms' tumour. J Pediatr Surg 26:610–612

21.

Saarinen UM, Wikstrom S, Koskimies O et al (1991) Percutaneous needle biopsy preceding preoperative chemotherapy in the management of massive renal tumors in children. J Clin Oncol 9:406–415

22.

Grundy P, Breslow N, Green DM et al (1989) Prognostic factors for children with recurrent Wilms' tumor: results from the Second and Third National Wilms' Tumor Study. J Clin Oncol 7:638–647

23.

Grundy P, Perlman E, Rosen NS et al (2005) Current issues in Wilms tumor management. Curr Probl Cancer 29:223–260

24.

Owens CM, Veys PA, Pritchard J et al (2002) Role of chest computed tomography at diagnosis in the management of Wilms' tumor: a study by the United Kingdom Children's Cancer Study Group. J Clin Oncol 20:2768–2773

25.

D'Angio GJ, Rosenberg H, Sharples K et al (1993) Position paper: imaging methods for primary renal tumors of childhood: costs versus benefits. Med Pediatr Oncol 21:205–212

26.

Ditchfield MR, De Campo JF, Waters KD et al (1995) Wilms' tumor: a rational use of preoperative imaging. Med Pediatr Oncol 24:93–96

27.

Wootton-Gorges SL, Albano EA, Riggs JM et al (2000) Chest radiography versus chest CT in the evaluation for pulmonary metastases in patients with Wilms' tumor: a retrospective review. Pediatr Radiol 30:533–537; discussion 537–539

28.

Attard-Montalto SP, Kingston JE, Eden OB et al (1992) Late follow-up of lung function after whole lung irradiation for Wilms' tumour. Br J Radiol 65:1114–1118

29.

Cohen M, Smith WL, Weetman R et al (1981) Pulmonary pseudometastases in children with malignant tumors. Radiology 141:371–374

30.

Ehrlich PF, Hamilton TE, Grundy P et al (2006) The value of surgery in directing therapy for patients with Wilms' tumor with pulmonary disease. A report from the National Wilms' Tumor Study Group (National Wilms' Tumor Study 5). J Pediatr Surg 41:162–167; discussion 162–167

31.

Wilimas JA, Kaste SC, Kauffman WM et al (1997) Use of chest computed tomography in the staging of pediatric Wilms' tumor: interobserver variability and prognostic significance. J Clin Oncol 15:2631–2635

32.

Green DM (1993) Effects of treatment for childhood cancer on vital organ systems. Cancer 71:3299–3305

33.

Magrini SM, Papi MG, Bagnoli R et al (1995) Late sequelae involving the breast after radiotherapy for lung metastasis of Wilms' tumor. Experience of the Florence Radiotherapy and analysis of the literature. Radiol Med (Torino) 89:865–869

34.

Paulino AC, Wen BC, Brown CK et al (2000) Late effects in children treated with radiation therapy for Wilms' tumor. Int J Radiat Oncol Biol Phys 46:1239–1246

35.

Green DM, Grigoriev YA, Nan B et al (2001) Congestive heart failure after treatment for Wilms' tumor: a report from the National Wilms' Tumor Study group. J Clin Oncol 19:1926–1934

36.

Grosfeld JL (1999) Risk-based management: current concepts of treating malignant solid tumors of childhood. J Am Coll Surg 189:407–425

37.

Shaw NJ, Eden OB, Jenney ME et al (1991) Pulmonary function in survivors of Wilms' tumor. Pediatr Hematol Oncol 8:131–137

38.

Green DM (2002) Use of chest computed tomography for staging and treatment of Wilms' tumor in children. J Clin Oncol 20:2763–2764

39.

Green DM, Fernbach DJ, Norkool P et al (1991) The treatment of Wilms' tumor patients with pulmonary metastases detected only with computed tomography: a report from the National Wilms' Tumor Study. J Clin Oncol 9:1776–1781

40.

Dirks A, Li CS, Breslow N et al (2003) Outcome of patients with lung metastases on NWTS 4 and 5. Med Pediatr Oncol 41:251–253

41.

Meisel JA, Guthrie KA, Breslow NE et al (1999) Significance and management of computed tomography detected pulmonary nodules: a report from the National Wilms Tumor Study Group. Int J Radiat Oncol Biol Phys 44:579–585

42.

Shamberger RC, Guthrie KA, Ritchey ML et al (1999) Surgery-related factors and local recurrence of Wilms tumor in National Wilms Tumor Study 4. Ann Surg 229:292–297

43.

Daw NC, Kauffman WM, Bodner SM et al (2002) Patterns of abdominal relapse and role of sonography in Wilms tumor. Pediatr Hematol Oncol 19:107–115

44.

Coppes MJ, Arnold M, Beckwith JB et al (1999) Factors affecting the risk of contralateral Wilms tumor development: a report from the National Wilms Tumor Study Group. Cancer 85:1616–1625

45.

Bergeron C, Iliescu C, Thiesse P et al (2001) Does nephroblastomatosis influence the natural history and relapse rate in Wilms' tumour? A single centre experience over 11 years. Eur J Cancer 37:385–391
About this article
Cite this article
Brisse, H.J., Smets, A.M., Kaste, S.C. et al. Imaging in unilateral Wilms tumour. Pediatr Radiol 38, 18–29 (2008). https://doi.org/10.1007/s00247-007-0677-9
Received:

Revised:

Accepted:

Published:

Issue Date:
Keywords
Wilms tumour

Diagnostic imaging

Neoplasm staging

Children