Abstract
Vitamin A toxicity in the infant, which now occurs rarely from dietary overdosage, was recognized in the 1940s as painful periostitis with rare progression to premature closure of the lower limb epiphyses. Decades later, most cases of vitamin A-induced premature epiphyseal closure (physeal obliteration) occur in pediatric dermatologic patients given vitamin A analogues. This phenomenon resembles a strange disease discovered in more recent years in calves with closed epiphyses of the hind limbs, known as hyena disease. This was a mystery until proved to be caused by vitamin A toxicity from enriched grain that causes the calves to have short hind limbs that resemble those of a hyena and gait disturbance. This historical review links the human and veterinary literature in terms of vitamin A-induced epiphyseal closure using a case report format of a 16-month-old human infant with closed knee epiphyses and gait disturbance that is reminiscent of hyena disease seen in calves.
This is a preview of subscription content, log in to check access.
Access options
Buy single article
Instant access to the full article PDF.
US$ 39.95
Tax calculation will be finalised during checkout.
Subscribe to journal
Immediate online access to all issues from 2019. Subscription will auto renew annually.
US$ 199
Tax calculation will be finalised during checkout.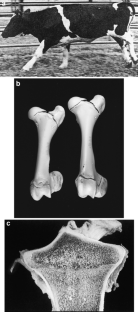 References
1.

Caffey J (1950) Chronic poisoning due to excess of vitamin A. Pediatrics 5:672–688

2.

Pease CN (1962) Focal retardation and arrestment of growth of bones due to vitamin A intoxication. JAMA 182:980–985

3.

Silverman FN (ed) (1985) Caffey's pediatric x-ray diagnosis, 8th edn. Year Book Medical Publishers, Chicago, pp 679–683

4.

Ruby LK, Mital MA (1974) Skeletal deformities following chronic hypervitaminosis A. J Bone Joint Surg Am 56:1283–1287

5.

Lawson JP, McGuire J (1987) The spectrum of skeletal changes associated with long-term administration of 13-cis-retinoic acid. Skeletal Radiol 16:91–97

6.

Woodard JC, Donovan GA, Fisher LW (1997) Pathogenesis of vitamin (A and D)-induced premature growth-plate closure in calves. Bone 21:171–182

7.

MacKay RJ, Woodard JC, Donovan GA (1992) Focal premature physeal closure (hyena disease) in calves. J Am Vet Med Assoc 58:311–316

8.

Caffey J (1970) Traumatic cupping of the metaphyses of growing bones. AJR 108:451–460

9.

Wolbach SB (1947) Vitamin A deficiency and excess in relation to skeletal growth. J Bone Joint Surg 29:171–192

10.

Grogan DP, Love SM, Ogden JA et al (1989) Chondro-osseous growth abnormalities after meningococcemia. A clinical and histopathological study. J Bone Joint Surg Am 71:920–928
Additional information
In honor of Dr. David H. Baker (1959–1982)
About this article
Cite this article
Rothenberg, A.B., Berdon, W.E., Woodard, J.C. et al. Hypervitaminosis A-induced premature closure of epiphyses (physeal obliteration) in humans and calves (hyena disease): a historical review of the human and veterinary literature. Pediatr Radiol 37, 1264–1267 (2007). https://doi.org/10.1007/s00247-007-0604-0
Received:

Revised:

Accepted:

Published:

Issue Date:
Keywords
Vitamin A

Epiphyses

Overdose

Gait

Children